World Championships - CM
Verona, Italy, September 27-October 3, 2004
Main Page Live Report Results Race Details Start list Previous Race Next Race
Race 4 - Tuesday September 28: Time Trial - Elite Women, 24.05km
Thürig thrashes the field in Verona
Silver again for Arndt
By Tim Maloney, European Editor
Karin Thürig (Swi)
Photo ©: Sirotti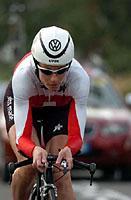 "Go Karen Go" said the banner emblazoned with the white cross of Switzerland and ding dong ding went the cowbells of the tifosi of 32 year old Swiss rider Karin Thürig, who had a super smooth and super fast ride today to take her first Women's World Cycling Championship Gold Medal today in Bardolino. Already a two-time duathlon World Champion, the multisport expert Thürig races time trials and track events almost exclusively. The tall, powerful Swiss racer had a disappointing ride at the Athens Olympics last month where she was only third in the TT, but today Thürig got her revenge winning the Rainbow Jersey with the only time under 31 minutes aboard her low-profile Walser TT bike.
"I'm very happy! I wasn't sure to win here at all," explained a delighted Thürig. "I was sick last week for a few days, so I was insecure and nervous at the start. My legs were feeling weak, I wasn't feeling good at all." But Thürig overcame her jitters by setting the fastest time at the intermediate time check in Pastrengo after 11.8km. "I wanted an aggressive start and that's what I did. But I thought maybe I've been overdoing it too because I was catching (Dede Barry). At the time check I knew that I was in front so that gave me extra strength, plus I knew that the second part of the parcours was better for me."
The podium of the women's TT:
Photo ©: Sirotti

Proudly displaying her first rainbow jersey post-race, Thürig, who's preparing for Ironman Hawaii next month, speculated about what might have been if Olympic TT champ Leontien Van Moorsel had been in the Worlds TT today. "If Leontien would have started here today it would have been interesting. But she didn't and I won!"
As was the case in the Olympic Road Race last month in Athens, German rider Judith Arndt took the silver medal, but this time without any indiscreet signs at the end of the race. Instead, the determined Arndt had an excellent ride today. She was fourth fastest at the intermediate time check but powered in for second place, 0'22 behind Thürig, but lost another 0'30 to the flying Swiss Miss to finish in 31'45.
Bronze medalist was evergreen Russian Zulfia Zabirova, who burst on the world cycling scene in 1996 as Olympic TT champ and has been a threat ever since in women's road cycling. The 30 year-old, solo winner of two women's World Cup events this spring (Primavera Rosa and Ronde van Vlaanderen), posted a 31'50, just 0'05 behind Arndt, but ahead of her arch rival Joane Somarriba of Spain for the final podium spot and the Bronze medal, to go with the Bronze she won last year in Hamilton.
Joanne Somarriba (Spa)
Photo ©: Sirotti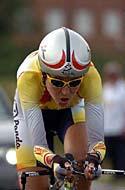 Somarriba, last year's surprise World TT champ, had been sick on Monday with a slight fever and wasn't at her best, looking leaden all race long. Nevertheless, the Spanish rider was only 0'16 behind Thürig at the first split, but ended up losing 1'00 over the next 12 km to the winner.
US TT champion Christine Thorburn had a solid ride to finish seventh and was less than 1'00 from a podium spot, confirming that the 34 year old physician from Palo Alto, CA. is a world class TT rider after her excellent fourth place in the Athens Olympics. Although Australian Oenone Wood isn't considered a TT rider, the 2004 Women's World Cup winner can also ride well against the watch, as her ninth place today testified.
20 year old local lass Tatiana Guderzo, nicknamed "Kama" (Kamakaze) for her downhill skiing style is current European U23 champion and the Italian university student was inspired by her tifosi to ride to a superb 10th place in Bardolino. Old enough to be Guderzo's mother, 46 year-old Jeanne Longo rode her Hooker TT bike with 650c wheels to 15th place, just 0'12 behind US rider and Olympic Silver Medalist Dede Barry, who had an off day to finish 14th.
Photography
Images by Fotoreporter Sirotti
Images by Mitch Friedman Photography
Results
1 Karin Thürig (Switzerland)                30.53.65 (46.708 km/h)
2 Judith Arndt (Germany)                     0.51.78
3 Zoulfia Zabirova (Russia)                  0.56.35
4 Joane Somarriba Arrola (Spain)             1.15.73
5 Edita Pucinskaite (Lithuania)              1.32.06
6 Mirjam Melchers (Netherlands)              1.41.97
7 Christine Thorburn (USA)                   1.44.02
8 Priska Doppmann (Switzerland)              1.54.99
9 Oenone Wood (Australia)                    2.07.95
10 Tatiana Guderzo (Italy)                   2.11.87
11 Anita Valen (Norway)                      2.16.57
12 Svetlana Bubnenkova (Russia)              2.16.64
13 Trixi Worrack (Germany)                   2.16.86
14 Deirdre Demet-Barry (USA)                 2.17.56
15 Jeannie Longo Ciprelli (France)           2.29.87
16 Olivia Gollan (Australia)                 2.38.99
17 Bogumila Matusiak (Poland)                2.44.60
18 Dori Ruano Sanchon (Spain)                2.49.64
19 Anna Zugno (Italy)                        3.02.76
20 Edwige Pitel (France)                     3.03.92
21 Susan Palmer-Komar (Canada)               3.15.82
22 Blaza Klemencic (Slovenia)                3.16.52
23 Tatiana Shishkova (Moldavia)              3.31.93
24 Natacha Maes (Belgium)                    3.34.14
25 Jolanta Polikeviciute (Lithuania)         3.41.93
26 Evy Van Damme (Belgium)                   3.42.49
27 Ana Paola Madrinan Villegas (Colombia)    3.46.08
28 Malgorzata Wysocka (Poland)               3.57.55
29 Natalya Kachalka (Ukraine)                4.02.25
30 Maria Mercedes Cagigas Amedo (Spain)      4.04.84
31 Loes Gunnewijk (Netherlands)              4.26.93
32 Tiina Nieminen (Finland)                  4.31.35
33 Amy Moore (Canada)                        5.09.83
34 Veronica Leal Balderas (Mexico)           7.20.97
DNS Christiane Soeder (Austria)                     
 
km 11.8
 
1 Karin Thürig (Switzerland)                16.40.22
2 Joane Somarriba Arrola (Spain)             0.16.62
3 Zoulfia Zabirova (Russia)                  0.22.01
4 Judith Arndt (Germany)                     0.22.84
5 Edita Pucinskaite (Lithuania)              0.29.04
6 Mirjam Melchers (Netherlands)              0.44.47
7 Priska Doppmann (Switzerland)              0.55.24
8 Christine Thorburn (USA)                   1.00.67
9 Tatiana Guderzo (Italy)                    1.05.70
10 Anita Valen (Norway)                      1.08.72
11 Deirdre Demet-Barry (USA)                 1.08.74
12 Trixi Worrack (Germany)                   1.10.25
13 Jeannie Longo Ciprelli (France)           1.13.98
14 Svetlana Bubnenkova (Russia)              1.14.38
15 Oenone Wood (Australia)                   1.14.57
16 Bogumila Matusiak (Poland)                1.25.03
17 Dori Ruano Sanchon (Spain)                1.28.71
18 Olivia Gollan (Australia)                 1.30.35
19 Blaza Klemencic (Slovenia)                1.32.67
20 Edwige Pitel (France)                     1.33.34
21 Anna Zugno (Italy)                        1.36.24
22 Susan Palmer-Komar (Canada)               1.38.56
23 Tatiana Shishkova (Moldavia)              1.46.79
24 Ana Paola Madrinan Villegas (Colombia)    1.48.08
25 Jolanta Polikeviciute (Lithuania)         1.49.78
26 Evy Van Damme (Belgium)                   1.55.00
27 Natacha Maes (Belgium)                    1.59.75
28 Natalya Kachalka (Ukraine)                2.03.78
29 Malgorzata Wysocka (Poland)               2.14.73
30 Maria Mercedes Cagigas Amedo (Spain)      2.15.62
31 Loes Gunnewijk (Netherlands)              2.20.75
32 Tiina Nieminen (Finland)                  2.31.21
33 Amy Moore (Canada)                        2.39.20
34 Veronica Leal Balderas (Mexico)           3.47.00