Rotterdam Tour - CDM
Netherlands, September 5, 2004
Rossner makes history, Wood closer to World Cup Victory
By Kristy Scrymgeour
Petra Rossner (Equipe Nürnberger Versicherung)
Photo ©: Dick Soepenberg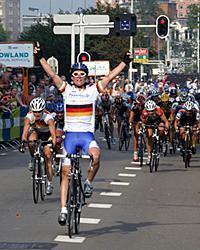 Petra Rossner of the Nurnberger team took out the bunch sprint today, to win the seventh annual Rotterdam Tour World Cup for the second time in the race's history, putting herself in with a chance to win another overall world cup. Rossner also won this race in a bunch sprint in 2002 in a similar fashion with Judith Arndt leading her out through the final tight corners. Series leader Oenone Wood (Australian National Team) finished in fifth place to maintain her leaders jersey going into the final race of the series next weekend. In a strange set of circumstances, the final World Cup in Germany is said to have double points, meaning that Wood doesn't yet have things wrapped up, however according to one report, this could change.
With the sun shining in Rotterdam and no wind to be found, as hoped, the race got off to an aggressive start with a break getting away almost immediately. At the eight kilometer mark nine riders took off, which included Tina Leibig (Nurnberger), Cathy Marsal (Nobili Guerciotti), Kristy Miggels (Ondernemers Van Nature), Marion Brauen (Team Next 125), Kate Bates (Team Ton Van Bemmelen), Gessica Turato (Safi Pasta Zara) and three others. The break stayed away for 40 kilometres until finally getting caught, primarily through the efforts of the French National Team.
The second break of the day
Photo ©: Dick Soepenberg
Not long after another break went, which included Daniela Fusar Poli (Nobili Guerciotti), Turato and Sarah Duster (German National Team). Their lead increased to 1'40" and stayed out there for almost the remainder of the race. With no threats to the world cup series in the break, the Australian team were happy to leave it out there, but many attacks from Chantal Beltman and her Ondernermers Van Nature team, led to the gap coming down.
With three kilometers to go, Arndt went to the front and strung out the field. If you weren't in position at this point, it was hard to move, as the final kilometers were very technical. The break was caught within the final kilometer and Rossner came off the Nurnberger train to take the win from fellow Germans Angela Brodtka (German National Team) and Tanja Hennes (Team Next 125).
Rossner was thrilled with her win because she made history for her team today. "This is the first World Cup victory for Nurnberger," she told Cyclingnews after the race. "Personally I have won world cups before, but that was with Saturn. Finally we broke the band and we won one." As for the race, Rossner said. "It was all my team. You know me, I do nothing until the last 200 meters. My team stayed around me the whole race, keeping me out of the wind and chasing breaks and Judith did the lead out at the and held a pace that not many other people can hold. I was yelling at her from behind," Rossner laughed, " saying 'go, go, go, this is good', and I caught the last girl who was away solo with 200 meters to go. I went then and got a big gap. I could stop pedalling with 30 meters to go."
Rossner also said that today was her victory over the German Federation's decision to take Brodtka to the Olympics, rather than her last month. "I've always been fater than Brotka," she said, "she only beat me in one race and that was out of a break."
The podium
Photo ©: Dick Soepenberg

Despite being upset at the time, Rossner said that she is over the ordeal. "I am happy with the way Judith raced. She was strong and she sent the message around the world that the decision was the wrong one."
On a winning note Rossner announced her retirement to Cyclingnews today and will finish racing at the end of the year after a 20 year career and move into a directors role for Nurnberger next year. "I'm quitting my career, that's for sure," said Rossner. "Jens and I will work together next year to direct the Nurnberger team. I have a lot to learn from him as I'm not assuming I will do everything perfect in the first year. We get along well and we can learn a lot from each other.
"In my career, I have won over 300 races," added Rossner, "nine world cup races, one Olympic Gold and a world Championship. I think I have a lot to bring to the girls, but most importantly my goal is to keep them happy. We will have a great team and we will put it together with input from the riders so that the chemistry is perfect."
Rossner added that she owes alot to the sport of cycling after competing for 20 years. "I appreciate everything I have learned and all the friends I have made all around the world. I have not only learned things about Cycling, but it has also formed my character and helped me to be a better person. When you can suffer in cycling and still give more, you gain a lot."
Almost there
Photo ©: Dick Soepenberg

Cyclingnews also caught up with series leader Oenone wood and her team after the race, who was happy with the way things went and anxious to finish it off next week. Finishing in fifth, Wood extended her lead on Mirjam Melchers (Farm Frites/Hartol), who finished 40th today and goes into the final race smelling victory "It was a pretty quiet day for us," she said. "We just had to mark riders who could take points on the jersey, so we were happy for breaks to go up the road. I felt pretty good going into the final sprint but I was nearly brought down with 300m to go. Petra finished the race perfectly today so I think I should be looking for her wheel in Nurnberger next week."
If the rule stands that double points will be awarded next week, the Australian team cannot relax yet, although it would take either Melchers or Rossner to win the race without Wood taking any points for the scoreboard to change. Australian director Warren McDonald is confident in the team's ability to pull it off. "We still believe the course suits us," he told Cyclingnews. "The team rode strongly today and Oenone is feeling better after having a head cold for the past couple of weeks, so we think we can get through.
"Today she said she started feeling better for the first time," McDonald added, "and she had a good finish despite getting hooked off the wheel in the last couple of kilometres. Next week Nurnberger will want the same thing as we want - to keep it together. It will be a good race."
Although Rossner may now have the slim but possible chance to win the World Cup overall, she says that she is not interested and does not think this would be fair. "If there is double points, it is a decision I would not agree with," said Rossner. "After all the work the Australian team has done for Wood this year, they deserve the win.
"We placed in a few cups and have been aiming to win one, but we are not thinking about the overall. Next week is important for our sponsors, but today we are very happy to win this. Nobody can take this one away from us."
Olivia Gollan, who has been instrumental along with the rest of the Australian team this year, says that she is excited about next week and the rest of the year. "It's just exciting," she said. "We are on the verge of winning a World Cup series and we have the world championships coming up. I've really enjoyed this."
Photography
Images by Dick Soepenberg/www.wielerfoto.nl
Results
1 Petra Rossner (Ger) Equipe Nürnberger Versicherung			3.24.34
2 Angela Brotka (Ger) German National Team
3 Tanja Hennes (Ger) Team Next 125
4 Sissy Van Alebeek (Ned) Team Farm Frites-Hartol
5 Oenone Wood (Aus) Australian National Team
6 Isabella Wieser (Aut) Mixed Team 2
7 Daniela Fusar Poli (Ita) Nobili Rubinetterie-Guerciotti
8 Chantal Beltman (Ned) Ondernemers Van Nature-Vrienden Van Het Platteland
9 Marina Jaunatre (Fra) French National Team
10 Giorgia Bronzini (Ita) Safi-Pasta Zara Manhattan
11 Regina Schleicher (Ger) Safi-Pasta Zara Manhattan
12 Debby Mansveld (Ned) Vlaanderen-T-Interim Univega Ladies Team
13 Katia Longhin (Ita) Mixed Team 2
14 Kirsten Wild (Ned) Mixed Team 1
15 Mirella Van Melis (Ned) Vlaanderen-T-Interim Univega Ladies Team
16 Jane Knietzsch (Ger) German National Team
17 Ghita Beltman (Ned) Bizkaia-Panda Software-Durango
18 Arenda Grimberg (Ned) Therme Skin Care
19 Lorna Webb (GBr) British National Team
20 Olivia Gollan (Aus) Australian National Team
21 Alison Wright (Aus) Nobili Rubinetterie-Guerciotti
22 Esther Van Der Helm (Ned) Team Farm Frites-Hartol
23 Rochelle Gilmore (Aus) Mixed Team 2
24 Ludivine Henrion (Bel) Belgian National Team
25 Anna Gusmini (Ita) Nobili Rubinetterie-Guerciotti
26 Arantzazu Azpiroz Azpiroz (Spa) Bizkaia-Panda Software-Durango
27 Jacolien Wallaard (Ned) Mixed Team 3
28 Catherine Marsal (Fra) Nobili Rubinetterie-Guerciotti
29 Judith Arndt (Ger) Equipe Nürnberger Versicherung
30 Nicole Cooke (GBr) Safi-Pasta Zara Manhattan
31 Modesta Vzesniauskaite (Ltu) Safi-Pasta Zara Manhattan
32 Andrea Bosman (Ned) Ondernemers Van Nature-Vrienden Van Het Platteland
33 Bertine Spijkerman (Ned) Mixed Team 1
34 Jolanda Van Dongen (Ned) Mixed Team 3
35 Artina Corazza (Ita) Mixed Team 1
36 Veronique Belleter (Bel) Vlaanderen-T-Interim Univega Ladies Team
37 Gessica Turato (Ita) Safi-Pasta Zara Manhattan
38 Loes Gunnewijk (Ned) Ondernemers Van Nature-Vrienden Van Het Platteland
39 Lorian Graham (Aus) Australian National Team
40 Mirjam Melchers (Ned) Team Farm Frites-Hartol
41 Eneritz Iturriaga (Spa) Mixed Team 1
42 Charlotte Goldsmith (GBr) British National Team
43 Melissa Sanborn (USA) Mixed Team 2
44 Marion Brauen (Swi) Team Next 125
45 Corine Hierckens (Bel) Belgian National Team
46 Susanne De Goede (Ned) Mixed Team 3
47 Veerle Ingels (Bel) Vlaanderen-T-Interim Univega Ladies Team
48 Rachel Heal (GBr) Team Farm Frites-Hartol
49 Leda Cox (GBr) British National Team
50 Liesbet De Vocht (Bel) Belgian National Team
51 Irene Vd Broek (Ned) Therme Skin Care
52 Christina Mos (Ned) Therme Skin Care
53 Meredith Miller (USA) Mixed Team 2
54 Charlotte Becker (Ger) German National Team
55 Nathalie Tirard Collet (Fra) French National Team
56 Sigrid Corneo (Ita) Nobili Rubinetterie-Guerciotti
57 Ine Wannijn (Bel) Vlaanderen-T-Interim Univega Ladies Team
58 Sarah Duster (Ger) German National Team
59 Josephine Groenveld (Ned) Mixed Team 3
60 Angela Hillenga (Ned) Therme Skin Care
61 Loes Markerink (Ned) Mixed Team 1
62 Emma James (Aus) Mixed Team 3
63 Laure Werner (Bel) Vlaanderen-T-Interim Univega Ladies Team
64 Alexandrine Petitpierre (Swi) Team Next 125
65 Irene Hostettler (Swi) Team Next 125
66 Iosune Murillo Elkano (Spa) Bizkaia-Panda Software-Durango
67 Margaret Hemsley (Aus) Australian National Team
68 Helen Saunders (GBr) British National Team
69 Agne Bagdonaviciute (Ltu) Ausra-Gruodis
70 Sandra Missbach (Ger) Team Farm Frites-Hartol
71 Monika Furrer (Swi) Team Next 125
72 Francis Linthorst (Ned) Therme Skin Care
73 Agurtzane Elorriaga Derteano (Spa) Bizkaia-Panda Software-Durango
74 Catherina Hare (GBr) British National Team
75 Sandra Rombouts (Ned) Team Farm Frites-Hartol
76 Ombretta Ugolini (Ita) Nobili Rubinetterie-Guerciotti
77 Theresa Senff (Ger) German National Team
78 Kristy Miggels (Ned) Ondernemers Van Nature-Vrienden Van Het Platteland
79 Trixi Worrack (Ger) Equipe Nürnberger Versicherung
80 Amy Safe (Aus) Australian National Team
81 Madeleine Lindberg (Swe) Equipe Nürnberger Versicherung
82 Sophie Goor (Bel) Belgian National Team
83 Nathalie Bates (Aus) Australian National Team
84 Delphine Guille (Fra) French National Team
85 Tina Liebig (Ger) Equipe Nürnberger Versicherung
86 Evy Van Damme (Bel) Belgian National Team
87 Sharon Van Essen (Ned) Ondernemers Van Nature-Vrienden Van Het Platteland
88 Luise Keller (Ger) German National Team
89 Helen Gutteridge (GBr) British National Team
90 Ramune Lipinskaite (Ltu) Ausra-Gruodis
91 Monique Verstraten (Ned) Mixed Team 3
92 Kettj Manfrin (Ita) Mixed Team 1
93 Zlatica Bazola Minori (Fra) French National Team
94 Cornelia Cyrus (Ger) Equipe Nürnberger Versicherung
95 Minke Van Dongen (Ned) Ondernemers Van Nature-Vrienden Van Het Platteland
96 Magali Le Floch (Fra) French National Team
DNF Julita Papinigyte (Ltu) Ausra-Gruodis
DNF Svetlana Pauliskaite (Ltu) Ausra-Gruodis
DNF Alexandra Vetter (Swi) Team Next 125
DNF Claudia Meyer (Ger) Mixed Team 2
DNF Caroline Payot Podevin (Fra) French National Team


World Cup rankings after round 8


1 Oenone Wood (Aus)                                                264
2 Mirjam Melchers (Ned) Team Farm Frites-Hartol                    165
3 Zoulfia Zabirova (Rus) Team Let's Go Finland                     154
4 Petra Rossner (Ger) Equipe Nürnberger Versicherung               143
5 Angela Brodtka (Ger)                                             129
6 Edita Pucinskaite (Ltu) S.C. Michela Fanini Record Rox           115
7 Olivia Gollan (Aus)                                               94
8 Alison Wright (Aus) Nobili Rubinetterie-Guerciotti                86
9 Judith Arndt (Ger) Equipe Nürnberger Versicherung                 77
10 Geneviève Jeanson (Can) Equipe Cycliste Rona                     75
11 Sonia Huguet (Fra)                                               75
12 Trixi Worrack (Ger) Equipe Nürnberger Versicherung               71
13 Priska Doppmann (Swi)                                            65
14 Barbara Heeb (Swi) Lietzsport Cycling                            62
15 Joanne Kiesanowski (NZl)                                         58
16 Rochelle Gilmore (Aus) Team S.A.T.S.                             57
17 Anita Valen (Nor) Team S.A.T.S.                                  51
18 Regina Schleicher (Ger) Safi-Pasta Zara Manhattan                51
19 Hanka Kupfernagel (Ger) Vlaanderen-T-Interim Univega Ladies      50
20 Olga Slyusareva (Rus) Nobili Rubinetterie-Guerciotti             48
21 Tanja Schmidt-Hennes (Ger) Team Next 125                         46
22 Katia Longhin (Ita) S.C. Michela Fanini Record Rox               43
23 Annette Beutler (Swi) Lietzsport Cycling                         41
24 Miho Oki (Jpn) Team Farm Frites-Hartol                           38
25 Giorgia Bronzini (Ita) Safi-Pasta Zara Manhattan                 38
26 Leontien Zijlaard Van Moorsel (Ned) Team Farm Frites-Hartol      35
27 Susan Palmer (Can)                                               33
28 Sara Carrigan (Aus)                                              33
29 Arenda Grimberg (Ned) Therme Skin Care                           32
30 Susanne Ljungskog (Swe) Team S.A.T.S.                            30
31 Elisabeth Chevanne Brunel (Fra)                                  30
32 Sissy Van Alebeek (Ned)                                          30
33 Rachel Heal (GBr) Team Farm Frites-Hartol                        30
34 Amber Neben (USA) T-Mobile Professional Cycling Team             27
35 Fabiana Luperini (Ita)                                           27
36 Sharon Van Dromme (Bel) Vlaanderen-T-Interim Univega Ladies      26
37 Loes Gunnewijk (Ned) Ondernemers Van Nature-Vrienden Van Het     26
38 Hayley Rutherford (Aus) S.C. Michela Fanini Record Rox           25
39 Andrea Graus (Aut) RC Elk-Haus Tirol                             24
40 Edwige Pitel (Fra)                                               24
41 Isabella Wieser (Aut)                                            24
42 Trine Hansen (Den) Team S.A.T.S.                                 21
43 Daniela Fusar Poli (Ita)                                         21
44 Nicole Brändli (Swi) S.C. Michela Fanini Record Rox              18
45 Chantal Beltman (Ned)                                            18
46 Debby Mansveld (Ned) Vlaanderen-T-Interim Univega Ladies Tea     18
47 Marina Jaunatre (Fra)                                            15
48 Lyne Bessette (Can)                                              13
49 Modesta Vzesniauskaite (Ltu) Safi-Pasta Zara Manhattan           13
51 Liane Bahler (Ger)                                               11
52 Evy Van Damme (Bel)                                              11
53 Christine Thorburn (USA)                                         10
55 Marion Clignet (Fra) Basis Aude                                   9
56 Sara Symington (GBr) Team S.A.T.S.                                9
57 Karine Dalmais (Fra)                                              9
58 Theresa Senf (Ger)                                                9
59 Nicole Freedman (Isr) Basis Aude                                  8
61 Eneritz Iturriaga (Spa) Team Let's Go Finland                     8
63 Kimberly Anderson (USA) T-Mobile Professional Cycling Team        7
64 Noemi Cantele (Ita)                                               7
65 Svetlana Boubnenkova (Rus)                                        7
66 Kirsten Wild (Ned)                                                7
67 Catherine Marsal (Fra) Nobili Rubinetterie-Guerciotti             7
68 Erinne Willock (Can) Equipe Cycliste Rona                         6
69 Tina Mayolo (USA)                                                 6
70 Mirella Van Melis (Ned)                                           6
71 Andrea Bosman (Ned)                                               6
72 Anna Zugno (Ita) Safi-Pasta Zara Manhattan                        5
73 Katie Mactier (Aus)                                               5
74 Jane Knietzsch (Ger)                                              5
75 Johanna Buick (NZl) Victory Brewing Cycling Team                  4
76 Deirdre Demet-Barry (USA) T-Mobile Professional Cycling Team      4
77 Karine Wieser (Aut)                                               4
78 Ghita Beltman (Ned)                                               4
79 Tatiana Stiajkina (Ukr)                                           3
80 Jaccolien Wallaard (Ned) Team Ton Van Bemmelen Sports             3
81 Corine Hierckens (Bel)                                            3
82 Kori Kelley (USA)                                                 2
83 Rosa Maria Bravo Soba (Spa)                                       2
84 Frances Newstead (GBr)                                            2
85 Lorna Webb (GBr)                                                  2
86 Margaret Hemsley (Aus) Equipe Nürnberger Versicherung             2
87 Bertine Spijkerman (Ned)  @Home Cycling Team                      2
88 Magalie Le Floch (Fra)                                            2
89 Teodora Ruano Sanchon (Spa)                                       1
90 Gunn-Rita Dahle (Nor) Safi-Pasta Zara Manhattan                   1