Rotterdam Tour - CDM
Netherlands, September 5, 2004
2003 results Preview Start List Past winners
Flat, windy and tough test in penultimate women's World Cup
By Kristy Scrymgeour
Oenone Wood leads the World Cup rankings
Photo: © Joel Roberts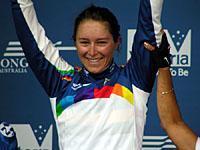 With only two chances left to gain valuable points, the women will line up in Rotterdam this weekend to contest round eight of the nine-race World Cup series for 2004. Whilst Oenone Wood (Australian National Team) currently holds a convincing lead of 72 points at present, there is still a chance for riders such as Mirjam Melchers (Farm Frites/Hartol) and Zoulfia Zabirova (Let's Go Finland) to surpass her.
The course is the flattest of all the world cup races, climbing no more than 12 meters at any one time throughout the race, and then only to go over bridges or climb back out of tunnels, but the course is also one of the hardest. In true Dutch fashion, the course is raced over a mixture of wide roads that suddenly turn into very narrow roads, over cobbled sections and along windy dykes and consists of quite a few technical corners, especially in the last couple of kilometers. Positioning is essential at all times during the 134km race. The other typical obstacle in the Netherlands can be the wind and rain, however weather reports for this weekend are currently fine.
A breakaway succeeded in 2001 when the Saturn team was defending the lead of Anna Millward. They were happy to see a break go without any other series contenders in it. Judith Arndt attacked solo from the break in the late stages of the race to take the win and the points, enabling Millward to win the series. Chantal Beltman also won out of a small break of four in 2000, however in all other years, the breaks have been reeled in, with the race ending in a bunch sprint.
This year, the Australian team will be certainly happy for a break of non-series contenders to go up the road, but Farm Frites will be opposing this and reeling everything back in for their team leader, Melchers. Melchers, who has been a consistent contender of the series since its conception in 1998, is once again on the leaders board sitting in second place. In great form right now and presently holding the leaders jersey in the Holland Ladies Tour, Melchers will be using her strong Farm Frites team and her homeland advantage to try and settle the score this weekend.
Another rider who can still win the series is Zabirova. She did not compete in last week's round seven, and was therefore relegated into third place in the series behind Melchers, however will be back this week and is always a rider to watch.
The only other riders who are able to pass Wood in points over the next two rounds are Edita Pucinskaite (S.C. Michela Fanini Record) and Wood's teammate, Olivia Gollan (Australian National Team). Both would have to win both rounds without Wood getting any points. With Pucinskaite not on the start list for Rotterdam and Gollan dedicated to her teammate Wood, this is unlikely to happen.
Riders to watch on this course are of course Chantal Beltman (Ondernemers Van Nature); the German sprinters Petra Rossner (Nurnberger), Angela Brodtka (German National Team) and Regina Schleicher (Safi-Pasta Zara Manhattan); Diana Ziliute (Safi-Pasta Zara Manhattan) and Alison Wright (Nobili Rubinetterie-Guerciotti). Beltman has won twice in Rotterdam and is currently sitting in second place on GC in the Holland Ladies tour displaying excellent form. Schleicher won the first stage of Holland this week and is a proven world cup strength, especially alongside her teammate Ziliute, who won the first edition of this race in 1998.
Team Nurnberger also has a couple of other hands to play, with. Judith Arndt coming off a very strong display of strength in the Olympic road race and Trixi Worrack whose successful season continues after her big win at Tour de L'Aude, only yesterday winning stage of the Holland tour.
Being a very specific style of race, local riders such as Debbie Mansveld (Vlaanderen-T Interim) who won stage One of Holland Ladies Tour this week will be in their element and will certainly be up there, especially if it rains.
Newly crowned Olympic Champion Sara Carrigan will not be on the start line as she has returned to Australia finishing off her season early as planned, however Australia bring a very strong team to the table to back up Wood with Gollan, Margaret Hemsley, Amy Safe, Natalie Bates and Lorian Graham ready to defend the jersey.
Current World Cup Standings 
 
1 Oenone Wood (Aus) Australian National Team               237 Pts 
2 Mirjam Melchers (Ned) Farm Frites-Hartol                 165 
3 Zoulfia Zabirova (Rus) Team Let's Go Finland             154 
4 Edita Pucinskaite (Ltu) S.C. Michela Fanini Record       115 
5 Olivia Gollan (Aus) Australian National Team              93 
6 Alison Wright (Aus) Nobili Rubinetterie-Guerciotti        86 
7 Angela Brodtka (Ger) German National Team                 79 
8 Judith Arndt (Ger) Team Nurnberger                        77 
9 Genevieve Jeanson (Can) RONA                              75 
10 Sonia Huguet (Fra) French National Team                  75 

Past winners
2003 Chantal Beltman (Ned) Acca Due O Pasta Zara Lorena Camicie
2002 Petra Rossner (Ger)
2001 Judith Ardnt 
2000 Chantal Beltman 
1999 Petra Rossner 
1998 Diana Ziliute