Quad Cities Criterium - NE
Rock Island, IL, USA, May 31, 2004
2003 Results Results Past winners
Vargas' endeavors finally pay off; Magen Long gets the hat trick
By Mark Zalewski
Carlos Vargas (Endeavor)
Photo ©: Mark Zalewski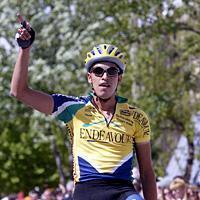 Carlos Vargas and Magen Long took victories in the men's and women's races at Rock Island, Illinois today. For Vargas it was a victory he has been hunting all weekend, while Long completed her domination of the Memorial Day weekend races by landing her third in a row.
Men: Carlos Vargas gets his win
Rains threatened this annual Memorial Day tradition in Midwest cycling, but the clouds parted around this Mississippi River town to keep the roads dry and the racing fast. This fourth race of the weekend around the Quad Cities of Illinois and Iowa is always hotly contested, especially with $9,000 in pay out.
Carlos Vargas (Endeavor) showed he didn't want to go away from this weekend without a win under his belt, attacking on just the second lap of racing. "I was disappointed because I didn't win yesterday or Saturday, so I said today is my day," said Vargas. "I knew that I could win any of these races. I was so motivated and so confident that I had to go." And go he did -- not once but twice -- with the second attempt sticking all the way to the end.
How it unfolded
John Puffer (Athletes by Design)
Photo ©: Mark Zalewski

After Vargas' seemingly suicide break attempt on the second lap, the field was strung out. With 120 racers on a technical figure eight course, the pack would cover almost the entire start/finish stretch. Larger breakaway groups tried to form, but none had the right chemistry. So many riders tried to break off the front in such succession, that the announcers threatened to not announce names unless they could stay out for more than one lap.
Endeavor and Athletes by Design were the stronger teams and held court at the front all day. It wasn't until a rider from each team broke away together that a gap could form. Carlos Vargas kept riding his wave of confidence and took Frank Dierking (Athletes by Design) and Wes Hartman (Team Mack Racing) along with him. "My role was to cover moves and be opportunistic," explained Dierking. "We were looking for a field sprint today because we have good sprinters in John Puffer and Jim Baldesare, but my instructions were to cover breaks and be opportunistic." Endeavor reacted immediately rode to the front of the pack to dissuade anyone else from joining in the fun.
The three quickly built a lead of more than 15 seconds, which is enough on this course to put you out of sight from the field. From then it was a rotating time trial. Eventually the pace was too high for Hartman, so Vargas and Dierking drove on alone.
Another break gives it a go
Photo ©: Mark Zalewski

With less than 10 laps remaining, the field began to realize they were now racing for third place. That is when Aron Huerta (Village Peddler), all alone from California, took the initiative to sew-up third. Bryan Smith (Endeavor) made a strong surge to try to counter Huerta.
While the field played behind them, Vargas and Dierking maintained their gap. Entering the last lap, Vargas began to sit on Dierking's wheel, waiting for the right place to pounce. "We were both tired and neither of us wanted to lead, because we wanted to save as much energy as possible," said Dierking. "But I felt that the Endeavor Team was kind of pressuring from behind so it forced me to stay on the front.
Vargas dove down the inside of the sixth turn, creating a large enough space for the Columbian to exploit. "Carlos got the jump on me on the back stretch and I couldn't close the gap," said Dierking who rolled in behind for second place. Aron Huerta managed to stave off Bryan Smith's late charge to take the third podium spot.
Carlos Vargas would normally be looking ahead to the Nature Valley Grand Prix in Minnesota, but will be forced to miss it due to immigration problems.
Magen Long celebrates
Photo ©: Mark Zalewski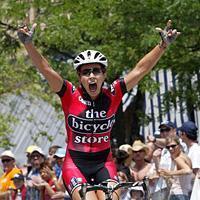 Women: Three days -- three wins
Nineteen (yes, nineteen) year old Magen Long has had quite a cycling career. At sixteen, she won the women's open at the famed Snake Alley Criterium. She also had a podium placement at last year's Clarendon Cup. But one race always seemed to be out of reach -- the Quad Cities Criterium.
That is, until this year. "I was kind of nervous because I always blow it today!" explained Long. "I always win The Snake, and win Melon City; but for some reason it never happens [here]. Last year someone fell on my wheel... the year before that I ran into the curb -- it never panned out. Luckily this year it didn't come down [to a field sprint] and I got in a good breakaway."
How it unfolded
Long certainly got in a good breakaway. But getting there was the most impressive part. Long's Bicycle Store team made their presence felt most of the day. However, Lisa Vetterlein (DMOS Mortage Solutions) made a strong effort mid-way to get a healthy gap on the field. After a handful of laps, Long realized that the lone rider wasn't coming back anytime soon. "Once I saw that we weren't catching [Vetterlein] too fast I just thought I've got to get these girls off my wheel that are key players," explained Long. "Once I thought I was in a good position to jump, I just rode as hard as I could. It took me a whole lap to catch her, but I knew that once we were out there we had it, because Lisa was really pulling through."
Lisa Vetterlein (DMOS Mortgage Solutions)
Photo ©: Mark Zalewski

The modest Long had no problems bridging up to Vetterlein. "I was just happy I had someone to work with," Vatterlein said.
Since the two were working well together, the only question was who had enough energy left to take the win. After two wins in two days for Long, the smart money was on the teenager from Oklahoma. And in the final lap she surged ahead of her breakaway companion to finally claim the elusive Quad Cities title.
Beyond this win, the future certainly looks bright for her. "I'm just trying to stay consistent this year," Long explained. "Last year I made some podiums -- got third in the Clarendon Cup. Now I'm just trying to stay up there with the big [riders] and stay consistent. Hopefully if everything goes good this year it will turn into bigger and better things. The ultimate goal is to race my bike for my living."
Stars and Stripes may be in this young lady's future as well. "I'm going to the U23 National Time Trial Championships and then the Criterium National Championships in Downers Grove."
Photography
Images by Mark Zalewski/www.showchoir.net/
Results
Category 1 2 Pro
 
1 Carlos Vargas (endeavour cycling club)
2 Frank Dierking (ABD cycle Club)
3 Aron Huerta (Village Peddler)
4 Bryan Smith (Endeavor)
5 John Puffer (ABD Cycle Club)
6 Stephen Tilford (HRRC/McClaren/WholeFoods)
7 Lance Sulzen (Team X Cycling)
8 Ryan Miller (Ridge Mortgage Services)
9 Joshua Kerkhof (Ridge Mortgage Services)
10 Brad Huff (Mercy St Edwards)
11 Peter Hanna (Bianchi/Grand Performance)
12 Gustavo Carrillo (Aerospace Engineering)
13 Todd Henriksen (Krystal Cycling/NCCC)
14 Zach Fiocca (Unattached)
15 Todd Cornelius (Subway/Express)
16 Jon Tarkington (Vitamin Cottage Cycling Team)
17 Michael Schilling (Vitamin Cottage Cycling Team)
18 Ryan Nenninger (ABD cycle Club)
19 Chad Cagle (Mercy Cycling Team)
20 Garrett Peltonen (Endeavour)
21 Reid Mumford (XXX Racing/Athletico)
22 Troy Adams (Krystal Cycling/NCCC)
23 Steven Cate (SharperImage/MathisBrothers)
24 Joshua Carter (Long John Silvers CT)
25 Jordan Roessingh (Unattached)
26 Christopher Johnson (HRRC/Maclaren/Bikesource)
27 Edward Micek (Dent Wizzard/Maplewood)
28 Jason Sonneborn (Vox Vodka/Higher Gear)
29 Nick Frey (Hot Tubes Development Cycling +)
30 Andrew Crater (Team Monex)
31 Nicholas Reistad (Endeavour Cycling Club The)
32 Michael Lesmerises (Krystal Cycling/NCCC)
33 Tracy Smith (Big Shark Racing)
34 Robert Quinn (XXX Racing)
35 Dale Sedgwick (St. Paul Bicycle Racing Club)
36 Doug Greek (Mercy Cycling Team)
37 Scott Ralston (Flat City Cycling Club Inc.)
38 Bill Jones (Endeavour Cycling Club The)
39 Michael York (ABD Cycle Club)
40 Chris Strout (Team Mack Racing Assoc. LTD)
41 Bret Glembocki (Unattached)
42 Rocky Serna (Ridge Mortgage Services)
43 Ben Huff (Vitamin Cottage Cycling Team)
44 David Stone (C-U Racing)
45 Robert Kron (Team Mack Racing Assoc. LTD)
46 Douglas Pedersen (PBF Cycling Team)
47 Clark Butcher (Mercy Cycling Team)
48 Peter Fairbanks (Bianchi/Grand Performance)
49 Zachary Martin (Mercy Cycling Team)
50 Jesse Bartholomew (Unattached)
51 Marc Bertucco (Athletes By Design)
52 Chad Martel (Team Mack Racing Assoc. LTD)
53 Joe McWilliams (Team Kaos Cycling)
54 Doug Suydam (Peoria Bicycle Club)
55 Stephen Rouff (Team X Cycling)
56 Joseph Pinkerton (Vitamin Cottage Cycling Team)
57 Trevor Lister (Long John Silvers CT)
58 John Semmelhack (ABD Cycle Club)
59 Brian Haas (Alberto's Sport)
60 Kurt Fritz (Best of the Bay Cyclist)
61 Dylan Lewis (Long John Silver's Cycling Team)
62 Andrew Chocha (Team X Cycling)
63 Daniel Possley (PCW Cycling Inc.)
64 Bryce Mead (Bianchi/GrandPerformance)
65 Daniel Lang (Peoria Bicycle Club)
66 Everett Baker (Krystal Cycling/NCCC)
67 Todd Miller (Endeavour Cycling Club The)
68 Joshua Tack (Cycling Farm.com)
69 Kevin Hankens (cyclingfarm.com)
70 Paul Deninger (Iowa City Cycling Club)
71 Terry Beenken (Bianchi/Grand Performance)
72 David Stedje (Best of the Bay Cyclist)
73 Peter Femal (Nova Cycle Sport, Inc.)
74 Maciej Pike-Biegunski (Illinois Bike Racing School)
75 Brian Dziewa (LONG JOHN SILVERS CYCLING TEAM)
76 Albert Senft (NUVO/Bicycle Action Project Cy+)
77 David Sachs (Alberto's Sport)
79 Zachary Rosenbarger (Team Bloomington)
80 Joshua Johnson (Big Shark)
81 Thomas Cox (Team Bloomington)
82 Christopher Mehus (Bianchi/Grand Performance)
83 Adam Biwan (Nova Cycle Sport, Inc.)
84 Hoyt Halvorson (Krystal Cycling/NCC)
85 Lee Venteicher (Cyclingfarm.com)
86 Luca Fagundes (Long John Silvers CT)
87 James Baldesare (ABD Cycle Club)
88 Karl Stover (Dent Wizzard/Maplewood)
89 Ben Lund (Endeavour Cycling Club The)
 
Women Open
 
1 Magen Long (OBRU/THE BICYCLE STORE)
2 Lisa Vetterlein (DMOS Mortgage Solutions)
3 Rachel Couch (America's Dairyland)
4 Beth Fisk (Visenka)
5 Jenn Wangerin (Team Kenda Tire)
6 Elizabeth Morse (OBRU/THE BICYCLE STORE)
7 Sherri Stedje (The Bicycle Store)
8 Rebecca Much (XXX Racing/Athletico)
9 Julie Tatar (America's Dairyland)
10 Anne Meyer (Iowa City Cycling Club)
11 Andrea Smessaert (Team Wisconsin)
12 Deborah Dust (Team Kenda Tire)
13 Megan Monroe (TDS - Schwalbe)
14 Alicia Hamilton (AAVC)
15 Jessica Lindemann (Team Bloomington)
16 Carrie Cash (Unattached)
17 Alison McNulty (Dent Wizzard/Maplewood)
18 Molly Van Houweling (Ann Arbor Velo Club)
19 Natalie Klemko (ABD Cycle Club)
20 Kimberly Strom (Bianchi/Grand Performance)
21 Catherine Walberg (KENDA)
22 Rebecca Anderson (America's Dairyland)
23 Trudy VanDerStraaten (C-U Racing)
24 Megan Hottman (High Gear Racing Promotions Inc.)
25 Kelly Benjamin (ABD Cycle Club)
26 Kerry Cohen (ABD Cycling Club)
27 Lindsay Wetzel (Iowa City Cycling Club)
28 Alisha Little (ABD CYCLING TEAM)
29 Katie Weber (Team Kenda Tire)
30 Francine Haas (Alberto's Sport)
 
Juniors 10-14
 
1 Sean Schneider (Coyote Cycling Team)
2 Marcella Weiss (Team Mack Racing Assoc. LTD)
 
Juniors
 
1 Nick Frey (Hot Tubes Development Cycling Team)
2 James Pirtle (Dent Wizzard/Maplewood)
3 Andrew Cornelison (Des Moines Cycle Club Race Team)
4 Todd Elenz (ISCorp cycling Team)
5 Thomas French (Team Power Train)
6 Matthew Brandt (Nova Cycle Sport, Inc.)
7 Cassel Lessinger (NOVA CYCLE SPORT INC)
8 Joshua Nagode (PCW Cycling Inc.)
9 Chris Hall (Team X Cycling)
10 Steven Fritz (Best of the Bay Cyclist)
11 Benjamin Silk (Team Power Train)
12 Paul Struebing (ABD Cycle Club)
13 Ryan Cross (Wolverine Sports Club)
14 Matthew Fox (Northbrook Bicycle Club, Inc.)
15 Jason Carr (Unattached)
16 Jared Faciszewski (Nova/ IS Corp)
17 Jeremy Venable (Midwest Rolling Thunder)
18 Brian West (Iowa State University Cycling Club)
19 Jonathan Myrvold (Duke/Big Brothers)
20 Adam Lang (Team X Cycling)
21 Jared Reedy (Double I Cycling Experience (DICE))
22 Charlie Diehl (Unattached)
23 David Kallemyn (DMOS/DMCC)
 
Women Category 4
 
1 Molly Vetter (Big Shark Racing)
2 Samantha Schneider (Coyote Hill)
3 Randi Cox (Team Bloomington)
4 Jerica Gritsch (Iowa City Cycling Club)
5 Pascale Petro (Team Apache)
6 Vanessa McKenzie (Unattached)
7 Jami Hartwig (Unattached)
8 Marilyn Cullinane (Unattached)
9 Jane Riessen (DMOS/Mortgage Solutions)
10 Vicki Heck (ADB)
11 Katherine Morales (Unattached)
12 Amy Ransford (Team Kenda Tire)
13 Keely Shannon (Midwest Rolling Thunder)
14 Cynthia Pike-Biegunski (XXX Racing/Athletico)
15 Mary Myslis (Unattached)
16 Carrie Fritz (Best of the Bay Cyclist)
17 Christine Palmquist (QuavR Cycling Club)
18 Linda Bos
19 Aeryn Skorich (XXX Racing)
20 Eve Pytel (XXX Racing)
21 Ramona Kuna (Athletes By Design)
22 Debra Wood
23 Whitney Kroll (Ann Arbor Velo Club)
 
Masters 50+
 
1 Lonnie Kennedy (Mesa Cycles Racing Team)
2 Stephen Hall (Squadra Chupacabra)
3 Richard Adamczyk (Team Mack)
4 Robert Benedum (St Paul Bicycle Racing Club)
5 David Montgomery (St Paul Bicycle Racing Club)
6 Jim McDonald (Columbia Bike Club Race Team)
7 Stanley Watkins (Peoria Bicycle Club)
8 Michael Benson (Double I Cycling Experience (DICE))
9 Michael Spengler (St Paul Bicycle Racing Club)
10 Raymond Sapp (Columbia Bike Club Race Team)
11 Scott O'Dell (Vergegear.com Midwest)
12 Mike Vonnahmen (Team Mack Racing Assoc. LTD)
13 Brad Reid (Team Mack Racing Assoc. LTD)
14 Chris Schena (Peoria Bicycle Club)
15 Newt Colburn (Bike Burlington)
16 Michael Giudici (Double I Cycling Experience (DICE))
17 James Williams (Peoria Bicycle Club)
18 John Nieters (Columbia Bike Club Race Team)
 
Men Category 4
 
1 Matthew O'Keefe (03 cat 5 winner)
2 Bradley Pearson (Stonecreek Coffee)
3 Carlos Garcia (Unattached)
4 Billy Dwyer (Vision Quest LLC)
5 Adam Stone (C-U Racing)
6 Gregory Gohman (Redline Racing Ltd)
7 Michael Possley (PCW Cycling Inc.)
8 Jeremiah Grell (Team Kaos)
9 Andrew Smentkowski (Unattached)
10 Paul Venable (Midwest Rolling Thunder)
11 Micah Newell (Unattached)
12 Curt Long (Midwest Rolling Thunder)
13 Brent Lehew (Unattached)
14 Joseph Andrews (Quad Cities Bicycle Club)
15 Christopher Mosora (Vision Quest)
16 Maxwell Bode (Team Apache)
17 Brandon Antoniewicz (XXX Racing/Atletico)
18 Joseph Farris (QuavR Cycling Club)
19 Ryan Edwards Bertrand (Proctor Cycling)
20 Jason Reser (Queen City Wheels)
21 Daniel Lionberg (Stone Creek Coffee Cycling T)
22 Wesley Leithoff (Sheels)
23 Scott Ligocki (Vision Quest LLC)
24 Daniel Galles (ISU Cycling Club)
25 Nicholas Holbus (Stone Creek Coffee Cycling)
26 Brian LaLonde (ABD Cycle Club)
27 Steven Roeder (Velo Trocadero)
28 Tracy Thompson (Atlas Cycling)
29 Robert Oellermann (Velo Force)
30 tim Farnham (Kaos)
31 John Meehan (Unattached)
32 Todd Gillihan (Iowa City Cycling Club)
33 Brian West (Iowa State University Cycling Cl+)
34 Dennis Grelk (Bike Burlington)
35 Eric Wiecek (Club Bicicletta)
36 David Aldersebaes (Project 5 Racing)
37 Guy Bresler (CU Racing)
38 Bob Twieg (University of Wisconsin - Madison)
39 Kyle Watterson (Wheel Fast Racing)
 
Men Category 3
 
1 Stathy Touloumis (Vision Quest Coaching)
2 James Cochran (Atlas Cycling)
3 David Lippold (Iowa State University Cycling Club)
4 David Jordan (Team Bloomington/Bacardi Rum)
5 Paul Wood (Crystal Flash Cycling Team)
6 Ryan Halloran (Cow Town Cycling Team)
7 David Smessaert (Endeavour Cycling Club The)
8 Jamie Kimberley (C-U Racing)
9 Matthew Brandt (Nova Cycle Sport, Inc.)
10 Aaron Pool (TRek/Highgear)
11 Scott Staubach (Spring City Cycling Club)
14 Thomas French (Team Power Train)
15 Thomas Wilson (Best of the Bay Cyclist)
16 Steven Muhle (Team Kaos)
17 Andrew Cornelison (Iowa State University Cycling)
18 Matthew Prest (Brazen Dropouts)
19 Jordan Brasch (Team Kaos Cycling)
20 Ed Noll (CowTown Cycling)
21 Ryo Kitahara (Flat City Cycling Club Inc.)
22 Nathan Bartels (QCP)
23 Matthew Wittig (IS Corp)
24 Victor Rentas (North Branch Cycling Club)
25 Brad Davis (Midwest Flyers)
26 Chris Ramsey (unattached)
27 Rick Rohret (Quad Cities Bicycle Club)
28 Casey Lamers (Great Dane Velo Club)
29 Nicholas Westlund (XXX Racing)
30 John Rowley (PCW Cycling)
31 David Cornelison (Iowa State University Cycling Club)
32 Steve Lauber (Iowa State University Cycling Club)
33 Lane Anderson (Des Moines Cycle Club)
34 Paul Argetsinger (Flat City Cycling Club Inc.)
35 Cassel Lessinger (NOVA CYCLE SPORT INC)
36 Stephen Goetzelman (GMBC/Catamount)
37 Armando Sanchez (Blue River Bicycle Club)
38 Wayne Whitesides (Cycleworks)
39 Jonathan Purvis (Team Tortuga)
40 Thomas Rees (2CC/Second City Cyclists)
41 Brian Shoemaker (St Louis Cycling Club)
42 Scott Stevens (Revolution Cycling Team)
43 Eric Lambi (Des Moines Cycle Club)
44 KC Conaway (Indiana Hand Center)
45 Mark Nagy (Dogfish Racing Team)
46 Aaron Bolton (unattached)
47 Jeremy Sievers (Des Moines Cycle Club)
48 Chris Reidy (University of Wisconsin Cycling T+)
49 Chad Headlee (LBC/HighGear)
50 Brad Streeter (Treasure Valley Cycling Club)
51 Johnny McLean (MOB Squad (Motivated Over Bicycli+)
52 Timothy Henry (Project 5 Racing)
53 Chad VandeLune (Unattached)
54 William Allen III (Iowa State University Cycling Club)
55 Steven Fritz (Best of the Bay Cyclist)
56 Kelby Bethards (FCCC-Lees Cyclery)
57 Marc Hollander (Des Moines Cycle Club)
58 Jason Carr (Unattached)
59 Mark Brackenbury (Team Kaos Cycling)
60 Scott Ouimette (Long John Silvers)
61 Geraint Parry (Team Tortuga)
62 Robert Helton (Revolution Cycling Team)
63 Jack Sells (Rapid Transit Racing Team)
64 Bradley Tisdahl (Project 5 Racing)
65 Steven Chaney (Velo Force)
66 Jared Faciszewski (NOVA/IS Corp)
67 Adam Fuson (Fuson)
68 Jeff Rose (University of Wisconsin Cycling T+)
69 Shawn Mullen (Spin City Cycling)
70 Marc O'Shea (PBF Cycling Team)
71 Rich Delgado (Redline Racing Ltd)
72 Jack West (Iowa State University Cycling Club)
 
Masters 40+
 
1 David Stedje (Best of the Bay Cyclist)
2 Jeff Bradley (On Two Wheetls)
3 Phillip Godkin (Nova Cycle Sport, Inc.)
4 Larry Moore (Team Mack Racing Assoc. LTD)
5 Robert Dahl (Plano Athletic Cycling Club+)
6 John Handlogten (One Percent More! Racing)
7 Gregory Harper (Melon City Bike Club Inc.)
8 Shawn Ingram (Velo Force)
9 Bruce Hitchcock (Vitamin Cottage Cycling Team)
10 Bill Crum (Treasure Valley Cycling Club)
11 Lenny Clapp (Peoria Bicycle Club)
12 Jeffrey Thompson (Team Mack Racing Assoc. LTD)
13 Gregory Duethman (Iowa City Cycling Club)
14 Darrell Bratton (Team Mack Racing Assoc. LTD)
15 Stephen Hall (Squadra Chupacabra)
16 Thomas Schuler (Endeavour Cycling Club The)
17 Jordan Brasch (Team Kaos Cycling)
18 Tom Eaton (Iowa State University Cycli+)
19 Philip Stringer (St Paul Bicycle Racing Club)
20 Joseph Jakofcich (Kansas City Bicycle Club)
21 Michael Thomsen (On Two Wheels)
22 Andrew Tschampa (The Bike Shop)
23 Lance Maylath (Illinois Bike Racing School)
24 Scott Wall (Des Moines Cycle Club Race +)
25 Michael Benson (Double I Cycling Experience+)
26 Randy Catron (Des Moines Cycle Club Race +)
27 John Whalen (Team Apache)
28 Michael Papini (Double I Cycling Experience+)
29 Paul Warloski (Team Mack)
30 Mike Winter (Double I Cycling Experience+)
31 Jeff Williams (Team Mack Racing Assoc. LTD)
32 Stanley Watkins (Peoria Bicycle Club)
33 Thomas Doughty (Tailwind Sports/USPS Masters)
34 Thomas Grobelny (Blue River Bicycle Club)
35 David Devol (Best of the Bay Cyclists)
36 Gary Doering (Team Mack Racing Assoc. LTD)
38 Michael Farrell (ABD Cycle Club)
39 Mark McGeen (Team Mack Racing Assoc. LTD)
40 Mark Olson (Vergegear.com Midwest)
41 Gary Dyer (Unattached)
42 Lonnie Kennedy (Mesa Cycles Racing Team)
43 Jim McDonald (Columbia Bike Club Race Team)
44 John Fleckenstein (Team Mack Racing Assoc. LTD)
 
Masters 30+ (cat 3, 4, 5)
 
1 Steve Driscoll (Team Mack Racing Assoc. LTD)
2 Paul Wood (Crystal Flash Cycling Team)
3 Stathy Touloumis (unattached)
4 Bruce Hitchcock (Vitamin Cottage Cycling Team)
5 Jack Sells (Rapid Transit Racing Team)
6 Thomas Wilson (Best of the Bay Cyclist)
7 David Lippold (Iowa State University Cycli+)
8 Tom Eaton (Iowa State University Cycli+)
9 John Handlogten (One Percent More! Racing)
10 Scott Ouimette (Long John Silvers)
11 Samuel Moore (Unattached)
12 Christopher Mosora (Vision Quest LLC)
13 Lane Anderson (Des Moines Cycle Club)
14 Rick Rohret (Quad Cities Bicycle Club)
15 Lonnie Kennedy (Mesa Cycles Racing Team)
16 Kelly Sparks (Proctor/Peoria Bicycle Chips)
17 Wayne Whitesides (Tortilla La Gaudalupana)
18 Kurt Hantelmann (DMOS Mortgage Solutions)
19 Andrew Smith (Peoria Bicycle Club)
20 Jeff Williams (Team Mack Racing Assoc. LTD)
21 Donald Miller (Double I Cycling Experience+)
22 Christopher (Chris) Martel (Team Mack Racing Assoc. LTD)
23 Richard Cox (Indiana Hand Center)
24 Robert Schrank (Alberto's Sport)
25 John Meehan (Iowa City Cycling Club)
26 Kurt Tromp (Redline Racing Ltd)
 
Category 5 (citizens)
 
1 Thomas Grobelny (Blue River Bicycle Club)
2 Eric Goodwin (XXX Racing/AthletiCo)
3 Jonathan Atwell
4 Tyree Williams (Melon City Bike Club Inc.)
5 Bennett Bork (Unattached)
6 Alan Rovge (XXX Racing)
7 Kenneth Lister (Unattached)
8 David Thompson (Quad Cities Bicycle Club)
9 Mike Sullivan (On TWo Wheels)
10 Brian Boyle (Colorado College Cycling Team)
11 Mark Garner (Des Moines Cycle Club)
12 Bryan Moritz (DICE)
13 Shawn Besley (IBRC)
14 Paul Foley (none)
15 Eirc Nordstrom
16 Michael Wakeley (Unattached)
17 Mike Harrington (Quad Cities Bicycle Club)
18 James Harring (Unattached)
19 Phillip Curran (DICE)
20 Eric Lorenz (ISU Cycling Club)
21 Jeff Abel (Double I Cycling Experience (DICE))
22 Patrick Hanrahan (Double I Cycling Experience (DICE))
23 Matthew Flaherty
24 Scott Swanson (Double I Cycling Experience (DICE))

Past winners
2003 Hayden Godfrey (NZl) 7UP/Maxxis       Sherri Stedje (USA) Best of the Bay Cyclist
2002 (3) Robbie Ventura (USA) US Postal    Andrea Hannos (Can) RONA
2001 (2) Robbie Ventura (USA) 
1999 Steve Sevener (USA)
1998 Chris Washkevich (Can)
1997 Robbie Ventura (USA)