Recently on Cyclingnews.com
Quad Cities Criterium - NE
USA, May 26, 2003
One lap to go!
Photo © Mark Zalewski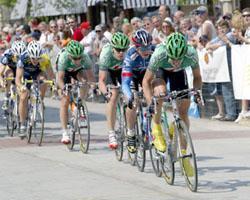 Stedje makes history, Ventura falls short
Included on the prestigious National Racing Calendar for the first time this year, the Quad Cities Criterium showed exactly why it belonged there today, as crowds of more than 15,000 were treated to an outstanding day of racing action. In the Royal Neighbors of America Women's Open, hometown favorite Sherri Stedje (Best of the Bay Cyclists) took her third victory in the Midwestern classic, while four-time winner Robbie Ventura (U.S. Postal Service) was upset in his bid to make history by speedy Kiwi Hayden Godfrey (7 UP/Maxxis) in the Zimmerman Pontiac, Cadillac, Oldsmobile, Honda Pro/1/2 event.
After witnessing racing action in a variety of other categories, including the always-popular children's event for youngsters between two and five years of age, the Quad Cities Criterium's marquee competitions, the elite Women's and Men's events began in the early afternoon. In the 35 minutes-plus-five-laps women's race, what had looked to be a likely showdown between youth (current Under-23 National Champions Megan Elliott of Saturn and Magen Long of OBRU) and experience (two-time winner Stedje) became a much tougher race to call with the last-minute entry of an international trio from the Diet Rite team: with the raw speed of New Zealanders Tania Duff-Miller and Joanne Kiesanowski, and the European-honed race smarts of British Columbia native Cybil DiGuistini, Diet Rite suddenly looked like the team to beat.
It quickly became apparent that no one was prepared to roll over for the 'newcomers', as they were forced to deal with a number of courageous, but ultimately ill-fated, attacks as riders (including eventual winner Stedje) tried to separate themselves from the field on the fast 0.75-mile circuit through the Downtown Rock Island Arts & Entertainment District. In the end, however, the race was just too fast for anyone to stay away, and the roaring crowds were treated to a bunch sprint to the line in which Stedje took command from the get-go, using her past experience to choose her spot and lead it out from the penultimate corner. No one ever came close to coming around her, and the 37-year old, who grew up in nearby Moline, Illinois and had her first bicycle racing experience at Quad Cities while still a child, won by more than a bike length from second-placed Kelly Benjamin (Athletes By Design), with Jenn Wangerin (Jamba Juice) in third.
Stedje couldn't have been happier, and credited her victory to a more relaxed approach to this year's race: "I put a lot of pressure on myself to win last year. But, this year, I came in a little bit more calm." For her efforts, Stedje picked $500 and a place in Quad Cities Criterium history, tying her with Californian Annette Madigan for the most wins in the Women's category.
There was someone else who had a chance to change the Quad Cities Criterium record books yesterday- Illinois favorite son Robbie Ventura of the U.S. Postal Service team, who came into town looking for a record fifth victory (he won previously in 1996, 1997, 2001, and 2002). However, as in the women's race, there was a late team entry that looked to have an effect on the outcome: 7 UP/Maxxis, which showed up with a strong contingent that included Jason McCartney and John Lieswyn, who had just gone 1-2 in the nearby Snake Alley Criterium... and Kiwi Hayden Godfrey, who had been dueling with Ventura in the field sprints over the previous few days of racing. The difference, of course, was that this time the last-minute challenger would come out on top.
For most of the race, the 50-lap Pro/1/2 Men's riders followed the same formula as their distaff counterparts, with gutsy but fruitless breakaways being reeled back in as the pack approached speeds of 35 miles per hour. With one lap remaining, the finish looked to be a carbon copy of the earlier event: the sprint opened up going into the next-to-last turn, with Godfrey gapping the rest with a strong burst. However, the wily Ventura was prepared and quickly caught onto the 7 UP/Maxxis rider's wheel. After that, though, things went badly awry for the defending champion, as Godfrey skidded just enough for his back wheel to lose contact with the road for a split-second- during which Ventura clipped Godfrey's pedal with his own front wheel and crashed, taking out several other well-positioned racers in the process. As a result, Godfrey won it going away, with ex-Jelly Belly pro Jason Waddell (Mathis Brothers) taking second and Peter Hanna of the formidable Bianchi/Grand Performance amateur squad pipping pro Patrick O'Donnell (Team West Virginia) for third.
Report courtesy of worlddiff.com
Photos
Images by Mark Zalewski
More images by Mark Zalewski
Results
Category 1 2 Pro
 
1 Hayden Godfrey (7UP/Maxxis)
2 Jason Waddell (Mathis Brothers)
3 Peter Hanna (Bianchi/GrandPerformance)
4 Patrick O'Donnell (Team West Virginia)
5 Brian Schaning (Saturn Cycling Development Team)
6 Frank Pipp (Athletes by Design)
7 Terry Beenken (DMOS/Mortgage Solutions)
8 Aaron Smathers (Mathis Brothers)
9 John Devine (IS Corp)
10 Joshua Carter (Spin City Cycling)
11 John Puffer (Athletes by Design)
12 Ryan Nenninger (Team Mack Racing Assoc., LTD)
13 Christopher Johnson (HRRC/Whole Foods)
14 Kevin Wilkins (NYH/UNMC/Team KAOS)
15 John Faull (C-U Racing)
16 Kurt Rees (Athletes by Design)
17 Gustavo Carillo (GrandPerformance/Bianchi)
18 Jeremy Sartain (Bianchi/GrandPerformance)
19 James Lennon (Trek/VW Midwest Regional Tm)
20 Bryson Perry (Healthy Choice/Guru's)
21 Banning Ostrow (MoEx/Orbea)
22 Benjamin Sharp (Team West Virginia)
23 Jason McCartney (7UP/Maxxis)
24 Jesse Bartholomew (ABD Cycle Club)
25 Keith Leonard (Team Bloomington)
26 Nicholas Reistad (Nova Cycle Sport, Inc.)
27 Paul Ellis (Bianchi/GrandPerformance)
28 Carlos Vargas (Saturn Cycling Development Team)
29 Ian Stuart (Saturn Cycling Development Team)
30 Luca Fagundes (Spin City Cycling)
31 Brian Matter (Saturn Development)
32 Nathan Busch (Trek/VW Colorado)
33 Joe McWilliams
34 Ryan Gamm (West Virginia Elite Team)
35 John Olney (Mercy/Cannondale/ICCC)
36 David Wenger (Kalamazoo Valley Velo Club)
37 David Stedje (Best of the Bay Cyclist)
38 Robert Rhamy (Team Bloomington)
39 Alan Craddock (River City Racing Club)
40 Aaron Langenegger (GrandPerformance)
41 Marc Yap (Healthy Choice/Guru's)
42 Todd Miller (Great Dane Velo Club (GDVC))
43 Joshua Tack (Mercy/Cannondale/ICCC)
44 Timothy Reinhart (Saturn Cycling Development Team)
45 Frank Dierking (Athletes By Design)
46 Ben Damhoff (Nova Cycle Sport, Inc.)
47 John Lieswyn (7UP/Maxxis)
48 Lee Venteicher (Mercy - Cannondale/ICCC)
49 Tristan Schouten (Saturn Cycling Development Team)
50 Eddy Gragus (Jimmy D Racing)
51 Michael Ebert (ABD Cycle Club)
52 Jeffrey Schroetlin (Spin City Cycling)
53 Bryce Mead (Bianchi/GrandPerformance)
54 Paul Martin (West Virginia Elite)
55 Joseph Hill (Big Shark Racing)
56 Kenny Labbe (US Postal)
57 Eric DeGolier (Nova Cycle Sport, Inc.)
 
Women Open
 
1 Sherri Stedje (Best of the Bay Cyclist)
2 Kelly Benjamin (KS ABD Cycle Club)
3 Jenn Wangerin (Jamba Juice)
4 Emily Gloeckner (TDS)
5 Joanne Kiesanowski (Diet Rite)
6 Tania Duff-Miller (Diet Rite)
7 Magen Long (Oklahoma Bicycle Racing Union)
8 Jane Vanni-Noone (ABD Cycle Club)
9 Rachel Couch (Valdoro Mountain Cycling Tm)
10 Catherine Walberg (Jamba Juice)
11 Shawn Heidgen (TDS)
12 Deborah Dust (Jamba Juice)
13 Jennifer Leonard (Bianchi/GrandPerformance)
14 Christine White (TDS)
15 Karlee Brandner (Ti-Cycles/IPS)
16 Anne Meyer (ABD Cycle Club)
17 Jessica Lindemann
18 Louise Laganiere (T.E.A.M Fuji)
19 Michelle Bazemore (Kreitler Rollers/BP Tech)
20 Amanda Lawrence (National Capital Velo Club)
21 Rebecca Loney (TDS)
22 Cybil DiGuistini (Diet Rite)
23 Suzanne Johnson (Free State Racing)
24 Megan Monroe (America's Dairyland)
25 Anne Holterhoff (Jamba Juice)
26 Courtney Bollman (Jamba Juice)
27 Erin Syth (America's Dairyland)
28 Rachel Eichers (Americas Dairyland)
29 Jennifer (Jenner) Yaeso (Valdona Mtn Lodge CT)
30 Amyazellie Tremelling (CU Racing Team)
31 Andrea Mugge (Mercy-Cannondale/ICCC)
32 Carrieann Kopernik (Coyote Cycling Team)
33 Crystal Yap (Jamba Juice)
34 Megan Elliott (Saturn Cycling Team)
35 Barbara Harick (St Paul Bicycle Racing Club)
 
Juniors
 
1 John Devine (Nova Cycle Sport, Inc.)
2 Ben Damhoff (Nova Cycle Sport, Inc.)
3 Jerad Poling (Minnesota Junior Cycling)
4 Zachary Davies (Great Dane Velo Club (GDVC))
5 Nick Frey (Midwest Rolling Thunder)
6 Nathan Birru (Midwest Rolling Thunder)
7 Brad Armstrong (Los Malos Racing Club)
8 Joe Lewis (Minnesota Junior Cycling)
9 Thomas French (Team Power Train)
10 Jordan Carr (Nova Cycle Sport, Inc.)
11 Alexander Boyd (Gateway Cycling Club)
12 Cassel Lessinger (Hinkley Springs Racing Team)
13 Christopher Mehus (Minnesota Junior Cycling)
14 John Eggebrecht (Nova Cycle Sport, Inc.)
15 Eric Maertens (ABD Cycle Club)
16 Derek Laan (MNJRC)
17 Alex Welch (Team Power Train)
18 Ulric DeYoung (Trek/Volkwagen)
19 Rob West (Midwest Rolling Thunder)
20 Chris Goettig (ISCorp Cycling Team)
21 Chris Hall (Team X)
22 Aaron Pool (Trek/Highgear)
23 Adam Biwan (Nova Cycle Sport, Inc.)
 
Category 3
 
1 Paul Knox-Papin (Oklahoma Bicycle Racing Union)
2 David Young (Vision Quest LLC)
3 Chad VandeLune (DMCC/MS)
4 Justin Rumley (Iowa State University Cycling Cl+)
5 Joel Charles (Just Pedal Faster Racing)
6 Craig Sweeney (Soma Cycling Team)
7 Aaron Pool (Trek/Highgear)
8 Mark De Lanoy (Hinckley Springs)
9 James Cochran (Chain Reaction Bicycle Club)
10 William Baudhuin (Brazen Dropouts/Cronometro)
11 Rich Smott (PBF Cycling Team)
12 Samuel Moore (Big Shark Racing)
13 Steve Lauber (Iowa State University Cycling Cl+)
14 Brad Armstrong (Los Malos Racing Club)
15 Ian Robertson (Team Kaos/NHS/UNMC)
16 Andrew Couch (American Cycling Association)
17 Caleb Thompson (PCW Cycling Inc.)
18 Bennet VanderGenugten (Team Bloomington/TouchstoneE)
19 Thomas Clark (Great Dane Velo Club)
20 Daniel Martin (Laurel Street Racing)
21 Rob West (Midwest Rolling Thunder)
22 Nathan Birru (Midwest Rolling Thunder)
23 Rick Rohret (Quad Cities Bicycle Club)
24 David Lippold (Kansas City Bicycle Club)
25 Richard Cox (BGI/Trane)
26 Jon Kloppenburg (Alterra Coffee)
27 Nick Frey (Midwest Rolling Thunder)
28 Eric Lambi (DMOS)
29 Donny Quixote (Midwest Rolling Thunder)
30 Scott Stevens (Runza Cycling Team)
31 Brian Haas (Alberto's Sport)
32 Chris Goettig (ISCorp Cycling Team)
33 Brad Davis (Midwest Flyers)
34 Jeff McFarland (Brazen Dropouts)
35 Eric Maertens (ABD Cycle Club)
36 Tom Hanley (Bike Source)
37 Lane Anderson (DMOS/Mortgage Solutions)
38 Chris Strout (2CC/Pony Shop)
39 Paul Kronser (Great Dane Velo Club (GDVC))
40 Matt Kleinmeyer (Mercy/Cannondale/ICCC)
41 Maciej Pike-Biegunski (Illinois Bike Racing School)
42 Jon Kersha (Dogfish Racing Team)
43 John Shelp (DMOS/Mortgage Solutions)
44 Kurt Fritz (Lakes Fl Best of the Bay Cyclists)
45 Mark Nagy (Dogfish Racing Team)
46 Eric Melton (CRRC/Bacon Tek)
47 Casey Lamers (Mad City Cycling)
48 Jeb Stewart (Best of the Bay Cyclist)
49 Joshua Lukins (Trek Midwest Cycling Team)
50 Chris Bolling (2CC/Second City Cyclists)
51 Nick Bishop (Midwest Rolling Thunder)
52 Matthew Prest (Brazen Dropouts)
53 Jonathan Nelson
54 Kyle May (Spin City Cycling)
55 Jack West (Iowa State U Cycling/NCCA)
56 Christopher Brewer (StLouisCyclones/Maplewood)
57 David Sachs (Alberto's Sport)
58 Samuel Brower (ABD Cycle Club)
59 Marc Hollander (DMOS/Mortgage Solutions)
60 Andrew Millard (Midwest Flyers/Campus Cyclery)
 
Women Category 4
 
1 Erica Lanser (Saturn Cycling Development Team)
2 Julie Tatar (Brazen Dropouts)
3 Samantha Schneider (Coyote Cycling Team)
4 Vera Hall (Grand Performance)
5 Miranda Quigley (Oklahoma Bicycle Racing Union)
6 Susan Uphill (Capitol Velo Club)
7 Jerica Gritsch (Iowa City Cycling)
8 Jennifer Hawkins (Jamba Juice)
9 Ginger Sides (Team Apache)
10 Marie LeRoy (Just Pedal Faster Racing)
11 Pamela Hinton
12 Marilyn Powell (Team Mack)
13 Randi Cox (Tortuga)
14 Ellen Hall (Jamba Juice)
15 Kim Morris (Team Apache)
16 Jami Hartwig
17 Emily Baltes
18 Sonya Crum (Gold's Gyn)
 
Category 4
 
1 Wes Hartman (ISU)
2 Kevin Perez (Redline Racing Ltd)
3 Rob Dirnbeck (St Louis Univ Cycling)
4 Bradley Pearson
5 David Cornelison (Iowa State University Cycling Cl+)
6 Jeremiah Grell (UNL)
7 Chris Vogel (Vision Quest)
8 Jeffrey Perry (Texas Flyers)
9 Heath McEwen (Momentum)
10 Kenneth Conaway (Midwest Flyers)
11 Timothy Henry Schaumburg (Project 5 Racing)
12 Armando Sanchez (Blue River Bicycle Club)
13 Andrew Hammond
14 John Gissal (Best of the Bay Cyclists)
15 John Boyd (Gateway Cycling Club)
16 Scott Staubach (Boston Bicycle Club/Community)
17 Matt Sherman (UNL Cycling)
18 Andrew Cornelison (Iowa State Univ)
19 Dave AlderseBaes (Evil/Project 5)
20 Martin Morris (Vision Quest Coaching)
 
Category 5 & Citizen
 
1 Matthew O'Keefe
2 Jeremy Sievers (DMOS/Mortgage Solutions)
3 Jim Riley
4 Brian LaLonde
5 Terry Guimond (South Chicago Wheelmen)
6 Doug Fairall (Quad Cities Bicycle Club)
7 Adam Ritter (Tortuga)
8 Kristopher Keller
9 Todd Spacek
10 Thaddeus Neil (MBWC)
11 Bennett Bork
12 Douglas Klahsen (DMOS/Mortgage Solutions)
13 Erik Myers (QCBC/Dice)
14 Dennis Grelk
15 Mark Garner (Des Moines Cycle Club Race Team)
 
Masters 40+
 
1 Larry Moore (Team Mack Racing Assoc. LTD)
2 Mike Moles (Team Estridge)
3 Bruce Hitchcock (Vitamin Cottage)
4 Randal Warren (XXXRacing/AthletiCo)
5 John Handlogten
6 Gary Doering (Team Mack Racing Assoc. LTD)
7 Stephen Hall (Squadra Chupacabra)
8 Kenneth Pearson
9 Michael Farrell
10 Bill Crum (Gold's Gym)
11 Bruce Harick (Flanders/MBRC)
12 Philip Stringer (Bianchi/GrandPerformance)
13 David Montgomery
14 Thomas Zoumaras (JellyBelly/CarlsbadClothing)
15 Jeffrey Thompson (Just Pedal Faster Racing)
16 Tim Taylor (ORRA)
17 Michael Benson (Quad Cities Bicycle Club)
18 Thomas Erps (QCBC/Dice)
19 Robert Benedum (St Paul Bicycle Racing Club)
20 Greg Monty (Violet Crown Sports Assoc)
21 John Grice
22 Darrell Bratton (Team Mack Racing Assoc., LTD)
23 John Fleckenstein (Team Mack Racing Assoc. LTD)
24 Jeffrey Paul (Vitamin Cottage Cycling Team)
25 Michael Spengler (Bianchi/GrandPerformance)
26 Christopher Rassekh (All Ireland Racing)
27 Jim McDonald (Columbia Bike Club Race Team)
28 Steven Wilkes
29 Richard Adamczyk (Team Mack)
30 Mark McGeen (Team Mack Racing Assoc. LTD)
31 Barry White (Team Oregon)
32 Scott O'Dell (Northwave Midwest Masters)
 
Masters 50+
 
1 David Montgomery
2 Thomas Zoumaras (JellyBelly/CarlsbadClothing)
3 Thomas Erps (QCBC/Dice)
4 Robert Benedum (St Paul Bicycle Racing Club)
5 Greg Monty (Violet Crown Sports Assoc)
6 Michael Spengler (Bianchi/GrandPerformance)
7 Jim McDonald (Columbia Bike Club Race Team)
8 Richard Adamczyk (In Team Mack)
9 Scott O'Dell (Northwave Midwest Masters)
 
Masters 3 4 5 (30+)
 
1 Jack Sells (Rapid Transit Racing Team)
2 John Voigt (Team Wisconsin)
3 John Handlogten
4 James Cochran (Chain Reaction Bicycle Club)
5 William Hauber (All Ireland Racing)
6 Bruce Hitchcock (Vitamin Cottage)
7 William Baudhuin (Brazen Dropouts/Cronometro)
8 Stathy Touloumis (VisionQuest Coaching)
9 Steve Driscoll (Team Mack Racing Assoc., LTD)
10 Jeff McFarland (Brazen Dropouts)
11 John Gissal (Best of the Bay Cyclists)
12 Kurt Fritz (est of the Bay Cyclists)
13 David Lippold (Kansas City Bicycle Club)
14 Scott Staubach (Boston Bicycle Club/Community)
15 Rick Rohret (Quad Cities Bicycle Club)
16 Matthew Yeakey (Mad City Cycling Club)
17 Jeffrey Paul (Vitamin Cottage Cycling Team)
18 Andrew Couch (American Cycling Association)
19 Jeff Smith (North Branch Cycling Club)
20 Donald Miller (Quad Cities Bicycle Club)
21 Seth Smith (Columbia Bike Club Race Team)
22 Christopher Smith (Beaux Temps)
23 Stephen Clarke (Brazen Dropouts)
24 Robert Schrank (Alberto's Sport)
25 John Lefler (Team Kaos/NHS/UNMC)
26 Christopher Andruscavage (QCBC/Dice)
27 Jim McDonald (Columbia Bike Club Race Team)
28 Robert Oellermann (Velo Force)
29 Michael Smith (Columbia Cycling Club)
30 Billy Dwyer (2CC/Second City Cyclists)
31 Stephen Wadle (Quad Cities Bicycle Club)

Past winners
2002 (3) Robbie Ventura (US Postal)     Andrea Hannos (RONA)
2001 (2) Robbie Ventura (USA) 
1999 Steve Sevener (USA)
1998 Chris Washkevich (Can)
1997 Robbie Ventura (USA)