BMC Software Australian Open Road Championships
Ballarat, Victoria, Australia, January 15-18, 2004
2003 Results Live coverage Start List Past Winners
Road Race preview
Jeremy Hunt in pursuit of fourth crown
O'Grady atop past year's podium
Photo: © CN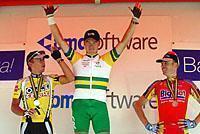 English Olympian Jeremy Hunt, a prolific winner of national titles, looms as a major obstacle to a home grown victory in the BMC Software Australian open men's road cycling championship at Buninyong on Sunday. Hunt, 29, whose road championship collection includes two British and the Australian open, believes another major victory is within his grasp.
"The field is incredibly strong and the course is tough, but I have some degree of confidence," the laconic Hunt said. "If I can stay in touch with the class riders on the numerous climbs up Mt. Buninyong, I may be hard to beat in a sprint to the line at the end of the race."
Hunt, who upset Australia's best in the 2000 Australian championship at Portarlington, is the only overseas rider to snare the national open crown since it was introduced in 1999. The other four winners were Henk Vogels (WA), Steve Williams (NSW), Robbie McEwen (Qld) and Stuart O'Grady (SA), who narrowly defeated young Queenslander Allan Davis last year.
Hunt, who represented Great Britain in the road race at the 2000 Sydney Olympic Games, is one of 17 overseas riders who will take part in the four day championships. But the 150 strong field in the men's road race, the feature event of the championships, reads like a Who's Who of Australian cycling.
Wood, Gollan and Shirley
Photo: © CN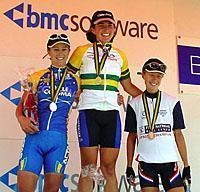 Tour de France stars Bradley McGee (NSW), Baden Cooke (Vic), Robbie McEwen (Qld), Matt Wilson (Vic), Nick Gates (NSW), and Patrick Jonker (SA) will ensure that Hunt's passage to a second Australian title will be as rocky as possible.
McGee, 27, is riding the Australian open for the first time and has undertaken a strenuous preparation in a bid to claim the title. "I'm ready, I'm willing, I'm fit, and I'm going to Buninyong to try to win," he said.
In the women's 100 km event, the pre-race favourite will be the ACT's Oneone Wood, who is in sparkling form after winning the Jayco Bay Classic series last week. Wood will be up against defending champion Olivia Gollan (NSW), time trial specialist Sara Carrigan (Qld), Katie Mactier (Vic), Emma James (NSW) and Hayley Rutherford (WA), most of whom have posted some good results of late.
Time Trial Preview
Carrigan and Day face tough opposition in defence of jerseys
Defending champ Sara Carrigan
Photo: © CN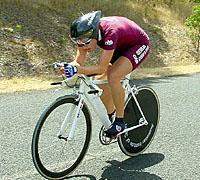 Queensland pair Sara Carrigan and Ben Day will face tough opposition when they line up to defend their respective Australian Time Trial crowns. Carrigan, 23, is trying for a hat trick of wins after her success in securing the Australian Time Trial champion's jersey in both 2002 and 2003.
Ranked tenth in the women's world road rankings Carrigan, who rides for the Dutch professional team BIK Powerplate, believes having experienced victory on the Buninyong circuit has given her a solid focus in her training.
"It gives me a mental edge as I can picture myself back on the course and relive the feeling of winning," said Carrigan from the Gold Coast where she is putting the final touches to her Championships preparation. "I have been feeding on the confidence I gained from my 2003 season."
In 2003 she won the opening round of the UCI Women's Road World Cup and wore the series leader's jersey for five rounds. She finished the Series ranked fourth overall. "I learned a lot last year and I'm determined to use that knowledge to improve in 2004," she explained. "The fact that it's an Olympic year has given me even more drive to succeed."
Carrigan, then only 19 years old, was a reserve rider for the 2000 Olympics in Sydney but is committed to making the starting line up in Athens.
"I have already ridden the course in Athens and I'm using that experience for both my mental and physical preparation," she said. But the 2002 and 2003 Australian Women's Road Cyclist of the Year admits it won't be easy to defend her crown against her rivals. "I expect Oenone Wood and Olivia Gollan to be going really well and you can never count out Katie Mactier."
The women will race over a 28 kilometre course on Thursday January 15th with the first rider due to start at 11.00am.
Ben Day in 2002
Photo: © CN
Meantime in the men's 39 kilometre event Ben Day (26) who was 11th at the World Championships in 2003, has a month of solid training behind him in his quest to defend his title. 2003 World Championships silver medallist, Michael Rogers, won't be in the race because he has been called back to Europe by his Quick.Step-Davitamon professional team, but Day, who pipped Rogers in 2003 for the victory, knows there are others with their sights set on gold.
Four time Australian time trial champion Nathan O'Neill (1994, 1996, 1998 & 2002) is making his comeback from horrific injuries he suffered in a crash during a race in the USA in July last year. O'Neill, the bronze medallist in the 2002 Commonwealth Games time trial, spent more than two months in a medical 'halo' fixed to his skull by fours screws and designed to immobilise his head and neck to allow the two broken vertebrae in his neck to heal.
"Nathan is a true fighter and I'm sure he'll be out to prove he is as strong as ever," said Day who will have the advantage of being the last rider out of the gate so will know how his rivals have performed.
Another of those rivals will be reigning British time trial champion, Stuart Dangerfield. "I've never raced against him before in a time trial so it will be interesting to see what sort of form he has," said Day. "But in the end it comes down to how well I can do on the day and I probably won't know that until half way through when I'm suffering like a dog and realise I'm either going well or not."
After two years with a Portuguese professional team Day has this year signed a contract with the Belgian based Mr Bookmaker.com-Palmans. "I've managed to get off the fortress (Portugal) and now I want to put in a good year of racing on mainland Europe."
The men's time trial will be raced on Friday January 16th starting from 11.00am.
The women's (100km) and men's (180km) road races will be staged on Saturday and Sunday respectively with both races beginning at 11.00am.
Past Winners
Men's Road Race
 
2003 Stuart O'Grady (SA)
2002 Robbie McEwen (Qld)
2001 Steve Williams (NSW)
2000 Jeremy Hunt (GBr) (Australian champion: Jamie Drew)
 
Women's Road Race

2003 Olivia Gollan (NSW)
2002 Margaret Hemsley (NSW)
2001 Katie Mactier (Vic)
2000 Anna Wilson (Vic) Saturn

Men's Time Trial
 
2003 Ben Day (Qld)
2002 Nathan O'Neill (Qld)

Women's Time Trial
 
2003 Sara Carrigan (Qld)
2002 Sara Carrigan (Qld)
2001 Anna Millward (Vic)
2000 Tracey Gaudry (ACT)
1999 Kristy Scrymgeour (NSW)