9th Telekom Malaysia Le Tour de Langkawi - 2.2
Malaysia, February 6-15, 2004
Home Results Previous stage Next stage
Stage 6 - February 11: Muar - Johor Bahru, 175.2 km
Quaranta comes through with the goods
By Anthony Tan in Johor Bahru
Full speed ahead: Quaranta (M) does it easy
Photo ©: Mark Gunter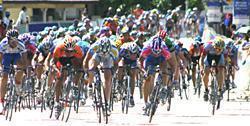 At 175.2 kilometres with no hill in sight, the longest stage of this year's race was destined for the sprinters, and as the 107-strong peloton screamed into Johor Bahru, it was Formaggi Pinzolo Fiave's Ivan Quaranta who roared loudest in a flat-out sprint finish to the line, comfortably accounting for second-placed Luciano Pagliarini (Lampre) and Ruben Bongiorno (Ceramiche Panaria-Margres).
For Quaranta, today's victory is his first stage win for 2004, and the 29 year-old hopes his good form will provide him with solid grounding in the lead-up to this year's Giro d'Italia: "I am happy to have won this stage, but I would have liked to have won some earlier stages to take the leader's jersey in the points competition," he said to Cyclingnews.
"The team helped me up until the last 400m until I was on the wheel of Gordon [Fraser], then he was on the front on his own and I was forced to go for the sprint, but that's how it goes. I hope my form can continue, particularly at the Giro."
While the sixth stage could only be described as a sprinters' paradise, it didn't stop a group of 14 opportunists breaking away early in the peace, causing some anxiety within the gruppo Colombia Selle-Italia - but Directorre-Sportivo Gianno Savio's troops once again held strong, tapping into the power of the golden fleece of Marlon Perez and swapping off with seemingly relentless force. However, mountains jersey Ruber Marin (Colombia Selle Italia) admitted afterwards that today was no walk in the park for the team, and whether they can continue to nullify breaks largely unassisted remains to be seen.
"We were a little bit worried because of those riders that were not so far down on the general classification, so we had to ride really hard and it turned out to be quite a difficult day for us with Huberlino Mesa crashing," Marin explained to Cyclingnews. When it got towards the end of the stage, the sprinters' teams helped again to bring it back, so hopefully we can go on defending the jersey."
How it unfolded
Blowing their own trumpets
Photo ©: Mark Gunter

With a strong cross-tailwind blowing at the stage start in Muar, the mostly flat parcours belied the danger of today's 175.2 kilometre stage down to the southern tip of the Malaysian west coast in Johor Bahru.
Conflicting strategies, ranging from riders looking for the early break to teams aiming to keep their GC riders high on the overall classification, was certain to make what was on paper a rather non-eventual stage more than just mildly interesting. Cyclingnews diarist and last year's King of the Mountains, Roland Green, lying 15th overall, even described what appeared to be conflicting strategies within his own team: "The team objective today is to be active in the breakaway. We want to get in a good break and for that break to make it to the finish," said Green to Cyclingnews at the start in Muar.
"But there's so many teams with good sprinters and we haven't had a bunch finish yet, so it's going to be a lot harder to stay away. If I'm in trouble, I know I'll have some help, but it's also a matter of how fast the stage is going; I mean, if it's going really fast, there's only so much your team can do."
First there were 15...
Photo ©: Mark Gunter

... and then there were 11
Photo ©: Mark Gunter

In what is becoming standard practice on this year's Tour de Langkawi, the longest stage of this year's race began with a flurry of attacks and countermoves, indicative of a nervous peloton. So it wasn't surprising to see a pile-up at the 20 kilometre mark with Brice Jones (Health Net presented by Maxxis) worst off, the American requiring medical treatment from the race doctor before hopping back on his bike. And in what eventuated into the main break of the day, the change in momentum provided a stepping stone for 15 riders to escape.
Over the next 20 clicks, the two-wheeled tug-o-war between the break and the main group was too much for four of the opportunists, who motioned themselves back to the peloton, creating an interesting mix of 11. In that group were: Alessandro Cortinovis (Lampre), Jurgen Van De Walle (Chocolade Jacques-Wincor), Alejandro Alberto Borrajo (Ceramiche Panaria-Margres), Mario Manzoni (Formaggi Pinzolo Fiave), Jock Green (Team Barloworld), Danny Pate and Michael Sayers (Health Net presented by Maxxis), Yoshiyuki Abe (Japan), Dominique Perras (Canada) and Daryl Impey and Reinhardt Duplessis (South Africa). Out of the 11, three riders had most to gain: Jurgen Van De Walle (Chocolade Jacques-Wincor, 4'37 behind), Jock Green (Team Barloworld, at 5'43) and Reinhardt Duplessis (South Africa, at 6'31).
With the two groups out on the road not willing to give an inch, 49 kilometres were completed in the first hour's racing with the break's advantage at no more than 30 seconds. By km 79, the 11 riders managed to extract another two minutes from the peloton, reaching a maximum lead of 2'32, but Colombia Selle-Italia and Relax Bodysol were vigilant in protecting the lead of leader Marlon Perez and second overall Hector Guerra Garcia, the gap gradually coming down to a shade over a minute by km 114.
Shortly after the third intermediate sprint in Bukit Batu (km 120.4), 11 became 3 and with 50 kilometres remaining, all that was left were Alejandro Alberto Borrajo (Ceramiche Panaria-Margres), Alessandro Cortinovis (Lampre) and Dominique Perras (Canada). Doomed but not yet defeated, the trio pressed on until just five kilometres left, the sprinters' teams of Formaggi Pinzolo Fiave, Lampre, Panaria-Margres and Health Net taking over the reigns - much appreciated by the sextet from Colombia Selle Italia after Huberlino Mesa came down earlier on in the stage and Russell Van Hout was thrown off his bike by an Irish rider warming down after yesterday's time trial in Melaka.
Colombia and Relax vigilant
Photo ©: Mark Gunter

Coming into Johor Bahru, the fastmen began jostling for position, with two Colpack riders taking a flyer at the 400 metres to go mark. Points leader Gordon Fraser was then forced to take up the slack in the knowledge he was towing the wheel of Ivan Quaranta (Formaggi Pinzolo Fiave), and just before Fraser ran out of steam, Quaranta hit out hard, his muscled legs turning the 11 cog faster than the rest to give the Italian speedster his first victory of 2004.
"We started racing from the very beginning. There were three teams going for the stage win, and I put all my efforts into getting this stage victory," said Quaranta to Cyclingnews, delighted to have won against some of the finest sprinters in the world.
Gordon Fraser, fourth on the stage but a clear leader in the points classification, was pragmatic: "I was forced to make the effort to get to the Colpacks, and at that moment, that was the moment to go but I was gassed. I hesitated just a little bit, and when I hesitated, that's when Ivan, Pagliarini and Bongiorno had the momentum on me and they did a great sprint. They timed it right and I hesitated and obviously lost, but that's the way it goes," he said.
"My main lead out man, [Greg] Henderson, got a plastic bag stuck in his derailleur with about seven k to go, and I tried to reach down and pull it out, but I wasn't brave enough. For me, that really was the key today for my lack of killer sprint, I s'pose - not having my lead-out man made the difference. And that hesitation hurt me; you just can't make a mistake at this level - the other sprinters are just too good - and the minute you make a mistake, you pay for it big time. So tough day for Health Net... we had a really hard day."
Photography
Images by Mark Gunter/Cyclingnews/www.pbase.com/gunterphotograph
Images by Shane Stokes/www.irishcycling.com
Images by John Pierce/Photosport International
Results

1 Ivan Quaranta (Ita) Formaggi Pinzolo Fiave                  3.39.20
2 Luciano Pagliarini (Bra) Lampre
3 Ruben Guillermo Bongiorno (Arg) Ceramiche Panaria-Margres
4 Gordon Fraser (Can) Health Net presented by Maxxis
5 Eugene Moriarty (Irl) Ireland
6 Enrico Degano (Ita) Team Barloworld
7 Enrico Grigoli (Ita) De Nardi
8 Wawan Setyobudi (Ina) Wismilak
9 Gert Vanderaerden (Bel) Mr Bookmaker-Palmans-Collstrop
10 Hassan Maleki (Irn) Iran
11 Matteo Carrara (Ita) Lampre
12 Charles Dionne (Can) Canada
13 Graziano Gasparre (Ita) De Nardi
14 Tanha Abbas Saeidi (Irn) Iran
15 Antonio Rizzi (Ita) De Nardi
16 Sama'i Sama'i (Ina) Wismilak
17 Paul Griffin (Irl) Ireland
18 Javier Florencio Cabre (Spa) Relax Bodysol
19 Amir Zargari (Irn) Iran
20 Matnur Matnur (Ina) Wismilak
21 Mohd Zahit Mohd Sayuti (Mas) Malaysia
22 Rosli Nor Affendy (Mas) Malaysia
23 Jianshi Luo (Chn) China
24 Alfie Catalan (Phi) Pagcor-Casino Filipino
25 David McCann (Irl) Ireland
26 Ryan Cox (RSA) Team Barloworld
27 Mauricio Ardila (Col) Chocolade Jacques-Wincor
28 Nacor Burgos Rojo (Spa) Relax Bodysol
29 Victor Espiritu (Phi) Pagcor-Casino Filipino
30 Razali Shahrulneeza (Mas) Malaysia
31 Xiaojun Shao (Chn) China
32 Kurt Van De Wouwer (Bel) Mr Bookmaker-Palmans-Collstrop
33 Marlon Perez (Col) Colombia Selle-Italia
34 Garcia Oscar Laguna (Spa) Relax Bodysol
35 Germ Van Der Burg (Ned) Bert Story-Piels
36 Michele Gobbi (Ita) De Nardi
37 John Lieswyn (USA) Health Net presented by Maxxis
38 Hector Guerra Garcia (Spa) Relax Bodysol
39 Wladimir Belli (Ita) Lampre
40 Graeme Brown (Aus) Ceramiche Panaria-Margres
41 Jeremy Hunt (GBr) Mr Bookmaker-Palmans-Collstrop
42 Ian Mcleod (RSA) South Africa
43 Fortunato Baliani (Ita) Ceramiche Panaria-Margres
44 Luis F. Laverde Jimenez (Col) Formaggi Pinzolo Fiave
45 Jasper Lenferink (Ned) Bert Story-Piels
46 Eric Wohlberg (Can) Canada
47 Freddy Gonzalez (Col) Colombia Selle-Italia
48 Arne Kornegoor (Ned) Bert Story-Piels
49 Michele Scotto D'abusco (Ita) Lampre
50 Michel Van Haecke (Bel) Mr Bookmaker-Palmans-Collstrop
51 Ismail Mohd Sazlee (Mas) Malaysia
52 Denis Lynch (Irl) Ireland
53 Sergio Barbero (Ita) Lampre
54 Susanto Tonton (Ina) Wismilak
55 Philip Deignan (Irl) Ireland
56 Johan Van Summeren (Bel) Relax Bodysol
57 Musa Musairi (Mas) Malaysia
58 Jurgen Van De Walle (Bel) Chocolade Jacques-Wincor
59 David George (RSA) Team Barloworld
60 Tiaan Kannemeyer (RSA) Team Barloworld
61 Nicholas White (RSA) South Africa
62 Sean Sullivan (Aus) Team Barloworld
63 Dave Bruylandts (Bel) Chocolade Jacques-Wincor
64 Santiago Blanco Gil (Spa) Relax Bodysol
65 Frederic Gabriel (Fra) Mr Bookmaker-Palmans-Collstrop
66 Merculio Ramos (Phi) Pagcor-Casino Filipino
67 Neil Mcdonald (RSA) South Africa
68 Guozhang Wang (Chn) China
69 Alessandro Cortinovis (Ita) Lampre
70 Roland Green (Can) Canada
71 Yongbiao Zhu (Chn) China
72 David O'Loughlin (Irl) Ireland
73 Zbigniew Piatek (Pol) Chocolade Jacques-Wincor
74 Ghader Mizbani (Irn) Iran
75 Yasutaka Tashiro (Jpn) Japan
76 Fabio Gilioli (Ita) Ceramiche Panaria-Margres
77 Jock Green (RSA) Team Barloworld
78 Rhyan Tanguilig (Phi) Pagcor-Casino Filipino
79 Xueli Jiang (Chn) China
80 Ano Pedersen (Ned) Wismilak
81 Tomoya Kano (Jpn) Japan
82 Lloyd Lucien Reynante (Phi) Pagcor-Casino Filipino
83 Coen Loos (Ned) Bert Story-Piels
84 Jans Koerts (Ned) Chocolade Jacques-Wincor
85 Alejandro Alberto Borrajo (Arg) Ceramiche Panaria-Margres
86 Cory Lange (Can) Canada
87 Ruber Marin (Col) Colombia Selle-Italia
88 Shinichi Fukushima (Jpn) Japan
89 Andoni Aranaga (Spa) Chocolade Jacques-Wincor
90 Jaco Odenaal (RSA) South Africa
91 Trent Wilson (Aus) Colombia Selle-Italia
92 Peter Wedge (Can) Canada
93 Alexandre Lavallee (Can) Canada
94 Moises Duenas Nevado (Spa) Relax Bodysol
95 Brett Lancaster (Aus) Ceramiche Panaria-Margres
96 Albert Primero (Phi) Pagcor-Casino Filipino
97 Mario Manzoni (Ita) Formaggi Pinzolo Fiave
98 Jeremy Maartens (RSA) South Africa
99 Makoto Iijima (Jpn) Japan
100 Kazuyuki Manabe (Jpn) Japan
101 Peter Wuyts (Bel) Mr Bookmaker-Palmans-Collstrop
102 Ahad Kazemi (Irn) Iran
103 Devis Miorin (Ita) De Nardi
104 Giulini Sulpizi (Ita) Formaggi Pinzolo Fiave
105 Jan Van Velzen (Ned) Chocolade Jacques-Wincor
106 Huberlino Mesa Estapa (Col) Colombia Selle-Italia
107 Reinhardt Duplessis (RSA) South Africa
108 Corrado Serina (Ita) Formaggi Pinzolo Fiave                  0.41
109 Matteo Cappe (Ita) Formaggi Pinzolo Fiave                    1.37
110 Domenico Gualdi (Ita) Formaggi Pinzolo Fiave                 2.06
111 Ronald Gorantes (Phi) Pagcor-Casino Filipino                 2.40
112 Sergiy Matveiev (Ukr) Ceramiche Panaria-Margres              2.56
113 Rafael Nuritdinov (Uzb) De Nardi                             3.07
114 Brice Jones (USA) Health Net presented by Maxxis             3.10
115 Daryl Impey (RSA) South Africa
116 Gregory Henderson (NZl) Health Net presented by Maxxis
117 Scott Moninger (USA) Health Net presented by Maxxis
118 Marco Pinotti (Ita) Lampre                                   5.03
119 Danny Pate (USA) Health Net presented by Maxxis              5.15
120 Ben Day (Aus) Mr Bookmaker-Palmans-Collstrop                 6.47
121 Russel Van Hout (Aus) Colombia Selle-Italia
122 Dominique Perras (Can) Canada
123 Scott Guyton (NZl) Wismilak
124 Michael Sayers (USA) Health Net presented by Maxxis
125 Yoshiyuki Abe (Jpn) Japan
126 James Perry (RSA) Team Barloworld                           13.28
DQ Fuyu Li (Chn) China
DQ Hamad Mohd Mahazir (Mas) Malaysia
DNS Kazuya Okazaki (Jpn) Japan
 
Sprints
 
Parit Sulong
 
1 Daryl Impey (RSA) South Africa                                    5 pts
2 Michael Sayers (USA) Health Net presented by Maxxis               3
3 Enrico Grigoli (Ita) De Nardi                                     2
4 Alessandro Cortinovis (Ita) Lampre                                1
 
Simpang Renggam
 
1 Jock Green (RSA) Team Barloworld                                  5 pts
2 Daryl Impey (RSA) South Africa                                    3
3 Reinhardt Duplessis (RSA) South Africa                            2
4 Michael Sayers (USA) Health Net presented by Maxxis               1
 
Bukit Batu
 
1 Michael Sayers (USA) Health Net presented by Maxxis               5 pts
2 Jock Green (RSA) Team Barloworld                                  3
3 Alessandro Cortinovis (Ita) Lampre                                2
4 Daryl Impey (RSA) South Africa                                    1
 
Teams
 
1 De-Nardi                                                   10.58.00
2 Iran
3 Wismilak
4 Ireland
5 Lampre
6 Malaysia
7 Relax Bodysol
8 Palmans-Collstr
9 Ceramiche Panar
10 Team Barloworld
11 Pagcor-Casino F
12 China
13 Canada
14 Bert Story-Piel
15 Formaggi Pinzol
16 Chocolade Jacqu
17 Colombia Selle-
18 South Africa
19 Japan
20 Health Net Pro                                                3.10
 
Asian rider
 
1 Wawan Setyobudi (Ina) Wismilak                              3.39.20
2 Hassan Maleki (Irn) Iran
3 Tanha Abbas Saeidi (Irn) Iran
4 Sama'i Sama'i (Ina) Wismilak
5 Amir Zargari (Irn) Iran
6 Matnur Matnur (Ina) Wismilak
7 Mohd Zahit Mohd Sayuti (Mas) Malaysia
8 Rosli Nor Affendy (Mas) Malaysia
9 Jianshi Luo (Chn) China
10 Alfie Catalan (Phi) Pagcor-Casino Filipino
11 Victor Espiritu (Phi) Pagcor-Casino Filipino
12 Razali Shahrulneeza (Mas) Malaysia
13 Xiaojun Shao (Chn) China
14 Ismail Mohd Sazlee (Mas) Malaysia
15 Susanto Tonton (Ina) Wismilak
16 Musa Musairi (Mas) Malaysia
17 Merculio Ramos (Phi) Pagcor-Casino Filipino
18 Guozhang Wang (Chn) China
19 Yongbiao Zhu (Chn) China
20 Ghader Mizbani (Irn) Iran
21 Yasutaka Tashiro (Jpn) Japan
22 Rhyan Tanguilig (Phi) Pagcor-Casino Filipino
23 Xueli Jiang (Chn) China
24 Tomoya Kano (Jpn) Japan
25 Lloyd Lucien Reynante (Phi) Pagcor-Casino Filipino
26 Shinichi Fukushima (Jpn) Japan
27 Albert Primero (Phi) Pagcor-Casino Filipino
28 Makoto Iijima (Jpn) Japan
29 Kazuyuki Manabe (Jpn) Japan
30 Ahad Kazemi (Irn) Iran
31 Ronald Gorantes (Phi) Pagcor-Casino Filipino                  2.40
32 Yoshiyuki Abe (Jpn) Japan                                     6.47
 
Asian teams
 
1 Iran                                                       10.58.00
2 Wismilak
3 Malaysia
4 Pagcor-Casino F
5 China
6 Japan
 
General classification after stage 6
 
1 Marlon Perez (Col) Colombia Selle-Italia                   17.46.38
2 Hector Guerra Garcia (Spa) Relax Bodysol                       0.32
3 Freddy Gonzalez (Col) Colombia Selle-Italia                    0.42
4 Ryan Cox (RSA) Team Barloworld                                 0.47
5 Nicholas White (RSA) South Africa                              0.57
6 Tiaan Kannemeyer (RSA) Team Barloworld                         1.13
7 Kurt Van De Wouwer (Bel) Mr Bookmaker-Palmans-Collstrop        1.16
8 David George (RSA) Team Barloworld                             1.31
9 Dave Bruylandts (Bel) Chocolade Jacques-Wincor                 1.57
10 Javier Florencio Cabre (Spa) Relax Bodysol                    2.03
11 David McCann (Irl) Ireland                                    2.04
12 Wladimir Belli (Ita) Lampre                                   2.11
13 Fortunato Baliani (Ita) Ceramiche Panaria-Margres             2.24
14 Eric Wohlberg (Can) Canada                                    2.24
15 Roland Green (Can) Canada                                     2.45
16 John Lieswyn (USA) Health Net presented by Maxxis             2.45
17 Ghader Mizbani (Irn) Iran                                     2.45
18 Ruber Marin (Col) Colombia Selle-Italia                       3.08
19 Johan Van Summeren (Bel) Relax Bodysol                        3.09
20 Philip Deignan (Irl) Ireland                                  3.16
21 Luis F. Laverde Jimenez (Col) Formaggi Pinzolo Fiave          3.38
22 Susanto Tonton (Ina) Wismilak                                 3.43
23 Santiago Blanco Gil (Spa) Relax Bodysol                       3.45
24 Antonio Rizzi (Ita) De Nardi                                  3.48
25 Nacor Burgos Rojo (Spa) Relax Bodysol                         4.14
26 Moises Duenas Nevado (Spa) Relax Bodysol                      4.31
27 Jurgen Van De Walle (Bel) Chocolade Jacques-Wincor            4.37
28 Ian Mcleod (RSA) South Africa                                 4.41
29 Sergio Barbero (Ita) Lampre                                   4.54
30 Ahad Kazemi (Irn) Iran                                        4.56
31 Tomoya Kano (Jpn) Japan                                       4.58
32 Michele Scotto D'abusco (Ita) Lampre                          5.16
33 Zbigniew Piatek (Pol) Chocolade Jacques-Wincor                5.26
34 Jock Green (RSA) Team Barloworld                              5.38
35 Sean Sullivan (Aus) Team Barloworld                           5.46
36 Charles Dionne (Can) Canada                                   6.08
37 Reinhardt Duplessis (RSA) South Africa                        6.30
38 Razali Shahrulneeza (Mas) Malaysia                            6.41
39 Michel Van Haecke (Bel) Mr Bookmaker-Palmans-Collstrop        7.11
40 Jan Van Velzen (Ned) Chocolade Jacques-Wincor                 7.30
41 Yasutaka Tashiro (Jpn) Japan                                  7.50
42 Shinichi Fukushima (Jpn) Japan                                8.59
43 Frederic Gabriel (Fra) Mr Bookmaker-Palmans-Collstrop        10.11
44 Garcia Oscar Laguna (Spa) Relax Bodysol                      10.22
45 Victor Espiritu (Phi) Pagcor-Casino Filipino                 11.09
46 Alessandro Cortinovis (Ita) Lampre                           11.13
47 Rhyan Tanguilig (Phi) Pagcor-Casino Filipino                 11.16
48 Alejandro Alberto Borrajo (Arg) Ceramiche Panaria-Margres    11.21
49 Huberlino Mesa Estapa (Col) Colombia Selle-Italia            11.42
50 Graziano Gasparre (Ita) De Nardi                             11.44
51 Matteo Carrara (Ita) Lampre                                  12.07
52 Gordon Fraser (Can) Health Net presented by Maxxis           13.09
53 Xueli Jiang (Chn) China                                      13.48
54 Xiaojun Shao (Chn) China                                     13.54
55 Michele Gobbi (Ita) De Nardi                                 14.01
56 Lloyd Lucien Reynante (Phi) Pagcor-Casino Filipino           14.04
57 Jaco Odenaal (RSA) South Africa                              16.21
58 Matteo Cappe (Ita) Formaggi Pinzolo Fiave                    16.36
59 Marco Pinotti (Ita) Lampre                                   16.38
60 Paul Griffin (Irl) Ireland                                   16.47
61 Makoto Iijima (Jpn) Japan                                    16.52
62 Enrico Degano (Ita) Team Barloworld                          17.20
63 David O'Loughlin (Irl) Ireland                               17.21
64 Devis Miorin (Ita) De Nardi                                  17.27
65 Mauricio Ardila (Col) Chocolade Jacques-Wincor               18.24
66 Mohd Zahit Mohd Sayuti (Mas) Malaysia                        18.47
67 Danny Pate (USA) Health Net presented by Maxxis              18.58
68 Yoshiyuki Abe (Jpn) Japan                                    19.55
69 Dominique Perras (Can) Canada                                20.53
70 Scott Moninger (USA) Health Net presented by Maxxis          20.55
71 Peter Wedge (Can) Canada                                     21.07
72 Neil Mcdonald (RSA) South Africa                             21.12
73 James Perry (RSA) Team Barloworld                            21.31
74 Brett Lancaster (Aus) Ceramiche Panaria-Margres              21.32
75 Gert Vanderaerden (Bel) Mr Bookmaker-Palmans-Collstrop       21.41
76 Jeremy Maartens (RSA) South Africa                           22.25
77 Denis Lynch (Irl) Ireland                                    22.47
78 Amir Zargari (Irn) Iran                                      22.49
79 Ronald Gorantes (Phi) Pagcor-Casino Filipino                 22.59
80 Guozhang Wang (Chn) China                                    22.59
81 Tanha Abbas Saeidi (Irn) Iran                                23.14
82 Jeremy Hunt (GBr) Mr Bookmaker-Palmans-Collstrop             23.19
83 Coen Loos (Ned) Bert Story-Piels                             23.28
84 Andoni Aranaga (Spa) Chocolade Jacques-Wincor                23.32
85 Luciano Pagliarini (Bra) Lampre                              23.39
86 Yongbiao Zhu (Chn) China                                     23.54
87 Daryl Impey (RSA) South Africa                               25.04
88 Kazuyuki Manabe (Jpn) Japan                                  25.14
89 Jasper Lenferink (Ned) Bert Story-Piels                      25.28
90 Rafael Nuritdinov (Uzb) De Nardi                             25.29
91 Rosli Nor Affendy (Mas) Malaysia                             25.37
92 Brice Jones (USA) Health Net presented by Maxxis             25.43
93 Cory Lange (Can) Canada                                      27.09
94 Mario Manzoni (Ita) Formaggi Pinzolo Fiave                   27.16
95 Albert Primero (Phi) Pagcor-Casino Filipino                  27.22
96 Michael Sayers (USA) Health Net presented by Maxxis          27.39
97 Gregory Henderson (NZl) Health Net presented by Maxxis       27.47
98 Russel Van Hout (Aus) Colombia Selle-Italia                  28.51
99 Eugene Moriarty (Irl) Ireland                                29.09
100 Germ Van Der Burg (Ned) Bert Story-Piels                    29.15
101 Jans Koerts (Ned) Chocolade Jacques-Wincor                  29.18
102 Matnur Matnur (Ina) Wismilak                                29.27
103 Jianshi Luo (Chn) China                                     29.34
104 Ismail Mohd Sazlee (Mas) Malaysia                           30.07
105 Enrico Grigoli (Ita) De Nardi                               30.08
106 Ivan Quaranta (Ita) Formaggi Pinzolo Fiave                  30.15
107 Arne Kornegoor (Ned) Bert Story-Piels                       30.17
108 Ben Day (Aus) Mr Bookmaker-Palmans-Collstrop                30.19
109 Merculio Ramos (Phi) Pagcor-Casino Filipino                 30.26
110 Peter Wuyts (Bel) Mr Bookmaker-Palmans-Collstrop            30.27
111 Giulini Sulpizi (Ita) Formaggi Pinzolo Fiave                30.38
112 Wawan Setyobudi (Ina) Wismilak                              30.38
113 Sergiy Matveiev (Ukr) Ceramiche Panaria-Margres             30.58
114 Alexandre Lavallee (Can) Canada                             31.04
115 Musa Musairi (Mas) Malaysia                                 31.08
116 Graeme Brown (Aus) Ceramiche Panaria-Margres                31.15
117 Corrado Serina (Ita) Formaggi Pinzolo Fiave                 31.24
118 Hassan Maleki (Irn) Iran                                    32.03
119 Domenico Gualdi (Ita) Formaggi Pinzolo Fiave                32.24
120 Sama'i Sama'i (Ina) Wismilak                                33.05
121 Alfie Catalan (Phi) Pagcor-Casino Filipino                  33.41
122 Fabio Gilioli (Ita) Ceramiche Panaria-Margres               35.14
123 Ano Pedersen (Ned) Wismilak                                 35.20
124 Scott Guyton (NZl) Wismilak                                 36.33
125 Trent Wilson (Aus) Colombia Selle-Italia                    37.24
126 Ruben Guillermo Bongiorno (Arg) Ceramiche Panaria-Margress  43.54
 
Points classification
 
1 Gordon Fraser (Can) Health Net presented by Maxxis               57
2 Marlon Perez (Col) Colombia Selle-Italia                         36
3 Hector Guerra Garcia (Spa) Relax Bodysol                         31
4 Freddy Gonzalez (Col) Colombia Selle-Italia                      26
5 Devis Miorin (Ita) De Nardi                                      24
6 Gert Vanderaerden (Bel) Mr Bookmaker-Palmans-Collstrop           24
7 Sean Sullivan (Aus) Team Barloworld                              23
8 Michael Sayers (USA) Health Net presented by Maxxis              23
9 Ruben Guillermo Bongiorno (Arg) Ceramiche Panaria-Margres        23
10 Brett Lancaster (Aus) Ceramiche Panaria-Margres                 21
11 David George (RSA) Team Barloworld                              21
12 Ivan Quaranta (Ita) Formaggi Pinzolo Fiave                      20
13 Ryan Cox (RSA) Team Barloworld                                  19
14 Enrico Degano (Ita) Team Barloworld                             19
15 Eugene Moriarty (Irl) Ireland                                   17
16 Daryl Impey (RSA) South Africa                                  16
17 Kurt Van De Wouwer (Bel) Mr Bookmaker-Palmans-Collstrop         16
18 Luciano Pagliarini (Bra) Lampre                                 16
19 Eric Wohlberg (Can) Canada                                      15
20 Nicholas White (RSA) South Africa                               13
21 Tiaan Kannemeyer (RSA) Team Barloworld                          13
22 John Lieswyn (USA) Health Net presented by Maxxis               13
23 Brice Jones (USA) Health Net presented by Maxxis                13
24 Enrico Grigoli (Ita) De Nardi                                   13
25 Ruber Marin (Col) Colombia Selle-Italia                         12
26 Gregory Henderson (NZl) Health Net presented by Maxxis          12
27 Michel Van Haecke (Bel) Mr Bookmaker-Palmans-Collstrop          11
28 Albert Primero (Phi) Pagcor-Casino Filipino                     11
29 Russel Van Hout (Aus) Colombia Selle-Italia                     11
30 Scott Guyton (NZl) Wismilak                                     10
31 Javier Florencio Cabre (Spa) Relax Bodysol                      10
32 Philip Deignan (Irl) Ireland                                    10
33 Luis F. Laverde Jimenez (Col) Formaggi Pinzolo Fiave            10
34 Graeme Brown (Aus) Ceramiche Panaria-Margres                    10
35 Jock Green (RSA) Team Barloworld                                 8
36 Dave Bruylandts (Bel) Chocolade Jacques-Wincor                   8
37 Wawan Setyobudi (Ina) Wismilak                                   8
38 Ben Day (Aus) Mr Bookmaker-Palmans-Collstrop                     7
39 David McCann (Irl) Ireland                                       6
40 Wladimir Belli (Ita) Lampre                                      6
41 Hassan Maleki (Irn) Iran                                         6
42 Danny Pate (USA) Health Net presented by Maxxis                  5
43 Fortunato Baliani (Ita) Ceramiche Panaria-Margres                5
44 Santiago Blanco Gil (Spa) Relax Bodysol                          5
45 Alessandro Cortinovis (Ita) Lampre                               5
46 Matteo Carrara (Ita) Lampre                                      5
47 Matnur Matnur (Ina) Wismilak                                     5
48 Sergiy Matveiev (Ukr) Ceramiche Panaria-Margres                  5
49 Roland Green (Can) Canada                                        4
50 Charles Dionne (Can) Canada                                      4
51 Ghader Mizbani (Irn) Iran                                        3
52 Nacor Burgos Rojo (Spa) Relax Bodysol                            3
53 Jurgen Van De Walle (Bel) Chocolade Jacques-Wincor               3
54 Graziano Gasparre (Ita) De Nardi                                 3
55 Reinhardt Duplessis (RSA) South Africa                           2
56 Michele Gobbi (Ita) De Nardi                                     2
57 Tanha Abbas Saeidi (Irn) Iran                                    2
58 Antonio Rizzi (Ita) De Nardi                                     1
59 Marco Pinotti (Ita) Lampre                                       1
60 Sama'i Sama'i (Ina) Wismilak                                     1
 
Mountains Competition
 
1 Marlon Perez (Col) Colombia Selle-Italia                         31
2 Ruber Marin (Col) Colombia Selle-Italia                          28
3 Freddy Gonzalez (Col) Colombia Selle-Italia                      20
4 Sean Sullivan (Aus) Team Barloworld                              20
5 Hector Guerra Garcia (Spa) Relax Bodysol                         19
6 Devis Miorin (Ita) De Nardi                                      18
7 Brett Lancaster (Aus) Ceramiche Panaria-Margres                  15
8 Luis F. Laverde Jimenez (Col) Formaggi Pinzolo Fiave             15
9 Ryan Cox (RSA) Team Barloworld                                   10
10 Jurgen Van De Walle (Bel) Chocolade Jacques-Wincor              10
11 David George (RSA) Team Barloworld                               6
12 Fortunato Baliani (Ita) Ceramiche Panaria-Margres                6
13 Alessandro Cortinovis (Ita) Lampre                               4
14 Santiago Blanco Gil (Spa) Relax Bodysol                          4
15 Nicholas White (RSA) South Africa                                2
16 Nacor Burgos Rojo (Spa) Relax Bodysol                            2
17 Garcia Oscar Laguna (Spa) Relax Bodysol                          2
18 Michael Sayers (USA) Health Net presented by Maxxis              2
19 Kurt Van De Wouwer (Bel) Mr Bookmaker-Palmans-Collstrop          1
20 Michele Scotto D'abusco (Ita) Lampre                             1
21 Brice Jones (USA) Health Net presented by Maxxis                 1
 
Teams classification
 
1 Team Barl                                                  53.21.06
2 Colombia                                                       1.38
3 Relax Bod                                                      3.25
4 Canada                                                         8.16
5 Lampre                                                         8.20
6 South Afr                                                      8.39
7 Chocolade                                                     10.01
8 De-Nardi                                                      11.08
9 Palmans-C                                                     12.50
10 Ireland                                                      18.46
11 Japan                                                        19.09
12 Health Ne                                                    24.22
13 Iran                                                         27.27
14 Ceramiche                                                    31.48
15 China                                                        33.18
16 Pagcor-Ca                                                    34.14
17 Formaggi                                                     44.01
18 Malaysia                                                     49.03
19 Wismilak                                                   1.01.49
20 Bert Stor                                                  1.16.44
 
Asian rider classification
 
1 Ghader Mizbani (Irn) Iran                                  17.49.23
2 Susanto Tonton (Ina) Wismilak                                  0.58
3 Ahad Kazemi (Irn) Iran                                         2.11
4 Tomoya Kano (Jpn) Japan                                        2.13
5 Razali Shahrulneeza (Mas) Malaysia                             3.56
6 Yasutaka Tashiro (Jpn) Japan                                   5.05
7 Shinichi Fukushima (Jpn) Japan                                 6.14
8 Victor Espiritu (Phi) Pagcor-Casino Filipino                   8.24
9 Rhyan Tanguilig (Phi) Pagcor-Casino Filipino                   8.31
10 Xueli Jiang (Chn) China                                      11.03
11 Xiaojun Shao (Chn) China                                     11.09
12 Lloyd Lucien Reynante (Phi) Pagcor-Casino Filipino           11.19
13 Makoto Iijima (Jpn) Japan                                    14.07
14 Mohd Zahit Mohd Sayuti (Mas) Malaysia                        16.02
15 Yoshiyuki Abe (Jpn) Japan                                    17.10
16 Amir Zargari (Irn) Iran                                      20.04
17 Ronald Gorantes (Phi) Pagcor-Casino Filipino                 20.14
18 Guozhang Wang (Chn) China                                    20.14
19 Tanha Abbas Saeidi (Irn) Iran                                20.29
20 Yongbiao Zhu (Chn) China                                     21.09
21 Kazuyuki Manabe (Jpn) Japan                                  22.29
22 Rosli Nor Affendy (Mas) Malaysia                             22.52
23 Albert Primero (Phi) Pagcor-Casino Filipino                  24.37
24 Matnur Matnur (Ina) Wismilak                                 26.42
25 Jianshi Luo (Chn) China                                      26.49
26 Ismail Mohd Sazlee (Mas) Malaysia                            27.22
27 Merculio Ramos (Phi) Pagcor-Casino Filipino                  27.41
28 Wawan Setyobudi (Ina) Wismilak                               27.53
29 Musa Musairi (Mas) Malaysia                                  28.23
30 Hassan Maleki (Irn) Iran                                     29.18
31 Sama'i Sama'i (Ina) Wismilak                                 30.20
32 Alfie Catalan (Phi) Pagcor-Casino Filipino                   30.56
 
Asian team classification
 
1 Japan                                                      53.40.15
2 Iran                                                           8.18
3 China                                                         14.09
4 Pagcor-Casino Filipi                                          15.05
5 Malaysia                                                      29.54
6 Wismilak                                                      43.30