9th Telekom Malaysia Le Tour de Langkawi - 2.2
Malaysia, February 6-15, 2004
Home Results Previous stage Next stage
Stage 5 - February 10: Melaka - Melaka Individual Time Trial, 18 km
Marlon's da man: Perez powers back into lead
Wohlberg whips some butt
By Anthony Tan in Melaka
Marlon's da man
Photo ©: Mark Gunter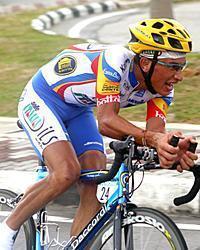 In today's 18 kilometres time trial in the city of Melaka, a city founded by Parameswara in 1396 who named his sultanate after the Melaka tree, the South African quartet of Ryan Cox, Tiaan Kannemeyer, David George (Team Barloworld) and Nicholas White (South Africa) were expected to dominate proceedings. However, the gold medal performance of day was that of Colombia Selle-Italia's Marlon Perez, who held strong under difficult conditions, with Perez powering home behind stage winner Eric Wohlberg (Canada), just 13 seconds adrift, to reclaim the lead in the Le Tour de Langkawi.
"When I started today, I felt very good, and my manager Gianni Savio had given me a lot of confidence before the race," said the delighted Perez to Cyclingnews, a former Panamerican time trial champion. "This is the second time trial I've done this year, and both times I've come second, so it's given me a lot of confidence and I'm very happy with the result."
Wohlberg whips some butt
Photo ©: Mark Gunter

Pre-race favourite Eric Wohlberg had to beat the early best time of Russell Van Hout (Colombia Selle-Italia), who clocked an excellent time of 22 minutes and 13.91 seconds to eventually finish fifth. At the midway point, Wohlberg was already 17 seconds ahead of the South Australian, and by the finish, Wohllberg's time of 21 minutes and 38.74 seconds, an average speed of just under 50 kilometres an hour, was good enough to hold off challenges by Perez (21'51.91"), Health Net's John Lieswyn (21'59.85") and the surprise package of the day, Hector Guerra Garcia (Relax Bodysol, 22'00.59"), who leapfrogged four places and now finds himself second overall.
"Coming into any race, I don't expect too much," said Wohlberg modestly to Cyclingnews. "I just go into it as hard as I can. On the way out, it was pretty difficult, kind of a mix of a cross and headwind - but really a little bit of everything - and I just went as hard as I could till the turnaround. I was suffering a lot coming back in, but I was able to just have enough to pull it off."
On whether the Canadian was surprised that Perez was just nine seconds behind him at the halfway mark, Wohlberg said he knew he had to dig very deep to overcome the solidly built Colombian by the stage finish. "Marlon is a very good time triallist, and he proved that today. He's a great climber and a great time triallist, so I think he's looking very good for the overall win right now," he said.
How it unfolded
Russell Van Hout set the early best time
Photo ©: Mark Gunter

High humidity and swirling winds made today's 18 kilometre out-and-back time trial even more significant right from the start, as the specialists against the clock were predicted to make up even greater time against the grimpeurs than initially expected.
Out of the first 50 riders to leave the start gates in downtown Melaka, it was Russell Van Hout (Colombia Selle-Italia), who rode fastest, clocking a sizzling time of 22'13.91" which stood for almost a whole hour. When Cyclingnews asked Van Hout, one of Colombia Selle-Italia's super domestiques, whether he intended to go as hard as he did with five days of pace-setting ahead of him, his reply was simple: "They told me to have a go because they know that I'm up there in time trials," he said soon after he posted the fastest time of the day.
Johnny Lieswyn goes top 3
Photo ©: Mark Gunter

"My forte is time trialling, and I've been working every day for my team because they've been going so well, but because we're also so close on the team classement, the team wanted me to have a go. Before the start, I was feeling really good; I had a really good warm-up, and I gave it my best shot. I knew one of my rivals was Ben Day (Palmans-Collstrop) and he started two minutes in front of me, and at the turnaround, I counted his time and by the halfway mark, I was already 25 seconds up on him. When I knew I was up, I just kept up the momentum and drove it all the way. Fingers crossed that I'm in the lead at the end."
While the South Australian waited nervously in the confines of his team car, hoping for stage win, at 15:03 Malay time, Cyclingnews diarist John Lieswyn (Health Net/Maxxis) came storming through to become the new fastest time, clocked at 21'59.85" and a shade over 14 seconds faster than Van Hout. Then 39 seconds later, before Lieswyn even knew he was the fastest so far, Canadian Eric Wohlberg belted through with the second sub-22 minute time of the day of 21'38.74", which remained unequalled.
Not a fan of the time trial
Photo ©: Mark Gunter

South Africa's David George and Tiaan Kannemeyer were expected and certainly hoping to do something special, but instead, the Barloworld pairing road solid if not unspectacular times, 47.05" and 52.98" behind Wohlberg, stage win was all but assured with six riders yet to come in. But quietly churning away in the 55x11 was early race leader Marlon Perez (Colombia Selle-Italia), who was just nine seconds adrift of Wohlberg at the turnaround.
While Perez lost another four seconds on the route back to finish, 13 seconds behind the power-packed Canadian, the tenacious Colombian had done more than enough to reclaim the race lead from team-mate Freddy Gonzalez, the petite Freddy unable to cope with the deadpan-flat parcours, eventually finishing with a time of 23'00.90", 1'22.16" behind Wohlberg and dropping to third overall, 42 seconds adrift of Perez.
Photography
Images by Mark Gunter/Cyclingnews/www.pbase.com/gunterphotograph
Results

1 Eric Wohlberg (Can) Canada                                   21:38.74 (49.89 kph / 31.03 mph)
2 Marlon Perez (Col) Colombia Selle-Italia                      0:13.17
3 John Lieswyn (USA) Health Net presented by Maxxis             0:21.11
4 Hector Guerra Garcia (Spa) Relax Bodysol                      0:21.85
5 Russel Van Hout (Aus) Colombia Selle-Italia                   0:35.17
6 David George (RSA) Team Barloworld                            0:47.05
7 Gregory Henderson (NZl) Health Net presented by Maxxis        0:47.56
8 Tiaan Kannemeyer (RSA) Team Barloworld                        0:52.98
9 Ben Day (Aus) Mr Bookmaker-Palmans-Collstrop                  0:55.62
10 Daryl Impey (RSA) South Africa                               0:55.89
11 Sergiy Matveiev (Ukr) Ceramiche Panaria-Margres              0:56.71
12 Roland Green (Can) Canada                                    0:56.98
13 Nicholas White (RSA) South Africa                            0:57.26
14 David McCann (Irl) Ireland                                   0:57.36
15 Dave Bruylandts (Bel) Chocolade Jacques-Wincor               0:57.82
16 James Perry (RSA) Team Barloworld                            0:59.14
17 Ryan Cox (RSA) Team Barloworld                               0:59.91
18 Peter Wedge (Can) Canada                                     1:01.05
19 Antonio Rizzi (Ita) De Nardi                                 1:04.06
20 Javier Florencio Cabre (Spa) Relax Bodysol                   1:08.67
21 Fortunato Baliani (Ita) Ceramiche Panaria-Margres            1:08.77
22 Danny Pate (USA) Health Net presented by Maxxis              1:11.59
23 Marco Pinotti (Ita) Lampre                                   1:13.18
24 Kurt Van De Wouwer (Bel) Mr Bookmaker-Palmans-Collstrop      1:14.80
25 Luis F. Laverde Jimenez (Col) Formaggi Pinzolo Fiave         1:18.01
26 Makoto Iijima (Jpn) Japan                                    1:18.10
27 David O'Loughlin (Irl) Ireland                               1:20.19
28 Jeremy Maartens (RSA) South Africa                           1:21.80
29 Freddy Gonzalez (Col) Colombia Selle-Italia                  1:22.16
30 Ghader Mizbani (Irn) Iran                                    1:32.22
31 Scott Moninger (USA) Health Net presented by Maxxis          1:36.51
32 Johan Van Summeren (Bel) Relax Bodysol                       1:37.48
33 Tomoya Kano (Jpn) Japan                                      1:39.01
34 Michele Gobbi (Ita) De Nardi                                 1:40.36
35 Shinichi Fukushima (Jpn) Japan                               1:43.56
36 Denis Lynch (Irl) Ireland                                    1:43.79
37 Susanto Tonton (Ina) Wismilak                                1:43.93
38 Alessandro Cortinovis (Ita) Lampre                           1:44.40
39 Nacor Burgos Rojo (Spa) Relax Bodysol                        1:49.98
40 Wladimir Belli (Ita) Lampre                                  1:50.79
41 Garcia Oscar Laguna (Spa) Relax Bodysol                      1:53.32
42 Brice Jones (USA) Health Net presented by Maxxis             1:53.82
43 Jan Van Velzen (Ned) Chocolade Jacques-Wincor                1:54.47
44 Ruber Marin (Col) Colombia Selle-Italia                      1:55.18
45 Kazuya Okazaki (Jpn) Japan                                   1:55.65
46 Matteo Cappe (Ita) Formaggi Pinzolo Fiave                    1:58.81
47 Sergio Barbero (Ita) Lampre                                  2:00.91
48 Eugene Moriarty (Irl) Ireland                                2:03.74
49 Victor Espiritu (Phi) Pagcor-Casino Filipino                 2:06.53
50 Moises Duenas Nevado (Spa) Relax Bodysol                     2:06.67
51 Dominique Perras (Can) Canada                                2:08.34
52 Philip Deignan (Irl) Ireland                                 2:10.39
53 Alejandro Alberto Borrajo (Arg) Ceramiche Panaria-Margres    2:12.14
54 Jans Koerts (Ned) Chocolade Jacques-Wincor                   2:12.87
55 Yoshiyuki Abe (Jpn) Japan                                    2:13.38
56 Jurgen Van De Walle (Bel) Chocolade Jacques-Wincor           2:13.75
57 Germ Van Der Burg (Ned) Bert Story-Piels                     2:14.24
58 Alfie Catalan (Phi) Pagcor-Casino Filipino                   2:14.36
59 Yasutaka Tashiro (Jpn) Japan                                 2:14.79
60 Rafael Nuritdinov (Uzb) De Nardi                             2:15.67
61 Ian Mcleod (RSA) South Africa                                2:16.89
62 Rhyan Tanguilig (Phi) Pagcor-Casino Filipino                 2:17.06
63 Reinhardt Duplessis (RSA) South Africa                       2:18.95
64 Cory Lange (Can) Canada                                      2:23.24
65 Coen Loos (Ned) Bert Story-Piels                             2:24.92
66 Andoni Aranaga (Spa) Chocolade Jacques-Wincor                2:29.17
67 Michel Van Haecke (Bel) Mr Bookmaker-Palmans-Collstrop       2:30.07
68 Ahad Kazemi (Irn) Iran                                       2:31.64
69 Santiago Blanco Gil (Spa) Relax Bodysol                      2:32.15
70 Jianshi Luo (Chn) China                                      2:33.20
71 Gert Vanderaerden (Bel) Mr Bookmaker-Palmans-Collstrop       2:33.88
72 Ronald Gorantes (Phi) Pagcor-Casino Filipino                 2:36.59
73 Zbigniew Piatek (Pol) Chocolade Jacques-Wincor               2:41.65
74 Luciano Pagliarini (Bra) Lampre                              2:42.08
75 Gordon Fraser (Can) Health Net presented by Maxxis           2:42.37
76 Sean Sullivan (Aus) Team Barloworld                          2:46.27
77 Scott Guyton (NZl) Wismilak                                  2:47.01
78 Mauricio Ardila (Col) Chocolade Jacques-Wincor               2:48.47
79 Michael Sayers (USA) Health Net presented by Maxxis          2:49.22
80 Charles Dionne (Can) Canada                                  2:50.05
81 Lloyd Lucien Reynante (Phi) Pagcor-Casino Filipino           2:52.60
82 Razali Shahrulneeza (Mas) Malaysia                           2:53.04
83 Guozhang Wang (Chn) China                                    2:53.05
84 Devis Miorin (Ita) De Nardi                                  2:54.15
85 Matnur Matnur (Ina) Wismilak                                 2:55.12
86 Fuyu Li (Chn) China                                          2:58.00
87 Frederic Gabriel (Fra) Mr Bookmaker-Palmans-Collstrop        3:01.10
88 Paul Griffin (Irl) Ireland                                   3:01.78
89 Matteo Carrara (Ita) Lampre                                  3:04.37
90 Enrico Grigoli (Ita) De Nardi                                3:04.50
91 Huberlino Mesa Estapa (Col) Colombia Selle-Italia            3:05.12
92 Hassan Maleki (Irn) Iran                                     3:05.13
93 Amir Zargari (Irn) Iran                                      3:07.09
94 Brett Lancaster (Aus) Ceramiche Panaria-Margres              3:07.52
95 Trent Wilson (Aus) Colombia Selle-Italia                     3:11.05
96 Neil Mcdonald (RSA) South Africa                             3:11.79
97 Jeremy Hunt (GBr) Mr Bookmaker-Palmans-Collstrop             3:12.73
98 Domenico Gualdi (Ita) Formaggi Pinzolo Fiave                 3:12.93
99 Fabio Gilioli (Ita) Ceramiche Panaria-Margres                3:14.27
100 Enrico Degano (Ita) Team Barloworld                         3:15.36
101 Arne Kornegoor (Ned) Bert Story-Piels                       3:16.04
102 Michele Scotto D'abusco (Ita) Lampre                        3:16.63
103 Jock Green (RSA) Team Barloworld                            3:19.09
104 Ivan Quaranta (Ita) Formaggi Pinzolo Fiave                  3:19.43
105 Peter Wuyts (Bel) Mr Bookmaker-Palmans-Collstrop            3:22.08
106 Graziano Gasparre (Ita) De Nardi                            3:22.62
107 Jaco Odenaal (RSA) South Africa                             3:22.82
108 Merculio Ramos (Phi) Pagcor-Casino Filipino                 3:25.22
109 Jasper Lenferink (Ned) Bert Story-Piels                     3:26.93
110 Mario Manzoni (Ita) Formaggi Pinzolo Fiave                  3:27.17
111 Corrado Serina (Ita) Formaggi Pinzolo Fiave                 3:27.53
112 Giulini Sulpizi (Ita) Formaggi Pinzolo Fiave                3:32.41
113 Xueli Jiang (Chn) China                                     3:33.47
114 Albert Primero (Phi) Pagcor-Casino Filipino                 3:35.19
115 Wawan Setyobudi (Ina) Wismilak                              3:37.03
116 Yongbiao Zhu (Chn) China                                    3:38.47
117 Xiaojun Shao (Chn) China                                    3:39.36
118 Hamad Mohd Mahazir (Mas) Malaysia                           3:47.43
119 Alexandre Lavallee (Can) Canada                             3:49.12
120 Mohd Zahit Mohd Sayuti (Mas) Malaysia                       3:49.91
121 Sama'i Sama'i (Ina) Wismilak                                4:06.15
122 Musa Musairi (Mas) Malaysia                                 4:06.28
123 Graeme Brown (Aus) Ceramiche Panaria-Margres                4:09.28
124 Kazuyuki Manabe (Jpn) Japan                                 4:10.45
125 Ruben Guillermo Bongiorno (Arg) Ceramiche Panaria-Margres   4:20.49
126 Ismail Mohd Sazlee (Mas) Malaysia                           4:33.89
127 Rosli Nor Affendy (Mas) Malaysia                            4:38.06
128 Ano Pedersen (Ned) Wismilak                                 5:12.78
129 Tanha Abbas Saeidi (Irn) Iran                               5:20.33
 
Teams
 
1 Canada                                                        1:06:52
2 Colombia Selle-                                                  0:12
3 Health Net Pro,                                                  0:23
4 Team Barloworld                                                  0:41
5 Relax Bodysol                                                    1:11
6 South Africa                                                     1:18
7 Ireland                                                          2:04
8 Ceramiche Panar                                                  2:20
9 Japan                                                            2:43
10 Palmans-Collstr                                                 2:43
11 Lampre                                                          2:51
12 De-Nardi                                                        3:03
13 Chocolade Jacqu                                                 3:08
14 Formaggi Pinzol                                                 4:32
15 Pagcor-Casino F                                                 4:41
16 Iran                                                            5:11
17 Wismilak                                                        5:28
18 Bert Story-Piel                                                 5:57
19 China                                                           6:26
20 Malaysia                                                        8:33
 
Asian rider
 
1 Makoto Iijima (Jpn) Japan                                    22:56.84
2 Ghader Mizbani (Irn) Iran                                       14.12
3 Tomoya Kano (Jpn) Japan                                         20.91
4 Shinichi Fukushima (Jpn) Japan                                  25.46
5 Susanto Tonton (Ina) Wismilak                                   25.83
6 Kazuya Okazaki (Jpn) Japan                                      37.55
7 Victor Espiritu (Phi) Pagcor-Casino Filipino                    48.43
8 Yoshiyuki Abe (Jpn) Japan                                       55.28
9 Alfie Catalan (Phi) Pagcor-Casino Filipino                      56.26
10 Yasutaka Tashiro (Jpn) Japan                                   56.69
11 Rhyan Tanguilig (Phi) Pagcor-Casino Filipino                   58.96
12 Ahad Kazemi (Irn) Iran                                       1:13.54
13 Jianshi Luo (Chn) China                                      1:15.10
14 Ronald Gorantes (Phi) Pagcor-Casino Filipino                 1:18.49
15 Lloyd Lucien Reynante (Phi) Pagcor-Casino Filipino           1:34.50
16 Razali Shahrulneeza (Mas) Malaysia                           1:34.94
17 Guozhang Wang (Chn) China                                    1:34.95
18 Matnur Matnur (Ina) Wismilak                                 1:37.02
19 Fuyu Li (Chn) China                                          1:39.90
20 Hassan Maleki (Irn) Iran                                     1:47.03
21 Amir Zargari (Irn) Iran                                      1:48.99
22 Merculio Ramos (Phi) Pagcor-Casino Filipino                  2:07.12
23 Xueli Jiang (Chn) China                                      2:15.37
24 Albert Primero (Phi) Pagcor-Casino Filipino                  2:17.09
25 Wawan Setyobudi (Ina) Wismilak                               2:18.93
26 Yongbiao Zhu (Chn) China                                     2:20.37
27 Xiaojun Shao (Chn) China                                     2:21.26
28 Hamad Mohd Mahazir (Mas) Malaysia                            2:29.33
29 Mohd Zahit Mohd Sayuti (Mas) Malaysia                        2:31.81
30 Sama'i Sama'i (Ina) Wismilak                                 2:48.05
31 Musa Musairi (Mas) Malaysia                                  2:48.18
32 Kazuyuki Manabe (Jpn) Japan                                  2:52.35
33 Ismail Mohd Sazlee (Mas) Malaysia                            3:15.79
34 Rosli Nor Affendy (Mas) Malaysia                             3:19.96
35 Tanha Abbas Saeidi (Irn) Iran                                4:02.23
 
Asian team
 
1 Japan                                                         1.09.35
2 Pagcor-Casino F                                                  1.58
3 Iran                                                             2.28
4 Wismilak                                                         3.35
5 China                                                            3.43
6 Malaysia                                                         5.50
 
General classification after stage 5
 
1 Marlon Perez (Col) Colombia Selle-Italia                     14.07.18
2 Hector Guerra Garcia (Spa) Relax Bodysol                         0.32
3 Freddy Gonzalez (Col) Colombia Selle-Italia                      0.42
4 Ryan Cox (RSA) Team Barloworld                                   0.47
5 Nicholas White (RSA) South Africa                                0.57
6 Tiaan Kannemeyer (RSA) Team Barloworld                           1.13
7 Kurt Van De Wouwer (Bel) Mr Bookmaker-Palmans-Collstrop          1.16
8 David George (RSA) Team Barloworld                               1.31
9 Dave Bruylandts (Bel) Chocolade Jacques-Wincor                   1.57
10 Javier Florencio Cabre (Spa) Relax Bodysol                      2.03
11 David McCann (Irl) Ireland                                      2.04
12 Wladimir Belli (Ita) Lampre                                     2.11
13 Fortunato Baliani (Ita) Ceramiche Panaria-Margres               2.24
14 Eric Wohlberg (Can) Canada                                      2.24
15 Roland Green (Can) Canada                                       2.45
16 John Lieswyn (USA) Health Net presented by Maxxis               2.45
17 Ghader Mizbani (Irn) Iran                                       2.45
18 Ruber Marin (Col) Colombia Selle-Italia                         3.08
19 Johan Van Summeren (Bel) Relax Bodysol                          3.09
20 Philip Deignan (Irl) Ireland                                    3.16
21 Luis F. Laverde Jimenez (Col) Formaggi Pinzolo Fiave            3.38
22 Susanto Tonton (Ina) Wismilak                                   3.43
23 Santiago Blanco Gil (Spa) Relax Bodysol                         3.45
24 Antonio Rizzi (Ita) De Nardi                                    3.48
25 Nacor Burgos Rojo (Spa) Relax Bodysol                           4.14
26 Moises Duenas Nevado (Spa) Relax Bodysol                        4.31
27 Jurgen Van De Walle (Bel) Chocolade Jacques-Wincor              4.37
28 Ian Mcleod (RSA) South Africa                                   4.41
29 Sergio Barbero (Ita) Lampre                                     4.54
30 Ahad Kazemi (Irn) Iran                                          4.56
31 Tomoya Kano (Jpn) Japan                                         4.58
32 Michele Scotto D'abusco (Ita) Lampre                            5.16
33 Zbigniew Piatek (Pol) Chocolade Jacques-Wincor                  5.26
34 Jock Green (RSA) Team Barloworld                                5.43
35 Sean Sullivan (Aus) Team Barloworld                             5.46
36 Charles Dionne (Can) Canada                                     6.08
37 Reinhardt Duplessis (RSA) South Africa                          6.31
38 Razali Shahrulneeza (Mas) Malaysia                              6.41
39 Michel Van Haecke (Bel) Mr Bookmaker-Palmans-Collstrop          7.11
40 Jan Van Velzen (Ned) Chocolade Jacques-Wincor                   7.30
41 Yasutaka Tashiro (Jpn) Japan                                    7.50
42 James Perry (RSA) Team Barloworld                               8.03
43 Shinichi Fukushima (Jpn) Japan                                  8.59
44 Frederic Gabriel (Fra) Mr Bookmaker-Palmans-Collstrop          10.11
45 Garcia Oscar Laguna (Spa) Relax Bodysol                        10.22
46 Victor Espiritu (Phi) Pagcor-Casino Filipino                   11.09
47 Alessandro Cortinovis (Ita) Lampre                             11.14
48 Rhyan Tanguilig (Phi) Pagcor-Casino Filipino                   11.16
49 Alejandro Alberto Borrajo (Arg) Ceramiche Panaria-Margres      11.21
50 Marco Pinotti (Ita) Lampre                                     11.35
51 Huberlino Mesa Estapa (Col) Colombia Selle-Italia              11.42
52 Graziano Gasparre (Ita) De Nardi                               11.44
53 Matteo Carrara (Ita) Lampre                                    12.07
54 Yoshiyuki Abe (Jpn) Japan                                      13.08
55 Gordon Fraser (Can) Health Net presented by Maxxis             13.09
56 Danny Pate (USA) Health Net presented by Maxxis                13.43
57 Xueli Jiang (Chn) China                                        13.48
58 Xiaojun Shao (Chn) China                                       13.54
59 Michele Gobbi (Ita) De Nardi                                   14.01
60 Lloyd Lucien Reynante (Phi) Pagcor-Casino Filipino             14.04
61 Dominique Perras (Can) Canada                                  14.06
62 Matteo Cappe (Ita) Formaggi Pinzolo Fiave                      14.59
63 Jaco Odenaal (RSA) South Africa                                16.21
64 Paul Griffin (Irl) Ireland                                     16.47
65 Makoto Iijima (Jpn) Japan                                      16.52
66 Enrico Degano (Ita) Team Barloworld                            17.20
67 David O'Loughlin (Irl) Ireland                                 17.21
68 Devis Miorin (Ita) De Nardi                                    17.27
69 Scott Moninger (USA) Health Net presented by Maxxis            17.45
70 Mauricio Ardila (Col) Chocolade Jacques-Wincor                 18.24
71 Mohd Zahit Mohd Sayuti (Mas) Malaysia                          18.47
72 Ronald Gorantes (Phi) Pagcor-Casino Filipino                   20.19
73 Fuyu Li (Chn) China                                            20.45
74 Michael Sayers (USA) Health Net presented by Maxxis            20.57
75 Peter Wedge (Can) Canada                                       21.07
76 Neil Mcdonald (RSA) South Africa                               21.12
77 Brett Lancaster (Aus) Ceramiche Panaria-Margres                21.32
78 Gert Vanderaerden (Bel) Mr Bookmaker-Palmans-Collstrop         21.41
79 Daryl Impey (RSA) South Africa                                 21.59
80 Russel Van Hout (Aus) Colombia Selle-Italia                    22.04
81 Rafael Nuritdinov (Uzb) De Nardi                               22.22
82 Jeremy Maartens (RSA) South Africa                             22.25
83 Brice Jones (USA) Health Net presented by Maxxis               22.33
84 Denis Lynch (Irl) Ireland                                      22.47
85 Amir Zargari (Irn) Iran                                        22.49
86 Guozhang Wang (Chn) China                                      22.59
87 Tanha Abbas Saeidi (Irn) Iran                                  23.14
88 Jeremy Hunt (GBr) Mr Bookmaker-Palmans-Collstrop               23.19
89 Coen Loos (Ned) Bert Story-Piels                               23.28
90 Ben Day (Aus) Mr Bookmaker-Palmans-Collstrop                   23.32
91 Andoni Aranaga (Spa) Chocolade Jacques-Wincor                  23.32
92 Luciano Pagliarini (Bra) Lampre                                23.45
93 Yongbiao Zhu (Chn) China                                       23.54
94 Gregory Henderson (NZl) Health Net presented by Maxxis         24.37
95 Kazuyuki Manabe (Jpn) Japan                                    25.14
96 Jasper Lenferink (Ned) Bert Story-Piels                        25.28
97 Rosli Nor Affendy (Mas) Malaysia                               25.37
98 Cory Lange (Can) Canada                                        27.09
99 Mario Manzoni (Ita) Formaggi Pinzolo Fiave                     27.16
100 Albert Primero (Phi) Pagcor-Casino Filipino                   27.22
101 Sergiy Matveiev (Ukr) Ceramiche Panaria-Margres               28.02
102 Kazuya Okazaki (Jpn) Japan                                    29.01
103 Eugene Moriarty (Irl) Ireland                                 29.09
104 Germ Van Der Burg (Ned) Bert Story-Piels                      29.15
105 Jans Koerts (Ned) Chocolade Jacques-Wincor                    29.18
106 Matnur Matnur (Ina) Wismilak                                  29.27
107 Jianshi Luo (Chn) China                                       29.34
108 Scott Guyton (NZl) Wismilak                                   29.46
109 Ismail Mohd Sazlee (Mas) Malaysia                             30.07
110 Enrico Grigoli (Ita) De Nardi                                 30.09
111 Arne Kornegoor (Ned) Bert Story-Piels                         30.17
112 Domenico Gualdi (Ita) Formaggi Pinzolo Fiave                  30.18
113 Ivan Quaranta (Ita) Formaggi Pinzolo Fiave                    30.25
114 Merculio Ramos (Phi) Pagcor-Casino Filipino                   30.26
115 Peter Wuyts (Bel) Mr Bookmaker-Palmans-Collstrop              30.27
116 Corrado Serina (Ita) Formaggi Pinzolo Fiave                   30.33
117 Giulini Sulpizi (Ita) Formaggi Pinzolo Fiave                  30.38
118 Wawan Setyobudi (Ina) Wismilak                                30.38
119 Hamad Mohd Mahazir (Mas) Malaysia                             30.49
120 Alexandre Lavallee (Can) Canada                               30.54
121 Musa Musairi (Mas) Malaysia                                   31.08
122 Graeme Brown (Aus) Ceramiche Panaria-Margres                  31.15
123 Hassan Maleki (Irn) Iran                                      32.03
124 Sama'i Sama'i (Ina) Wismilak                                  33.05
125 Alfie Catalan (Phi) Pagcor-Casino Filipino                    33.41
126 Fabio Gilioli (Ita) Ceramiche Panaria-Margres                 35.14
127 Ano Pedersen (Ned) Wismilak                                   35.20
128 Trent Wilson (Aus) Colombia Selle-Italia                      37.24
129 Ruben Guillermo Bongiorno (Arg) Ceramiche Panaria-Margres     43.58
 
Points classification
 
1 Gordon Fraser (Can) Health Net presented by Maxxis                 45 pts
2 Marlon Perez (Col) Colombia Selle-Italia                           36
3 Hector Guerra Garcia (Spa) Relax Bodysol                           31
4 Freddy Gonzalez (Col) Colombia Selle-Italia                        26
5 Devis Miorin (Ita) De Nardi                                        24
6 Sean Sullivan (Aus) Team Barloworld                                23
7 Brett Lancaster (Aus) Ceramiche Panaria-Margres                    21
8 David George (RSA) Team Barloworld                                 21
9 Ryan Cox (RSA) Team Barloworld                                     19
10 Gert Vanderaerden (Bel) Mr Bookmaker-Palmans-Collstrop            17
11 Kurt Van De Wouwer (Bel) Mr Bookmaker-Palmans-Collstrop           16
12 Eric Wohlberg (Can) Canada                                        15
13 Michael Sayers (USA) Health Net presented by Maxxis               14
14 Nicholas White (RSA) South Africa                                 13
15 Tiaan Kannemeyer (RSA) Team Barloworld                            13
16 John Lieswyn (USA) Health Net presented by Maxxis                 13
17 Brice Jones (USA) Health Net presented by Maxxis                  13
18 Ruber Marin (Col) Colombia Selle-Italia                           12
19 Gregory Henderson (NZl) Health Net presented by Maxxis            12
20 Michel Van Haecke (Bel) Mr Bookmaker-Palmans-Collstrop            11
21 Russel Van Hout (Aus) Colombia Selle-Italia                       11
22 Albert Primero (Phi) Pagcor-Casino Filipino                       11
23 Scott Guyton (NZl) Wismilak                                       10
24 Javier Florencio Cabre (Spa) Relax Bodysol                        10
25 Philip Deignan (Irl) Ireland                                      10
26 Luis F. Laverde Jimenez (Col) Formaggi Pinzolo Fiave              10
27 Graeme Brown (Aus) Ceramiche Panaria-Margres                      10
28 Ruben Guillermo Bongiorno (Arg) Ceramiche Panaria-Margres         10
29 Enrico Degano (Ita) Team Barloworld                                9
30 Dave Bruylandts (Bel) Chocolade Jacques-Wincor                     8
31 Daryl Impey (RSA) South Africa                                     7
32 Ben Day (Aus) Mr Bookmaker-Palmans-Collstrop                       7
33 David McCann (Irl) Ireland                                         6
34 Wladimir Belli (Ita) Lampre                                        6
35 Eugene Moriarty (Irl) Ireland                                      6
36 Danny Pate (USA) Health Net presented by Maxxis                    5
37 Fortunato Baliani (Ita) Ceramiche Panaria-Margres                  5
38 Santiago Blanco Gil (Spa) Relax Bodysol                            5
39 Sergiy Matveiev (Ukr) Ceramiche Panaria-Margres                    5
40 Matnur Matnur (Ina) Wismilak                                       5
41 Ivan Quaranta (Ita) Formaggi Pinzolo Fiave                         5
42 Roland Green (Can) Canada                                          4
43 Ghader Mizbani (Irn) Iran                                          3
44 Nacor Burgos Rojo (Spa) Relax Bodysol                              3
45 Jurgen Van De Walle (Bel) Chocolade Jacques-Wincor                 3
46 Alessandro Cortinovis (Ita) Lampre                                 2
47 Michele Gobbi (Ita) De Nardi                                       2
48 Luciano Pagliarini (Bra) Lampre                                    2
49 Enrico Grigoli (Ita) De Nardi                                      2
50 Marco Pinotti (Ita) Lampre                                         1
51 Sama'i Sama'i (Ina) Wismilak                                       1
 
Mountains classification
 
1 Marlon Perez (Col) Colombia Selle-Italia                           31 pts
2 Ruber Marin (Col) Colombia Selle-Italia                            28
3 Freddy Gonzalez (Col) Colombia Selle-Italia                        20
4 Sean Sullivan (Aus) Team Barloworld                                20
5 Hector Guerra Garcia (Spa) Relax Bodysol                           19
6 Devis Miorin (Ita) De Nardi                                        18
7 Brett Lancaster (Aus) Ceramiche Panaria-Margres                    15
8 Luis F. Laverde Jimenez (Col) Formaggi Pinzolo Fiave               15
9 Ryan Cox (RSA) Team Barloworld                                     10
10 Jurgen Van De Walle (Bel) Chocolade Jacques-Wincor                10
11 David George (RSA) Team Barloworld                                 6
12 Fortunato Baliani (Ita) Ceramiche Panaria-Margres                  6
13 Alessandro Cortinovis (Ita) Lampre                                 4
14 Santiago Blanco Gil (Spa) Relax Bodysol                            4
15 Nicholas White (RSA) South Africa                                  2
16 Nacor Burgos Rojo (Spa) Relax Bodysol                              2
17 Garcia Oscar Laguna (Spa) Relax Bodysol                            2
18 Michael Sayers (USA) Health Net presented by Maxxis                2
19 Kurt Van De Wouwer (Bel) Mr Bookmaker-Palmans-Collstrop            1
20 Michele Scotto D'abusco (Ita) Lampre                               1
21 Brice Jones (USA) Health Net presented by Maxxis                   1
 
Teams classification
 
1 Team Barl                                                    42.23.06
2 Colombia                                                         1.38
3 Relax Bod                                                        3.25
4 Canada                                                           8.16
5 Lampre                                                           8.20
6 South Afr                                                        8.39
7 Chocolade                                                       10.01
8 De-Nardi                                                        11.08
9 Palmans-C                                                       12.50
10 Ireland                                                        18.46
11 Japan                                                          19.09
12 Health Ne                                                      21.12
13 Iran                                                           27.27
14 Ceramiche                                                      31.48
15 China                                                          33.18
16 Pagcor-Ca                                                      34.14
17 Formaggi                                                       44.01
18 Malaysia                                                       49.03
19 Wismilak                                                     1.01.49
20 Bert Stor                                                    1.16.44
 
Asian rider classification
 
1 Ghader Mizbani (Irn) Iran                                    14.10.03
2 Susanto Tonton (Ina) Wismilak                                    0.58
3 Ahad Kazemi (Irn) Iran                                           2.11
4 Tomoya Kano (Jpn) Japan                                          2.13
5 Razali Shahrulneeza (Mas) Malaysia                               3.56
6 Yasutaka Tashiro (Jpn) Japan                                     5.05
7 Shinichi Fukushima (Jpn) Japan                                   6.14
8 Victor Espiritu (Phi) Pagcor-Casino Filipino                     8.24
9 Rhyan Tanguilig (Phi) Pagcor-Casino Filipino                     8.31
10 Yoshiyuki Abe (Jpn) Japan                                      10.23
11 Xueli Jiang (Chn) China                                        11.03
12 Xiaojun Shao (Chn) China                                       11.09
13 Lloyd Lucien Reynante (Phi) Pagcor-Casino Filipino             11.19
14 Makoto Iijima (Jpn) Japan                                      14.07
15 Mohd Zahit Mohd Sayuti (Mas) Malaysia                          16.02
16 Ronald Gorantes (Phi) Pagcor-Casino Filipino                   17.34
17 Fuyu Li (Chn) China                                            18.00
18 Amir Zargari (Irn) Iran                                        20.04
19 Guozhang Wang (Chn) China                                      20.14
20 Tanha Abbas Saeidi (Irn) Iran                                  20.29
21 Yongbiao Zhu (Chn) China                                       21.09
22 Kazuyuki Manabe (Jpn) Japan                                    22.29
23 Rosli Nor Affendy (Mas) Malaysia                               22.52
24 Albert Primero (Phi) Pagcor-Casino Filipino                    24.37
25 Kazuya Okazaki (Jpn) Japan                                     26.16
26 Matnur Matnur (Ina) Wismilak                                   26.42
27 Jianshi Luo (Chn) China                                        26.49
28 Ismail Mohd Sazlee (Mas) Malaysia                              27.22
29 Merculio Ramos (Phi) Pagcor-Casino Filipino                    27.41
30 Wawan Setyobudi (Ina) Wismilak                                 27.53
31 Hamad Mohd Mahazir (Mas) Malaysia                              28.04
32 Musa Musairi (Mas) Malaysia                                    28.23
33 Hassan Maleki (Irn) Iran                                       29.18
34 Sama'i Sama'i (Ina) Wismilak                                   30.20
35 Alfie Catalan (Phi) Pagcor-Casino Filipino                     30.56
 
Asian team classification
 
1 Japan                                                        42.42.15
2 Iran                                                             8.18
3 China                                                           14.09
4 Pagcor-Casino Filipi                                            15.05
5 Malaysia                                                        29.54
6 Wismilak                                                        43.30