Tour de France News for July 11, 2003
Edited by Jeff Jones & John Stevenson
No comparisons please: "I am Petacchi!"
More from Fassa Bortolo's top sprinter
By Gabriella Ekström in Nevers
Third time on podium
Photo: © J.Devich/CN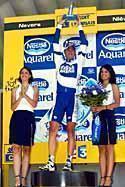 Hot and tired after his third Tour stage conquest in Nevers, Alessandro Petacchi still hasn't lost any of his sting. "I came to the Tour with the same goal that I had for the Giro, and that was to win a stage. Now I have won three out of three," he says with a frank smile. "I'm not counting the one where I was at the back of the bunch," he admits for those who have been keeping count of the sprints so far.
Today's sprint had a different set up than those of his first two wins. With two kilometres to go of today's sun baked stage, Ferretti's top sprinter did not have a lot of support from his Fassa Bortolo team. "It was not an easy day for my team, because FDJ had all their guys up at the front, stomping it. It was difficult for Nicola Loda and Marco Velo to get in a good position to help me, and I had to make an effort to find them myself and get a place on their wheel. Velo and Loda took me through to the last corner, and from there I went on Zabel's wheel and then jumped onto McEwen's."
Click here for the full interview.
McEwen: "I don't deserve Green"
Sprinter Robbie McEwen of the Lotto-Domo team came to the Tour to win a few stages, and as yet he hasn't achieved this. He is starting to doubt himself, as he told Belgian TV1 after today's stage. "If you can't finish better than fifth or sixth all the time, you don't deserve the Green. You have to be honest with yourself," he commented.
"I am not concentrating really on the Green Jersey as yet. The team has worked really hard again but I couldn't finish it again...maybe it's got something to do with self-confidence? Was I doubting myself in the back of my mind?"
"It will be hard for them to work this hard again tomorrow. Lotto rode on the front for me for 160km, but we got nothing for it. Petacchi went really early. I waited a too long and Petacchi just flew past me with Kirsipuu in his wheel. Petacchi is clearly the best sprinter in the Tour."
Team director Marc Sergeant added, "We need to sympathise with the riders today, it was so hot and they did a lot of work. Petacchi is just too strong. There's nothing to be done about this 'gentleman sprint' of his."
"The team worked well again and McEwen was positioned perfectly before the bend by Van Bon. Robbie took the bend nicely and it looked good. But Petacchi came around them easily, took the lead and then they're all lost. I think they will have to handle the sprints differently. Robbie is getting frustrated with the way things are going, I think all the other sprinters would feel the same though."
CSC doctor on Hamilton's performance
Tyler Hamilton
Photo: © C.Henry/CN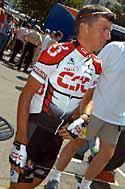 Team CSC's doctor, Dr. Joost De Maeseneer is still not sure whether Tyler Hamilton will be able to finish the Tour, however he is impressed with Hamilton's performance so far after breaking his collarbone in stage 1.
"Tyler is doing reasonably well," said Dr De Maeseneer to Belgian TV. "We gave him less medication today so he was in more pain. We also loosened the bandage a bit this morning because it was so hot. He is still so determined to continue. He has slept well after that first really bad night. We had to give him a hand though, with some sleeping tablets."
"The pain medication we can administer is so limited," continued De Maeseneer. "It's only given to him in the morning, so he wakes up in a lot of pain. This evening we are having some more X-rays taken. If the medical staff thinks it is too dangerous to continue with a substantial long term risk, he won't be allowed to start tomorrow."
"But in case it looks better, he will continue. Of course we'll have to wait and see then how he holds up in the first mountain stage."
Medical communiqué
Angel Vicioso (ONCE-Eroski): Injured left hand, multiple cuts and contusions, and x-rays taken at the hospital in Nevers showed a fracture of the radius (double check)
He is not expected to start Friday's stage
Jens Voigt (Crédit Agricole): Insect bite on neck
Steve Zampieri (Caldirola SO.DI): Digestive trouble
Olaf Pollack (Gerolsteiner): Left knee pain
Commissaire's rulings
Marco Milesi (Caldirola SO.DI.): Victim of a puncture in the final kilometre, was credited same time as the winner
Jaan Kirsipuu (Ag2R-Prévoyance): Fine of 50 Swiss Francs for improper riding (art. 12.1.040, par. 40)
Last chance to win Fantasy Giant TCR 100
Giant prize
Photo: © C.Henry/CN

It's your last chance to win the bike! Cyclingnews in conjunction with Giant are offering a special edition TCR 100 for this year's first prize in the Fantasy Cyclingnews game. The prize roster also includes equipment from Bell, fi'zi:k, Full Speed Ahead, Giro, Hutchinson, Nokon, Rudy Project and Speedplay. You can enter until stage 7 begins and there is no disadvantage in joining mid-Tour.
It's a great way to get involved in following the Tour stage by stage. Select your stage teams every day as the Tour develops. You can increase your chances by adding more teams. Compete against the Cyclingnews team and those of other readers.
Join now before stage 7 begins - go to http://fantasy.cyclingnews.com/. If you've already signed up - make sure you have registered your team for the Tour by buying your race credits before stage 7 begins.
Good luck!
(All rights reserved/Copyright Knapp Communications Pty Limited 2003)