Tour de France News for July 11, 2003
Edited by Jeff Jones
More post stage 5 quotes
Alessandro Petacchi (Fassa Bortolo, 1st)
Too good for the rest
Photo: © J.Devich/CN

"They say never two without three!," said the delighted Italian sprinter after claiming his third stage win yesterday. "Loda and Velo launched me perfectly. They are exceptionally strong, fantastic team mates, they have paved the way for this victory."
"I don't know where this is going to end, it's hard to say. I have had three really nice wins, one nicer than the other. If I win another one, that's great but I think I can call my Tour a success, I'm so happy already."
Jaan Kirsipuu (Ag2r, 2nd)
"In the last corner I found myself on Petacchi's wheel. Thanks to his team, which is very effective, he had a clear line. He started the sprint fairly far out and there was nothing I could do. He was too strong for me, so strong that he was able to go all the way with no problem."
Does he have a weakness? "Maybe he still makes too many errors in choosing his position. He lacks a little bit the consistency of McEwen or Zabel. But that's a detail. Alessandro is an absolute top rider. He is already now among the greatest sprinters of all time."
Erik Zabel (Telekom, 4th)
Fourth placed Erik Zabel (Telekom) was asked the difference between him and Petacchi? "Easy: the legs. Nobody is faster in the last corner than he is. I still tried to take the wheel of Kirsipuu's train, but I didn't manage. I only had the help of Aldag, that's not enough. We don't have real lead out men. Don't expect this of Aerts or Botero."
Jean-Patrick Nazon (Brioches la Boulangère, 10th)
"The finish was fairly dangerous with the last left hand turn. I wasn't in good position and I wasn't very strong. At the end I started cramping," said the former Maillot Jaune.
Nicolas Jalabert (CSC, part of the five man break)
"We needed four minutes to really believe in the move but the peloton never really let us go," said Jalabert. "When the first break went, we were 14, but [Roberto] Heras' presence ruined our chances. I still have the stage to Lyon [today] to show myself and after that I have to wait for the stage to Marseilles."
Paolo Bettini (Quick.Step, 178th)
Bettini and Armstrong
Photo: © J.Devich/CN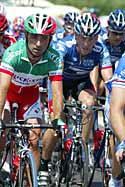 Paolo Bettini wants to try and take the yellow jersey today. He is in 34th on GC at 1'39 from Peña. The Belgian clothing manufacturer Vermarc has already made some yellow, green and white shorts. "You never now," said Bettini to Het Laatste Nieuws.
"Yellow is realisable, the second day after the team time trial is the best moment to attack. Alberto Elli showed it to me three years ago, and I presume still some others in the past. All teams are still recuperating from the efforts of the last days and are saving their strength with the Alps coming. Also Armstrong won't blow up his team with the Alps coming tomorrow. I expect some cooperation in the peloton. Can I have just a short time, Lance?"
"Green: no thanks, I'm not going for the sprints anymore, it's too dangerous. I've already taken too many risks at the beginning of this Tour. I could have crashed, which means I would have to forget my chances in the World Cup. Only if a small peloton is heading for the finish, I'll participate."
"Polka dot: in stage 3 after 8.5 km I got 5 points on the Côte de Boutancourt. I wanted to escape but didn't get far. In fact we already have a man for this jersey: Richard Virenque. But who knows, if I'm in a good position after the Alps..."
Ullrich looking forward to mountains
Team Bianchi's Jan Ullrich has had a good first week of the Tour, not losing too much time and not being involved in many crashes. However he faces a tough test in the next three days in the Alps, which is where the Tour's GC will really be determined.
"I've been feeling good at the end of the stages," Ullrich told L'Equipe. "Everything has gone smoothly so far. My time gaps have never been this small to Lance Armstrong. I'm ready to attack the Alps and I'm waiting to see how he handles himself. Even if we already know that US Postal is strong, we don't really know anything about Armstrong's actual form."
Tyler soldiers on
Tyler Hamilton will continue in the Tour de France after Thursday evening's medical examination. X-rays of his broken collarbone, examined at Hopital Pierre Beregovoy in Nevers showed no further damage.
"I am very relieved and very happy, because I really felt bad after the team time trial," said a smiling Hamilton to TV2 just after the examination. "I am ready to ride as long as the injury allows. And I feel that I can compete with the other riders. I might not be at 100 percent, but I can give it 90 or 95 percent, and that gives me the feeling of being in the race."
"The x-rays show that the situation is stable," said team doctor Joost De Maeseneer. "Tyler will start the coming stages. Tour doctor Porte and the other doctors who were present gave him the green light. Now we have to wait to see how Tyler handles the Alps."
Vicioso breaks wrist
Spanish rider Angel Vicioso (ONCE) is the third rider to drop out of the Tour, after breaking his left wrist after crashing at the end of stage 5. Vicioso decided not to start on Friday, and joins Marc Lotz and Levi Leipheimer (Rabobank) on the sidelines.
O'Grady finding form
Australian SBS TV interviewed national champion Stuart O'Grady, who is not that happy with how things are going. "Today, I had the perfect position coming out of the last corner behind Brad and Cooke. I hesitated a bit and it went pear shaped from there, a moment of hesitation and it was all over." "I'm starting to find my condition a bit," added O'Grady. "The first days I was riding around kind of a bit lost. I wasn't concentrating enough on doing the actual sprint but more trying to avoid crashes. Now that the race is settling down a bit. I'm feeling better as the race goes on so hopefully it gets better from here on."
McEwen: Everybody is beatable
SBS also asked a visibly tired and disappointed Robbie McEwen yesterday, how can you beat Petacchi? McEwen's simple response: "Get it right. He's obviously the best sprinter at the Tour at the moment. Petacchi is very fast and strong, but everybody is beatable. He is in the same form as he was in the Giro, where he won six stages. But I managed to beat him a couple of times. I just haven't managed to get one right yet."
McEwen added, "I'm not going to discount going for stages and for the intermediate sprints. I'm leading by only one point to Petacchi for the Green. I've been doing the intermediate sprints but Petacchi hasn't done any, he has got the points because he won three stages. I have been sprinting for the win four times but had three really average results. There might be a chance to go for it again tomorrow but if it's like today it's going to be pretty hard to get it together."
Lotto-Domo go quiet
While Lotto-Domo's DS Marc Sergeant reconfirmed his faith in a stage win for Robbie, the rest of the team gathered quietly around the team bus after the stage yesterday.
"I had warned them not to let a break go without someone of our team in it, that way they wouldn't have had to work again all day," said Marc Sergeant to Het Nieuwsblad. "But they let it happen anyway. Last year with Domo-Farm Frites we had to wait until the fourteenth stage, when Virenque made the Tour unforgettable by what he showed on Mont Ventoux. Although I would have liked to have one under the belt already, we will keep on working for Robbie."
The other riders were not that eager to talk to the press but Christophe Brandt underlined the supremacy of Petacchi in this Tour. "It's normal that Robbie starts to doubt," said Brandt. "We can only hope that Petacchi will have a bad day tomorrow."
McEwen's Aussie buddy Nick Gates, who spent most of the day at the back of the peloton, was visibly irritated by the presence of the journalists. He muttered some words to the Belgian press: "Always that blablabla...When Robbie wins all that blablabla will stop!" he said before disappearing to the hotel.
Mayo talks to Rabobank
Iban Mayo (Euskaltel-Euskadi) has expressed interest in riding for Rabobank next season. The Basque rider will be at the end of his contract with Euskaltel this year, and says that he'd be interested in riding for the Dutch team, that also has his compatriot Oscar Freire in its ranks.
Team boss Adri van Houwelingen was quoted in De Telegraaf as saying, "Of course he's an interesting rider. but we also want to give Levi Leipheimer another chance in the Vuelta."
Rabobank is looking for another GC rider for the Tour de France, as this year's plan to build the team around Leipheimer ended in disaster when the American crashed out of the race in the first stage.
Coffee for all
Grand-Mère, the official coffee supplier at the Tour de France, is distributing free cups of the black liquid at the start and finish each day. In the Village départ, that adds up to about 1,500 cups while the hostesses serve another 5,000 plastic cups to the general public. At the finish, the same amount is dispensed. From the cars in the publicity caravan, 54,000 bags containing 40g of coffee are thrown to the public on the side of the road.
If the coffee doesn't keep you awake, the numbers might!
(All rights reserved/Copyright Knapp Communications Pty Limited 2003)