Recently on Cyclingnews.com
90th Tour de France - July 5-27, 2003
No comparisons please: "I am Petacchi!"
More from Fassa Bortolo's top sprinter
By Gabriella Ekström in Nevers
Third time on podium
Photo: © J.Devich/CN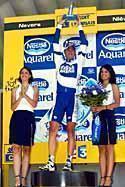 Hot and tired after his third Tour stage conquest in Nevers, Alessandro Petacchi still hasn't lost any of his sting. "I came to the Tour with the same goal that I had for the Giro, and that was to win a stage. Now I have won three out of three," he says with a frank smile. "I'm not counting the one where I was at the back of the bunch," he admits for those who have been keeping count of the sprints so far.
Today's sprint had a different set up than those of his first two wins. With two kilometres to go of today's sun baked stage, Ferretti's top sprinter did not have a lot of support from his Fassa Bortolo team. "It was not an easy day for my team, because FDJ had all their guys up at the front, stomping it. It was difficult for Nicola Loda and Marco Velo to get in a good position to help me, and I had to make an effort to find them myself and get a place on their wheel. Velo and Loda took me through to the last corner, and from there I went on Zabel's wheel and then jumped onto McEwen's."
"The sprints here in the Tour are different, as I said yesterday, because Cipollini & Co are not here. That leaves a big void, because now we are lacking his treno zebrato that normally sets the sprint up with three kilometres to go."
When the finishing straight appeared, all the good sprinters like Zabel, Freire, McEwen, Cooke and Kirsipuu were still ahead of him and for a second it looked like the new king lost his chance there and then, but when he started the sprint with 250 metres to go, he was untouchable.
Third time on podium
Photo: © Sirotti

At the post-race press conference, Petacchi fiddles around with the cap of a water bottle for a second and makes it go spinning over the table, before he regains his concentration. "My position at the finish today was different from the positions I held when I won the two first stages. Today I went one hundred metres later than what I normally do, and by doing so I am taking a great risk. There are guys in the peloton, like McEwen and Freire who have the ability to change their rhythm in the last 50 metres and come back again. I myself cannot do that, so therefore I have to go with a different tactic."
Petacchi's third stage win puts him just one point behind Robbie McEwen on the green jersey classification list, which is handed out in the press room every night. With his eighteen Giro stages in the maglia ciclamina fresh in his memory, he would of course like to wear the green sprinter's jersey in the Tour also. "It's not really a goal of mine, because my condition is nothing like the condition I had at the Giro. Of course I would like to wear it, but I would have to say that my goal is to win a fourth stage."
To judge by his own words, Petacchi has no green ambition, but a quick calculation tells that if that fourth stage win comes tomorrow, he will indeed take over the green jersey, unless McEwen wins a lot of the intermediate sprints. However, tomorrow's stage to Lyon is a long and demanding one, and no break has lasted all the way yet, so a lot of riders will try to put imaginary sticks into the Italian's wheel.
"The mountains are coming up soon," Petacchi reflects, and tries to build a tower of the bottle caps behind his hand. "I wish to remain in the race, since I'm getting great results, but I think the following days will give an indication of what will come."
After his last two wins, he has frequently been asked if he is the greatest sprinter in the world, and the comparisons to Cipollini have been frequent. It is obvious that Petacchi is getting fed up with that. "I'm tired of being asked if I am the king of the sprints. There are a lot of sprinters here, well worthy to be called kings too. McEwen, Zabel, Cooke, Freire and Kirsipuu are all excellent sprinters who just haven't won yet. Sprints can be lost or won by five centimetres, both things happened to me at the Giro."
I'm fast, I'm Petacchi
Photo: © J.Devich/CN

"I am also being compared to Cipollini, and people say that I sprint like him. It is true in that matter that we both start our sprint with 300-250 metres to go, and that we both have the ability to lead out among the sprinters. However, I am a much better climber than what he is, because in the Giro I was able to win at stages like Marostica and Terme Lugiano. When hearing that, people will say that I'm like Zabel, but maybe we could all agree that I am Petacchi?"
Petacchi tries to get the blue cap from the water bottle off his finger, and continues, a bit agitated. "Everyone wants to know what would have happened if Cipollini had been here. I'm not sure the outcome of the races would be any different if he were. I could beat him in the Giro and I don't see why I couldn't do the same thing here. I wish people would stop talking about him because he is not at this race, while I hope I have made it pretty clear to everyone that I am!"