Jayco Tour of Queensland - 2.5
Australia, November 3-8, 2003
Main Page Results Previous Stage Next Stage
Stage 5 - November 6: Maryborough, 85.7 km
Aitken wins crash marred finish
By Rod Morris in Maryborough
Painful pileup
Photo ©: Shane Goss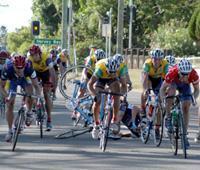 A spectacular crash on the finish line in today's fifth stage of the $60,000 Jayco Tour of Queensland, was luckily avoided by the main challengers. Sydney gold medal Olympian Brett Aitken turned his recent of maiden placings into a well earned victory in the afternoon Maryborough road stage, avoiding the carnage that occurred on the finish line.
The first bunch sprint finish of the Tour of Queensland was marred by the fall, which saw Poland's Mateusz Mroz go flying over the top of Czechoslovakian Michal Precechtel, who had clipped the rear wheel of another rider. Mroz crossed the finish line on his backside with his bike sliding alongside of him. Ironically he was officially placed 13th in the stage.
Precechtel, although not officially crossing the finish line, was awarded the bunch time. Both Mroz and Precechtel were treated at the scene and later taken to hospital for a check-up, and are expected to take their place in the peloton tomorrow.
McKenzie takes over
Photo ©: Shane Goss

Veteran Victorian, David McKenzie, riding - appropriately enough - for the Jayco team, has assumed control of the tour, replacing overnight leader, Eric Wohlberg (Maryborough City - Isis Shire) and is keen to hang onto it until the race's finish.
Overnight leader Eric Wohlberg was just 1 second in front going into this afternoon's stage, and he relinquished his grip on the jersey, when he finished 21st in the bunch sprint, but lost valuable time to McKenzie, who crossed the line in fourth and picked up a 14-second time bonus.
"Everything has come to plan for our team and I'm reasonably confident of holding on now till the finish," McKenzie said.
How it unfolded
Stage 5 was held on a hilly inland track at Maryborough and riders had to watch attacking moves for the entire 85 km journey. The final attack came from Tasmanian duo Mark Jamieson (Emu Spirit - Tasmanian Institute of Sport) and Sean Sullivan (Barloworld), Hilton Clarke (Barloworld) and South Australian Russell Van Hout (Miriam Vale - Kolan - Perry Shires).
The quartet rode hard and were able to get a break of a little over a minute before the peloton sensed danger and lifted the tempo. The breakaways were eventually caught with just 5 km of the race remaining and were gobbled up by the bunch. In a sensational finish to the line, Aitken finally cracked it for a win, after running two seconds earlier in the week, beating Queensland's Ashley Hutchinson (Cabe) and Italian Ivan Fanelli (Europcar).
Plenty of attacks
Photo ©: Shane Goss

"I was getting a little sick of sprinting for second, so its nice to get a win," Aitken said. "Its the first bunch sprint we have in this tour or the Herald Sun Tour, so it was good to show the public what I can do."
"We could see the finish banner from over 2 km away and there were a lot of attacks being made, there were a lot of riders we had to watch for," he added.
McKenzie said he was proud of his move into the leader's jersey, particularly because of his long standing involvement with Jayco. "They (Jayco) are the race sponsor and they are also my team sponsor, so its a win-win situation," he added.
Castro disqualified
Gerado Castro of Uruguay was disqualified from the tour after being found guilty of holding onto a truck whilst racing. Castro was also penalised $AUD500.00 for his indiscretion. Meanwhile his Sea FM teammates, Alejandro Acton (Argentina) and Alvara Tardaguila (Uruguay) are also tour casualties, withdrawing from fatigue and injury respectively.
Other withdrawals include Tasmanian Darren Young (Emu Spirit - Tasmania Institute of Sport) and Tomas Buchacek (Czech Republic), reducing the size of the original field of 60 to 55.
Only three stages of the inaugural Tour of Queensland remain with tomorrow's sixth stage heading from Mount Perry to Gin Gin (73.3 km) and then a dual-stage hit out tomorrow with a 97 km road stage at Bargara and then a 35 km criterium in Bundaberg.
Photos
Images by Shane Goss/licoricegallery.com
Results

1 Brett Aitken (Aus) Miriam Vale/Kolan/Perry Shires      2.02.19
2 Ashley Hutchinson (Aus) Cabe                                  
3 Ivan Fanelli (Ita) Europcar                                   
4 David McKenzie (Aus) Jayco                                    
5 Marek Wesoly (Pol) Europcar                                   
6 Hector Morales (Uru) Caravello                                
7 Bart Heirewegh (Bel) Bundaberg Sugar                          
8 Jonathan Cantwell (Aus) Bundaberg Sugar                       
9 Tony Mann (Aus) Caravello                                     
10 Kjell Carlstrom (Fin) Europcar                               
11 Alex Candelario (USA) Bundaberg City/Burnett Shire           
12 Bernard Sulzberger (Aus) Emu Spirit/Tis                      
13 Mateusz Mroz (Pol) Europcar                                  
14 Mateo Sasso (Uru) Sea Fm                                     
15 Aaron Kemps (Aus) Cabe                                       
16 Jindrich Vana (Cze) Mirvac                                   
17 Mark Jamieson (Aus) Emu Spirit/Tis                           
18 Jorge Libonatti (Uru) Caravello                              
19 Chris Bradford (Aus) Maryborough City/Isis Shire             
20 Kristian House (GBr) Miriam Vale/Kolan/Perry Shires          
21 Eric Wohlberg (Can) Maryborough City/Isis Shire              
22 Danny In't Ven (Bel) Bundaberg Sugar                         
23 Pavel Zerzan (Cze) Mirvac                                    
24 Scott Davis (Aus) Cabe                                       
25 Jonas Ljungblad (Swe) Bundaberg Sugar                        
26 Scott Moninger (USA) Bundaberg City/Burnett Shire            
27 Miles Olman (Aus) Cabe                                       
28 Jamie Burrow (GBr) Europcar                                  
29 Tim Johnson (USA) Maryborough City/Isis Shire                
30 Jamie Drew (Aus) Jayco                                       
31 Dominique Perras (Can) Jayco                                 
32 Tiaan Kannemeyer (RSA) Barloworld                            
33 James Perry (RSA) Barloworld                                 
34 Michael Sayers (USA) Bundaberg City/Burnett Shire            
35 Sean Sullivan (Aus) Barloworld                               
36 Bart Duraj (Aus) Maryborough City/Isis Shire                 
37 Stephen Pearce (Aus) Mirvac                                  
38 Jacobus de Witt (RSA) Barloworld                             
39 Troy Glennan (Aus) Caravello                                 
40 Ashley Humbert (Aus) Caravello                               
41 Jarron Poad (NZl) Bundaberg Sugar                            
42 Milton Wynants (Uru) Sea Fm                                  
43 Peter Milostic (Aus) Maryborough City/Isis Shire             
44 Matthew Goold (Aus) Miriam Vale/Kolan/Perry Shires           
45 Michal Precechtel (Cze) Mirvac                               
46 Karl Menzies (Aus) Emu Spirit/Tis                        0.13
47 Ben Van Derkamp (Aus) Bundaberg City/Burnett Shire       0.32
48 Luke Bettany (Aus) Mirvac                                0.33
49 Trent Wilson (Aus) Jayco                                 0.34
50 Chris Wherry (USA) Bundaberg City/Burnett Shire              
51 Russell Van Hout (Aus) Miriam Vale/Kolan/Perry Shires        
52 Ryan Sullivan (Aus) Emu Spirit/Tis                           
53 Hilton Clarke (Aus) Barloworld                           0.54
54 Jeremy Hunt (GBr) Miriam Vale/Kolan/Perry Shires         2.05
55 David Betts (Aus) Cabe                                  16.12
 
Sprints
 
Mocka No. 22                                                    
1 David Betts (Aus) Cabe                                       3 pts
2 Matthew Goold (Aus) Miriam Vale/Kolan/Perry Shires           2
3 Jonas Ljungblad (Swe) Bundaberg Sugar                        1
 
Mocka No. 39                                                    
1 Aaron Kemps (Aus) Cabe                                       3 pts
2 Russell Van Hout (Aus) Miriam Vale/Kolan/Perry Shires        2
3 Jonas Ljungblad (Swe) Bundaberg Sugar                        1
 
Mocka No. 52                                                    
1 Jonas Ljungblad (Swe) Bundaberg Sugar                        3 pts
2 Russell Van Hout (Aus) Miriam Vale/Kolan/Perry Shires        2
3 Hilton Clarke (Aus) Barloworld                               1
 
Mocka No. 69                                                    
1 Mark Jamieson (Aus) Emu Spirit/Tis                           3 pts
2 Sean Sullivan (Aus) Barloworld                               2
3 Hilton Clarke (Aus) Barloworld                               1
 
Climbs
 
4 Mocka No. 26                                                  
1 Aaron Kemps (Aus) Cabe                                       3 pts
2 Russell Van Hout (Aus) Miriam Vale/Kolan/Perry Shires        2
3 Michael Sayers (USA) Bundaberg City/Burnett Shire            1
 
4 Mocka No. 34                                                  
1 Russell Van Hout (Aus) Miriam Vale/Kolan/Perry Shires        3 pts
2 Aaron Kemps (Aus) Cabe                                       2
3 Sean Sullivan (Aus) Barloworld                               1
 
4 Mocka No. 40                                                  
1 Aaron Kemps (Aus) Cabe                                       3 pts
2 Russell Van Hout (Aus) Miriam Vale/Kolan/Perry Shires        2
3 Sean Sullivan (Aus) Barloworld                               1
 
4 Mocka No. 46                                                  
1 Sean Sullivan (Aus) Barloworld                               3 pts
2 Pavel Zerzan (Cze) Mirvac                                    2
3 Jorge Libonatti (Uru) Caravello                              1
 
4 Mocka No. 56                                                  
1 Russell Van Hout (Aus) Miriam Vale/Kolan/Perry Shires        3 pts
2 Hilton Clarke (Aus) Barloworld                               2
3 Sean Sullivan (Aus) Barloworld                               1
 
4 Mocka No. 64.                                                 
1 Russell Van Hout (Aus) Miriam Vale/Kolan/Perry Shires        3 pts
2 Sean Sullivan (Aus) Barloworld                               2
3 Mark Jamieson (Aus) Emu Spirit/Tis                           1
 
4 Mocka No. 70                                                  
1 Russell Van Hout (Aus) Miriam Vale/Kolan/Perry Shires        3 pts
2 Sean Sullivan (Aus) Barloworld                               2
3 Hilton Clarke (Aus) Barloworld                               1
 
4 Mocka No. 76                                                  
1 Sean Sullivan (Aus) Barloworld                               3 pts
2 Hilton Clarke (Aus) Barloworld                               2
3 Russell Van Hout (Aus) Miriam Vale/Kolan/Perry Shires        1
 
General classification after stage 5
 
1 David McKenzie (Aus) Jayco                             8.25.40
2 Eric Wohlberg (Can) Maryborough City/Isis Shire           0.13
3 Tiaan Kannemeyer (RSA) Barloworld                         0.49
4 Michael Sayers (USA) Bundaberg City/Burnett Shire         1.17
5 Kristian House (GBr) Miriam Vale/Kolan/Perry Shires       1.36
6 Bart Heirewegh (Bel) Bundaberg Sugar                      1.48
7 Jonas Ljungblad (Swe) Bundaberg Sugar                     2.28
8 Kjell Carlstrom (Fin) Europcar                                
9 Jamie Drew (Aus) Jayco                                    2.37
10 Jindrich Vana (Cze) Mirvac                               2.41
11 Tim Johnson (USA) Maryborough City/Isis Shire            2.52
12 Jorge Libonatti (Uru) Caravello                          3.01
13 Scott Moninger (USA) Bundaberg City/Burnett Shire        3.07
14 Brett Aitken (Aus) Miriam Vale/Kolan/Perry Shires            
15 Danny In't Ven (Bel) Bundaberg Sugar                     3.30
16 Hector Morales (Uru) Caravello                           3.35
17 Milton Wynants (Uru) Sea Fm                              3.41
18 Tony Mann (Aus) Caravello                                3.55
19 Dominique Perras (Can) Jayco                             3.56
20 Michal Precechtel (Cze) Mirvac                           4.16
21 Alex Candelario (USA) Bundaberg City/Burnett Shire       4.18
22 Stephen Pearce (Aus) Mirvac                              4.20
23 Aaron Kemps (Aus) Cabe                                   4.21
24 Karl Menzies (Aus) Emu Spirit/Tis                        4.26
25 Chris Bradford (Aus) Maryborough City/Isis Shire         4.37
26 Jonathan Cantwell (Aus) Bundaberg Sugar                  4.54
27 Sean Sullivan (Aus) Barloworld                           5.05
28 Matthew Goold (Aus) Miriam Vale/Kolan/Perry Shires       5.11
29 Jamie Burrow (GBr) Europcar                              5.37
30 Pavel Zerzan (Cze) Mirvac                                5.49
31 Jacobus de Witt (RSA) Barloworld                         6.38
32 Chris Wherry (USA) Bundaberg City/Burnett Shire          7.25
33 Hilton Clarke (Aus) Barloworld                           7.45
34 Russell Van Hout (Aus) Miriam Vale/Kolan/Perry Shires    7.47
35 Bernard Sulzberger (Aus) Emu Spirit/Tis                  8.22
36 Mark Jamieson (Aus) Emu Spirit/Tis                      11.29
37 Troy Glennan (Aus) Caravello                            12.20
38 Scott Davis (Aus) Cabe                                  12.37
39 Ashley Hutchinson (Aus) Cabe                            12.46
40 James Perry (RSA) Barloworld                            13.13
41 Ashley Humbert (Aus) Caravello                          13.20
42 Ryan Sullivan (Aus) Emu Spirit/Tis                      14.18
43 Mateusz Mroz (Pol) Europcar                             14.22
44 Trent Wilson (Aus) Jayco                                14.23
45 Peter Milostic (Aus) Maryborough City/Isis Shire        15.49
46 Ivan Fanelli (Ita) Europcar                             16.03
47 Mateo Sasso (Uru) Sea Fm                                16.41
48 Ben Van Derkamp (Aus) Bundaberg City/Burnett Shire      18.25
49 Marek Wesoly (Pol) Europcar                             20.29
50 Jarron Poad (NZl) Bundaberg Sugar                       20.30
51 Miles Olman (Aus) Cabe                                  25.54
52 David Betts (Aus) Cabe                                  29.58
53 Luke Bettany (Aus) Mirvac                               30.31
54 Bart Duraj (Aus) Maryborough City/Isis Shire            34.28
55 Jeremy Hunt (GBr) Miriam Vale/Kolan/Perry Shires        36.06
 
Yamaha  Sprint Championship
 
1 Jonas Ljungblad (Swe) Bundaberg Sugar                       25 pts
2 Mark Jamieson (Aus) Emu Spirit/Tis                          22
3 Hector Morales (Uru) Caravello                              18
4 Brett Aitken (Aus) Miriam Vale/Kolan/Perry Shires           15
5 Eric Wohlberg (Can) Maryborough City/Isis Shire             15
6 Kristian House (GBr) Miriam Vale/Kolan/Perry Shires         15
7 Sean Sullivan (Aus) Barloworld                              15
8 Michael Sayers (USA) Bundaberg City/Burnett Shire           14
9 David McKenzie (Aus) Jayco                                  11
10 Tony Mann (Aus) Caravello                                  10
11 Matthew Goold (Aus) Miriam Vale/Kolan/Perry Shires         10
12 Karl Menzies (Aus) Emu Spirit/Tis                          10
13 Kjell Carlstrom (Fin) Europcar                             10
14 Aaron Kemps (Aus) Cabe                                      7
15 Bart Heirewegh (Bel) Bundaberg Sugar                        7
16 Tim Johnson (USA) Maryborough City/Isis Shire               7
17 Jamie Drew (Aus) Jayco                                      7
18 Tiaan Kannemeyer (RSA) Barloworld                           6
19 Stephen Pearce (Aus) Mirvac                                 6
20 Russell Van Hout (Aus) Miriam Vale/Kolan/Perry Shires       6
21 Marek Wesoly (Pol) Europcar                                 4
22 Ivan Fanelli (Ita) Europcar                                 3
23 David Betts (Aus) Cabe                                      3
24 Alex Candelario (USA) Bundaberg City/Burnett Shire          3
25 Jorge Libonatti (Uru) Caravello                             3
26 Hilton Clarke (Aus) Barloworld                              2
27 Peter Milostic (Aus) Maryborough City/Isis Shire            2
28 Pavel Zerzan (Cze) Mirvac                                   1
29 Scott Davis (Aus) Cabe                                      1
 
King Of The Mountain Championship
 
1 Sean Sullivan (Aus) Barloworld                              20 pts
2 Russell Van Hout (Aus) Miriam Vale/Kolan/Perry Shires       17
3 Aaron Kemps (Aus) Cabe                                       8
4 Tiaan Kannemeyer (RSA) Barloworld                            5
5 Eric Wohlberg (Can) Maryborough City/Isis Shire              5
6 Hilton Clarke (Aus) Barloworld                               5
7 Bart Heirewegh (Bel) Bundaberg Sugar                         5
8 Jindrich Vana (Cze) Mirvac                                   3
9 Brett Aitken (Aus) Miriam Vale/Kolan/Perry Shires            3
10 Pavel Zerzan (Cze) Mirvac                                   2
11 Jonas Ljungblad (Swe) Bundaberg Sugar                       2
12 David McKenzie (Aus) Jayco                                  1
13 Michael Sayers (USA) Bundaberg City/Burnett Shire           1
14 Jorge Libonatti (Uru) Caravello                             1
15 Mark Jamieson (Aus) Emu Spirit/Tis                          1
16 Tim Johnson (USA) Maryborough City/Isis Shire               1
17 Hector Morales (Uru) Caravello                              1
 
Polar - Criterium championship
 
1 Brett Aitken (Aus) Miriam Vale/Kolan/Perry Shires           18 pts
2 Hector Morales (Uru) Caravello                              15
3 David McKenzie (Aus) Jayco                                  15
4 Eric Wohlberg (Can) Maryborough City/Isis Shire             10
5 Aaron Kemps (Aus) Cabe                                       8
6 Hilton Clarke (Aus) Barloworld                               7
7 Bart Heirewegh (Bel) Bundaberg Sugar                         6
8 Michal Precechtel (Cze) Mirvac                               6
9 Mateo Sasso (Uru) Sea Fm                                     5
10 Kjell Carlstrom (Fin) Europcar                              4
11 Ashley Hutchinson (Aus) Cabe                                4
12 Karl Menzies (Aus) Emu Spirit/Tis                           3
13 Jonathan Cantwell (Aus) Bundaberg Sugar                     3
14 Kristian House (GBr) Miriam Vale/Kolan/Perry Shires         2
15 Milton Wynants (Uru) Sea Fm                                 2
16 Stephen Pearce (Aus) Mirvac                                 1
17 Michael Sayers (USA) Bundaberg City/Burnett Shire           1
 
Hestbarb Pty Ltd Aggressive Rider Awards
 
1 Eric Wohlberg (Can) Maryborough City/Isis Shire              4 pts
2 Russell Van Hout (Aus) Miriam Vale/Kolan/Perry Shires        3
3 Tony Mann (Aus) Caravello                                    3
4 Mark Jamieson (Aus) Emu Spirit/Tis                           2
5 Karl Menzies (Aus) Emu Spirit/Tis                            2
 
Team Classification
 
1 Jayco                                                 25.23.33
2 Bundaberg Sugar                                           0.50
3 Maryborough City / Isis Shire                             1.09
4 Barloworld                                                1.58
5 Bundaberg City / Burnett Shire                            2.09
6 Caravello                                                 3.13
7 Miriam Vale / Kolan / Perry Shires                        3.19
8 Mirvac                                                    4.41
9 Emu Spirit / Tis                                         13.29
10 Europcar                                                14.37
11 Cabe                                                    19.03