Jayco Tour of Queensland - 2.5
Australia, November 3-8, 2003
Main Page Results Previous Stage Next Stage
Stage 4 - November 6: Maryborough, 27 km
Morales wins one for Uruguay
By Rod Morris in Maryborough
Morales gets is
Photo ©: Shane Goss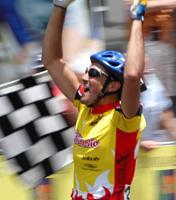 Uruguayan Hector Morales rode a strong race to win the Maryborough Criterium, which signaled the half way mark of this eight stage tour. He managed to beat Brett Aitken (Miriam Vale) and David McKenzie (Jayco) after attacking a three man breakaway towards the finish. Canadian Eric Wohlberg (Maryborough City) held onto his leader's jersey, but by only 1 second as McKenzie moved up due to a time bonus.
Today's first dual stage day of the tour opened with a red-hot criterium around a busy Maryborough street circuit. The huge and appreciative crowd were treated to 30 laps of a 900 m circuit, which saw riders lapping at an average speed of almost 47 km per hour.
There were 11 intermediate sprints on offer for the riders to chase valuable time bonuses and honours were evenly spread in the early part of the race before a group of three, Hector Morales (Caravello), Sean Sullivan (Barloworld) and Michael Sayers (Bundaberg City - Burnett Shire) broke clear to share the final six sprints.
At the last of the intermediates, the gap had closed to just a handful of seconds before Morales found an extra gear and hit clear of Sayers and a fading Sullivan. Morales showed that he is a rider of all class, sprinting home to win the stage by 2-seconds from Aitken and McKenzie.
"I am happy with my win, but I am starting to get homesick, I am missing my family," Morales said.
Morales has been in Australia racing for almost four months, competing in the Tattersall's Cup series, Tour of Sunraysia, Herald Sun Tour and now the Tour of Queensland. Morales has also been a sensation for Uruguay and tour promoter John Craven would be well pleased with his overall performances.
Photos
Images by Shane Goss/licoricegallery.com
Results
1 Hector Morales (Uru) Caravello                        34.38
2 Brett Aitken (Aus) Miriam Vale/Kolan/Perry Shires      0.02
3 David McKenzie (Aus) Jayco                                 
4 Hilton Clarke (Aus) Barloworld                             
5 Michal Precechtel (Cze) Mirvac                             
6 Mateo Sasso (Uru) Sea Fm                                   
7 Ashley Hutchinson (Aus) Cabe                               
8 Jonathan Cantwell (Aus) Bundaberg Sugar                    
9 Kristian House (GBr) Miriam Vale/Kolan/Perry Shires        
10 Stephen Pearce (Aus) Mirvac                               
11 Tim Johnson (USA) Maryborough City/Isis Shire             
12 Alex Candelario (USA) Bundaberg City/Burnett Shire        
13 Kjell Carlstrom (Fin) Europcar                            
14 Karl Menzies (Aus) Emu Spirit/Tis                         
15 Jamie Drew (Aus) Jayco                                    
16 Michael Sayers (USA) Bundaberg City/Burnett Shire         
17 Eric Wohlberg (Can) Maryborough City/Isis Shire           
18 Milton Wynants (Uru) Sea Fm                               
19 Tony Mann (Aus) Caravello                                 
20 Jindrich Vana (Cze) Mirvac                                
21 Bart Heirewegh (Bel) Bundaberg Sugar                  0.07
22 Pavel Zerzan (Cze) Mirvac                                 
23 Bernard Sulzberger (Aus) Emu Spirit/Tis                   
24 Jonas Ljungblad (Swe) Bundaberg Sugar                     
25 Jorge Libonatti (Uru) Caravello                           
26 Matthew Goold (Aus) Miriam Vale/Kolan/Perry Shires        
27 Tiaan Kannemeyer (RSA) Barloworld                         
28 Chris Bradford (Aus) Maryborough City/Isis Shire          
29 David Betts (Aus) Cabe                                    
30 Scott Davis (Aus) Cabe                                    
31 Dominique Perras (Can) Jayco                              
32 Trent Wilson (Aus) Jayco                                  
33 Aaron Kemps (Aus) Cabe                                0.11
34 Danny In't Ven (Bel) Bundaberg Sugar                      
35 Miles Olman (Aus) Cabe                                    
36 Chris Wherry (USA) Bundaberg City/Burnett Shire           
37 Scott Moninger (USA) Bundaberg City/Burnett Shire         
38 Mateusz Mroz (Pol) Europcar                               
39 Marek Wesoly (Pol) Europcar                               
40 Jamie Burrow (GBr) Europcar                               
41 Ashley Humbert (Aus) Caravello                            
42 Gerado Castro (Uru) Sea Fm                                
43 Troy Glennan (Aus) Caravello                              
44 James Perry (RSA) Barloworld                              
45 Ben Van Derkamp (Aus) Bundaberg City/Burnett Shire    0.14
46 Jacobus de Witt (RSA) Barloworld                      0.24
47 Alejandro Acton (Arg) Sea Fm                          1.03
48 Jarron Poad (NZl) Bundaberg Sugar                     1.47
49 Russell Van Hout (Aus) Miriam Vale/Kolan/Perry Shires     
50 Tomas Buchacek (Cze) Jayco                            2.56
51 Ivan Fanelli (Ita) Europcar                               
52 Sean Sullivan (Aus) Barloworld                            
53 Luke Bettany (Aus) Mirvac                                 
54 Peter Milostic (Aus) Maryborough City/Isis Shire          
55 Jeremy Hunt (GBr) Miriam Vale/Kolan/Perry Shires      5.05
56 Ryan Sullivan (Aus) Emu Spirit/Tis                    6.14
57 Bart Duraj (Aus) Maryborough City/Isis Shire          7.23
58 Mark Jamieson (Aus) Emu Spirit/Tis                    8.32
 
Sprints
 
End of Lap 6                                                 
1 Brett Aitken (Aus) Miriam Vale/Kolan/Perry Shires         3 pts
2 Michael Sayers (USA) Bundaberg City/Burnett Shire         2
3 Karl Menzies (Aus) Emu Spirit/Tis                         1
 
End of Lap 8                                                 
1 Karl Menzies (Aus) Emu Spirit/Tis                         3 pts
2 Stephen Pearce (Aus) Mirvac                               2
3 Alex Candelario (USA) Bundaberg City/Burnett Shire        1
 
End of Lap 10                                                
1 Matthew Goold (Aus) Miriam Vale/Kolan/Perry Shires        3 pts
2 Kristian House (GBr) Miriam Vale/Kolan/Perry Shires       2
3 Aaron Kemps (Aus) Cabe                                    1
 
End of Lap 12                                                
1 Ivan Fanelli (Ita) Europcar                               3 pts
2 Matthew Goold (Aus) Miriam Vale/Kolan/Perry Shires        2
3 Tony Mann (Aus) Caravello                                 1
 
End of Lap 14                                                
1 Matthew Goold (Aus) Miriam Vale/Kolan/Perry Shires        3 pts
2 Kjell Carlstrom (Fin) Europcar                            2
3 David McKenzie (Aus) Jayco                                1
 
End of Lap 16                                                
1 Hector Morales (Uru) Caravello                            3 pts
2 Sean Sullivan (Aus) Barloworld                            2
3 Michael Sayers (USA) Bundaberg City/Burnett Shire         1
 
End of Lap 18                                                
1 Michael Sayers (USA) Bundaberg City/Burnett Shire         3 pts
2 Hector Morales (Uru) Caravello                            2
3 Sean Sullivan (Aus) Barloworld                            1
 
End of Lap 20                                                
1 Hector Morales (Uru) Caravello                            3 pts
2 Michael Sayers (USA) Bundaberg City/Burnett Shire         2
3 Sean Sullivan (Aus) Barloworld                            1
 
End of Lap 22                                                
1 Sean Sullivan (Aus) Barloworld                            3 pts
2 Michael Sayers (USA) Bundaberg City/Burnett Shire         2
3 Hector Morales (Uru) Caravello                            1
 
End of Lap 24                                                
1 Hector Morales (Uru) Caravello                            3 pts
2 Michael Sayers (USA) Bundaberg City/Burnett Shire         2
3 Sean Sullivan (Aus) Barloworld                            1
 
End of Lap 26                                                
1 Hector Morales (Uru) Caravello                            3 pts
2 Michael Sayers (USA) Bundaberg City/Burnett Shire         2
3 Sean Sullivan (Aus) Barloworld                            1

General classification after stage 4

1 Eric Wohlberg (Can) Maryborough City/Isis Shire        6.23.34
2 David McKenzie (Aus) Jayco                                0.01
3 Tiaan Kannemeyer (RSA) Barloworld                         0.36
4 Michael Sayers (USA) Bundaberg City/Burnett Shire         1.05
5 Kristian House (GBr) Miriam Vale/Kolan/Perry Shires       1.23
6 Bart Heirewegh (Bel) Bundaberg Sugar                      1.43
7 Kjell Carlstrom (Fin) Europcar                            2.17
8 Jonas Ljungblad (Swe) Bundaberg Sugar                     2.20
9 Jamie Drew (Aus) Jayco                                    2.24
10 Jindrich Vana (Cze) Mirvac                               2.28
11 Tim Johnson (USA) Maryborough City/Isis Shire            2.39
12 Jorge Libonatti (Uru) Caravello                          2.49
13 Scott Moninger (USA) Bundaberg City/Burnett Shire        2.54
14 Brett Aitken (Aus) Miriam Vale/Kolan/Perry Shires        3.14
15 Danny In't Ven (Bel) Bundaberg Sugar                     3.17
16 Milton Wynants (Uru) Sea Fm                              3.28
17 Hector Morales (Uru) Caravello                           3.32
18 Dominique Perras (Can) Jayco                             3.43
19 Tony Mann (Aus) Caravello                                3.46
20 Karl Menzies (Aus) Emu Spirit/Tis                        4.00
21 Michal Precechtel (Cze) Mirvac                           4.03
22 Alex Candelario (USA) Bundaberg City/Burnett Shire       4.05
23 Stephen Pearce (Aus) Mirvac                              4.07
24 Aaron Kemps (Aus) Cabe                                   4.19
25 Chris Bradford (Aus) Maryborough City/Isis Shire         4.24
26 Jonathan Cantwell (Aus) Bundaberg Sugar                  4.47
27 Matthew Goold (Aus) Miriam Vale/Kolan/Perry Shires       5.00
28 Sean Sullivan (Aus) Barloworld                           5.07
29 Jamie Burrow (GBr) Europcar                              5.24
30 Pavel Zerzan (Cze) Mirvac                                5.38
31 Jacobus de Witt (RSA) Barloworld                         6.25
32 Chris Wherry (USA) Bundaberg City/Burnett Shire          6.38
33 Hilton Clarke (Aus) Barloworld                           6.45
34 Russell Van Hout (Aus) Miriam Vale/Kolan/Perry Shires    7.21
35 Bernard Sulzberger (Aus) Emu Spirit/Tis                  8.09
36 Gerado Castro (Uru) Sea Fm                               8.28
37 Mark Jamieson (Aus) Emu Spirit/Tis                      11.20
38 Troy Glennan (Aus) Caravello                            12.07
39 Scott Davis (Aus) Cabe                                  12.24
40 Ashley Hutchinson (Aus) Cabe                            12.51
41 James Perry (RSA) Barloworld                            13.00
42 Ashley Humbert (Aus) Caravello                          13.07
43 Ryan Sullivan (Aus) Emu Spirit/Tis                      13.31
44 Trent Wilson (Aus) Jayco                                13.36
45 David Betts (Aus) Cabe                                       
46 Mateusz Mroz (Pol) Europcar                             14.09
47 Peter Milostic (Aus) Maryborough City/Isis Shire        15.36
48 Ivan Fanelli (Ita) Europcar                             16.06
49 Mateo Sasso (Uru) Sea Fm                                16.28
50 Ben Van Derkamp (Aus) Bundaberg City/Burnett Shire      17.40
51 Jarron Poad (NZl) Bundaberg Sugar                       20.17
52 Marek Wesoly (Pol) Europcar                             20.28
53 Alejandro Acton (Arg) Sea Fm                            25.41
54 Miles Olman (Aus) Cabe                                       
55 Tomas Buchacek (Cze) Jayco                              29.26
56 Luke Bettany (Aus) Mirvac                               29.45
57 Jeremy Hunt (GBr) Miriam Vale/Kolan/Perry Shires        33.48
58 Bart Duraj (Aus) Maryborough City/Isis Shire            34.15
 
Yamaha Sprint Championship
 
1 Jonas Ljungblad (Swe) Bundaberg Sugar                       20 pts
2 Mark Jamieson (Aus) Emu Spirit/Tis                          19
3 Hector Morales (Uru) Caravello                              18
4 Brett Aitken (Aus) Miriam Vale/Kolan/Perry Shires           15
5 Eric Wohlberg (Can) Maryborough City/Isis Shire             15
6 Kristian House (GBr) Miriam Vale/Kolan/Perry Shires         15
7 Michael Sayers (USA) Bundaberg City/Burnett Shire           14
8 Sean Sullivan (Aus) Barloworld                              13
9 David McKenzie (Aus) Jayco                                  11
10 Tony Mann (Aus) Caravello                                  10
11 Kjell Carlstrom (Fin) Europcar                             10
12 Karl Menzies (Aus) Emu Spirit/Tis                          10
13 Matthew Goold (Aus) Miriam Vale/Kolan/Perry Shires          8
14 Bart Heirewegh (Bel) Bundaberg Sugar                        7
15 Jamie Drew (Aus) Jayco                                      7
16 Tim Johnson (USA) Maryborough City/Isis Shire               7
17 Stephen Pearce (Aus) Mirvac                                 6
18 Tiaan Kannemeyer (RSA) Barloworld                           6
19 Marek Wesoly (Pol) Europcar                                 4
20 Aaron Kemps (Aus) Cabe                                      4
21 Ivan Fanelli (Ita) Europcar                                 3
22 Alex Candelario (USA) Bundaberg City/Burnett Shire          3
23 Jorge Libonatti (Uru) Caravello                             3
24 Russell Van Hout (Aus) Miriam Vale/Kolan/Perry Shires       2
25 Peter Milostic (Aus) Maryborough City/Isis Shire            2
26 Pavel Zerzan (Cze) Mirvac                                   1
27 Scott Davis (Aus) Cabe                                      1
 
King Of The Mountain Championship
 
1 Sean Sullivan (Aus) Barloworld                               7 pts
2 Eric Wohlberg (Can) Maryborough City/Isis Shire              5
3 Tiaan Kannemeyer (RSA) Barloworld                            5
4 Bart Heirewegh (Bel) Bundaberg Sugar                         5
5 Jindrich Vana (Cze) Mirvac                                   3
6 Brett Aitken (Aus) Miriam Vale/Kolan/Perry Shires            3
7 Jonas Ljungblad (Swe) Bundaberg Sugar                        2
8 Tim Johnson (USA) Maryborough City/Isis Shire                1
9 Hector Morales (Uru) Caravello                               1
10 David McKenzie (Aus) Jayco                                  1
 
Polar Criterium championship
 
1 Brett Aitken (Aus) Miriam Vale/Kolan/Perry Shires           18 pts
2 Hector Morales (Uru) Caravello                              15
3 David McKenzie (Aus) Jayco                                  15
4 Eric Wohlberg (Can) Maryborough City/Isis Shire             10
5 Aaron Kemps (Aus) Cabe                                       8
6 Hilton Clarke (Aus) Barloworld                               7
7 Bart Heirewegh (Bel) Bundaberg Sugar                         6
8 Michal Precechtel (Cze) Mirvac                               6
9 Mateo Sasso (Uru) Sea Fm                                     5
10 Kjell Carlstrom (Fin) Europcar                              4
11 Ashley Hutchinson (Aus) Cabe                                4
12 Karl Menzies (Aus) Emu Spirit/Tis                           3
13 Jonathan Cantwell (Aus) Bundaberg Sugar                     3
14 Kristian House (GBr) Miriam Vale/Kolan/Perry Shires         2
15 Milton Wynants (Uru) Sea Fm                                 2
16 Stephen Pearce (Aus) Mirvac                                 1
17 Michael Sayers (USA) Bundaberg City/Burnett Shire           1
 
Hestbarb Pty Ltd Aggressive Rider Awards
 
1 Eric Wohlberg (Can) Maryborough City/Isis Shire              4 pts
2 Tony Mann (Aus) Caravello                                    3
3 Mark Jamieson (Aus) Emu Spirit/Tis                           2
4 Karl Menzies (Aus) Emu Spirit/Tis                            2
 
Team Classification
 
1 Jayco                                                 19.16.50
2 Bundaberg Sugar                                           0.50
3 Maryborough City / Isis Shire                             0.55
4 Bundaberg City / Burnett Shire                            1.56
5 Barloworld                                                1.59
6 Caravello                                                 3.14
7 Miriam Vale / Kolan / Perry Shires                        3.27
8 Mirvac                                                    4.29
9 Emu Spirit / Tis                                         13.06
10 Europcar                                                14.53
11 Sea Fm                                                  19.10