Jayco Tour of Queensland - 2.5
Australia, November 3-8, 2003
Main Page Results Previous Stage Next Stage
Stage 6 - November 7: Mount Perry - Gin Gin, 73.3 km
Hutchinson outsprints Aitken
By Rod Morris in Gin Gin
Ashley Hutchinson (CABE, R) gets it - but only just
Photo ©: Shane Goss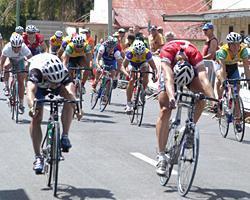 Switching from track to road presented no problems for Queensland based Ashley Hutchinson in today's sixth stage of the inaugural $60,000 Jayco Tour of Queensland. Hutchinson is a member of the Australian elite track cycling squad and although he missed a ride in the final of the record breaking world champion pursuit team in Germany earlier this year, he is still regarded as one of the fastest men on two wheels.
Today he showed just how fast when he outsprinted Sydney gold medal Olympian Brett Aitken in the Mount Perry to Gin Gin stage. It was a reverse of the quinella that occurred in the previous day's stage at Maryborough.
Stage six of this eight stage road tour was raced in hot and humid conditions and riders - particularly the ones at the top of the leader board - were forced to watch multi-attacks throughout the 74 km. Hutchinson, riding for the all-Queensland CABE team, was well placed in the peloton throughout the stage and only came into winning calculations when the sprinters saw the 5 km mark.
Aitken, who has been a regular podium placegetter this week, admitted Hutchinson sprinted superbly. "I am racing well and I think I'm a pretty good sprinter, so Ashley was certainly moving," Aitken said.
The leading trio early on stage six
Photo ©: Shane Goss

Almost 40 riders were involved in the bunch sprint and unlike Wednesday, all stayed upright. Europcar's Marek Wesoly of Poland flashed down the outside sprinting line to snatch third place, while only Michael Sayers (Bundaberg City - Burnett Shire) and Bart Heirewegh (Bundaberg Sugar) were the only topline GC challengers to make any real inroads towards tour leader David McKenzie (Jayco).
Sayers (5th) and Heirewegh (8th) both finished in the top 10 in today's stage, earning valuable time bonuses, but will still enter the final day 1'08 and 1'45 respectively behind McKenzie.
McKenzie started the day in bold fashion, winning the first intermediate sprint in Mount Perry, but was offered bunch time after being one of 37 riders in one of the closest finishers the inaugural Tour of Queensland has endured. McKenzie has not won a multi-stage race in Australia since the 1994 Golden West Tour held - ironically in Queensland. However his confidence is growing stronger by the minute that his duck will be broken.
"That was a tough day out there, probably one of the toughest, because of so many hill climbs," he said. "But we got through okay and our team is pretty confident of holding onto the tour leader's jersey now. It's not over yet as the last two stages in any race like this will see teams step it up a bit more and obviously we (Jayco) have to watch a lot of riders, particularly Eric Wohlberg and Tiaan Kannemeyer."
Wohlberg trails McKenzie by 16 seconds and Kannemeyer by 52 seconds, not a big amount with two stages still to race. The stage from Mount Perry to Gin was a tough one that went through a forced change at the start because of altered road conditions. Sprinters lost three chances for intermediate points whilst the climbers were offered an extra hill.
Sweden's Jonas Ljungblad has taken control of the Sprint Championship, whilst South Australian Russell Van Hout has wrested the lead of the King of the Mountain Championship from Tasmanian Sean Sullivan, taking a 10-point advantage with just three hill climbs remaining. Ljungblad's lead in the Sprint title is just 3 points from Uruguay's Hector Morales and Tasmanian 19 year old Mark Jamieson.
The stage finish was a welcome event for Queensland cycling, in this, is first ever UCI sanctioned event. Hutchinson, who hails from Cairns, but resides in Brisbane said his team worked extra hard to win the stage. "We had mechanical trouble with Scott Davis very early in the stage and we had to wait and help, so for 20 km we were chasing the bunch," he said. "It feels extra nice to get a win in a tour of this status, particularly in my home state. I had a terrible Herald Sun Tour, so it's nice to be on the podium for the second stage in a row."
The Tour of Queensland continues tomorrow with the final two stages, a morning road race in the neighbouring Bargara, east of Bundaberg and a hectic 35 km criterium in the Bundaberg CBD in the afternoon.
Photography
Images by Shane Goss/licoricegallery.com
Results
1 Ashley Hutchinson (Aus) Cabe                            1.43.54
2 Brett Aitken (Aus) Miriam Vale/Kolan/Perry Shires              
3 Marek Wesoly (Pol) Europcar                                    
4 Jonathan Cantwell (Aus) Bundaberg Sugar                        
5 Michael Sayers (USA) Bundaberg City/Burnett Shire              
6 Ivan Fanelli (Ita) Europcar                                    
7 Karl Menzies (Aus) Emu Spirit/Tis                              
8 Bart Heirewegh (Bel) Bundaberg Sugar                           
9 Stephen Pearce (Aus) Mirvac                                    
10 Bernard Sulzberger (Aus) Emu Spirit/Tis                       
11 Aaron Kemps (Aus) Cabe                                        
12 David McKenzie (Aus) Jayco                                    
13 Kjell Carlstrom (Fin) Europcar                                
14 Ashley Humbert (Aus) Caravello                                
15 Jamie Drew (Aus) Jayco                                        
16 Jorge Libonatti (Uru) Caravello                               
17 Jonas Ljungblad (Swe) Bundaberg Sugar                         
18 Tony Mann (Aus) Caravello                                     
19 Hector Morales (Uru) Caravello                                
20 Miles Olman (Aus) Cabe                                        
21 Alex Candelario (USA) Bundaberg City/Burnett Shire            
22 Danny In't Ven (Bel) Bundaberg Sugar                          
23 Kristian House (GBr) Miriam Vale/Kolan/Perry Shires           
24 Jindrich Vana (Cze) Mirvac                                    
25 Pavel Zerzan (Cze) Mirvac                                     
26 Mateo Sasso (Uru) Sea Fm                                      
27 Tim Johnson (USA) Maryborough City/Isis Shire                 
28 Tiaan Kannemeyer (RSA) Barloworld                             
29 Eric Wohlberg (Can) Maryborough City/Isis Shire               
30 Chris Bradford (Aus) Maryborough City/Isis Shire              
31 James Perry (RSA) Barloworld                                  
32 Troy Glennan (Aus) Caravello                                  
33 Jamie Burrow (GBr) Europcar                                   
34 Dominique Perras (Can) Jayco                                  
35 Scott Moninger (USA) Bundaberg City/Burnett Shire             
36 Luke Bettany (Aus) Mirvac                                     
37 Matthew Goold (Aus) Miriam Vale/Kolan/Perry Shires            
38 Peter Milostic (Aus) Maryborough City/Isis Shire          0.25
39 David Betts (Aus) Cabe                                    0.41
40 Mark Jamieson (Aus) Emu Spirit/Tis                        0.42
41 Jarron Poad (NZl) Bundaberg Sugar                         1.12
42 Jeremy Hunt (GBr) Miriam Vale/Kolan/Perry Shires          1.34
43 Russell Van Hout (Aus) Miriam Vale/Kolan/Perry Shires     2.40
44 Chris Wherry (USA) Bundaberg City/Burnett Shire           9.05
45 Trent Wilson (Aus) Jayco                                      
46 Hilton Clarke (Aus) Barloworld                                
47 Sean Sullivan (Aus) Barloworld                                
48 Scott Davis (Aus) Cabe                                    9.21
49 Jacobus de Witt (RSA) Barloworld                         12.58
50 Bart Duraj (Aus) Maryborough City/Isis Shire             14.01
 
Sprints
 
1st Circuit End of Lap 3                                         
1 David McKenzie (Aus) Jayco                                    3 pts
2 Karl Menzies (Aus) Emu Spirit/Tis                             2
3 Jonas Ljungblad (Swe) Bundaberg Sugar                         1
 
1st Circuit End of Lap 5                                         
1 Hector Morales (Uru) Caravello                                3 pts
2 Mark Jamieson (Aus) Emu Spirit/Tis                            2
3 Jonas Ljungblad (Swe) Bundaberg Sugar                         1
 
Shire of Perry Council Offices                                   
1 Hector Morales (Uru) Caravello                                3 pts
2 Jeremy Hunt (GBr) Miriam Vale/Kolan/Perry Shires              2
3 Chris Bradford (Aus) Maryborough City/Isis Shire              1
 
Hill Climbs
 
Cat.4 2nd Circuit Lap 1                                          
1 Sean Sullivan (Aus) Barloworld                                3 pts
2 Russell Van Hout (Aus) Miriam Vale/Kolan/Perry Shires         2
3 Jamie Drew (Aus) Jayco                                        1
 
Cat.4 2nd Circuit Lap 2                                          
1 Russell Van Hout (Aus) Miriam Vale/Kolan/Perry Shires         3 pts
2 Jacobus de Witt (RSA) Barloworld                              2
3 Jeremy Hunt (GBr) Miriam Vale/Kolan/Perry Shires              1
 
Cat.4 2nd Circuit Lap 3                                          
1 Russell Van Hout (Aus) Miriam Vale/Kolan/Perry Shires         3 pts
2 Jacobus de Witt (RSA) Barloworld                              2
3 Scott Moninger (USA) Bundaberg City/Burnett Shire             1
 
Cat.4 2nd Circuit Lap 4                                          
1 Jacobus de Witt (RSA) Barloworld                              3 pts
2 Russell Van Hout (Aus) Miriam Vale/Kolan/Perry Shires         2
3 Scott Moninger (USA) Bundaberg City/Burnett Shire             1
 
Cat.3 Mocka No. 55                                               
1 Jacobus de Witt (RSA) Barloworld                              4 pts
2 Russell Van Hout (Aus) Miriam Vale/Kolan/Perry Shires         3
3 Scott Moninger (USA) Bundaberg City/Burnett Shire             2
 
Cat.4 Mocka No. 57                                               
1 Jacobus de Witt (RSA) Barloworld                              3 pts
2 Stephen Pearce (Aus) Mirvac                                   2
3 Russell Van Hout (Aus) Miriam Vale/Kolan/Perry Shires         1
 
Cat.4 Mocka No. 59                                               
1 Jonas Ljungblad (Swe) Bundaberg Sugar                         3 pts
2 Russell Van Hout (Aus) Miriam Vale/Kolan/Perry Shires         2
3 Jacobus de Witt (RSA) Barloworld                              1
 
Cat.4 Mocka No. 64                                               
1 Tony Mann (Aus) Caravello                                     3 pts
2 Miles Olman (Aus) Cabe                                        2
3 Dominique Perras (Can) Jayco                                  1
 
General classification after stage 6
 
1 David McKenzie (Aus) Jayco                             10.09.31
2 Eric Wohlberg (Can) Maryborough City/Isis Shire            0.16
3 Tiaan Kannemeyer (RSA) Barloworld                          0.52
4 Michael Sayers (USA) Bundaberg City/Burnett Shire          1.08
5 Kristian House (GBr) Miriam Vale/Kolan/Perry Shires        1.39
6 Bart Heirewegh (Bel) Bundaberg Sugar                       1.45
7 Jonas Ljungblad (Swe) Bundaberg Sugar                      2.26
8 Kjell Carlstrom (Fin) Europcar                             2.31
9 Jamie Drew (Aus) Jayco                                     2.39
10 Jindrich Vana (Cze) Mirvac                                2.44
11 Brett Aitken (Aus) Miriam Vale/Kolan/Perry Shires         2.52
12 Tim Johnson (USA) Maryborough City/Isis Shire             2.55
13 Jorge Libonatti (Uru) Caravello                           3.04
14 Scott Moninger (USA) Bundaberg City/Burnett Shire         3.06
15 Hector Morales (Uru) Caravello                            3.32
16 Danny In't Ven (Bel) Bundaberg Sugar                      3.33
17 Tony Mann (Aus) Caravello                                 3.55
18 Dominique Perras (Can) Jayco                              3.58
19 Stephen Pearce (Aus) Mirvac                               4.17
20 Karl Menzies (Aus) Emu Spirit/Tis                         4.19
21 Alex Candelario (USA) Bundaberg City/Burnett Shire        4.21
22 Aaron Kemps (Aus) Cabe                                    4.24
23 Chris Bradford (Aus) Maryborough City/Isis Shire          4.39
24 Jonathan Cantwell (Aus) Bundaberg Sugar                   4.43
25 Matthew Goold (Aus) Miriam Vale/Kolan/Perry Shires        5.14
26 Jamie Burrow (GBr) Europcar                               5.40
27 Pavel Zerzan (Cze) Mirvac                                 5.52
28 Bernard Sulzberger (Aus) Emu Spirit/Tis                   8.23
29 Russell Van Hout (Aus) Miriam Vale/Kolan/Perry Shires    10.14
30 Mark Jamieson (Aus) Emu Spirit/Tis                       12.12
31 Troy Glennan (Aus) Caravello                             12.23
32 Ashley Hutchinson (Aus) Cabe                             12.29
33 James Perry (RSA) Barloworld                             13.16
34 Ashley Humbert (Aus) Caravello                           13.23
35 Sean Sullivan (Aus) Barloworld                           14.10
36 Ivan Fanelli (Ita) Europcar                              15.56
37 Peter Milostic (Aus) Maryborough City/Isis Shire         16.17
38 Chris Wherry (USA) Bundaberg City/Burnett Shire          16.33
39 Mateo Sasso (Uru) Sea Fm                                 16.44
40 Hilton Clarke (Aus) Barloworld                           16.53
41 Jacobus de Witt (RSA) Barloworld                         19.24
42 Marek Wesoly (Pol) Europcar                              20.16
43 Jarron Poad (NZl) Bundaberg Sugar                        21.45
44 Scott Davis (Aus) Cabe                                   22.01
45 Trent Wilson (Aus) Jayco                                 23.31
46 Miles Olman (Aus) Cabe                                   25.55
47 Luke Bettany (Aus) Mirvac                                30.34
48 David Betts (Aus) Cabe                                   30.42
49 Jeremy Hunt (GBr) Miriam Vale/Kolan/Perry Shires         37.40
50 Bart Duraj (Aus) Maryborough City/Isis Shire             48.32
 
Hestbarb Pty Ltd Aggressive Rider Awards
 
1 Eric Wohlberg (Can) Maryborough City/Isis Shire               4 pts
2 Russell Van Hout (Aus) Miriam Vale/Kolan/Perry Shires         3
3 Tony Mann (Aus) Caravello                                     3
4 Mark Jamieson (Aus) Emu Spirit/Tis                            2
5 Karl Menzies (Aus) Emu Spirit/Tis                             2
 
Yamaha  Sprint Championship
 
1 Jonas Ljungblad (Swe) Bundaberg Sugar                        27 pts
2 Mark Jamieson (Aus) Emu Spirit/Tis                           24
3 Hector Morales (Uru) Caravello                               24
4 Brett Aitken (Aus) Miriam Vale/Kolan/Perry Shires            15
5 Eric Wohlberg (Can) Maryborough City/Isis Shire              15
6 Sean Sullivan (Aus) Barloworld                               15
7 Kristian House (GBr) Miriam Vale/Kolan/Perry Shires          15
8 David McKenzie (Aus) Jayco                                   14
9 Michael Sayers (USA) Bundaberg City/Burnett Shire            14
10 Karl Menzies (Aus) Emu Spirit/Tis                           12
11 Tony Mann (Aus) Caravello                                   10
12 Matthew Goold (Aus) Miriam Vale/Kolan/Perry Shires          10
13 Kjell Carlstrom (Fin) Europcar                              10
14 Aaron Kemps (Aus) Cabe                                       7
15 Bart Heirewegh (Bel) Bundaberg Sugar                         7
16 Tim Johnson (USA) Maryborough City/Isis Shire                7
17 Jamie Drew (Aus) Jayco                                       7
18 Stephen Pearce (Aus) Mirvac                                  6
19 Tiaan Kannemeyer (RSA) Barloworld                            6
20 Russell Van Hout (Aus) Miriam Vale/Kolan/Perry Shires        6
21 Marek Wesoly (Pol) Europcar                                  4
22 David Betts (Aus) Cabe                                       3
23 Ivan Fanelli (Ita) Europcar                                  3
24 Jorge Libonatti (Uru) Caravello                              3
25 Alex Candelario (USA) Bundaberg City/Burnett Shire           3
26 Hilton Clarke (Aus) Barloworld                               2
27 Jeremy Hunt (GBr) Miriam Vale/Kolan/Perry Shires             2
28 Peter Milostic (Aus) Maryborough City/Isis Shire             2
29 Pavel Zerzan (Cze) Mirvac                                    1
30 Scott Davis (Aus) Cabe                                       1
31 Chris Bradford (Aus) Maryborough City/Isis Shire             1
 
King Of The Mountain Championship
 
1 Russell Van Hout (Aus) Miriam Vale/Kolan/Perry Shires        33 pts
2 Sean Sullivan (Aus) Barloworld                               23
3 Jacobus de Witt (RSA) Barloworld                             16
4 Aaron Kemps (Aus) Cabe                                        8
5 Jonas Ljungblad (Swe) Bundaberg Sugar                         5
6 Tiaan Kannemeyer (RSA) Barloworld                             5
7 Bart Heirewegh (Bel) Bundaberg Sugar                          5
8 Hilton Clarke (Aus) Barloworld                                5
9 Eric Wohlberg (Can) Maryborough City/Isis Shire               5
10 Scott Moninger (USA) Bundaberg City/Burnett Shire            4
11 Jindrich Vana (Cze) Mirvac                                   3
12 Brett Aitken (Aus) Miriam Vale/Kolan/Perry Shires            3
13 Tony Mann (Aus) Caravello                                    3
14 Pavel Zerzan (Cze) Mirvac                                    2
15 Stephen Pearce (Aus) Mirvac                                  2
16 Miles Olman (Aus) Cabe                                       2
17 David McKenzie (Aus) Jayco                                   1
18 Jamie Drew (Aus) Jayco                                       1
19 Dominique Perras (Can) Jayco                                 1
20 Michael Sayers (USA) Bundaberg City/Burnett Shire            1
21 Jeremy Hunt (GBr) Miriam Vale/Kolan/Perry Shires             1
22 Jorge Libonatti (Uru) Caravello                              1
23 Mark Jamieson (Aus) Emu Spirit/Tis                           1
24 Tim Johnson (USA) Maryborough City/Isis Shire                1
25 Hector Morales (Uru) Caravello                               1
 
Polar Heart Rate Monitors - Criterium championship
 
1 Brett Aitken (Aus) Miriam Vale/Kolan/Perry Shires            18 pts
2 Hector Morales (Uru) Caravello                               15
3 David McKenzie (Aus) Jayco                                   15
4 Eric Wohlberg (Can) Maryborough City/Isis Shire              10
5 Aaron Kemps (Aus) Cabe                                        8
6 Hilton Clarke (Aus) Barloworld                                7
7 Bart Heirewegh (Bel) Bundaberg Sugar                          6
8 Mateo Sasso (Uru) Sea Fm                                      5
9 Kjell Carlstrom (Fin) Europcar                                4
10 Ashley Hutchinson (Aus) Cabe                                 4
11 Karl Menzies (Aus) Emu Spirit/Tis                            3
12 Jonathan Cantwell (Aus) Bundaberg Sugar                      3
13 Kristian House (GBr) Miriam Vale/Kolan/Perry Shires          2
14 Stephen Pearce (Aus) Mirvac                                  1
15 Michael Sayers (USA) Bundaberg City/Burnett Shire            1
 
Team Classification
 
1 Jayco                                                  30.35.10
2 Bundaberg Sugar                                            0.30
3 Maryborough City / Isis Shire                              1.13
4 Bundaberg City / Burnett Shire                             1.58
5 Miriam Vale / Kolan / Perry Shires                         3.06
6 Caravello                                                  3.15
7 Mirvac                                                     4.40
8 Barloworld                                                11.08
9 Emu Spirit / Tis                                          14.02
10 Europcar                                                 14.16
11 Cabe                                                     18.46