86th Giro d'Italia - Grand Tour
Italy, May 10-June 1, 2003
Main Page Live Report Results Previous Stage Next Stage
Stage 16 - May 26: Arco Trento-Pavia, 207 km
Petacchi suffers but sprints to fifth stage win
Simoni ready for Armstrong
By Tim Maloney, European Editor in Pavia
This one hurt
Photo: © Sirotti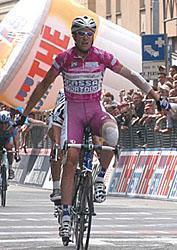 Sporting bandages in his left knee and elbow and despite the pain from his crash yesterday, Alessandro Petacchi (Fassa Bortolo) rode a great sprint to win his fifth stage today in Pavia. But his pain was so great from bruising and road rash on his left shoulder and back, the speedster from La Spezia couldn't even raise his arms in a victory salute.
"I have to thank to my teammates and Giancarlo (Ferretti) who got me psyched up today to race", said Petacchi, visibly in agony from his injuries. "...You suffer a lot in cycling and I think that yesterday was the unluckiest day of my life...with the great Giro I've had so far, to crash like that in a time trial...it was stupid. But today, with grinta (guts), my desire to win and with the points jersey...to win after (yesterday) I've done something great..."
It was the sixth stage win for Fassa Bortolo and Petacchi's 10th podium finish at this year's Giro (5 x 1st, 2 x 2nd, 3 x 3rd).
Although Petacchi couldn't even walk last night, as he rode the 5km from the hotel to the start he could ride well at 30km/h. Despite some pain in his left ankle, Petacchi decided to start. "During the stage I felt better. My teammates kept telling me that I could do it today and that encouragement helped me so much - today was one of those days that happens one time in a thousand."
Thanks guys!
Photo: © Sirotti

Petacchi left the door open to ride the Tour De France, but was not very positive when RAI-TV commentator Davide Cassani asked him about it.
Maglia Rosa Gilberto Simoni isn't getting too far ahead of himself, as the Giro d'Italia isn't over yet, but in response to question about the Tour de France by Le Monde's Guillame Prebois, Simoni was confident about his chances.
"I rode Paris-Nice this year to test myself on the French roads and it was nice to come in second on Mont Faron. I was at the Tour presentation last year and I've seen the course. I'll be there, it's a good course for me and if I'm lucky enough to have a teammate like Danilo Di Luca at the Tour, we'll light up the race."
How it unfolded
On a hot, humid day, the Giro riders decided to race today with the average speed in first two hours of over 46km/h along the twisty roads of Lago di Garda. After 56 km in Lasize, Colnago-Landbouwkrediet's combative 26 year old Sergei Adveyev and experienced Chmielewski (CCC-Polsat) took off on a break that lasted 110km. The duo came back just before the Intergiro sprint in Lodi, with Fassa Bortolo doing most of the work to pull them back. Jan Svorada took the just ahead of Di Biase and Bäckstedt, with the latter keeping the blue jersey that he won yesterday.
After a short lived attack by Frank Høj (fakta-Pata Chips), Oscar Pozzi (Tenax) and Fabiano Fontanelli (Mercatone Uno), it was gruppo compatto until the finish in Piave, where Petacchi demonstrated his class and speed to win his 5th stage in this year's Giro d'Italia.
May 27: Rest Day at Salice Terme
Stage 17 - May 28: Salice Terme-Asti 117km
Stage 17 is a flat, short stage (the 2003 Giro's shortest) from the thermal springs of Salice Terme into Piemonte with a finish in the sparkling spumante city of Asti. Another sprinter's stage that has a KOM among the vineyards of Castagnole Monferatto, and a wide open sprint finish that ought to give Petacchi his 6th stage victory in this year's Giro.
Photography
Images by Fotoreporter Sirotti
Images by Iain Ashworth/www.herneweb.com
Images by AFP
Results
1 Alessandro Petacchi (Ita) Fassa Bortolo              4.39.34 (44.425 km/h)
2 Jimmy Casper (Fra) FDJeux.com
3 Jan Svorada (Cze) Lampre
4 Daniele Bennati (Ita) Domina Vacanze-Elitron
5 Graziano Gasparre (Ita) De Nardi-Colpack
6 Dario Pieri (Ita) Team Saeco
7 Andrus Aug (Est) De Nardi-Colpack
8 Angelo Furlan (Ita) Alessio
9 Lars Ytting Bak (Den) Team fakta-Pata Chips
10 Marco Pantani (Ita) Mercatone Uno - Scanavino
11 Matteo Carrara (Ita) De Nardi-Colpack
12 Moreno Di Biase (Ita) Formaggi Pinzolo Fiave
13 Magnus Backstedt (Swe) Team fakta-Pata Chips
14 Mauro Gerosa (Ita) Vini Caldirola-SO.DI
15 Constantino Zaballa Gutierez (Spa) Kelme-Costa Blanc
16 Giovanni Lombardi (Ita) Domina Vacanze-Elitron
17 Vladimir Duma (Ukr) Landbouwkrediet-Colnago
18 Georg Totschnig (Aut) Gerolsteiner
19 Stefano Garzelli (Ita) Vini Caldirola-SO.DI
20 Paolo Lanfranchi (Ita) Ceramiche Panaria-Fiordo
21 Denis Lunghi (Ita) Alessio
22 Werner Riebenbauer (Aut) Team fakta-Pata Chips
23 Scott Sunderland (Aus) Team fakta-Pata Chips
24 Yaroslav Popovych (Ukr) Landbouwkrediet-Colnago
25 Robert Forster (Ger) Gerolsteiner
26 Serguei Gontchar (Ukr) De Nardi-Colpack
27 Gilberto Simoni (Ita) Team Saeco
28 Raffaele Illiano (Ita) Colombia-Selle Italia
29 Nick Gates (Aus) Lotto-Domo
30 Raimondas Rumsas (Ltu) Lampre
31 Damiano Cunego (Ita) Team Saeco
32 Andrea Noe' (Ita) Alessio
33 Gerhard Trampusch (Aut) Gerolsteiner
34 Franco Pellizotti (Ita) Alessio
35 David Derepas (Fra) FDJeux.com
36 Francesco Casagrande (Ita) Lampre
37 Sandy Casar (Fra) FDJeux.com
38 Eddy Mazzoleni (Ita) Vini Caldirola-SO.DI
39 Giuliano Figueras (Ita) Ceramiche Panaria-Fiordo
40 Michele Gobbi (Ita) De Nardi-Colpack
41 Ignacio Gutierrez Cataluna (Spa) Kelme-Costa Blanca
42 Massimo Codol (Ita) Mercatone Uno - Scanavino
43 Marco Velo (Ita) Fassa Bortolo
44 Daniele Pietropolli (Ita) Tenax
45 Carlos Dacruz (Fra) FDJeux.com
46 Dariusz Baranowski (Pol) CCC-Polsat
47 Fabio Sacchi (Ita) Team Saeco
48 Juilian Winn (GBr) Team fakta-Pata Chips
49 Dario Frigo (Ita) Fassa Bortolo
50 Aitor Gonzalez Jimenez (Spa) Fassa Bortolo
51 Francesco Vila Errandonea (Spa) Lampre
52 Cristian Gasperoni (Ita) Mercatone Uno - Scanavino
53 Leonardo Zanotti (Ita) De Nardi-Colpack
54 Luca De Angeli (Ita) Colombia-Selle Italia
55 Martin Hvastija (Slo) Tenax
56 Wladimir Belli (Ita) Lampre
57 Alessandro Spezialetti (Ita) Team Saeco
58 Vladimir Miholievic (Cro) Alessio
59 Fabio Baldato (Ita) Alessio
60 Paolo Fornaciari (Ita) Team Saeco
61 Frank Hoj (Den) Team fakta-Pata Chips
62 Michele Scarponi (Ita) Domina Vacanze-Elitron
63 Volodimir Bileka (Ukr) Landbouwkrediet-Colnago
64 Radoslaw Romanik (Pol) CCC-Polsat
65 Leonardo Bertagnolli (Ita) Team Saeco
66 Fredy Gonzalez (Col) Colombia-Selle Italia
67 Andrea Tonti (Ita) Team Saeco
68 Scott Davis (Aus) Ceramiche Panaria-Fiordo
69 Gianpaolo Mondini (Ita) Domina Vacanze-Elitron
70 Steffen Weigold (Ger) Gerolsteiner
71 Marius Sabaliauskas (Ltu) Team Saeco
72 Gianni Faresin (Ita) Gerolsteiner
73 Lorenzo Bernucci (Ita) Landbouwkrediet-Colnago
74 Adolfo Garcia Quesada (Spa) Kelme-Costa Blanca
75 Dario David Cioni (Ita) Fassa Bortolo
76 Marzio Bruseghin (Ita) Fassa Bortolo
77 Sergiy Adyeyev (Ukr) Landbouwkrediet-Colnago
78 Kim Kirchen (Lux) Fassa Bortolo
79 Joaquim Castelblanco (Col) Colombia-Selle Italia
80 Luis F. Laverde Jimenez (Col) Formaggi Pinzolo Fiave
81 Bo Hamburger (Den) Formaggi Pinzolo Fiave
82 Uwe Hardter (Ger) Gerolsteiner
83 John Freddy Garcia (Col) Colombia-Selle Italia
84 Alexis Rodriguez (Spa) Kelme-Costa Blanca
85 Julian Usano Martinez (Spa) Kelme-Costa Blanca
86 Johan Verstrepen (Bel) Landbouwkrediet-Colnago
87 Seweryn Kohut (Pol) CCC-Polsat
88 Salvatore Scamardella (Ita) Landbouwkrediet-Colnago
89 Ruber Alverio Marin (Col) Colombia-Selle Italia
90 Koos Moerenhout (Ned) Lotto-Domo
91 Daniel Clavero (Spa) Mercatone Uno - Scanavino
92 Mario Manzoni (Ita) Mercatone Uno - Scanavino
93 Tom Stremersch (Bel) Landbouwkrediet-Colnago
94 Steve Zampieri (Swi) Vini Caldirola-SO.DI
95 Bogdan Bondariew (Ukr) CCC-Polsat
96 Pietro Caucchioli (Ita) Alessio
97 Thomas Brozyna (Pol) CCC-Polsat
98 Sylvester Szmyd (Pol) Mercatone Uno - Scanavino
99 Rene' Joergensen (Den) Team fakta-Pata Chips
100 Massimo Apollonio (Ita) Vini Caldirola-SO.DI
101 Jordi Riera Valls (Spa) Kelme-Costa Blanca
102 Cristiano Frattini (Ita) Tenax
103 Julio A. Perez Cuapio (Mex) Ceramiche Panaria-Fiord
104 Frederic Guesdon (Fra) FDJeux.com
105 Guido Trenti (USA) Fassa Bortolo
106 Manuel Quinziato (Ita) Lampre
107 Mario Scirea (Ita) Domina Vacanze-Elitron              0.22
108 Hernan D. Munoz (Col) Colombia-Selle Italia
109 Fortunato Baliani (Ita) Formaggi Pinzolo Fiave
110 Francesco Secchiari (Ita) Domina Vacanze-Elitron
111 Jorgen Bo Petersen (Den) Team fakta-Pata Chips
112 Roberto Conti (Ita) Mercatone Uno - Scanavino
113 Biagio Conte (Ita) Formaggi Pinzolo Fiave              0.27
114 Fabiano Fontanelli (Ita) Mercatone Uno - Scanavino     0.28
115 Piotr Chmielewski (Pol) CCC-Polsat
116 Rodolfo Massi (Ita) Colombia-Selle Italia
117 Gabriele Colombo (Ita) Domina Vacanze-Elitron          0.30
118 Gian Paolo Cheula (Ita) Vini Caldirola-SO.DI           0.32
119 Simone Bertoletti (Ita) Lampre
120 Sergio Barbero (Ita) Lampre
121 Ruslan Gryschenko (Ukr) Landbouwkrediet-Colnago        0.35
122 Regis Lhuillier (Fra) FDJeux.com                       0.39
123 Charles Wegelius (GBr) De Nardi-Colpack                0.43
124 Kurt Asle Arvesen (Nor) Team fakta-Pata Chips
125 Matteo Tosatto (Ita) Fassa Bortolo
126 Gianluca Tonetti (Ita) Tenax
127 Oscar Pozzi (Ita) Tenax
128 Giuseppe Muraglia (Rus) Formaggi Pinzolo Fiave         0.56
129 Bernhard Eisel (Aut) FDJeux.com                        1.03
130 Ronny Scholz (Ger) Gerolsteiner                        1.19
131 Leonardo Giordani (Ita) De Nardi-Colpack               1.21
132 Dario Andriotto (Ita) Vini Caldirola-SO.DI             1.31
133 Alberto Ongarato (Ita) Domina Vacanze-Elitron          1.32
134 Rinaldo Nocentini (Ita) Formaggi Pinzolo Fiave
135 Giuseppe Palumbo (Ita) De Nardi-Colpack
136 Hector O. Mesa Mesa (Col) Formaggi Pinzolo Fiave       1.35
137 Bradley Wiggins (GBr) FDJeux.com                       2.08
138 Gert Steegmans (Bel) Lotto-Domo                        4.08
 
Points
 
1 Alessandro Petacchi (Ita) Fassa Bortolo                    25 pts
2 Jan Svorada (Cze) Lampre                                   24
3 Jimmy Casper (Fra) FDJeux.com                              23
4 Daniele Bennati (Ita) Domina Vacanze-Elitron               14
5 Graziano Gasparre (Ita) De Nardi-Colpack                   12
6 Dario Pieri (Ita) Team Saeco                               10
7 Moreno Di Biase (Ita) Formaggi Pinzolo Fiave               10
8 Andrus Aug (Est) De Nardi-Colpack                           9
9 Angelo Furlan (Ita) Alessio                                 8
10 Lars Ytting Bak (Den) Team fakta-Pata Chips                7
11 Magnus Backstedt (Swe) Team fakta-Pata Chips               7
12 Marco Pantani (Ita) Mercatone Uno - Scanavino              6
13 Matteo Carrara (Ita) De Nardi-Colpack                      5
14 Mauro Gerosa (Ita) Vini Caldirola-SO.DI                    2
15 Giuseppe Palumbo (Ita) De Nardi-Colpack                    2
16 Constantino Zaballa Gutierez (Spa) Kelme-Costa Blanc       1
17 Werner Riebenbauer (Aut) Team fakta-Pata Chips             1
 
Intergiro
 
1 Jan Svorada (Cze) Lampre                              3.50.35
2 Moreno Di Biase (Ita) Formaggi Pinzolo Fiave
3 Magnus Backstedt (Swe) Team fakta-Pata Chips
4 Jimmy Casper (Fra) FDJeux.com
5 Giuseppe Palumbo (Ita) De Nardi-Colpack
6 Werner Riebenbauer (Aut) Team fakta-Pata Chips
7 Biagio Conte (Ita) Formaggi Pinzolo Fiave
8 Kurt Asle Arvesen (Nor) Team fakta-Pata Chips
9 Martin Hvastija (Slo) Tenax
10 Frank Hoj (Den) Team fakta-Pata Chips
11 Fabiano Fontanelli (Ita) Mercatone Uno - Scanavino
12 Juilian Winn (GBr) Team fakta-Pata Chips
13 Rene' Joergensen (Den) Team fakta-Pata Chips
14 Jorgen Bo Petersen (Den) Team fakta-Pata Chips
15 Matteo Carrara (Ita) De Nardi-Colpack
16 Graziano Gasparre (Ita) De Nardi-Colpack
17 Volodimir Bileka (Ukr) Landbouwkrediet-Colnago
18 Constantino Zaballa Gutierez (Spa) Kelme-Costa Blanc
19 Bernhard Eisel (Aut) FDJeux.com
20 Lars Ytting Bak (Den) Team fakta-Pata Chips
 
Most combative
 
1 Jan Svorada (Cze) Lampre                                    9 pts
2 Jimmy Casper (Fra) FDJeux.com                               7
3 Alessandro Petacchi (Ita) Fassa Bortolo                     6
4 Moreno Di Biase (Ita) Formaggi Pinzolo Fiave                4
5 Daniele Bennati (Ita) Domina Vacanze-Elitron                3
6 Magnus Backstedt (Swe) Team fakta-Pata Chips                3
7 Graziano Gasparre (Ita) De Nardi-Colpack                    2
8 Dario Pieri (Ita) Team Saeco                                1
9 Giuseppe Palumbo (Ita) De Nardi-Colpack                     1
 
Azzurri d'Italia
 
1 Alessandro Petacchi (Ita) Fassa Bortolo                     4 pts
2 Jimmy Casper (Fra) FDJeux.com                               2
3 Jan Svorada (Cze) Lampre                                    1
 
Trofeo Fast Team
 
1 De Nardi-Colpack                                     13.58.42
2 Team fakta-Pata Chips
3 Alessio
4 Team Saeco
5 Lampre
6 Vini Caldirola-SO.DI
7 FDJeux.com
8 Gerolsteiner
9 Domina Vacanze-Elitron
10 Fassa Bortolo
11 Mercatone Uno-Scanavino
12 Landbouwkrediet-Colnago
13 Ceramiche Panaria-Fiordo
14 Kelme-Costa Blanca
15 Colombia-Selle Italia
16 Formaggi Pinzolo Fiave'-Ciarrocchi
17 CCC Polsat
18 Tenax
19 Lotto-Domo                                              4.08
 
Trofeo Super Team
 
1 De Nardi-Colpack                                           40 pts
2 Domina Vacanze-Elitron                                     22
3 Fassa Bortolo                                              20
4 Team fakta-Pata Chips                                      20
5 FDJeux.com                                                 19
6 Lampre                                                     18
7 Team Saeco                                                 15
8 Alessio                                                    13
9 Mercatone Uno-Scanavino                                    11
10 Formaggi Pinzolo Fiave'-Ciarrocchi                         9
11 Vini Caldirola-SO.DI                                       9
12 Kelme-Costa Blanca                                         6
13 Landbouwkrediet-Colnago                                    4
14 Gerolsteiner                                               3
15 Ceramiche Panaria-Fiordo                                   1
16 Colombia-Selle Italia                                      0
17 Lotto-Domo                                                 0
18 Tenax                                                      0
19 CCC Polsat                                                 0
 
General classification after stage 16
 
1 Gilberto Simoni (Ita) Team Saeco                     71.21.26
2 Stefano Garzelli (Ita) Vini Caldirola-SO.DI              1.58
3 Yaroslav Popovych (Ukr) Landbouwkrediet-Colnago          4.05
4 Andrea Noe' (Ita) Alessio                                5.16
5 Raimondas Rumsas (Ltu) Lampre                            6.11
6 Francesco Casagrande (Ita) Lampre                        6.47
7 Georg Totschnig (Aut) Gerolsteiner                       6.57
8 Serguei Gontchar (Ukr) De Nardi-Colpack                  9.38
9 Franco Pellizotti (Ita) Alessio                          9.42
10 Marco Pantani (Ita) Mercatone Uno - Scanavino          10.11
11 Massimo Codol (Ita) Mercatone Uno - Scanavino          12.16
12 Wladimir Belli (Ita) Lampre                            12.35
13 Dario Frigo (Ita) Fassa Bortolo                        12.45
14 Dariusz Baranowski (Pol) CCC-Polsat                    13.50
15 Michele Scarponi (Ita) Domina Vacanze-Elitron          14.23
16 Aitor Gonzalez Jimenez (Spa) Fassa Bortolo             15.32
17 Eddy Mazzoleni (Ita) Vini Caldirola-SO.DI              15.59
18 Marco Velo (Ita) Fassa Bortolo                         18.08
19 Julio A. Perez Cuapio (Mex) Ceramiche Panaria-Fiordo   18.14
20 Marzio Bruseghin (Ita) Fassa Bortolo                   19.25
21 Kim Kirchen (Lux) Fassa Bortolo                        19.52
22 Leonardo Bertagnolli (Ita) Team Saeco                  20.07
23 Sandy Casar (Fra) FDJeux.com                           20.14
24 Giuliano Figueras (Ita) Ceramiche Panaria-Fiordo       21.16
25 Gianni Faresin (Ita) Gerolsteiner                      22.52
26 Adolfo Garcia Quesada (Spa) Kelme-Costa Blanca         25.19
27 Pietro Caucchioli (Ita) Alessio                        26.36
28 Graziano Gasparre (Ita) De Nardi-Colpack               28.36
29 Radoslaw Romanik (Pol) CCC-Polsat                      29.32
30 Luis F. Laverde Jimenez (Col) Formaggi Pinzolo Fiave   30.07
31 Sylvester Szmyd (Pol) Mercatone Uno - Scanavino        30.40
32 Scott Sunderland (Aus) Team fakta-Pata Chips           32.51
33 Dario David Cioni (Ita) Fassa Bortolo                  34.53
34 Thomas Brozyna (Pol) CCC-Polsat                        35.29
35 Paolo Lanfranchi (Ita) Ceramiche Panaria-Fiordo        36.01
36 Vladimir Miholievic (Cro) Alessio                      36.08
37 Damiano Cunego (Ita) Team Saeco                        36.20
38 Denis Lunghi (Ita) Alessio                             38.22
39 Gerhard Trampusch (Aut) Gerolsteiner                   38.23
40 Ignacio Gutierrez Cataluna (Spa) Kelme-Costa Blanca    38.26
41 Fredy Gonzalez (Col) Colombia-Selle Italia             38.32
42 Vladimir Duma (Ukr) Landbouwkrediet-Colnago            38.34
43 Constantino Zaballa Gutierez (Spa) Kelme-Costa Blanc   39.41
44 Joaquim Castelblanco (Col) Colombia-Selle Italia       39.50
45 Francesco Vila Errandonea (Spa) Lampre                 43.13
46 Steve Zampieri (Swi) Vini Caldirola-SO.DI              44.24
47 Daniel Clavero (Spa) Mercatone Uno - Scanavino         44.37
48 Hernan D. Munoz (Col) Colombia-Selle Italia            46.45
49 Cristian Gasperoni (Ita) Mercatone Uno - Scanavino     53.16
50 Sergiy Adyeyev (Ukr) Landbouwkrediet-Colnago           56.05
51 Koos Moerenhout (Ned) Lotto-Domo                       57.51
52 Roberto Conti (Ita) Mercatone Uno - Scanavino          58.56
53 Andrea Tonti (Ita) Team Saeco                        1.00.03
54 Matteo Carrara (Ita) De Nardi-Colpack                1.00.39
55 Fortunato Baliani (Ita) Formaggi Pinzolo Fiave       1.01.03
56 Alexis Rodriguez (Spa) Kelme-Costa Blanca            1.01.21
57 Marius Sabaliauskas (Ltu) Team Saeco                 1.02.11
58 Kurt Asle Arvesen (Nor) Team fakta-Pata Chips        1.02.35
59 Piotr Chmielewski (Pol) CCC-Polsat                   1.04.22
60 Leonardo Zanotti (Ita) De Nardi-Colpack              1.04.53
61 Rinaldo Nocentini (Ita) Formaggi Pinzolo Fiave
62 Alessandro Spezialetti (Ita) Team Saeco              1.05.19
63 Bo Hamburger (Den) Formaggi Pinzolo Fiave            1.06.38
64 Charles Wegelius (GBr) De Nardi-Colpack              1.08.33
65 Jorgen Bo Petersen (Den) Team fakta-Pata Chips       1.10.40
66 Bernhard Eisel (Aut) FDJeux.com                      1.14.34
67 Daniele Pietropolli (Ita) Tenax                      1.15.03
68 Sergio Barbero (Ita) Lampre                          1.15.13
69 David Derepas (Fra) FDJeux.com                       1.16.12
70 Volodimir Bileka (Ukr) Landbouwkrediet-Colnago       1.17.05
71 Gabriele Colombo (Ita) Domina Vacanze-Elitron        1.17.27
72 Fabio Sacchi (Ita) Team Saeco                        1.17.31
73 Gian Paolo Cheula (Ita) Vini Caldirola-SO.DI         1.19.14
74 Carlos Dacruz (Fra) FDJeux.com                       1.21.12
75 Ronny Scholz (Ger) Gerolsteiner                      1.24.10
76 Raffaele Illiano (Ita) Colombia-Selle Italia         1.25.21
77 Giuseppe Muraglia (Rus) Formaggi Pinzolo Fiave       1.26.29
78 Tom Stremersch (Bel) Landbouwkrediet-Colnago         1.29.13
79 Uwe Hardter (Ger) Gerolsteiner                       1.29.34
80 Magnus Backstedt (Swe) Team fakta-Pata Chips         1.29.39
81 Oscar Pozzi (Ita) Tenax                              1.30.46
82 Giovanni Lombardi (Ita) Domina Vacanze-Elitron       1.31.32
83 Fabio Baldato (Ita) Alessio                          1.31.54
84 Rodolfo Massi (Ita) Colombia-Selle Italia            1.32.31
85 Hector O. Mesa Mesa (Col) Formaggi Pinzolo Fiave     1.34.08
86 Cristiano Frattini (Ita) Tenax                       1.34.18
87 Steffen Weigold (Ger) Gerolsteiner                   1.35.19
88 Alessandro Petacchi (Ita) Fassa Bortolo              1.35.36
89 Giuseppe Palumbo (Ita) De Nardi-Colpack              1.37.24
90 Michele Gobbi (Ita) De Nardi-Colpack                 1.37.51
91 Mario Manzoni (Ita) Mercatone Uno - Scanavino        1.38.52
92 Scott Davis (Aus) Ceramiche Panaria-Fiordo           1.38.58
93 Paolo Fornaciari (Ita) Team Saeco                    1.39.57
94 Daniele Bennati (Ita) Domina Vacanze-Elitron         1.42.11
95 Lorenzo Bernucci (Ita) Landbouwkrediet-Colnago       1.43.02
96 Mario Scirea (Ita) Domina Vacanze-Elitron            1.43.07
97 Ruslan Gryschenko (Ukr) Landbouwkrediet-Colnago      1.43.59
98 Juilian Winn (GBr) Team fakta-Pata Chips             1.46.33
99 Mauro Gerosa (Ita) Vini Caldirola-SO.DI              1.46.51
100 Gianluca Tonetti (Ita) Tenax                        1.47.35
101 Manuel Quinziato (Ita) Lampre                       1.48.27
102 Simone Bertoletti (Ita) Lampre                      1.49.31
103 Fabiano Fontanelli (Ita) Mercatone Uno - Scanavino  1.50.32
104 Julian Usano Martinez (Spa) Kelme-Costa Blanca      1.50.48
105 Dario Andriotto (Ita) Vini Caldirola-SO.DI          1.51.22
106 Seweryn Kohut (Pol) CCC-Polsat                      1.52.44
107 Jan Svorada (Cze) Lampre                            1.53.01
108 Leonardo Giordani (Ita) De Nardi-Colpack            1.55.11
109 Alberto Ongarato (Ita) Domina Vacanze-Elitron       1.56.08
110 Ruber Alverio Marin (Col) Colombia-Selle Italia     1.56.18
111 Frank Hoj (Den) Team fakta-Pata Chips               1.59.10
112 Rene' Joergensen (Den) Team fakta-Pata Chips        2.01.26
113 Angelo Furlan (Ita) Alessio                         2.01.55
114 Jordi Riera Valls (Spa) Kelme-Costa Blanca          2.02.36
115 Lars Ytting Bak (Den) Team fakta-Pata Chips         2.05.26
116 Matteo Tosatto (Ita) Fassa Bortolo                  2.05.56
117 Biagio Conte (Ita) Formaggi Pinzolo Fiave           2.06.04
118 Johan Verstrepen (Bel) Landbouwkrediet-Colnago      2.07.05
119 Frederic Guesdon (Fra) FDJeux.com                   2.08.49
120 Andrus Aug (Est) De Nardi-Colpack                   2.11.21
121 Guido Trenti (USA) Fassa Bortolo                    2.12.00
122 Robert Forster (Ger) Gerolsteiner                   2.12.57
123 Werner Riebenbauer (Aut) Team fakta-Pata Chips      2.13.51
124 Luca De Angeli (Ita) Colombia-Selle Italia          2.14.54
125 John Freddy Garcia (Col) Colombia-Selle Italia      2.14.57
126 Dario Pieri (Ita) Team Saeco                        2.15.46
127 Nick Gates (Aus) Lotto-Domo                         2.16.05
128 Regis Lhuillier (Fra) FDJeux.com                    2.16.12
129 Gianpaolo Mondini (Ita) Domina Vacanze-Elitron      2.17.52
130 Jimmy Casper (Fra) FDJeux.com                       2.18.14
131 Massimo Apollonio (Ita) Vini Caldirola-SO.DI        2.18.36
132 Salvatore Scamardella (Ita) Landbouwkrediet-Colnago 2.18.47
133 Francesco Secchiari (Ita) Domina Vacanze-Elitron    2.20.35
134 Moreno Di Biase (Ita) Formaggi Pinzolo Fiave        2.21.33
135 Martin Hvastija (Slo) Tenax                         2.22.02
136 Bradley Wiggins (GBr) FDJeux.com                    2.22.36
137 Gert Steegmans (Bel) Lotto-Domo                     2.24.27
138 Bogdan Bondariew (Ukr) CCC-Polsat                   2.25.40
 
Points classification
 
1 Alessandro Petacchi (Ita) Fassa Bortolo                   208 pts
2 Stefano Garzelli (Ita) Vini Caldirola-SO.DI               130
3 Gilberto Simoni (Ita) Team Saeco                          109
4 Jan Svorada (Cze) Lampre                                  107
5 Magnus Backstedt (Swe) Team fakta-Pata Chips               93
6 Francesco Casagrande (Ita) Lampre                          63
7 Bernhard Eisel (Aut) FDJeux.com                            60
8 Yaroslav Popovych (Ukr) Landbouwkrediet-Colnago            59
9 Daniele Bennati (Ita) Domina Vacanze-Elitron               52
10 Moreno Di Biase (Ita) Formaggi Pinzolo Fiave              48
11 Jimmy Casper (Fra) FDJeux.com                             46
12 Graziano Gasparre (Ita) De Nardi-Colpack                  46
13 Aitor Gonzalez Jimenez (Spa) Fassa Bortolo                45
14 Andrea Noe' (Ita) Alessio                                 42
15 Eddy Mazzoleni (Ita) Vini Caldirola-SO.DI                 42
16 Kurt Asle Arvesen (Nor) Team fakta-Pata Chips             40
17 Giovanni Lombardi (Ita) Domina Vacanze-Elitron            40
18 Angelo Furlan (Ita) Alessio                               38
19 Dario Pieri (Ita) Team Saeco                              34
20 Marco Pantani (Ita) Mercatone Uno - Scanavino             32
21 Gabriele Colombo (Ita) Domina Vacanze-Elitron             32
22 Julio A. Perez Cuapio (Mex) Ceramiche Panaria-Fiordo      30
23 Giuliano Figueras (Ita) Ceramiche Panaria-Fiordo          30
24 Fabio Baldato (Ita) Alessio                               29
25 Serguei Gontchar (Ukr) De Nardi-Colpack                   29
26 Vladimir Duma (Ukr) Landbouwkrediet-Colnago               29
27 Raimondas Rumsas (Ltu) Lampre                             28
28 Franco Pellizotti (Ita) Alessio                           27
29 Georg Totschnig (Aut) Gerolsteiner                        26
30 Dario Frigo (Ita) Fassa Bortolo                           25
31 Constantino Zaballa Gutierez (Spa) Kelme-Costa Blanc      24
32 Kim Kirchen (Lux) Fassa Bortolo                           23
33 Sandy Casar (Fra) FDJeux.com                              22
34 Michele Scarponi (Ita) Domina Vacanze-Elitron             22
35 Marco Velo (Ita) Fassa Bortolo                            22
36 Gerhard Trampusch (Aut) Gerolsteiner                      22
37 Lorenzo Bernucci (Ita) Landbouwkrediet-Colnago            20
38 Andrus Aug (Est) De Nardi-Colpack                         19
39 Paolo Lanfranchi (Ita) Ceramiche Panaria-Fiordo           18
40 Matteo Carrara (Ita) De Nardi-Colpack                     18
41 Bo Hamburger (Den) Formaggi Pinzolo Fiave                 17
42 Fredy Gonzalez (Col) Colombia-Selle Italia                16
43 Lars Ytting Bak (Den) Team fakta-Pata Chips               16
44 Bogdan Bondariew (Ukr) CCC-Polsat                         16
45 Leonardo Bertagnolli (Ita) Team Saeco                     15
46 Giuseppe Palumbo (Ita) De Nardi-Colpack                   15
47 Werner Riebenbauer (Aut) Team fakta-Pata Chips            15
48 Fabio Sacchi (Ita) Team Saeco                             14
49 Wladimir Belli (Ita) Lampre                               12
50 Ignacio Gutierrez Cataluna (Spa) Kelme-Costa Blanca       12
51 Fabiano Fontanelli (Ita) Mercatone Uno - Scanavino        11
52 Marius Sabaliauskas (Ltu) Team Saeco                      10
53 Guido Trenti (USA) Fassa Bortolo                          10
54 Piotr Chmielewski (Pol) CCC-Polsat                         9
55 Fortunato Baliani (Ita) Formaggi Pinzolo Fiave             8
56 Juilian Winn (GBr) Team fakta-Pata Chips                   8
57 Gianni Faresin (Ita) Gerolsteiner                          7
58 Robert Forster (Ger) Gerolsteiner                          7
59 Vladimir Miholievic (Cro) Alessio                          6
60 Denis Lunghi (Ita) Alessio                                 6
61 Rinaldo Nocentini (Ita) Formaggi Pinzolo Fiave             6
62 Julian Usano Martinez (Spa) Kelme-Costa Blanca             6
63 Martin Hvastija (Slo) Tenax                                6
64 Dariusz Baranowski (Pol) CCC-Polsat                        5
65 Luis F. Laverde Jimenez (Col) Formaggi Pinzolo Fiave       5
66 Massimo Codol (Ita) Mercatone Uno - Scanavino              4
67 Dario David Cioni (Ita) Fassa Bortolo                      4
68 Michele Gobbi (Ita) De Nardi-Colpack                       4
69 Manuel Quinziato (Ita) Lampre                              4
70 Luca De Angeli (Ita) Colombia-Selle Italia                 4
71 Thomas Brozyna (Pol) CCC-Polsat                            3
72 Sergiy Adyeyev (Ukr) Landbouwkrediet-Colnago               3
73 Raffaele Illiano (Ita) Colombia-Selle Italia               3
74 Oscar Pozzi (Ita) Tenax                                    3
75 Biagio Conte (Ita) Formaggi Pinzolo Fiave                  3
76 Francesco Vila Errandonea (Spa) Lampre                     2
77 Carlos Dacruz (Fra) FDJeux.com                             2
78 Cristiano Frattini (Ita) Tenax                             2
79 Ruslan Gryschenko (Ukr) Landbouwkrediet-Colnago            2
80 Mauro Gerosa (Ita) Vini Caldirola-SO.DI                    2
81 John Freddy Garcia (Col) Colombia-Selle Italia             2
82 Marzio Bruseghin (Ita) Fassa Bortolo                       1
83 Adolfo Garcia Quesada (Spa) Kelme-Costa Blanca             1
84 Jorgen Bo Petersen (Den) Team fakta-Pata Chips             1
85 Steffen Weigold (Ger) Gerolsteiner                         1
86 Mario Manzoni (Ita) Mercatone Uno - Scanavino              1
 
Mountains classification
 
1 Fredy Gonzalez (Col) Colombia-Selle Italia                 77 pts
2 Constantino Zaballa Gutierez (Spa) Kelme-Costa Blanca      48
3 Gilberto Simoni (Ita) Team Saeco                           43
4 Stefano Garzelli (Ita) Vini Caldirola-SO.DI                36
5 Marzio Bruseghin (Ita) Fassa Bortolo                       15
6 Paolo Lanfranchi (Ita) Ceramiche Panaria-Fiordo            11
7 Ruslan Gryschenko (Ukr) Landbouwkrediet-Colnago             9
8 Francesco Casagrande (Ita) Lampre                           8
9 Yaroslav Popovych (Ukr) Landbouwkrediet-Colnago             6
10 Andrea Noe' (Ita) Alessio                                  6
11 Raimondas Rumsas (Ltu) Lampre                              6
12 Michele Gobbi (Ita) De Nardi-Colpack                       6
13 Denis Lunghi (Ita) Alessio                                 5
14 Julio A. Perez Cuapio (Mex) Ceramiche Panaria-Fiordo       4
15 Magnus Backstedt (Swe) Team fakta-Pata Chips               4
16 Aitor Gonzalez Jimenez (Spa) Fassa Bortolo                 3
17 Luis F. Laverde Jimenez (Col) Formaggi Pinzolo Fiave       3
18 Marco Pantani (Ita) Mercatone Uno - Scanavino              2
19 Eddy Mazzoleni (Ita) Vini Caldirola-SO.DI                  2
20 Pietro Caucchioli (Ita) Alessio                            2
21 Fortunato Baliani (Ita) Formaggi Pinzolo Fiave             2
22 Oscar Pozzi (Ita) Tenax                                    2
23 Wladimir Belli (Ita) Lampre                                1
24 Adolfo Garcia Quesada (Spa) Kelme-Costa Blanca             1
25 Roberto Conti (Ita) Mercatone Uno - Scanavino              1
26 Kurt Asle Arvesen (Nor) Team fakta-Pata Chips              1
27 Rinaldo Nocentini (Ita) Formaggi Pinzolo Fiave             1
28 Volodimir Bileka (Ukr) Landbouwkrediet-Colnago             1
29 Bogdan Bondariew (Ukr) CCC-Polsat                          1
 
Intergiro classification
 
1 Magnus Backstedt (Swe) Team fakta-Pata Chips         40.48.48
2 Moreno Di Biase (Ita) Formaggi Pinzolo Fiave             0.22
3 Jan Svorada (Cze) Lampre                                 1.32
4 Jimmy Casper (Fra) FDJeux.com                            2.02
5 Constantino Zaballa Gutierez (Spa) Kelme-Costa Blanca    2.04
6 Giuseppe Palumbo (Ita) De Nardi-Colpack                  2.08
7 Aitor Gonzalez Jimenez (Spa) Fassa Bortolo               2.14
8 Ignacio Gutierrez Cataluna (Spa) Kelme-Costa Blanca      2.24
9 Martin Hvastija (Slo) Tenax                              2.40
10 Juilian Winn (GBr) Team fakta-Pata Chips                2.42
11 Sandy Casar (Fra) FDJeux.com
12 Fortunato Baliani (Ita) Formaggi Pinzolo Fiave
13 Fredy Gonzalez (Col) Colombia-Selle Italia
14 Fabiano Fontanelli (Ita) Mercatone Uno - Scanavino      2.45
15 Bo Hamburger (Den) Formaggi Pinzolo Fiave
16 Bogdan Bondariew (Ukr) CCC-Polsat                       2.46
17 Kurt Asle Arvesen (Nor) Team fakta-Pata Chips           2.48
18 Alessandro Petacchi (Ita) Fassa Bortolo
19 Julian Usano Martinez (Spa) Kelme-Costa Blanca
20 Rinaldo Nocentini (Ita) Formaggi Pinzolo Fiave
 
Most combative classification
 
1 Alessandro Petacchi (Ita) Fassa Bortolo                    59 pts
2 Fredy Gonzalez (Col) Colombia-Selle Italia                 46
3 Magnus Backstedt (Swe) Team fakta-Pata Chips               39
4 Constantino Zaballa Gutierez (Spa) Kelme-Costa Blanca      38
5 Stefano Garzelli (Ita) Vini Caldirola-SO.DI                28
6 Jan Svorada (Cze) Lampre                                   28
7 Moreno Di Biase (Ita) Formaggi Pinzolo Fiave               26
8 Gilberto Simoni (Ita) Team Saeco                           23
9 Jimmy Casper (Fra) FDJeux.com                              15
10 Aitor Gonzalez Jimenez (Spa) Fassa Bortolo                13
11 Kurt Asle Arvesen (Nor) Team fakta-Pata Chips             11
12 Francesco Casagrande (Ita) Lampre                         10
13 Bernhard Eisel (Aut) FDJeux.com                           10
14 Daniele Bennati (Ita) Domina Vacanze-Elitron              10
15 Ignacio Gutierrez Cataluna (Spa) Kelme-Costa Blanca        8
16 Giuseppe Palumbo (Ita) De Nardi-Colpack                    8
17 Marzio Bruseghin (Ita) Fassa Bortolo                       7
18 Paolo Lanfranchi (Ita) Ceramiche Panaria-Fiordo            7
19 Gabriele Colombo (Ita) Domina Vacanze-Elitron              7
20 Fabio Baldato (Ita) Alessio                                6
21 Fortunato Baliani (Ita) Formaggi Pinzolo Fiave             6
22 Yaroslav Popovych (Ukr) Landbouwkrediet-Colnago            6
23 Serguei Gontchar (Ukr) De Nardi-Colpack                    6
24 Giuliano Figueras (Ita) Ceramiche Panaria-Fiordo           6
25 Ruslan Gryschenko (Ukr) Landbouwkrediet-Colnago            6
26 Angelo Furlan (Ita) Alessio                                6
27 Sandy Casar (Fra) FDJeux.com                               5
28 Juilian Winn (GBr) Team fakta-Pata Chips                   5
29 Andrea Noe' (Ita) Alessio                                  5
30 Eddy Mazzoleni (Ita) Vini Caldirola-SO.DI                  5
31 Rinaldo Nocentini (Ita) Formaggi Pinzolo Fiave             5
32 Michele Gobbi (Ita) De Nardi-Colpack                       5
33 Bogdan Bondariew (Ukr) CCC-Polsat                          5
34 Raimondas Rumsas (Ltu) Lampre                              4
35 Julio A. Perez Cuapio (Mex) Ceramiche Panaria-Fiordo       4
36 Vladimir Miholievic (Cro) Alessio                          4
37 Bo Hamburger (Den) Formaggi Pinzolo Fiave                  4
38 Giovanni Lombardi (Ita) Domina Vacanze-Elitron             4
39 Fabiano Fontanelli (Ita) Mercatone Uno - Scanavino         4
40 Julian Usano Martinez (Spa) Kelme-Costa Blanca             4
41 Martin Hvastija (Slo) Tenax                                4
42 Franco Pellizotti (Ita) Alessio                            3
43 Dario Frigo (Ita) Fassa Bortolo                            3
44 Marco Velo (Ita) Fassa Bortolo                             3
45 Leonardo Bertagnolli (Ita) Team Saeco                      3
46 Gianni Faresin (Ita) Gerolsteiner                          3
47 Dario David Cioni (Ita) Fassa Bortolo                      3
48 Oscar Pozzi (Ita) Tenax                                    3
49 Robert Forster (Ger) Gerolsteiner                          3
50 Marco Pantani (Ita) Mercatone Uno - Scanavino              2
51 Graziano Gasparre (Ita) De Nardi-Colpack                   2
52 Luis F. Laverde Jimenez (Col) Formaggi Pinzolo Fiave       2
53 Thomas Brozyna (Pol) CCC-Polsat                            2
54 Denis Lunghi (Ita) Alessio                                 2
55 Sergiy Adyeyev (Ukr) Landbouwkrediet-Colnago               2
56 Matteo Carrara (Ita) De Nardi-Colpack                      2
57 Raffaele Illiano (Ita) Colombia-Selle Italia               2
58 Lorenzo Bernucci (Ita) Landbouwkrediet-Colnago             2
59 Biagio Conte (Ita) Formaggi Pinzolo Fiave                  2
60 Michele Scarponi (Ita) Domina Vacanze-Elitron              1
61 Adolfo Garcia Quesada (Spa) Kelme-Costa Blanca             1
62 Pietro Caucchioli (Ita) Alessio                            1
63 Vladimir Duma (Ukr) Landbouwkrediet-Colnago                1
64 Francesco Vila Errandonea (Spa) Lampre                     1
65 Marius Sabaliauskas (Ltu) Team Saeco                       1
66 Fabio Sacchi (Ita) Team Saeco                              1
67 Cristiano Frattini (Ita) Tenax                             1
68 Guido Trenti (USA) Fassa Bortolo                           1
69 John Freddy Garcia (Col) Colombia-Selle Italia             1
70 Dario Pieri (Ita) Team Saeco                               1
 
Azzurri d'Italia classification
 
1 Alessandro Petacchi (Ita) Fassa Bortolo                    27 pts
2 Stefano Garzelli (Ita) Vini Caldirola-SO.DI                13
3 Gilberto Simoni (Ita) Team Saeco                           11
4 Aitor Gonzalez Jimenez (Spa) Fassa Bortolo                  4
5 Kurt Asle Arvesen (Nor) Team fakta-Pata Chips               4
6 Fabio Baldato (Ita) Alessio                                 4
7 Francesco Casagrande (Ita) Lampre                           3
8 Magnus Backstedt (Swe) Team fakta-Pata Chips                2
9 Jan Svorada (Cze) Lampre                                    2
10 Jimmy Casper (Fra) FDJeux.com                              2
11 Bernhard Eisel (Aut) FDJeux.com                            2
12 Gabriele Colombo (Ita) Domina Vacanze-Elitron              2
13 Daniele Bennati (Ita) Domina Vacanze-Elitron               2
14 Andrea Noe' (Ita) Alessio                                  1
15 Raimondas Rumsas (Ltu) Lampre                              1
16 Serguei Gontchar (Ukr) De Nardi-Colpack                    1
17 Giuliano Figueras (Ita) Ceramiche Panaria-Fiordo           1
18 Angelo Furlan (Ita) Alessio                                1
 
Trofeo Fast Team classification
 
1 Lampre                                              214.25.42
2 Fassa Bortolo                                            9.14
3 Team Saeco                                              15.55
4 Alessio                                                 16.17
5 Mercatone Uno-Scanavino                                 23.49
6 CCC Polsat                                              31.03
7 Vini Caldirola-SO.DI                                    31.31
8 Ceramiche Panaria-Fiordo                                40.22
9 Gerolsteiner                                            44.27
10 De Nardi-Colpack                                       45.50
11 Kelme-Costa Blanca                                     52.29
12 Landbouwkrediet-Colnago                                53.28
13 Colombia-Selle Italia                                1.23.38
14 Team fakta-Pata Chips                                1.39.59
15 Formaggi Pinzolo Fiave'-Ciarrocchi                   1.42.22
16 FDJeux.com                                           1.49.33
17 Domina Vacanze-Elitron                               2.12.57
18 Tenax                                                2.55.34
19 Lotto-Domo                                           3.56.13
 
Trofeo Super Team classification
 
  Fassa Bortolo                                        407 pts
2 Domina Vacanze-Elitron                                    303
3 Lampre                                                    290
4 Alessio                                                   248
5 Team Saeco                                                239
6 Vini Caldirola-SO.DI                                      224
7 Ceramiche Panaria-Fiordo                                  194
8 Landbouwkrediet-Colnago                                   189
9 De Nardi-Colpack                                          184
10 Team fakta-Pata Chips                                    183
11 Gerolsteiner                                             157
12 FDJeux.com                                               143
13 Mercatone Uno-Scanavino                                  115
14 Lotto-Domo                                               114
15 Kelme-Costa Blanca                                       107
16 CCC Polsat                                               100
17 Colombia-Selle Italia                                     62
18 Formaggi Pinzolo Fiave'-Ciarrocchi                        54
19 Tenax                                                     47