86th Giro d'Italia - Grand Tour
Italy, May 10-June 1, 2003
Main Page Live report Results Previous Stage Next Stage
Stage 12 - May 22: Dan Dona-Monte Zoncolan, 185 km
Ecco Fatto: Simoni reigns on Zoncolan
Pantani getting better every day
By Tim Maloney, European Editor in Zoncolan
Gilberto Simoni can smile again
Photo: © Sirotti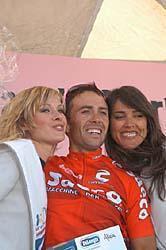 Like the hand lettered signs along the mountain roads of Friuli had predicted, "Sopressa e Pan; Simoni Vince sul Zoncolan." (Salame and Bread; Simoni wins on Zoncolan).
Among the raw, ugly peaks of the Alpe Carniche, today the long awaited Monte Zoncolan that made a brutal selection today in the final 3km the Giro d'Italia's Stage 12. The twisted faces of the riders who made Herculean efforts to race up the incredible gradient of Zoncolan saw one of the most spectacular races in recent memory, but Maglia Rosa Gilberto Simoni (Saeco) made it look almost easy.
"This climb was too hard", said an exhausted but jubilant Gilberto Simoni after winning the stage today and solidifying his lead over Stefano Garzelli, who finished second on the tough stage. "I wasn't on a great day. I guess I was tired from the efforts of last few days. It got so steep that I wanted to put my foot down and push the bike", joked Simoni in the post race press conference.
But Simoni wasn't that satisfied with his performance today. Despite the fact that he's done the Zoncolan twice in training, Simoni expected to gain more time on Garzelli today. "I'm looking forward to (Saturday's stage) Alpe di Pampeago because there is a lot of climbing there and I know those mountains well."
Indeed, Pampeago is only 20km from Gibo's hometown of Palu' di Giovo and the ascents will undoubtedly be lined with thousands of Trentino tifosi screaming "Vai Gibo" at the Maglia Rosa.
In front of the huge crowds today on Monte Zoncolan, Marco Pantani found further redemption at this year's Giro. Pantani had a courageous ride today for fifth place, 42" behind Simoni. "I didn't expect to ride this well today," he said post-stage. "It was really surprising to me."
Pantani and Garzelli
Photo: © Sirotti

His face contorted like Lex Luthor attacking Superman, Pantani went head to head with Garzelli up the last 3km of Zoncolan, and was only passed in the final meters by Casagrande and the ever-improving Yaroslav Popovych. Popo showed he is the real deal today. The second year pro is Ernesto Colnago's golden boy, and the talented Ukrainian was fourth on Monte Zoncolan and rode into great fourth place on GC, 3'00 behind Simoni.
Stefano Garzelli was happy after his runner-up spot on Monte Zoncolan, as he didn't end up losing too much time on Maglia Rosa Simoni. "It was a great day for cycling and a great day for me...plus a great day for Pantani," said Garzelli. "I was really happy to see him up there," said Garzelli of his former teammate.
37 year old Roberto Conti of Mercatone Uno, Pantani's faithful lieutenant was equally pleased to see the return of Marco. "I'm really proud of him. (Pantani) has gone through a lot the past three years and it's great to see him so good again."
How it unfolded
Pantani and Casagrande
Photo: © Sirotti

On a beautiful spring morning in Moreno Argentin's home town of San Dona', along the banks of the Piave River, a tense peloton rolled out of town towards the brutal peaks of the Alpe Carniche near Italy's border with Austria. Mario Cipollini was a non starter, his shoulder was badly bruised and almost dislocated from Wednesday's crash in the final turn in San Dona', so he returned home to Tuscany.
With a strong tailwind, Saeco was on the front from the start riding regular tempo but they wanted a break to go. The first hour was covered in 40.8 km/h and soon afterwards, as the plotone crossed the Tagliamento River, a break of seven was away.
Bo Hamburger and Baliani (Formaggio Pinzolo Fiave) were joined by Adyeyev (Colnago-Landbouwkrediet), Zaballa Gutierrez and Adolfo Garcia Quesada (Kelme) and Zanetti (Tenax). With no serious contenders in the group, these six rolled to a 3'00 lead at the Intergiro in San Daniele di Friuli, where they didn't even stop for a prosciutto pannino. Baliani and Hamburger took the bonuses and protected their teammate DiBiase's lead from the onslaught of the gigantic Swede Magnus Bäckstedt (fakta-Pata Chips).
With the break's lead falling to 2'20" and the first climb of the day approaching, the group was nervous and in the town of Tolmezzo, 5 km from the ascent, a crash took out climber Tiralongo (Panaria) and Cristian Moreni (Alessio), who both had to abandon. Moreni was later reported with a broken collarbone from his crash.
Casagrande and Popovych
Photo: © Sirotti

With the tailwind and flat Friuli terrain, the first three hours were ridden at an average pace of 42.250 km/h. As the chase group hit the bottom of the steep Fuessa climb, local lad Marzio Bruseghin (Fassa Bortolo) hit the gas and blasted out of the chase, bridging up and past the splintering break to hit the first GPM first, ahead of Maglia Verde Speedy Gonzalez (Colombia-Selle Italia), with the remains of the break strewn across the mountain, while the gruppo Maglia Rosa was at 2'15".
Bruseghin is from Capella Maggiore, on the border of Veneto and Friuli and he's a powerful climber who spent the last three years at iBanesto.com and knows the roads of the Alpe Carniche well from long training rides. He totally bombed the long, tricky descent through Lauco and gained major time, hitting the main road at the base of the climb at 43 km to go with 2'00 lead.
Behind the marvelous Marzio, a chase group of 11 formed from remnants of the break and some audacious attackers who followed Bruseghin. With 30km to go in Comeglians, at the foot of the penultimate climb of Selle Valcalda, Bruseghin had 2'00 on the chasers and 3'00 on the Saeco-led gruppo Maglia Rosa.
Simoni shreds them
Photo: © Sirotti

Lampre was playing a smart game today; D.S. Pietro Algeri sent Wladimir Belli on the Fuessa to get up the road for Francesco Casagrande and the tough, experienced Belli pounded hard behind Bruseghin. At the GPM of Valcalda, with 25km to go, Maglia Verde Speedy Gonzalez had jumped up to take the GPM points 45" behind Bruseghin, while Belli and Garcia Quesada were another 10" back.
Back down the valley towards Sutrio with 15km to race, and near the base of Monte Zoncolan, Bruseghin had 1'00 on a now regrouped chase, and 2'30" on the gruppo Maglia Rosa, still led by Saeco's red train. As the final climb up to the redoubtable Monte Zoncolan started, Bruseghin still had 1'00, but Belli attacked the chase and went after the Fassa Bortolo rider alone.
With 8 km to go, Belli caught Bruseghin while the Mercatone Uno led chase group of 20 riders was at 45". Pantani was feeling good and had his man Gasperoni riding tempo up front, while Maglia Rosa Simoni was isolated in the chase. Once Gasperoni dropped off, Garzelli's man Mazzoleni hit the front and upped the pace.
Simoni wins
Photo: © Sirotti

When Belli hit the left turn at the ski area parking lot, he had a 25" lead while the Maglia Rosa's group was down to 10 riders. As soon as the steep part of the final, terrible ramp of Zoncolan began, Simoni flew the coop and blew by Belli. Behind, Garzelli, Casagrande and Popovych tried to keep the Maglia Rosa close, while Marco Pantani began his incredible, terrible march up Zoncolan. Hands on the drops, his face contorted in agony, Pantani rode one of his finest races ever to pass Casagrande and Popovych and challenge Garzelli, but he faded in the last 200 meters where fast closing Casagrande and Popovych both caught him.
Simoni now has 44" on GC over Garzelli, which should enable the tough Trentino to possibly gain more time on Garzelli Saturday. Noè' is lurking in no-man's land 2'23" back, while ambitious Popovych has a good chance to ride past him after Sunday's TT if his form continues. Lampre's duo Casagrande and Rumsas ought to swap places as the Lithuanian is a superb tester. Marco Pantani is in 9th, and his goal to win a stage in this year's Giro seems closer as his form improves.
Stage 13 - May 23: Pordenone-Marostica 149km
It will be another fast transitional stage across the Veneto region to Marostica, famous for its tasty cherries and the bi-annual Partita di Scacchi (human chess match). With three final circuits up the Rosina climb, look for an opportunist rider to make a late move, while "I Big" like Simoni and Garzelli will undoubtedly be waiting for Saturday's long, difficult stage to Alpe di Pampeago.
Photography
mages by Fotoreporter Sirotti
Results
1 Gilberto Simoni (Ita) Team Saeco                      5.10.30 (36.328 km/h)
2 Stefano Garzelli (Ita) Vini Caldirola-SO.DI              0.34
3 Francesco Casagrande (Ita) Lampre                        0.39
4 Yaroslav Popovych (Ukr) Landbouwkrediet-Colnago          0.42
5 Marco Pantani (Ita) Mercatone Uno - Scanavino            0.43
6 Julio A. Perez Cuapio (Mex) Ceramiche Panaria-Fiordo     1.05
7 Andrea Noe' (Ita) Alessio                                1.07
8 Eddy Mazzoleni (Ita) Vini Caldirola-SO.DI                1.20
9 Aitor Gonzalez Jimenez (Spa) Fassa Bortolo               1.30
10 Kim Kirchen (Lux) Fassa Bortolo                         1.31
11 Michele Scarponi (Ita) Domina Vacanze-Elitron           1.45
12 Dario Frigo (Ita) Fassa Bortolo                         1.47
13 Raimondas Rumsas (Ltu) Lampre                           1.54
14 Georg Totschnig (Aut) Gerolsteiner
15 Wladimir Belli (Ita) Lampre                             2.00
16 Serguei Gontchar (Ukr) De Nardi-Colpack                 2.06
17 Franco Pellizotti (Ita) Alessio                         2.51
18 Dariusz Baranowski (Pol) CCC-Polsat                     3.16
19 Massimo Codol (Ita) Mercatone Uno - Scanavino
20 Sylvester Szmyd (Pol) Mercatone Uno - Scanavino
21 Giuliano Figueras (Ita) Ceramiche Panaria-Fiordo        3.59
22 Pavel Tonkov (Rus) CCC-Polsat                           4.25
23 Scott Sunderland (Aus) Team fakta-Pata Chips            4.43
24 Sandy Casar (Fra) FDJeux.com                            4.49
25 Marzio Bruseghin (Ita) Fassa Bortolo                    4.58
26 Adolfo Garcia Quesada (Spa) Kelme-Costa Blanca          5.07
27 Pietro Caucchioli (Ita) Alessio                         5.23
28 Damiano Cunego (Ita) Team Saeco
29 Marco Velo (Ita) Fassa Bortolo                          5.36
30 Gianni Faresin (Ita) Gerolsteiner                       5.56
31 Thomas Brozyna (Pol) CCC-Polsat                         6.02
32 Luis F. Laverde Jimenez (Col) Formaggi Pinzolo Fiave    6.07
33 Vladimir Miholievic (Cro) Alessio                       6.47
34 Constantino Zaballa Gutierez (Spa) Kelme-Costa Blanc    7.28
35 Leonardo Bertagnolli (Ita) Team Saeco
36 Radoslaw Romanik (Pol) CCC-Polsat                       7.36
37 Koos Moerenhout (Ned) Lotto-Domo                        8.02
38 Daniele Pietropolli (Ita) Tenax                         8.14
39 Dario David Cioni (Ita) Fassa Bortolo                   8.20
40 Hernan D. Munoz (Col) Colombia-Selle Italia             8.33
41 Gerhard Trampusch (Aut) Gerolsteiner                    8.41
42 Graziano Gasparre (Ita) De Nardi-Colpack                9.00
43 Francesco Vila Errandonea (Spa) Lampre                  9.25
44 Ignacio Gutierrez Cataluna (Spa) Kelme-Costa Blanca     9.26
45 Alexis Rodriguez (Spa) Kelme-Costa Blanca               9.28
46 Matteo Carrara (Ita) De Nardi-Colpack                   9.55
47 Vladimir Duma (Ukr) Landbouwkrediet-Colnago             9.56
48 Cristian Gasperoni (Ita) Mercatone Uno - Scanavino     10.02
49 Denis Lunghi (Ita) Alessio                             10.41
50 Fredy Gonzalez (Col) Colombia-Selle Italia             11.14
51 Daniel Clavero (Spa) Mercatone Uno - Scanavino         11.19
52 Uwe Hardter (Ger) Gerolsteiner                         11.31
53 Steve Zampieri (Swi) Vini Caldirola-SO.DI              11.49
54 Steffen Weigold (Ger) Gerolsteiner                     11.56
55 David Derepas (Fra) FDJeux.com                         11.59
56 Joaquim Castelblanco (Col) Colombia-Selle Italia       12.30
57 Gianluca Tonetti (Ita) Tenax                           12.34
58 Paolo Lanfranchi (Ita) Ceramiche Panaria-Fiordo        13.35
59 Leonardo Zanotti (Ita) De Nardi-Colpack                13.48
60 Roberto Conti (Ita) Mercatone Uno - Scanavino          13.51
61 Alessandro Spezialetti (Ita) Team Saeco                13.54
62 Juilian Winn (GBr) Team fakta-Pata Chips               13.57
63 Volodimir Bileka (Ukr) Landbouwkrediet-Colnago         14.32
64 Gabriele Colombo (Ita) Domina Vacanze-Elitron          14.50
65 Ruslan Gryschenko (Ukr) Landbouwkrediet-Colnago        14.51
66 Andrea Tonti (Ita) Team Saeco                          16.16
67 Gian Paolo Cheula (Ita) Vini Caldirola-SO.DI           16.30
68 Bernhard Eisel (Aut) FDJeux.com                        16.35
69 Sergio Barbero (Ita) Lampre                            18.22
70 Sergiy Adyeyev (Ukr) Landbouwkrediet-Colnago           18.27
71 Magnus Backstedt (Swe) Team fakta-Pata Chips           18.30
72 Lorenzo Bernucci (Ita) Landbouwkrediet-Colnago         18.42
73 Bo Hamburger (Den) Formaggi Pinzolo Fiave              18.54
74 Michele Gobbi (Ita) De Nardi-Colpack                   19.06
75 Raffaele Illiano (Ita) Colombia-Selle Italia           19.28
76 Francesco Secchiari (Ita) Domina Vacanze-Elitron       20.13
77 Marius Sabaliauskas (Ltu) Team Saeco                   22.10
78 Giuseppe Palumbo (Ita) De Nardi-Colpack                22.19
79 Fabio Sacchi (Ita) Team Saeco                          23.31
80 Giovanni Lombardi (Ita) Domina Vacanze-Elitron         23.32
81 Piotr Chmielewski (Pol) CCC-Polsat                     23.37
82 Tom Stremersch (Bel) Landbouwkrediet-Colnago           23.41
83 Fabio Baldato (Ita) Alessio                            23.48
84 Matteo Tosatto (Ita) Fassa Bortolo                     24.07
85 Nicolas Fritsch (Fra) FDJeux.com                       24.11
86 Kurt Asle Arvesen (Nor) Team fakta-Pata Chips          24.14
87 Fortunato Baliani (Ita) Formaggi Pinzolo Fiave         24.20
88 Jorgen Bo Petersen (Den) Team fakta-Pata Chips         24.24
89 Regis Lhuillier (Fra) FDJeux.com                       24.26
90 Luca Mazzanti (Ita) Ceramiche Panaria-Fiordo           24.32
91 Leonardo Giordani (Ita) De Nardi-Colpack               24.34
92 Alessandro Petacchi (Ita) Fassa Bortolo                24.37
93 Mario Scirea (Ita) Domina Vacanze-Elitron              24.43
94 Frank Hoj (Den) Team fakta-Pata Chips
95 Fabiano Fontanelli (Ita) Mercatone Uno - Scanavino
96 Manuel Quinziato (Ita) Lampre                          24.47
97 Jordi Riera Valls (Spa) Kelme-Costa Blanca             24.50
98 Ronny Scholz (Ger) Gerolsteiner                        24.57
99 Alberto Ongarato (Ita) Domina Vacanze-Elitron          24.59
100 Frederic Guesdon (Fra) FDJeux.com                     25.09
101 Carlos Dacruz (Fra) FDJeux.com                        25.16
102 Paolo Fornaciari (Ita) Team Saeco                     25.18
103 Jan Svorada (Cze) Lampre                              25.21
104 Angelo Furlan (Ita) Alessio
105 Oscar Pozzi (Ita) Tenax                               25.29
106 Julian Usano Martinez (Spa) Kelme-Costa Blanca        25.31
107 Cristiano Frattini (Ita) Tenax                        25.36
108 Rene' Joergensen (Den) Team fakta-Pata Chips          25.39
109 Charles Wegelius (GBr) De Nardi-Colpack               26.02
110 Martin Hvastija (Slo) Tenax                           26.11
111 Guido Trenti (USA) Fassa Bortolo                      26.17
112 Gianpaolo Mondini (Ita) Domina Vacanze-Elitron
113 Daniele Bennati (Ita) Domina Vacanze-Elitron          26.33
114 Mario Manzoni (Ita) Mercatone Uno - Scanavino         26.37
115 Ruber Alverio Marin (Col) Colombia-Selle Italia
116 Rinaldo Nocentini (Ita) Formaggi Pinzolo Fiave        26.40
117 Jimmy Casper (Fra) FDJeux.com                         26.45
118 Biagio Conte (Ita) Formaggi Pinzolo Fiave             26.48
119 Dario Andriotto (Ita) Vini Caldirola-SO.DI            26.55
120 Ief Verbrugghe (Bel) Lotto-Domo
121 Mauro Gerosa (Ita) Vini Caldirola-SO.DI
122 Scott Davis (Aus) Ceramiche Panaria-Fiordo            26.58
123 John Freddy Garcia (Col) Colombia-Selle Italia        26.59
124 Johan Verstrepen (Bel) Landbouwkrediet-Colnago        27.01
125 Robert Forster (Ger) Gerolsteiner
126 Rodolfo Massi (Ita) Colombia-Selle Italia             27.07
127 Simone Bertoletti (Ita) Lampre                        27.11
128 Andrus Aug (Est) De Nardi-Colpack                     27.13
129 Graeme Brown (Aus) Ceramiche Panaria-Fiordo           27.26
130 Kevin Van Impe (Bel) Lotto-Domo                       27.27
131 Gabriele Balducci (Ita) Vini Caldirola-SO.DI
132 Werner Riebenbauer (Aut) Team fakta-Pata Chips        27.30
133 Massimo Apollonio (Ita) Vini Caldirola-SO.DI          27.33
134 Dario Pieri (Ita) Team Saeco
135 Gert Steegmans (Bel) Lotto-Domo
136 Mauro Zanetti (Ita) Tenax
137 Giuseppe Muraglia (Rus) Formaggi Pinzolo Fiave        27.37
138 Nick Gates (Aus) Lotto-Domo
139 Thierry Marichal (Bel) Lotto-Domo                     27.40
140 Seweryn Kohut (Pol) CCC-Polsat                        27.43
141 Crescenzo D'amore (Ita) Tenax                         27.46
142 Salvatore Scamardella (Ita) Landbouwkrediet-Colnago   28.00
143 Robbie McEwen (Aus) Lotto-Domo                        28.10
144 Bradley Wiggins (GBr) FDJeux.com                      28.11
145 Moreno Di Biase (Ita) Formaggi Pinzolo Fiave          28.17
146 Hector O. Mesa Mesa (Col) Formaggi Pinzolo Fiave      28.18
147 Sergei Lelekin (Rus) Tenax                            28.21
148 Mirko Marini (Ita) Tenax
149 Bogdan Bondariew (Ukr) CCC-Polsat                     28.23
150 Marcel Strauss (Swi) Gerolsteiner                     28.25
151 Ivan Ravaioli (Ita) Mercatone Uno - Scanavino
152 Luca De Angeli (Ita) Colombia-Selle Italia            28.26
153 Lars Ytting Bak (Den) Team fakta-Pata Chips           28.34
DNF Elio Aggiano (Ita) Formaggi Pinzolo Fiave 
DNF Carlos Garcia Quesada (Spa) Kelme-Costa Blanca
DNF Cristian Moreni (Ita) Alessio
DNF Paolo Tiralongo (Ita) Ceramiche Panaria-Fiordo
DNF Mykhaylo Khalilov (Ukr) Colombia-Selle Italia
DNS Mario Cipollini (Ita) Domina Vacanze-Elitron
DNS Isaac Galvez (Spa) Kelme-Costa Blanca
 
Points
 
1 Gilberto Simoni (Ita) Team Saeco                           25 pts
2 Stefano Garzelli (Ita) Vini Caldirola-SO.DI                20
3 Francesco Casagrande (Ita) Lampre                          16
4 Yaroslav Popovych (Ukr) Landbouwkrediet-Colnago            14
5 Marco Pantani (Ita) Mercatone Uno - Scanavino              12
6 Julio A. Perez Cuapio (Mex) Ceramiche Panaria-Fiordo       10
7 Andrea Noe' (Ita) Alessio                                   9
8 Eddy Mazzoleni (Ita) Vini Caldirola-SO.DI                   8
9 Fortunato Baliani (Ita) Formaggi Pinzolo Fiave              8
10 Aitor Gonzalez Jimenez (Spa) Fassa Bortolo                 7
11 Kim Kirchen (Lux) Fassa Bortolo                            6
12 Ignacio Gutierrez Cataluna (Spa) Kelme-Costa Blanca        6
13 Michele Scarponi (Ita) Domina Vacanze-Elitron              5
14 Dario Frigo (Ita) Fassa Bortolo                            4
15 Bo Hamburger (Den) Formaggi Pinzolo Fiave                  4
16 Raimondas Rumsas (Ltu) Lampre                              3
17 Sergiy Adyeyev (Ukr) Landbouwkrediet-Colnago               3
18 Georg Totschnig (Aut) Gerolsteiner                         2
19 John Freddy Garcia (Col) Colombia-Selle Italia             2
20 Wladimir Belli (Ita) Lampre                                1
21 Mauro Zanetti (Ita) Tenax                                  1
 
Mountains
 
Fuessa - km 134,9
 
1 Marzio Bruseghin (Ita) Fassa Bortolo                       10 pts
2 Fredy Gonzalez (Col) Colombia-Selle Italia                  6
3 Constantino Zaballa Gutierez (Spa) Kelme-Costa Blanca       4
4 Pietro Caucchioli (Ita) Alessio                             2
5 Wladimir Belli (Ita) Lampre                                 1
 
Sella Valcalda - km 168,7
 
1 Marzio Bruseghin (Ita) Fassa Bortolo                        5 pts
2 Fredy Gonzalez (Col) Colombia-Selle Italia                  3
3 Adolfo Garcia Quesada (Spa) Kelme-Costa Blanca              1
 
Monte Zoncolan - km 188
 
1 Gilberto Simoni (Ita) Team Saeco                           15 pts
2 Stefano Garzelli (Ita) Vini Caldirola-SO.DI                10
3 Francesco Casagrande (Ita) Lampre                           6
4 Yaroslav Popovych (Ukr) Landbouwkrediet-Colnago             4
5 Marco Pantani (Ita) Mercatone Uno - Scanavino               2
 
Intergiro
 
1 Fortunato Baliani (Ita) Formaggi Pinzolo Fiave       1.49.38
2 Ignacio Gutierrez Cataluna (Spa) Kelme-Costa Blanca
3 Bo Hamburger (Den) Formaggi Pinzolo Fiave
4 Sergiy Adyeyev (Ukr) Landbouwkrediet-Colnago
5 John Freddy Garcia (Col) Colombia-Selle Italia
6 Mauro Zanetti (Ita) Tenax
7 Leonardo Giordani (Ita) De Nardi-Colpack
8 Ruber Alverio Marin (Col) Colombia-Selle Italia
9 Rodolfo Massi (Ita) Colombia-Selle Italia
10 Joaquim Castelblanco (Col) Colombia-Selle Italia
 
Most combative
 
1 Marzio Bruseghin (Ita) Fassa Bortolo                        7 pts
2 Gilberto Simoni (Ita) Team Saeco                            6
3 Stefano Garzelli (Ita) Vini Caldirola-SO.DI                 5
4 Fredy Gonzalez (Col) Colombia-Selle Italia                  5
5 Fortunato Baliani (Ita) Formaggi Pinzolo Fiave              5
6 Francesco Casagrande (Ita) Lampre                           4
7 Ignacio Gutierrez Cataluna (Spa) Kelme-Costa Blanca         4
8 Yaroslav Popovych (Ukr) Landbouwkrediet-Colnago             3
9 Bo Hamburger (Den) Formaggi Pinzolo Fiave                   3
10 Marco Pantani (Ita) Mercatone Uno - Scanavino              2
11 Constantino Zaballa Gutierez (Spa) Kelme-Costa Blanc       2
12 Sergiy Adyeyev (Ukr) Landbouwkrediet-Colnago               2
13 Julio A. Perez Cuapio (Mex) Ceramiche Panaria-Fiordo       1
14 Adolfo Garcia Quesada (Spa) Kelme-Costa Blanca             1
15 Pietro Caucchioli (Ita) Alessio                            1
16 John Freddy Garcia (Col) Colombia-Selle Italia             1
 
Azzurri d'Italia
 
1 Gilberto Simoni (Ita) Team Saeco                            4 pts
2 Stefano Garzelli (Ita) Vini Caldirola-SO.DI                 2
3 Francesco Casagrande (Ita) Lampre                           1
 
Trofeo Fuga Piaggio
 
1 Ignacio Gutierrez Cataluna (Spa) Kelme-Costa Blanca        89 pts
2 Fortunato Baliani (Ita) Formaggi Pinzolo Fiave             89
3 Sergiy Adyeyev (Ukr) Landbouwkrediet-Colnago               87
4 Bo Hamburger (Den) Formaggi Pinzolo Fiave                  87
5 Mauro Zanetti (Ita) Tenax                                  81
6 John Freddy Garcia (Col) Colombia-Selle Italia             50
7 Marzio Bruseghin (Ita) Fassa Bortolo                       47
8 Wladimir Belli (Ita) Lampre                                 5
 
Trofeo Fast Team
 
1 Lampre                                               15.36.03
2 Fassa Bortolo                                            0.15
3 Mercatone Uno-Scanavino                                  2.42
4 Alessio                                                  4.48
5 Team Saeco                                               8.18
6 Vini Caldirola-SO.DI                                     9.10
7 CCC Polsat
8 Gerolsteiner                                            11.58
9 Ceramiche Panaria-Fiordo                                14.06
10 De Nardi-Colpack                                       16.28
11 Kelme-Costa Blanca                                     17.28
12 Landbouwkrediet-Colnago                                20.37
13 Colombia-Selle Italia                                  27.44
14 FDJeux.com                                             28.50
15 Domina Vacanze-Elitron                                 32.15
16 Team fakta-Pata Chips                                  32.37
17 Tenax                                                  41.44
18 Formaggi Pinzolo Fiave'-Ciarrocchi                     44.48
19 Lotto-Domo                                             57.51
 
Trofeo Super Team
 
1 Vini Caldirola-SO.DI                                       32 pts
2 Lampre                                                     32
3 Fassa Bortolo                                              32
4 Team Saeco                                                 20
5 Mercatone Uno-Scanavino                                    19
6 Alessio                                                    18
7 Landbouwkrediet-Colnago                                    17
8 Ceramiche Panaria-Fiordo                                   15
9 Domina Vacanze-Elitron                                     10
10 Gerolsteiner                                               7
11 De Nardi-Colpack                                           5
12 CCC Polsat                                                 3
13 Team fakta-Pata Chips                                      0
14 FDJeux.com                                                 0
15 Kelme-Costa Blanca                                         0
16 Formaggi Pinzolo Fiave'-Ciarrocchi                         0
17 Lotto-Domo                                                 0
18 Tenax                                                      0
19 Colombia-Selle Italia                                      0
 
General classification after stage 12
 
1 Gilberto Simoni (Ita) Team Saeco                     57.20.18
2 Stefano Garzelli (Ita) Vini Caldirola-SO.DI              0.44
3 Andrea Noe' (Ita) Alessio                                2.23
4 Yaroslav Popovych (Ukr) Landbouwkrediet-Colnago          3.00
5 Francesco Casagrande (Ita) Lampre                        4.14
6 Raimondas Rumsas (Ltu) Lampre                            4.20
7 Georg Totschnig (Aut) Gerolsteiner                       4.42
8 Franco Pellizotti (Ita) Alessio                          4.49
9 Marco Pantani (Ita) Mercatone Uno - Scanavino            5.56
10 Pavel Tonkov (Rus) CCC-Polsat                           6.37
11 Wladimir Belli (Ita) Lampre                             6.43
12 Michele Scarponi (Ita) Domina Vacanze-Elitron           7.03
13 Serguei Gontchar (Ukr) De Nardi-Colpack                 7.27
14 Dariusz Baranowski (Pol) CCC-Polsat                     8.24
15 Giuliano Figueras (Ita) Ceramiche Panaria-Fiordo        8.31
16 Massimo Codol (Ita) Mercatone Uno - Scanavino           8.57
17 Dario Frigo (Ita) Fassa Bortolo                         9.52
18 Marco Velo (Ita) Fassa Bortolo                          9.57
19 Eddy Mazzoleni (Ita) Vini Caldirola-SO.DI              10.58
20 Leonardo Bertagnolli (Ita) Team Saeco                  12.53
21 Marzio Bruseghin (Ita) Fassa Bortolo                   13.23
22 Julio A. Perez Cuapio (Mex) Ceramiche Panaria-Fiordo   13.33
23 Gianni Faresin (Ita) Gerolsteiner                      14.41
24 Aitor Gonzalez Jimenez (Spa) Fassa Bortolo             15.02
25 Adolfo Garcia Quesada (Spa) Kelme-Costa Blanca         15.10
26 Sandy Casar (Fra) FDJeux.com                           16.24
27 Kim Kirchen (Lux) Fassa Bortolo                        16.42
28 Pietro Caucchioli (Ita) Alessio                        17.05
29 Luis F. Laverde Jimenez (Col) Formaggi Pinzolo Fiave   17.22
30 Graziano Gasparre (Ita) De Nardi-Colpack               19.51
31 Radoslaw Romanik (Pol) CCC-Polsat                      19.57
32 Gerhard Trampusch (Aut) Gerolsteiner                   21.28
33 Vladimir Miholievic (Cro) Alessio                      22.23
34 Fredy Gonzalez (Col) Colombia-Selle Italia             22.46
35 Sylvester Szmyd (Pol) Mercatone Uno - Scanavino        22.55
36 Dario David Cioni (Ita) Fassa Bortolo                  23.32
37 Thomas Brozyna (Pol) CCC-Polsat                        24.05
38 Scott Sunderland (Aus) Team fakta-Pata Chips           24.19
39 Hernan D. Munoz (Col) Colombia-Selle Italia            24.31
40 Ignacio Gutierrez Cataluna (Spa) Kelme-Costa Blanca    26.01
41 Denis Lunghi (Ita) Alessio                             26.29
42 Joaquim Castelblanco (Col) Colombia-Selle Italia       26.49
43 Vladimir Duma (Ukr) Landbouwkrediet-Colnago            27.23
44 Paolo Lanfranchi (Ita) Ceramiche Panaria-Fiordo        27.26
45 Damiano Cunego (Ita) Team Saeco                        28.04
46 Marius Sabaliauskas (Ltu) Team Saeco                   28.21
47 Constantino Zaballa Gutierez (Spa) Kelme-Costa Blanc   29.10
48 Francesco Vila Errandonea (Spa) Lampre                 29.25
49 Daniel Clavero (Spa) Mercatone Uno - Scanavino         31.38
50 Cristian Gasperoni (Ita) Mercatone Uno - Scanavino     33.28
51 Kurt Asle Arvesen (Nor) Team fakta-Pata Chips          34.43
52 Alexis Rodriguez (Spa) Kelme-Costa Blanca              34.45
53 Steve Zampieri (Swi) Vini Caldirola-SO.DI              35.53
54 Koos Moerenhout (Ned) Lotto-Domo                       37.31
55 Matteo Carrara (Ita) De Nardi-Colpack                  37.41
56 Andrea Tonti (Ita) Team Saeco                          40.49
57 Leonardo Zanotti (Ita) De Nardi-Colpack                40.58
58 Alessandro Spezialetti (Ita) Team Saeco                41.24
59 Sergio Barbero (Ita) Lampre                            42.04
60 Luca Mazzanti (Ita) Ceramiche Panaria-Fiordo           42.08
61 Roberto Conti (Ita) Mercatone Uno - Scanavino          42.37
62 Gabriele Colombo (Ita) Domina Vacanze-Elitron          43.30
63 Bo Hamburger (Den) Formaggi Pinzolo Fiave              43.42
64 Sergiy Adyeyev (Ukr) Landbouwkrediet-Colnago           43.45
65 Fortunato Baliani (Ita) Formaggi Pinzolo Fiave         44.04
66 Nicolas Fritsch (Fra) FDJeux.com                       45.01
67 Piotr Chmielewski (Pol) CCC-Polsat                     46.16
68 David Derepas (Fra) FDJeux.com                         46.37
69 Daniele Pietropolli (Ita) Tenax                        46.45
70 Bernhard Eisel (Aut) FDJeux.com                        48.47
71 Rinaldo Nocentini (Ita) Formaggi Pinzolo Fiave         52.26
72 Charles Wegelius (GBr) De Nardi-Colpack                53.16
73 Fabio Sacchi (Ita) Team Saeco                          58.34
74 Hector O. Mesa Mesa (Col) Formaggi Pinzolo Fiave       59.10
75 Jorgen Bo Petersen (Den) Team fakta-Pata Chips         59.42
76 Gian Paolo Cheula (Ita) Vini Caldirola-SO.DI         1.00.25
77 Mauro Zanetti (Ita) Tenax                            1.00.33
78 Volodimir Bileka (Ukr) Landbouwkrediet-Colnago       1.01.09
79 Carlos Dacruz (Fra) FDJeux.com                       1.02.25
80 Ronny Scholz (Ger) Gerolsteiner                      1.02.43
81 Raffaele Illiano (Ita) Colombia-Selle Italia         1.02.50
82 Mario Manzoni (Ita) Mercatone Uno - Scanavino        1.03.25
83 Oscar Pozzi (Ita) Tenax                              1.03.45
84 Alessandro Petacchi (Ita) Fassa Bortolo              1.04.27
85 Fabio Baldato (Ita) Alessio                          1.05.00
86 Uwe Hardter (Ger) Gerolsteiner                       1.06.15
87 Tom Stremersch (Bel) Landbouwkrediet-Colnago         1.06.51
88 Cristiano Frattini (Ita) Tenax                       1.06.53
89 Paolo Fornaciari (Ita) Team Saeco                    1.07.32
90 Giuseppe Palumbo (Ita) De Nardi-Colpack              1.08.00
91 Steffen Weigold (Ger) Gerolsteiner                   1.08.14
92 Magnus Backstedt (Swe) Team fakta-Pata Chips         1.08.22
93 Robbie McEwen (Aus) Lotto-Domo                       1.08.41
94 Ruslan Gryschenko (Ukr) Landbouwkrediet-Colnago      1.09.41
95 Scott Davis (Aus) Ceramiche Panaria-Fiordo           1.10.25
96 Giuseppe Muraglia (Rus) Formaggi Pinzolo Fiave       1.11.20
97 Giovanni Lombardi (Ita) Domina Vacanze-Elitron       1.14.32
98 Simone Bertoletti (Ita) Lampre                       1.15.19
99 Rodolfo Massi (Ita) Colombia-Selle Italia            1.15.57
100 Juilian Winn (GBr) Team fakta-Pata Chips            1.15.58
101 Lorenzo Bernucci (Ita) Landbouwkrediet-Colnago      1.17.29
102 Daniele Bennati (Ita) Domina Vacanze-Elitron        1.18.30
103 Fabiano Fontanelli (Ita) Mercatone Uno - Scanavino  1.18.50
104 Marcel Strauss (Swi) Gerolsteiner                   1.19.29
105 Michele Gobbi (Ita) De Nardi-Colpack                1.20.34
106 Manuel Quinziato (Ita) Lampre                       1.21.32
107 Julian Usano Martinez (Spa) Kelme-Costa Blanca      1.22.53
108 Mario Scirea (Ita) Domina Vacanze-Elitron           1.23.34
109 Ruber Alverio Marin (Col) Colombia-Selle Italia     1.23.48
110 Jan Svorada (Cze) Lampre                            1.23.49
111 Mauro Gerosa (Ita) Vini Caldirola-SO.DI             1.24.06
112 Gianluca Tonetti (Ita) Tenax                        1.25.06
113 Seweryn Kohut (Pol) CCC-Polsat                      1.25.13
114 Leonardo Giordani (Ita) De Nardi-Colpack            1.25.45
115 Alberto Ongarato (Ita) Domina Vacanze-Elitron       1.26.29
116 Dario Andriotto (Ita) Vini Caldirola-SO.DI          1.27.19
117 Frank Hoj (Den) Team fakta-Pata Chips               1.27.37
118 Jordi Riera Valls (Spa) Kelme-Costa Blanca          1.28.56
119 Biagio Conte (Ita) Formaggi Pinzolo Fiave           1.29.14
120 Rene' Joergensen (Den) Team fakta-Pata Chips        1.29.36
121 Angelo Furlan (Ita) Alessio                         1.31.39
122 Frederic Guesdon (Fra) FDJeux.com                   1.33.03
123 Lars Ytting Bak (Den) Team fakta-Pata Chips         1.33.53
124 Johan Verstrepen (Bel) Landbouwkrediet-Colnago      1.35.58
125 Dario Pieri (Ita) Team Saeco                        1.37.32
126 Andrus Aug (Est) De Nardi-Colpack                   1.38.20
127 Kevin Van Impe (Bel) Lotto-Domo                     1.38.32
128 Matteo Tosatto (Ita) Fassa Bortolo                  1.38.38
129 John Freddy Garcia (Col) Colombia-Selle Italia      1.39.10
130 Robert Forster (Ger) Gerolsteiner                   1.39.27
131 Werner Riebenbauer (Aut) Team fakta-Pata Chips      1.41.06
132 Graeme Brown (Aus) Ceramiche Panaria-Fiordo         1.41.16
133 Guido Trenti (USA) Fassa Bortolo                    1.42.12
134 Massimo Apollonio (Ita) Vini Caldirola-SO.DI        1.42.19
135 Nick Gates (Aus) Lotto-Domo                         1.43.17
136 Regis Lhuillier (Fra) FDJeux.com                    1.43.31
137 Luca De Angeli (Ita) Colombia-Selle Italia          1.43.41
138 Sergei Lelekin (Rus) Tenax                          1.44.03
139 Gabriele Balducci (Ita) Vini Caldirola-SO.DI        1.44.26
140 Jimmy Casper (Fra) FDJeux.com                       1.44.32
141 Crescenzo D'amore (Ita) Tenax                       1.44.52
142 Ief Verbrugghe (Bel) Lotto-Domo                     1.44.58
143 Salvatore Scamardella (Ita) Landbouwkrediet-Colnago 1.45.13
144 Francesco Secchiari (Ita) Domina Vacanze-Elitron    1.45.34
145 Martin Hvastija (Slo) Tenax                         1.46.01
146 Gert Steegmans (Bel) Lotto-Domo                     1.46.07
147 Thierry Marichal (Bel) Lotto-Domo                   1.46.12
148 Bradley Wiggins (GBr) FDJeux.com                    1.46.26
149 Mirko Marini (Ita) Tenax                            1.46.52
150 Moreno Di Biase (Ita) Formaggi Pinzolo Fiave        1.47.18
151 Gianpaolo Mondini (Ita) Domina Vacanze-Elitron      1.47.46
152 Bogdan Bondariew (Ukr) CCC-Polsat                   1.55.30
153 Ivan Ravaioli (Ita) Mercatone Uno - Scanavino       1.56.36
 
Points classification
 
1 Alessandro Petacchi (Ita) Fassa Bortolo                   158 pts
2 Robbie McEwen (Aus) Lotto-Domo                            114
3 Stefano Garzelli (Ita) Vini Caldirola-SO.DI                91
4 Jan Svorada (Cze) Lampre                                   77
5 Gilberto Simoni (Ita) Team Saeco                           75
6 Bernhard Eisel (Aut) FDJeux.com                            60
7 Magnus Backstedt (Swe) Team fakta-Pata Chips               56
8 Francesco Casagrande (Ita) Lampre                          54
9 Kurt Asle Arvesen (Nor) Team fakta-Pata Chips              40
10 Graziano Gasparre (Ita) De Nardi-Colpack                  34
11 Giovanni Lombardi (Ita) Domina Vacanze-Elitron            33
12 Andrea Noe' (Ita) Alessio                                 32
13 Gabriele Colombo (Ita) Domina Vacanze-Elitron             32
14 Yaroslav Popovych (Ukr) Landbouwkrediet-Colnago           31
15 Moreno Di Biase (Ita) Formaggi Pinzolo Fiave              30
16 Giuliano Figueras (Ita) Ceramiche Panaria-Fiordo          30
17 Angelo Furlan (Ita) Alessio                               30
18 Fabio Baldato (Ita) Alessio                               29
19 Graeme Brown (Aus) Ceramiche Panaria-Fiordo               28
20 Franco Pellizotti (Ita) Alessio                           26
21 Crescenzo D'amore (Ita) Tenax                             26
22 Vladimir Duma (Ukr) Landbouwkrediet-Colnago               24
23 Dario Pieri (Ita) Team Saeco                              24
24 Jimmy Casper (Fra) FDJeux.com                             22
25 Michele Scarponi (Ita) Domina Vacanze-Elitron             22
26 Marco Velo (Ita) Fassa Bortolo                            22
27 Mykhaylo Khalilov (Ukr) Colombia-Selle Italia             21
28 Constantino Zaballa Gutierez (Spa) Kelme-Costa Blanc      20
29 Marco Pantani (Ita) Mercatone Uno - Scanavino             20
30 Eddy Mazzoleni (Ita) Vini Caldirola-SO.DI                 20
31 Daniele Bennati (Ita) Domina Vacanze-Elitron              18
32 Fredy Gonzalez (Col) Colombia-Selle Italia                16
33 Julio A. Perez Cuapio (Mex) Ceramiche Panaria-Fiordo      16
34 Sandy Casar (Fra) FDJeux.com                              15
35 Leonardo Bertagnolli (Ita) Team Saeco                     15
36 Kim Kirchen (Lux) Fassa Bortolo                           15
37 Bo Hamburger (Den) Formaggi Pinzolo Fiave                 15
38 Georg Totschnig (Aut) Gerolsteiner                        14
39 Pavel Tonkov (Rus) CCC-Polsat                             14
40 Fabio Sacchi (Ita) Team Saeco                             14
41 Werner Riebenbauer (Aut) Team fakta-Pata Chips            14
42 Gerhard Trampusch (Aut) Gerolsteiner                      13
43 Raimondas Rumsas (Ltu) Lampre                             12
44 Ignacio Gutierrez Cataluna (Spa) Kelme-Costa Blanca       12
45 Fabiano Fontanelli (Ita) Mercatone Uno - Scanavino        11
46 Dario Frigo (Ita) Fassa Bortolo                           10
47 Paolo Lanfranchi (Ita) Ceramiche Panaria-Fiordo           10
48 Marius Sabaliauskas (Ltu) Team Saeco                      10
49 Giuseppe Palumbo (Ita) De Nardi-Colpack                   10
50 Andrus Aug (Est) De Nardi-Colpack                         10
51 Guido Trenti (USA) Fassa Bortolo                          10
52 Lars Ytting Bak (Den) Team fakta-Pata Chips                9
53 Fortunato Baliani (Ita) Formaggi Pinzolo Fiave             8
54 Sergei Lelekin (Rus) Tenax                                 8
55 Serguei Gontchar (Ukr) De Nardi-Colpack                    8
56 Lorenzo Bernucci (Ita) Landbouwkrediet-Colnago             8
57 Aitor Gonzalez Jimenez (Spa) Fassa Bortolo                 7
58 Robert Forster (Ger) Gerolsteiner                          7
59 Gabriele Balducci (Ita) Vini Caldirola-SO.DI               7
60 Vladimir Miholievic (Cro) Alessio                          6
61 Denis Lunghi (Ita) Alessio                                 6
62 Julian Usano Martinez (Spa) Kelme-Costa Blanca             6
63 Mirko Marini (Ita) Tenax                                   6
64 Wladimir Belli (Ita) Lampre                                5
65 Luis F. Laverde Jimenez (Col) Formaggi Pinzolo Fiave       5
66 Piotr Chmielewski (Pol) CCC-Polsat                         5
67 Gianni Faresin (Ita) Gerolsteiner                          4
68 Dario David Cioni (Ita) Fassa Bortolo                      4
69 Luca De Angeli (Ita) Colombia-Selle Italia                 4
70 Martin Hvastija (Slo) Tenax                                4
71 Thomas Brozyna (Pol) CCC-Polsat                            3
72 Sergiy Adyeyev (Ukr) Landbouwkrediet-Colnago               3
73 Raffaele Illiano (Ita) Colombia-Selle Italia               3
74 Oscar Pozzi (Ita) Tenax                                    3
75 Marcel Strauss (Swi) Gerolsteiner                          3
76 Biagio Conte (Ita) Formaggi Pinzolo Fiave                  3
77 Francesco Vila Errandonea (Spa) Lampre                     2
78 Cristiano Frattini (Ita) Tenax                             2
79 John Freddy Garcia (Col) Colombia-Selle Italia             2
80 Marzio Bruseghin (Ita) Fassa Bortolo                       1
81 Matteo Carrara (Ita) De Nardi-Colpack                      1
82 Luca Mazzanti (Ita) Ceramiche Panaria-Fiordo               1
83 Jorgen Bo Petersen (Den) Team fakta-Pata Chips             1
84 Mauro Zanetti (Ita) Tenax                                  1
85 Mario Manzoni (Ita) Mercatone Uno - Scanavino              1
86 Steffen Weigold (Ger) Gerolsteiner                         1
87 Ruslan Gryschenko (Ukr) Landbouwkrediet-Colnago            1
 
Mountains classification
 
1 Fredy Gonzalez (Col) Colombia-Selle Italia                 44 pts
2 Constantino Zaballa Gutierez (Spa) Kelme-Costa Blanca      30
3 Gilberto Simoni (Ita) Team Saeco                           28
4 Stefano Garzelli (Ita) Vini Caldirola-SO.DI                26
5 Marzio Bruseghin (Ita) Fassa Bortolo                       15
6 Ruslan Gryschenko (Ukr) Landbouwkrediet-Colnago             9
7 Francesco Casagrande (Ita) Lampre                           8
8 Andrea Noe' (Ita) Alessio                                   6
9 Yaroslav Popovych (Ukr) Landbouwkrediet-Colnago             4
10 Pavel Tonkov (Rus) CCC-Polsat                              4
11 Carlos Garcia Quesada (Spa) Kelme-Costa Blanca             3
12 Luis F. Laverde Jimenez (Col) Formaggi Pinzolo Fiave       3
13 Marco Pantani (Ita) Mercatone Uno - Scanavino              2
14 Eddy Mazzoleni (Ita) Vini Caldirola-SO.DI                  2
15 Pietro Caucchioli (Ita) Alessio                            2
16 Oscar Pozzi (Ita) Tenax                                    2
17 Magnus Backstedt (Swe) Team fakta-Pata Chips               2
18 Marcel Strauss (Swi) Gerolsteiner                          2
19 Wladimir Belli (Ita) Lampre                                1
20 Adolfo Garcia Quesada (Spa) Kelme-Costa Blanca             1
21 Kurt Asle Arvesen (Nor) Team fakta-Pata Chips              1
22 Paolo Lanfranchi (Ita) Ceramiche Panaria-Fiordo            1
23 Rinaldo Nocentini (Ita) Formaggi Pinzolo Fiave             1
24 Volodimir Bileka (Ukr) Landbouwkrediet-Colnago             1
25 Mykhaylo Khalilov (Ukr) Colombia-Selle Italia              1
 
Intergiro classification
 
1 Moreno Di Biase (Ita) Formaggi Pinzolo Fiave         33.44.32
2 Magnus Backstedt (Swe) Team fakta-Pata Chips             0.14
3 Constantino Zaballa Gutierez (Spa) Kelme-Costa Blanca    1.02
4 Jimmy Casper (Fra) FDJeux.com                            1.04
5 Ignacio Gutierrez Cataluna (Spa) Kelme-Costa Blanca      1.08
6 Jan Svorada (Cze) Lampre                                 1.10
7 Giuseppe Palumbo (Ita) De Nardi-Colpack                  1.15
8 Fortunato Baliani (Ita) Formaggi Pinzolo Fiave           1.26
9 Fredy Gonzalez (Col) Colombia-Selle Italia
10 Sandy Casar (Fra) FDJeux.com
11 Sergei Lelekin (Rus) Tenax
12 Fabiano Fontanelli (Ita) Mercatone Uno - Scanavino      1.29
13 Vladimir Miholievic (Cro) Alessio                       1.32
14 Julian Usano Martinez (Spa) Kelme-Costa Blanca
15 Alessandro Petacchi (Ita) Fassa Bortolo
16 Mirko Marini (Ita) Tenax
17 Kurt Asle Arvesen (Nor) Team fakta-Pata Chips
18 Robert Forster (Ger) Gerolsteiner                       1.34
19 Bo Hamburger (Den) Formaggi Pinzolo Fiave               1.38
20 Gianni Faresin (Ita) Gerolsteiner
 
Most combative classification
 
1 Alessandro Petacchi (Ita) Fassa Bortolo                    47 pts
2 Fredy Gonzalez (Col) Colombia-Selle Italia                 32
3 Constantino Zaballa Gutierez (Spa) Kelme-Costa Blanca      27
4 Robbie McEwen (Aus) Lotto-Domo                             26
5 Magnus Backstedt (Swe) Team fakta-Pata Chips               23
6 Stefano Garzelli (Ita) Vini Caldirola-SO.DI                19
7 Gilberto Simoni (Ita) Team Saeco                           17
8 Moreno Di Biase (Ita) Formaggi Pinzolo Fiave               17
9 Jan Svorada (Cze) Lampre                                   15
10 Kurt Asle Arvesen (Nor) Team fakta-Pata Chips             11
11 Francesco Casagrande (Ita) Lampre                         10
12 Bernhard Eisel (Aut) FDJeux.com                           10
13 Jimmy Casper (Fra) FDJeux.com                              8
14 Ignacio Gutierrez Cataluna (Spa) Kelme-Costa Blanca        8
15 Marzio Bruseghin (Ita) Fassa Bortolo                       7
16 Gabriele Colombo (Ita) Domina Vacanze-Elitron              7
17 Fabio Baldato (Ita) Alessio                                6
18 Giuliano Figueras (Ita) Ceramiche Panaria-Fiordo           6
19 Ruslan Gryschenko (Ukr) Landbouwkrediet-Colnago            6
20 Angelo Furlan (Ita) Alessio                                6
21 Sandy Casar (Fra) FDJeux.com                               5
22 Fortunato Baliani (Ita) Formaggi Pinzolo Fiave             5
23 Sergei Lelekin (Rus) Tenax                                 5
24 Giuseppe Palumbo (Ita) De Nardi-Colpack                    5
25 Mykhaylo Khalilov (Ukr) Colombia-Selle Italia              5
26 Andrea Noe' (Ita) Alessio                                  4
27 Vladimir Miholievic (Cro) Alessio                          4
28 Giovanni Lombardi (Ita) Domina Vacanze-Elitron             4
29 Fabiano Fontanelli (Ita) Mercatone Uno - Scanavino         4
30 Julian Usano Martinez (Spa) Kelme-Costa Blanca             4
31 Crescenzo D'amore (Ita) Tenax                              4
32 Mirko Marini (Ita) Tenax                                   4
33 Yaroslav Popovych (Ukr) Landbouwkrediet-Colnago            3
34 Franco Pellizotti (Ita) Alessio                            3
35 Pavel Tonkov (Rus) CCC-Polsat                              3
36 Marco Velo (Ita) Fassa Bortolo                             3
37 Leonardo Bertagnolli (Ita) Team Saeco                      3
38 Gianni Faresin (Ita) Gerolsteiner                          3
39 Dario David Cioni (Ita) Fassa Bortolo                      3
40 Bo Hamburger (Den) Formaggi Pinzolo Fiave                  3
41 Oscar Pozzi (Ita) Tenax                                    3
42 Robert Forster (Ger) Gerolsteiner                          3
43 Martin Hvastija (Slo) Tenax                                3
44 Marco Pantani (Ita) Mercatone Uno - Scanavino              2
45 Eddy Mazzoleni (Ita) Vini Caldirola-SO.DI                  2
46 Luis F. Laverde Jimenez (Col) Formaggi Pinzolo Fiave       2
47 Thomas Brozyna (Pol) CCC-Polsat                            2
48 Paolo Lanfranchi (Ita) Ceramiche Panaria-Fiordo            2
49 Sergiy Adyeyev (Ukr) Landbouwkrediet-Colnago               2
50 Raffaele Illiano (Ita) Colombia-Selle Italia               2
51 Daniele Bennati (Ita) Domina Vacanze-Elitron               2
52 Biagio Conte (Ita) Formaggi Pinzolo Fiave                  2
53 Graeme Brown (Aus) Ceramiche Panaria-Fiordo                2
54 Michele Scarponi (Ita) Domina Vacanze-Elitron              1
55 Julio A. Perez Cuapio (Mex) Ceramiche Panaria-Fiordo       1
56 Adolfo Garcia Quesada (Spa) Kelme-Costa Blanca             1
57 Pietro Caucchioli (Ita) Alessio                            1
58 Vladimir Duma (Ukr) Landbouwkrediet-Colnago                1
59 Marius Sabaliauskas (Ltu) Team Saeco                       1
60 Francesco Vila Errandonea (Spa) Lampre                     1
61 Rinaldo Nocentini (Ita) Formaggi Pinzolo Fiave             1
62 Fabio Sacchi (Ita) Team Saeco                              1
63 Cristiano Frattini (Ita) Tenax                             1
64 Marcel Strauss (Swi) Gerolsteiner                          1
65 John Freddy Garcia (Col) Colombia-Selle Italia             1
66 Guido Trenti (USA) Fassa Bortolo                           1
 
Azzurri d'Italia classification
 
1 Alessandro Petacchi (Ita) Fassa Bortolo                    19 pts
2 Robbie McEwen (Aus) Lotto-Domo                             12
3 Stefano Garzelli (Ita) Vini Caldirola-SO.DI                10
4 Gilberto Simoni (Ita) Team Saeco                            7
5 Kurt Asle Arvesen (Nor) Team fakta-Pata Chips               4
6 Fabio Baldato (Ita) Alessio                                 4
7 Francesco Casagrande (Ita) Lampre                           3
8 Gabriele Colombo (Ita) Domina Vacanze-Elitron               2
9 Bernhard Eisel (Aut) FDJeux.com                             2
10 Andrea Noe' (Ita) Alessio                                  1
11 Giuliano Figueras (Ita) Ceramiche Panaria-Fiordo           1
12 Jan Svorada (Cze) Lampre                                   1
13 Angelo Furlan (Ita) Alessio                                1
14 Crescenzo D'amore (Ita) Tenax                              1
 
Trofeo Fast Team classification
 
1 Lampre                                              172.15.21
2 Alessio                                                  5.57
3 Team Saeco                                               8.03
4 Fassa Bortolo                                            9.45
5 Mercatone Uno-Scanavino                                 15.27
6 CCC Polsat                                              18.18
7 Ceramiche Panaria-Fiordo                                21.18
8 Vini Caldirola-SO.DI                                    25.15
9 Gerolsteiner                                            26.09
10 Kelme-Costa Blanca                                     30.02
11 De Nardi-Colpack                                       33.27
12 Landbouwkrediet-Colnago                                42.55
13 Colombia-Selle Italia                                  53.01
14 FDJeux.com                                           1.09.19
15 Team fakta-Pata Chips                                1.12.11
16 Formaggi Pinzolo Fiave'-Ciarrocchi                   1.17.30
17 Domina Vacanze-Elitron                               1.41.38
18 Tenax                                                1.52.44
19 Lotto-Domo                                           2.43.28
 
Trofeo Super Team classification
 
1 Fassa Bortolo                                             295 pts
2 Domina Vacanze-Elitron                                    248
3 Lampre                                                    214
4 Alessio                                                   209
5 Team Saeco                                                186
6 Ceramiche Panaria-Fiordo                                  160
7 Team fakta-Pata Chips                                     142
8 Vini Caldirola-SO.DI                                      140
9 Landbouwkrediet-Colnago                                   116
10 Lotto-Domo                                               114
11 Gerolsteiner                                             105
12 FDJeux.com                                               105
13 De Nardi-Colpack                                         104
14 Kelme-Costa Blanca                                        95
15 Mercatone Uno-Scanavino                                   73
16 Colombia-Selle Italia                                     62
17 CCC Polsat                                                60
18 Tenax                                                     47
19 Formaggi Pinzolo Fiave'-Ciarrocchi                        45