A quick chat with Madeleine Lindberg
Grand Boucle stage winner
Swedish former road race champion Madeleine Lindberg is in France riding the Grand Boucle Féminine with her Farm Frites-Hartol team. After her hard-fought victory in stage 4 she spoke to Cyclingnews correspondent Gabriella Ekström about the win, her career and her plans for the next few years.
Warming up
Photo: © Patrick Serra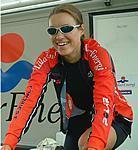 Three times Swedish RR Champion Madeleine Lindberg is in the car on her way to the hotel when I get hold of her.
"It's a long transport to the hotel today, 300 km!" says Lindberg.
I say that it sounds like something the Tour the France male riders wouldn't have liked.
"No, they wouldn't fancy that at all," Lindberg muses. "But I'm stuck right here where I am, and to be honest, right now it doesn't feel like such a great sacrifice."
Cyclingnews: So tell us about today's stage.
Madeleine Lindberg: To start with, we had a 20 kilometre master start [a neutral zone - Ed]. They like to do that in the Tour Féminine. After the master start the stage was another 160 kilometres, so we've had a long day today. We wanted to get someone in a break. I felt good yesterday already, but didn't get the chance then. Today there was a climb after 60 k's and after that a girl from Edilsavino [Chyzynova - Ed] attacked. I followed her, and after a while we reached Ghita Beltman, who had attacked some 20 k's earlier.
In mufti
Photo: © Patrick Serra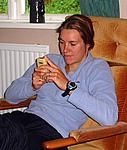 There was still a fair bit to go, and with 50 or 60 kilometres still to go, Beltman stopped taking turns. We had a gap around nine minutes then, and I was the virtual leader. She got worried and stopped working. I told her that there was no need to be afraid of me taking the leader's jersey. I just wanted to race for this stage, but she still wouldn't help us. Then Irina Chyzynova got on my wheel too. I pulled alone for another ten or fifteen k's. It was pretty windy, so I tried to ride in a way that would make hem take as much wind as possible. I must say I had some great support by Mike [Zijlaard - Ed] in the car behind. He is a very good coach, and it made me worry less. I tried to attack the other girls, but couldn't get away. With 500 to go, Chyzynova started the sprint, and I easily got on her wheel and could then win the sprint.
CN: In Sweden you are a well know cyclist after all your success. How are you being recognised when racing abroad? Did you feel like you needed this win?
ML: My real breakthrough was the World Championship bronze in Plouay, but this victory was equally great, if not even better. I've had such a bad time with all my crashes, so it's easy to start feeling a bit insecure.
CN: You've had some really bad crashes. How do you manage to get through it?
With team leader Leontien Van Moorsel
Photo: © Patrick Serra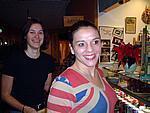 ML: Crashes, yeah! Two HARD crashes. It has been hard getting back, but I've had great support from my team. I knew I had their support no matter what my decision would be. They wanted me to quit if I felt that my health was endangered, but I told them that rest was all that I needed. Mike and Leontien understood, and I was able to train as I wanted in order to prepare for the Tour and the World's.
CN: I take it the World's is a big goal this season?
ML: Yes, It's the end of the season and the Swedish girls are really strong. Susanne Ljungskog and Jenny Algelid have been really strong this year, and I think we have a pretty good chance there.
CN: Talking about the World's, you girls have a new coach now. Your old national coach, Hans Falk, has stepped back in favour of former pro cyclist Glenn Magnusson. What's your opinion about working with Glenn?
Rolling
Photo: © Patrick Serra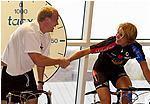 ML: Oh, it's positive. He is on his way down to the Tour now I think. It's a good thing to have a new leader, because there have been problems in the women's team before, problems that have to be forgotten. Glenn has a lot of racing experience and a lot of good ideas. We definitely have to leave the problems that took so much of our energy away, behind us. We are way to good to waste our energy on such things. We are good enough to make results in the Worlds and later on, in the Olympics.
CN: A long term goal of yours?
ML: Yes. Since we didn't qualify for the Olympics in Sydney, I had to make Athens kind of a long term goal. After Athens I might be too old to keep racing anyway.