Results and Reports from the USA
Promoters wishing to submit results should send them to cyclingnews
Lou Maltese Memorial
Central Park, NYC, July 10, 2004
By John Tomlinson, Century Road Club Association
Karen Ulrich
Photo ©: Andy Shen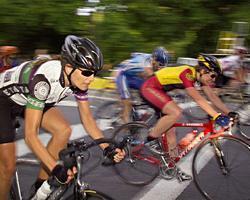 Beautiful weather greeted riders for the 2004 Lou Maltese Memorial Race held in New York City's Central Park on July 10. The event is named in honor of local racing pioneer Lou Maltese.
In the juniors and espoirs race, a break of four got away early. One rider dropped off, leaving espoirs Andrew Guptill and Lee Rosenthal of CRCA/Sakonnet Technology and Lisban Quintero of Cuevas out front and gaining almost a minute on the field. All three had raced the pro-1-2 field at the Fitchburg-Longsjo Classic the previous weekend, with Quintero getting an outstanding 4th on a stage there. The Cuevas rider resisted attacks from the Sakonnet pair to win. The juniors largely stayed together in the field, with Kirk Carlsen of New Hampshire's Heart of New England CC first junior over the line.
The big cat 4 men's field.
Photo ©: Marco Quezada

In the women's race, Brooke Wilson of Somerset Wheelman repeated the powerful sprint she had demonstrated in the criterium at Fitchburg, beating out Ellen Moses of CRCA/Foundation (in her first race as a 3) and Jane Berger CRCA/Aquafina. The CRCA/Aquafina team organizes the Aquafina NY State Women's 3/4 Race Series, of which this race was round 3. The first category 4 woman was Hannah Long of CRCA/Sanchez/Metro who was actually second woman over the line - all women and girls raced together. Nina Santiago of Liberty Cycle was first junior girl.
After some short-lived breaks the men's 4 race came down to a field sprint showdown between two riders who have been dueling all season -- Anthony "Ricky" Lowe of CRCA/VisitBritain and Lorenzo Cavallaro of CRCA/Merrill Lynch/Stelvio Teamwear, with Lowe getting a great lead out from his team to win.
The next big event in Central Park will be the Mengoni Grand Prix for elite riders on September 25.
Photography
Images by Andy Shen/www.mlracingteam.com
Images by Marco Quezada/www.mlracingteam.com
Results

Espoirs 
 
1 Lisban Quintero (Cuevas)                                     
2 Lee Rosenthal (CRCA/Sakonnet Technology)                     
3 Andrew Guptill (CRCA/Sakonnet Technology)                0.12
4 Anthony Vasilas                                          0.49
5 Luis Perez (CRCA/Sakonnet Technology)                        
7 Christopher R Chesebro (Liberty Cycle)                   0.55
6 Paul Montemurno (Liberty Cycle)                              
 
Junior Boys 
 
1 Kirk Carlsen (HNECC)                                         
2 Devin Flaherty (NECSA/ACT)                                   
3 Steven Chiselko (Liberty Cycles)                             
4 Tim Doud (HNECC)                                             
5 Jim Camut (North Hills Velo)                                 
6 Julean Fernandes (Collavita)                                 
7 Alex Quintero (Cuevas)                                       
8 Colton Valentino (Quaker City Wheelmen)                      
9 Scott Jackson (W/W)                                          
10 Andrew Rech (Cuevas)                                        
11 Michael Bucuk (W/W)                                         
12 Yuri Whitehead (HWC)                                        
13 Austin Byrd (NECSA)                                         
14 Barry Miller (USI)                                          
15 Chris Worden (W/W)                                          
16 Filip Capala (unattached)                                   
17 Stephane Slotten (Northeastern Hardware/CJCT)               
18 Chris Keane (Big Wheels)                                    
19 Evan Piche (Cuevas)                                         
20 Mike Wiles (NECSA)                                          
 
Men 4
 
1 Anthony "Ricky" Lowe (CRCA/VisitBritain)                     
2 Lorenzo Cavallaro (Merrill Lynch Stelvio Teamwear / CRCA)    
3 Eutimio Quintero (CRCA)                                      
4 Vinny Vicari (sanchez metro)                                 
5 Tom Luther (NHCC/Team NH)                                    
6 Tim Nilson (CRCA/Merrill Lynch)                              
7 Armand Della Monica (CRCA/Blue Ribbon-Translations.com)      
8 Dean Brizel (crca/merrill lynch)                             
9 Ian Sinclair (Northeast)                                     
10 Eric Kuo (CRCA/Setanta)                                     
11 Petr Huppert (CRCA/Sanchez-Metro)                           
12 Justin Inglis (CRCA - Foundation)                           
13 John Moynagh (CRCA)                                         
14 Unknown                                                     
15 Jeffrey Kane (gotham)                                       
16 Trevor Taylor (CRCA/Renaissance)                            
17 Chris Wilkes (CRCA/Blue Ribbon-Translations.com)            
18 Greg Fiore (CRCA/Blue Ribbon-Translations.com)              
19 Joseph Reagan (NHCC/TeamNH)                                 
20 Unknown                                                     
21 Hugh Reed (Georges)                                         
22 William Keiler (America's Cycling Team NECSA)           0.05
23 Francis Dillon (CRCA/Foundation)                            
24 Ted Neu (CRCA/VisitBritain)                             0.10
25 Lincoln Crane (Crca/Strictly Bicycles)                  0.22
26 Paul White (CRCA/VisitBritain)                          0.29
27 Christopher Chaput (CRCA)                                   
28 David Adornato (Team Bikery/Shebell and Shebell)        0.49
29 Tom Laskey (CRCA/Setanta)                                   
30 Jesus Perera ((#57))                                        
31 Rich Fleischer (CRCA)                                   0.54
32 Braiden Kelley,(#43)                                        
33 Eloy Anzola (Kissena)                                   0.57
34 Ted Pozniakoff (CRCA/Strictly Bicycles)                     
 
Junior Girls
 
1 Nina Santiago (Liberty Cycles)                               
2 Jennifer Stebbins (NHCC)                                     
 
Women 3
 
1 Brooke Wilson (Somerset Wheelmen)                            
2 Ellen Moses (CRCA/Foundation)                            0.01
3 Jane Berger (CRCA/Aquafina)                                  
4 Mara Miller (Somerset Wheelmen)                              
5 Nanci Modica-Perera (Radical Media)                          
6 Elizabeth Tyrell ((#112))                                    
 
Women 4 
 
1 Hannah Long (CRCA/Sanchez/Metro)                             
2 Wendy Cohen (Hell's Kitchen Cycling)                         
3 Dale Malkames (unione sportiva italiana)                     
4 Angela Johnson (CRCA/Axis)                                   
5 Elizabeth Seward (CRCA/Senor Swanky's)                       
6 Emily Derkasch (Rotation Racing)                             
7 Kelleigh Dulany (CRCA/Sanchez Metro)                         
8 Andrea Urist (CRCA/Senor Swanky's)                           
9 Gloria Deucher (unattached)                                  
10 Mimi (Boyle)                                                
11 Rachel Lederman (CRCA/Radical Media)                        
12 Karen Ulrich (Setanta/CRCA)                                 
13 Lanola Stone (CRCA)                                         
14 Sheila O'connor (East End/Kreb Cycle)                       
15 Elaine Molinaro (Team Bikery/Shebell)                       
16 Kristin Stodola (crca)                                      
17 Ann-Marie Brady (CRCA/Senor Swanky's)                       
18 Marie Derosa (CRCA)                                         
19 Kate Durocher (CRCA/Conrad's)                               
20 Emma Nelson (CRCA/Senor Swanky's)                           
21 Rachel Schemmel (CRCA)                                      
22 Nina Santiago (Liberty Cycles)                              

Local results 2004