Results and Reports from the USA
Promoters wishing to submit results should send them to cyclingnews
Gore Pass Road Race
Colorado, September 6, 2003
An classic epic
By Stephen Haydel
Handy Andy: Andy Edwards
Photo: © Beth Seliga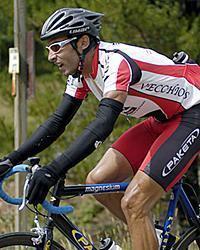 EPIC! That is how more than 200 senior and 30 junior racers described the tough course and varying weather conditions at the first annual Gore Pass Road Race on September 6, 2003 in the mountains north of Kremmling, Colorado. It took the Swift Cycling promotional crew of Stephen, Jen, Jay and Chaz over a year of working with CDOT and Colorado State Patrol to secure the course. But good things come to those who wait!
For the Juniors, this was the final road race of the Best All-Around Rider and Team competition (BAR/BAT) on a course that took them over 12 miles and 2000ft of climbing from the Wolford Campground to the top of Gore Pass in rainy conditions.
The Pro-1-2 Men did a double out and back totaling 74 miles with 6400 feet of climbing. The race started under a light rain while climbing up the 12 miles to Gore Pass. A few riders slipped off the front and held a 30 second gap on the field over the top. On the descent down the west side of Gore Pass, the pack split into several groups under clearing conditions. After some strong chasing the pack reformed at the middle climb. The attacks kept coming on the first out and back until two groups formed coming into the turnaround at Gore Pass. As the second out-and-back unfolded, the 3 chasers caught the front 6 on the valley between the two hills to form a pack of 9 riders who would contest the last 25 miles.
Just to add excitement to an already fantastic course, hail greeted the riders as they climbed up the middle hill during the second out-and-back. Luckily this passed and the race was able to continue. The attacks kept coming but nothing stuck until the final climb up to Gore Pass for the finish. Andy Edwards (Duane Duggan ReMax) won the race in a time of 3'25'28" with his teammate Ian MacGregor coming in second place. Nathan Bush (Trek/VW-Jimmy D.) rounded out the podium for 3rd.
All the other senior and masters groups did a single out and back of 43 miles with 4200 feet of climbing. Jennifer Martin (La Forza) won the Women's 1-2-3 race in a time of 2'30'16". Coming in behind her was Melissa Thompson (Vitamin Cottage) and local racer Sarah Fisher (Valdora.com).
Aside from a collection of cold, tired racers, all went very well and Swift Cycling plans to grow this race next year.
Photos
Images by Beth Seliga/www.3catsphoto.com
Results
Senior & Masters Results

(winning times only)
 
Men 1-2, 74 miles
 
1 Andy Edwards (Duane Duggan ReMax)              3.25.28
2 Ian MacGregor (Duane Duggan ReMax)
3 Nathan Bush (Trek/VW - Jimmy D.)
4 Dwight Hall (Team Rio Grande)
5 Chuck Coyle (Vitamin Cottage)
6 Mark Sothard (Trek/VW - Jimmy D.)
7 Evan Ruzanski (Velo RPM / Giant)
8 Kevin Nicol (Trek/VW - Jimmy D.)
9 Brian Chimileska (Duane Duggan ReMax)
10 Pat Brown (Gary Fisher / Subaru)
11 Mitch Westall (Jamba Juice)
 
Women 1-2-3, 43 miles
 
1 Jennifer Martin (La Forza)                     2.30.16
2 Melissa Thompson (Vitamin Cottage)
3 Sarah Fisher (Valdora.com)
4 Cathy Egleston (Colorado Velo-Denver Spoke)
 
Women 4/35+, 43 miles
 
1 Liz Rosterm                                    2.42.55
2 Martha Pamres (RMRC)
3 Kathy Tucker (SEAR)
4 Jennifer Swenson
5 Emily Willems
6 Sandy Williams (Colorado Velo-Denver Spoke)
7 Carin Hollis
8 Rose Everset (Swift Cycling)
9 Cindy Bero (Colorado Velo-Denver Spoke)
10 Susan Moren
 
Men 3, 43 miles
 
1 Peter Horn (GS Ciao)                           2.18.05
2 John Carnie (Vitamin Cottage)
3 Eric Ivie (Grand Valley Velo)
4 Eric Jones (Colorado Velo-Denver Spoke)
5 Jon Cariveau (Moots)
6 Greg Shuffner (Amgen/Abici)
7 Derek Strong (HART)
8 Ryan Ignatz
9 Eric Ray (Swift Cycling)
10 Mark Beaty (Vitamin Cottage)
11 Bill Stalhath (Pro Peloton Velo)
12 Matt O'Malley
13 Brent Webb (ICCC)
14 Mark Thompson (Cody)
15 Tom Prien (GS Ciao)
16 Allen Krughoff (GS Ciao)
17 John Shiepey (GS Ciao)
18 Richard Klusman (SEAR)
19 Scott Tietzel (GS Ciao)
20 Mark Adams (Colorado Velo-Denver Spoke)
21 Brad Rolf
22 Jonathan Massic (Pro Peloton Velo)
 
Men 4, 43 miles
 
1 Danburger Seppi (SV Wacker)                    2.09.58
2 Louis Brescia (FCRC)
3 Dan Dombraski
4 Ryan Hamliton (DEAN)
5 Micheal Brown (FCRC)
6 Chad Eskins
7 Sean Steeves (Swift Cycling)
8 Grant Holicky
9 Daniel MacFarlane
10 Ben Truitt
11 Kevin Flanagan (Colorado Velo-Denver Spoke)
12 Matthew Clark (Pro Peloton Velo)
13 Mark Lowe
14 Dave Wilson (Colorado Velo-Denver Spoke)
15 Erik Bergston (FCRC)
16 Eric Truman (SEAR)
17 Philip Corbett
18 Craig Beville (Colorado Velo-Denver Spoke)
19 Alan Enos
20 Kris Thompson
21 Dustin Sperber
22 Jonathan Fidelak (Louisville)
23 Geoff Douglas
24 TBC
25 Paul Bradley (Pikes Peak Velo)
26 Chad Elmenderf
27 Joel Strohecker
28 Jason Wildt
29 Marcus Moran (Eastside Wheelmen)
30 Marshall Kettner
31 Danny Inman
32 Jeff Teator
33 Charles Miltner
34 Chad Roberts
35 Pieter Schouten
36 Blake Ottersberg
37 Brett Batchelder
38 Peter Lunk
39 Jeremy Allen (Colorado Velo-Denver Spoke)
40 Ken Wilhelm (FCRC)
41 Brian Becker
42 Brian Gardner
43 Chris Wilson
44 Jeremy Wilcox
45 Robert Aston
46 Herve Richard
47 Devin Martinez
48 Nico Cizik
49 Ryan Munson
50 Chris King
 
Men 35+ 2-3-4, 43 miles
 
1 Tim Godby (Louisville)                         2.10.28
2 Paul Mack (GSBMCT)
3 Doug Mano (HART)
4 Don Williams (Denver Spoke)
5 Joe Sternberg (GVCC)
6 Jeff Mozingo
7 Joel Howes (Cody Racing)
8 Brad Olwin (Cody Racing)
9 Gary Thacker (Louisville)
10 Mario Plaza
11 Steve Wakman (Rio Grande)
12 Craig Kinstle
13 Scott Ross (Valdora.com)
14 Rod Yaden (Red Rocks Velo)
15 Brook Watts (Cody Racing)
16 Bob Brown (Cody Racing)
17 James Howe (Boulder Couriors)
18 Brad Larson (Twin Peaks)
19 Scott Glasscock (Rio Grande)
 
Men 55+/35+ 4, 43 miles
 
1 Steve Presta  (SEAR)
2 Jim Johnston (Colorado Velo-Denver Spoke)
3 Brad Tucker (SEAR)
4 Tim Orton (Pro Peloton Velo)
5 Bill Summers  (Pikes Peak Velo)
6 Mark Erickson
7 Ken Brechesen (RMRC)
8 Sam Linzell (Lakewood)
9 Alan Boisvert (COBRAS)
10 Andy Hornbaker (Colorado Velo-Denver Spoke)
11 Brad Haswell (Colorado Velo-Denver Spoke)
12 Bob Swadley (SEAR)
13 Dan Miller
14 Daniel Mieszala (SEAR)
15 Robin Hunt (Colorado Velo-Denver Spoke)
16 John DeSisto
17 Paul Williams
18 A Acevedo (HART)
19 Alan Christie (Pro Peloton Velo)
20 Brian Meadows
21 Rolf Peztel
22 Paul Combest
23 Angelo Cilli (Lakewood)
24 Mark Manown (Grand Valley Velo)
25 Michael Bowers (Colorado Velo-Denver Spoke)
26 Hector Leyba (Pikes Peak Velo)
27 Jay Morse (Colorado Velo-Denver Spoke)
28 Dick Elliot (ICCC)
29 Tom McKinnon
30 Edward Holton (Colorado Velo-Denver Spoke)
31 Brent Choate
32 Kevin Hodgell
33 Maros Cordova (HART)
34 Gary Neben

Junior Results - BAR/BAT

(winning times only)
 
Junior Men 10-12
 
1 Ty Olwin (RMCEF)                                 58.34
2 Ethan Bell (Grand Valley Velo)
 
Junior Men 13-14
 
1 Francisco Rocha (Front Rangers)                  53.07
2 Jordan Paquette (RMCEF)
 
Junior Men 15-16
 
1 Emil Marinov (Front Rangers)                     48.20
2 Alex Howes (Lakewood Racing Team)
3 Bryce Lawson (RMCEF)
4 Nathan Cupps (ICCC)
5 Dulis Glasscock (Horsetooth)
6 James Anderson (Horsetooth)
7 Julian Kyer (Pro Peloton Velo)
8 Tyler Gallup (Cornerstone)
9 Timothy Anderson (Cornerstone)
10 Will Niddel (Grand Valley Velo)
11 Trevor Bell (Grand Valley Velo)
12 Jose Arias (Ridge View Academy)
13 Clint Mitchell (Front Rangers)
14 Jericho Hajduk (Grand Valley Velo)
15 Jusan Harris (Ridge View Academy)
 
Junior Men 17-18
 
1 Jarad Burder (Ridge View Academy)                48.20
2 Mark Huang (FCRC)
3 Forest Gillete (Ridge View Academy)
4 Dustin Rowe (Ridge View Academy)
5 Christopher Allen (Ridge View Academy)
6 Timothy Shecter (Ridge View Academy)
7 Leo Victor (Ridge View Academy)
 
Junior Women 15-16
 
1 Netana Hotimsky (Grand Valley Velo)            1.02.32