Recently on Cyclingnews.com
Results and Reports from the USA
Promoters wishing to submit results should send them to cyclingnews
Health Net Warner Center Grand Prix
Woodland Hills, CA, May 25, 2003
By Jaime Nichols
Schroeder Iron's Jacob Erker drives the early break.
Photo © Jaime Nichols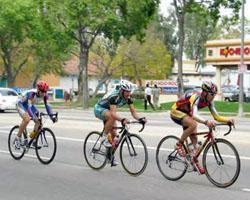 Southern California's Warner Center Grand Prix kicked off today with a star studded field and when LA City Councilman Dennis Zine got things underway to an aggressive start with Schroeder Iron attacking hard from the gun on a wide open, dead flat .9 mile circuit under gray skies. The 12th annual running of the race saw it's strongest field this year, including a full Health Net Team with US racing's sure thing, Gord Fraser, at the helm, Prime Alliance's Matt Decanio, Saturn's Ivan Dominguez and Rahsaan Bahati, Harm Jansen, the flying Dutchman, riding for RPM, and good representation from the Schroeder Iron team.
It was Schroeder Iron's Jacob Erker and Evan Teske who put the hammer down first, and after lap one, Erker carried forward, joined in an early break by Health Net's Mike Sayers and a Honeywell rider. The trio worked together, staying away for a good part of the race, with the only real chase being offered by local team KB Home, who did not have the horsepower to bring back a strong break, after attempts by Saturn's Ivan Dominguez to get the ball rolling were denied by Health Net and Schroeder riders with no interest in a pursuit.
With Dominguez and Prime Alliance's Matt Decanio taking up residence firmly in last place, a few half-hearted chase attempts at the head of the peloton proved fruitless, until Team Monex's Thurlow Rogers put in a hard turn at the front on behalf of their sprinter, Gregg Mendenilla. Rogers' hard turn at the front narrowed the gap, and before long, the break was caught and countered by Schroeder Iron's Adam Livingston and Pete Knudsen, drilling it hard up the backstretch, followed by Rogers and Mike Sayers.
The day's second break solidified out of that move, containing Schroeder's Knudsen, Livingston, and Rigo Meza, along with Health Net's Mike Sayers and an Australian World Champion pursuiter, riding with Wells Fargo Squadra Carrera. That break got a good gap, and with about 20 minutes to go, Saturn's Ivan Dominguez made his presence felt with a very hot chase, aided by Prime Alliance's Matt Decanio and Team Monex's Ken Toman. Sierra Nevada's speedster, Daniel Ramsey, made an attempt to bridge, but the hard charging field succeeded in bringing it all back together for the bunch sprint.
With three to go, Health Net had organized on the front for their closer, Gord Fraser, whose teammates gave him a nice gap coming into the last corner. Fraser took the victory by a generous margin over Jelly Belly's fast Australian, Brent Dawson, and Schroeder Iron's Evan Teske, who took his podium placing despite having broken his collarbone only a few weeks earlier.
"It was a pretty hard race," said Fraser, "a lot harder than I thought it was going to be. There was some very aggressive racing, especially from Schroeder Iron, who were missing their top sprinter, Miguel Meza, and had an interest in breaking it up today."
Fraser had praise for his Health Net teammates, especially Sayers, who made his presence felt in every break. "Mike Sayers was in every break, today. I had to do a little work, but every time a break went up the road, I was comforted that my teammate was there."
No stranger to the top block, Fraser was asked by local cable reporters covering the event how many career victories he has had. The Warner Center Grand Prix marks his 10th victory this year, and he estimates it's his 105th career win.
Images by Jaime Nichols
Results

Pro 1-2
 
1 Gord Fraser (Health Net)
2 Brent Dawson (Jelly Belly)
3 Evan Teske (Schroeder Iron)
4 Harm Jansen (RPM)
5 Marco Antonio
6 Rahsann Bahati (Saturn)
7 Victor Ayala (Minute Maid/Dasani)
8 John Wike (Labor Power)
9 Edgar Yepez (Downey Eagles)
10 Robert Kamppila (KB Home)
11 Peter Armitage (KB Home)
12 Anthony Galvan (KB Home)
 
Women 1-3
 
1 Desira Utzig (Minute Maid/Dasani)
2 Rebecca Quinn (Vaniga/Big 5)
3 Cheryl Roth (Helen's/Trek VW)
4 Laura Downey (Minute Maid/Dasani)
5 Cynthia Marse (Helen's Trek/VW)
6 Wendy Kuhn (Team One)
 
50+
 
1 Butch Stinton (Labor Power)
2 Arnie Baker (S.D. Cyclovets)
3 Carlos Soto (Simply Fit)
4 Clive Dawson (Veloce)
5 Tito Del (Cid LA Wings)
6 Rocco Orsini (Helen's)
 
45+
 
1 Butch Stinton (Labor Power)
2 Mike Gourien (Tangelo Velo)
3 Clive Dawson (Veloce)
4 John Kuhn (Team One)
5 Mark Chrysler (DARE)
6 Rick Gill (Labor Power)
 
Womens 3-4
 
1 Maegan Merrifield (Amgen)
2 Susan Thompson (Team Adelante)
3 Corinn Clark-Danielli (So. Bay Wheelmen)
4 Irene Johnson (Santa Clarita Velo)
5 Lauren Beastall (S.C. Velo)
6 Jane Shearing-Skalak (S.C. Velo)
 
40+
 
1 Rich Meeker (U.S. Postal Service)
2 Craig Miller (Cozmics)
3 Thurlow Rogers (JAX)
4 Steven Strickler (Labor Power)
5 John Wordin (Monex/Hot Wheels)
6 Claude Islamabert (DARE/P.S. Velo)
 
35+
 
1 Craig Miller (Cozmics)
2 Rich Meeker (U.S. Postal Service)
3 Scott Raymond (Cozmics)
4 Steven Strickler (Labor Power)
5 Thurlow Rogers (JAX)
6 Steve Nadon (Helen's)
8 John Wordin (Monex/Hot Wheels)
 
Cat. 4-5
 
1 Tim Coleman (I.E. Bike Racing)
2 Greg Lindlahr (Minute Maid/Dasani)
3 Cody O'Reilly (Echelon)
4 Jonathan Rocque (Team Indigo)
5 Stephen Feretti (So. Cal. Velo)
6 Jason Mauer (Unattached)
 
Cat. 3
 
1 Jordan Hudet (Zombies)
2 Billy Cubillas (Zombies)
3 Jeremy Keller (Minute Maid/Desani)
4 Emmanuel Gomez (Budget Cycles)
5 Nathan Loyal (Helen's)
6 Jeff Theis
 
30+ 3-4
 
1 Daniel Vinson (S.C. Velo)
2 Trent Malone (Team One)
3 Stephen Ferretti (S. C. Velo)
4 Richard Mitchell, (Jr. Riverside Cycle)
5 Jason Mauer (Unattached)
6 Craig Webb (S.C. Velo)