Results and Reports from the USA
Promoters wishing to submit results should send them to cyclingnews
North Shore Criterium
Pittsburgh, Pennsylvania, July 19, 2003
Mark Light cleans up
Mark Light makes light work of the field
Photo: © Dayton Pruet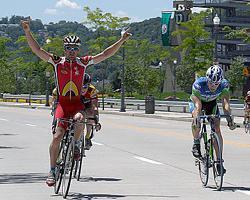 Men
On one of the fastest criterium courses that you can find in the northeast of the United States, Lite Bites rider Mark Light lit it up. His team of Dean Rittenhouse, Trey Reinhardt, and Steve Speaks took control in the field which allowed the break to stay away.
With Mark in the break the team took charge knowing that Mark had a good chance of outsprinting his rivals Jakob Stephens (Snow Valley), Ben Lindsey (Rendell) and Hugh Moran (Construction Zone) following in 4th. "It was negative in the field; every time we tried to chase, a Lite Bites rider would disrupt it," a Team West Virginia rider said. Attempts were made between MVC Rider Matt Brungard and Freddy Fu riders Jason Zimmerman and George Yoder, but Lite Bites was always there. A late charge by Lancaster Brewing only lasted a couple laps, and they just couldn't bring it back. This Left Mark Light a chance to out sprint his rivals for the win and take home the most aggressive prize.
Women
Jane Evely (Tri-Tech) took home the women's prize with the most aggressive rider award. Jane took the sprint from Jacqueline Paull (Colavita-Bolla) and the PA State Champ Nonnie Howard (Evolutions). The women's race was fast but the battle of the back straight wind caught a lot of riders off guard.
The talk of the town was 13 year old Sinead Miller (NHV/USFilter/Orbea). Talk about getting caught off guard. "It is ego-sobering to see a 13 year old put a whooping on you," one rider said. Sinead raced the Jr. Race, beat the majority of boys in the field and then entered the women's open where she placed 10th. She is going to be one to watch along with SVVC rider Elliot Gaunt.
Results

Men Elite
 
1 Mark Light (Lite Bites)
2 Jakob Stephens (Snow Valley)
3 Ben Lindsey (Rendall)
4 Hugh Moran (Construction Zone)
5 Adrian Ladler (Lemond Fitness)
6 Matt Brungard (MVC OH)
7 Boyd Johnson (Carolina VW)
8 Larry Detris ( Rendall)
9 Ryan Dewald (Sportsbook.com)
10 Jason Zimmerman (Freddie Fu)
11 Conor Hurley (West Virginia)
12 Glenn Rendell ( Rendall)
13 Trey Reinhardt (Lite Bites)
14 Mike Freedman (Team FUJI)
15 Ryan Leech (ESSM/GOPA)
 
Women Open
 
1 Jane Evely (TRI-TECH)
2 Jacqueline Paull (Colavita-Bolla)
3 Nonnie Howard (Evolutions)
4 Lisa Antolino (Savage Hill Cycling)
5 Katherine Kakis (Savage Hill Cycling)
6 Carolyn Fisher (Freddie Fu)
7 Betsy Schauer (ESSM GOPA)
8 Kelly Yoder (Freddie Fu)
9 Dee Frazzinni (UPMC Fuji)
10 Sinead Miller (NHV USFilter Orbea)