Recently on Cyclingnews.com
Results and Reports from the USA
Promoters wishing to submit results should send them to cyclingnews
Tuesday Night Criterium Championships - Round 15
Columbia, SC, July 15, 2003
Kyzer slips the sprinters, and the TNCWC draws more blood
By Henry Corley
Tight turning at the TNWC
Photo: © Dayton Pruet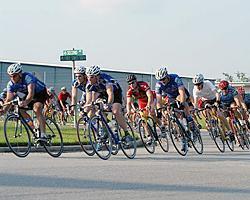 The pace was back up again this night, with the Outspokin clan arriving en-masse with their game faces on. From the gun they pushed the pace, trying to force a split, but Earth Fare and Harrells were attentive and gaps were not allowed to grow.
A three man OS move with Curran, Langston and Christopherson looked dangerous, but was brought back in time for Curran to counter with teammate Mike Coco. The duo opened a quick gap on the field just before the mid-race prime lap was called. In a classy move of teamwork, Coco powered Curran into the last kilo before pulling off, slinging Curran toward the line to take the points and Vetta computer prize (which was graciously donated back into the prize pot by equipment-laden shop owner Curran). Christopherson and Powell took second and third.
The heat stayed on following the prime lap as the front runners tried to make their sprint gaps stick, but the field was wise and quickly re-formed for the second half. On the lap following the prime, the bell rang again, postponing recovery for all as the dash for points resumed. Powell showed his depth by staying on the gas to take it, followed by Oglesby and Christopherson.
In the closing laps, the bell clanged once more as a gamblers prime was called. Kyzer took the points while Curran and Leighton Lord found the line in second and third as the field built up a steady head of steam in anticipation of the final bell that would indicate one lap to go. Kyzer opened a healthy gap following the prime that was crossed solo by Scott Royce. The field miscalculated and allowed just a bit too much time and the pair found themselves rounding the last turn with a sufficient gap to cheat the sprinters.
Though the pace was not slow, it was slow enough to allow the pack to come into the last turn a little thicker than it should have been and in the jumble, there was a touch of wheels and spit hit the fan as Little John and one other rider connected with 100 degree blacktop at 36mph. Fortunately, most of the field was able to thread the gap to safety, but enough skin was left on the pavement for everyone.
Unaffected by the acrobatics going on behind, the sharp end of the peloton carried on with sorting out the sprint. Kyzer claimed his first TNCWC victory with a solid move and Royce was rewarded for his powerful effort with second place. The remainder of the field was led in by the Round 14 winner Christopherson, followed by Bluemle, Powell and Curran.
Photos
Images by Dayton Pruet
Results

Mid-Race Prime
 
1 Brian Curran (Outspokin)
2 Eric Christopherson (Outspokin)
3 Langston Powell (Outspokin)
 
Prime 2
 
1 Langston Powell (Outspokin)
2 Ken Oglesby (Earth Fare)
3 Eric Christopherson (Outspokin)
 
Prime 3
 
1 Karl Kyzer (Outspokin)
2 Brian Curran (Outspokin)
3 Leighton Lord (Cycle Center)
 
Finish
 
1 Karl Kyzer (Outspokin)
2 Scott Royce (Outspokin)
3 Eric Christopherson (Outspokin)
4 Brian Bluemle (Earth Fare)
5 Langston Powell (Outspokin)
 
Overall Standings
 
1 - 62 pts -  Ken Oglesby (Earth Fare)
2 - 36 pts -  Karl Kyzer (Outspokin)
3 - 33 pts -  Lang Powell (Outspokin) 
4 - 32 pts -  Tom Sunday (Cycle Center)
5 - 30 pts -  Eric Christopherson (Outspokin)
6 - 28 pts -  Brian Curran (Outspokin)
7 - 26 pts -  Brian Bluemle (Earth Fare) 
8 - 22 pts -  Perry McLeod (Cycle Center)
9 - 21 pts -  James Wilson (USC), Jay Charles (Cycle Center), Brandon McKeever (Earth Fare)
10 - 13 pts - John Neal (USC)
11 - 11 pts - Chip Mosteller (Veloshoppe), Jeremiah Swanson (Outspokin)
12 - 10 pts - Mike Guidotti, Scott Royce (Outspokin), 
13 - 8 pts -  Rob Reed (Outspokin), Charles Ballowe (Outspokin), Tim Woolford (Earth Fare)
14 - 7 pts -  Mark Voigt (Outspokin)
15 - 6 pts -  Keith Iwinski (Outspokin), Jeff 
16 - 4 pts -  Matt, Daniel Patterson (Cycle Center)
17 - 3 pts -  Paul Harrell (Harrells)
18 - 2 pts -  Tyler
19 - 1 pt -   Damon Little (Harrells), Erwin Threatt, Leighton Lord (Cycle Center)