Recently on Cyclingnews.com
Results and Reports from Australia
Promoters wishing to submit results should send them to Cyclingnews
Randwick Botany CC Criterium Championships
Heffron Park, September 28, 2003
The Lean Machine: Robbie Cater
Photo: © Tony Horneman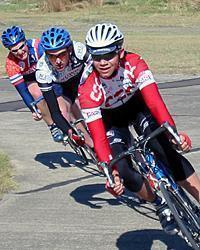 Photos
Images by Tony Horneman
Randwick Botany A-Grade rider Robert Cater chased by Patrick Jones and David Jackson.
Men In Black - Randwick Botany CC elite riders Patrick Jones, Chris White, Matthew Lucas and Clive Hammerson.
Stars of the future - Randwick Botany CC junior riders: (Back row) Tyron Bicknell, Emma Jones and Tamas Bykerk; (Front row) Adriano Maradini, Sam Buckland, Elliott Doughty and Tom Patton.
Results

Senior Results
 
A Grade, 30 km
 
1 David Jackson       46.32 (39 km/h)
2 Patrick Jones
3 Matthew Lucas        0.09
4 Robert Cater
5 Chris White
 
B Grade, 22 km
 
1 Chrispin Arnall     35.11 (38 km/h)
2 Michael Murdoch      0.01
3 Neil Morris          0.18
4 Roger Crawford
 
C Grade, 22 km
 
1 James Dalton        36.10 (37 km/h)
2 Jonathon Hogard      0.14
3 Greg Smart           5.00
 
D Grade, 16 km
 
1 Andrew Matthews     28.39 (34 km/h)
2 Jamie Guinan         0.06
3 Paul Baker           0.07
4 Tony Aitchison       0.10
5 Suzy Jackson         0.13
6 Mark Murdoch         0.14
7 Roger Kent           0.18
8 Bob Byberk
 
E Grade, 12 km
 
1 Julia Guinan
2 Norman Jew
 
Junior Results
 
2km Time Trial
 
1 Tom Patton           3.13 (37.7 km/h)
2 Tyron Bicknell       0.04
3 Tamas Bykerk         0.08
4 Adriano Maradini     0.24
5 Sam Buckland         0.41
6 Elliott Doughty      0.58
7 Emma Jones           1.07
 
2km Team Time Trial
 
1 Adriano Maradini, Sam Buckland, Tamas Bykerk  3.54 (31 km/h)
2 Tom Patton, Elliott Doughty                   0.09
3 Tyron Bicknell, Emma Jones                    0.17
 
6km Handicap
 
1 Tom Patton          13.34
2 Tyron Bicknell
3 Tamas Bykerk
4 Adriano Maradini
5 Sam Buckland
6 Elliott Doughty
7 Emma Jones
 
Fastest Time: Tom Patton - 10.25 (35 km/h)