Results and Reports from Australia
Promoters wishing to submit results should send them to Cyclingnews
Carnegie Caulfield CC
Glenvale Crescent, October 26, 2003
Boone takes A-Grade after four-man escape
Club techies drool at Dura-Ace 10 sighting
By Mal Sawford
D Grade
Photo ©: Mal Sawford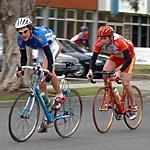 The sun shone
Photo ©: Mal Sawford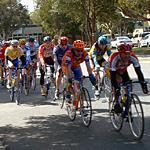 Buckland, Whiter and Shepherdson
Photo ©: Mal Sawford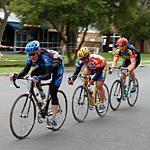 Rob Young
Photo ©: Mal Sawford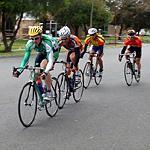 Round Three of the Team Alex Summer Series saw an overcast morning, but no rain eventuated for the first day of daylight savings in Victoria. With the cream of Melbourne's cyclists in wintery Ballarat for the final stage of the Vic Roads Herald Sun Tour, it was another chance for the Criterium specialists to showcase their talents. Visiting German cyclist Christian Lademann (eD'system-ZVVZ)set technophiles hearts racing as he took to the start line on a 10 speed Dura Ace equipped Fort - the first time any had seen it outside of showrooms!
The feature A Grade event saw Ray Turner (Bianchi) back to his old tricks with an attack off the start line. The race quickly became a attacking affair, with an ever-changing handful of riders dangling fifty meters off the front of the bunch. Junior World Track Silver Medallist Michael Ford (Gran Prix Cycles) was prominent, as was Flyin' Ryan Kelly (Terry Hammond Cycles) and his team mate Doug Garley.
Work horses like Murray Spink (Giant), Tom Jeppson (Trak Cycles) and Den Johnstone (O'Mara Cycles) did more than their fair share keeping the bunch together, while race favorites Todd Wilksch (Fitzroy Cycles) and Jon Clarke (SBR) lurked quietly at the rear of the field.
Midway through the hour, Dylan Boone (Fitzroy Cycles), Dennis Markouris (Giramondo) and Rob Young (Team MG-ZT) jumped clear, and only Marin Bole was fresh enough to follow. The leading four worked well together, and opened a advantage of over half a lap by race end, before finishing in that order. The bunch sprint saw big Todd get home ahead of Warren Knevitt (O'Mara Cycles), with both riders claiming valuable series bonus points.
B Grade had the biggest field of the day, and was the only race to finish with a bunch gallop. A number of breakaway attempts looked threatening, with a late effort by Garron Buckland (Le Tour Cycles), Geoff Whiter and James Shepherdson caught in sight of the finish.
Club Vice President Grant Jamieson was unable to finish off a fine lead out from Shane Perkins, another member of Australia's Junior Worlds Track team, but Brunswick trackie David Browne took full advantage, taking out the win ahead of Ricky Hair, Andrew Smith and Russell Newnham.
Scott Colquhoun was the early animator in C Grade, but his many attempts were neutralized. Leigh Robinson and Kurt Jensen (Kennedy Cycle Fit) had more luck with a powerful attack in the final ten minutes which the bunch could not answer. Robinson attacked his breakaway partner at the bell, and rode the last lap alone to take out the win, which will see him promoted back to B Grade. If Kurt Jensen's good form continues, he will be joining his son, Matt, who earned promotion only last week.
First time racer Alistair Jack showed promise, leading the bunch home in third, ahead of Gary Livingstone, while star Triathlete Emma Carney (Fitzroy Cycles) turned the tables on last weeks Women's winner Cheryl Walker.
Matt Pegg rode away from the D Grade field midway through their race, and never looked like slowing, taking out the win with a strong ride. Renato Liucci took out the bunch sprint, ahead of regular place getter Under 15 rider Michael Downing (Le Tour Cycles) and Steve Leishman.
Lisa Friend (Bianchi), an Australian Under 15 Track Champion finished just behind the place getters, to take out another hotly contested Women's section, ahead of Ferne Walklate, who extended her lead in the Team Alex Women's competition.
Once again, thanks to the generous support of PowerBar Australia, all competitors received a Protein Plus bar to speed up their post race recovery.
Carnegie Caulfield Criteriums continue every Sunday at Glenvale Crescent (Melways map 80B2). Twilight racing at Sandown Raceway (on the V8 Supercar Circuit) commences with daylight savings on Tuesday October 28. All holders of 2003 Cycling Australia licenses are welcome (don't forget to bring your license or receipt!) and non-members can have a go by taking out a day license for $20. 2004 licenses are also now available. For first time competitors and the younger juniors, Tokyo Olympian Mick Hollingsworth conducts racing clinics in E Grade. For further details, including information and standings for the Team Alex series, check out www.carnegiecycling.com.au.
Results
A Grade, 1 hour + 3 laps, 30 starters
 
1 Dylan Boone (Carnegie Caulfield)
2 Dennis Markouris (Footscray)
3 Rob Young (Lavington)
4 Martin Bole (Carnegie Caulfield)
5 Todd Wilksch (Horsham)
6 Warren Knevitt (Carnegie Caulfield)
 
B Grade, 1 hour + 3 laps, 45 starters
 
1 David Browne (Brunswick)
2 Ricky Hair (New Zealand)
3 Andrew Smith (Blackburn)
4 Russell Newnham (Carnegie Caulfield)
5 Goran Masalkovski (St Kilda)
 
C Grade, 50 minutes + 3 laps, 24 starters
 
1 Lee Robinson (Carnegie Caulfield)
2 Kurt Jensen (Carnegie Caulfield)
3 Alistair Jack (Carnegie Caulfield)
4 Gary Livingstone (Carnegie Caulfield)
 
Women
 
1 Emma Carney (Carnegie Caulfield)
 
D Grade, 45 minutes + 3 laps, 28 starters
 
1 Matt Pegg (Blackburn)
2 Renato Liucci (Carnegie Caulfield)
3 Michael Downing (Carnegie Caulfield)
4 Steve Leishman (Carnegie Caulfield)
 
Women
 
1 Lisa Friend (Blackburn)
2 Ferne Walklate (Carnegie Caulfield)