Recently on Cyclingnews.com
Results and Reports from Australia
Promoters wishing to submit results should send them to Cyclingnews
Randwick Botany CC
Heffron Park Maroubra, October 25, 2003
Randwick Botany club member Shaun Higgerson, back from the Sun Tour
Photo: © Tony Horneman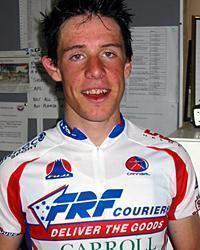 The threat of rain showers at Heffron Park shortened the length of races on Saturday 25 October 2003 at the weekly Randwick Botany Cycling Club races. Luckily, racing was completed before a thunderstorm rolled through.
Randwick Botany rider Liam Kelly was the star of A-Grade, winning the 24km race in a time of 36min 5sec at an average speed of over 40kmh. Chris Guillan from the Southern Cross club continued his good form winning B-Grade. Andy Matthews (Randwick Botany) scored a second place in his first race in B-Grade. Matthews is booked in for a Cyclefit with Steve Hogg at Pedal Pushers Bike Shop next week, so A-Grade may be on the cards in the near future.
In the junior 2km Time Trial, Matthew Guillan (Southern Cross) recorded a time of 3min 29sec. Randwick Botany riders Tamas Bykerk, Luke Davison and Tom Patton all recorded similar times, around the 3min 36sec mark.
In other club news, Randwick Botany Cycling Club member Shaun Higgerson, aged 18, finished 30th in a field of 69 in Stage 13 and final stage of the Herald Sun Tour in Ballarat, Victoria on Sunday 26 October 2003. Higgerson finished 44th in the overall General Classification. Riding for the FRF Couriers Team, this is his first attempt at this grueling event, which started in Melbourne CBD on 16 October 2003.
Centenary Race Day and Celebration Dinner
To celebrate the Centenary of the Randwick Botany Cycling Club, a Centenary Race Day and Celebration Dinner will be held at Heffron Park, Maroubra on Saturday 15 November 2003 from 10.30am. The 2km enclosed road criterium circuit will provide some exciting racing for junior and senior riders, as well as top internationals. Over $5,000 prizemoney is on offer, including $1,000 for first place in the Elite Race.
The Celebration Dinner will be held in a giant marquee from 6.00pm and includes Buffet Dinner, Drinks, Entertainment and Special Guests including SBS Sport Presenter Michael Tomalaris. Dinner tickets are $65 (adults), $35 for under 18.
Centenary Raffle tickets are $2 each with over $5,000 in prizes to be won, including Merida Road Bike 903 valued at $1,600, Velomax - 'Circuit' wheel set and Crowne Plaza Coogee Weekend Package. Contact Club Secretary - Helen Vella on 02 9667 3307 or email secretary@randwickbotanycc.com for more information.
Results

Senior Results
 
A Grade, 24km
 
1 Liam Kelly (Randwick Botany)           36.05 (40 km/h)
2 Paul Rowney (Eastern Suburbs)
2 Robert Cater (Randwick Botany)
 
B Grade, 20km
 
1 Chris Guillan (Southern Cross)         33.01 (36.7 km/h)
2 Andrew Matthews (Randwick Botany)
3 Dunstan Bertschinger (Randwick Botany)
4 Frank Fortuna (St George)
 
C Grade, 16km
 
1 Tony Caruana (Randwick Botany)         28.47 (34 km/h)
2 Kurt Juston (Randwick Botany)
3 Paul Fortuna (St George)
 
D Grade, 12km
 
1 Tony Aitchison (Randwick Botany)       21.48 (33 km/h)
2 Lucas Fox (Randwick Botany)
3 Andrew Hall (Randwick Botany)
 
Junior Results
 
A Grade Time Trial, 2km
 
1 Matthew Guillan (Southern Cross)        3.29
2 Tamas Bykerk (Randwick Botany)          3.34
3 Luke Davison (Randwick Botany)          3.36
4 Tom Patton (Randwick Botany)            3.37
5 Andrew Young (Randwick Botany)          3.42
 
B Grade Time Trial, 2km
 
1 Adriano Maradini (Randwick Botany)      4.00
2 Matthew Fortuna (St George)             4.25
3 Elliott Doughty (Randwick Botany)       4.33
4 Emma Jones (Randwick Botany)            4.52
5 Patrick Jenner (Randwick Botany)        5.01
 
A Grade Scratch Race, 8km
 
1 Matthew Guillan (Southern Cross)       18.12
2 Tom Patton (Randwick Botany)
3 Tamas Bykerk (Randwick Botany)
4 Adriano Maradini (Randwick Botany)
 
B Grade Scratch Race, 6km
 
1 Matthew Fortuna (St George)            13.36
2 Elliott Doughty (Randwick Botany)
3 Emma Jones (Randwick Botany)