Results and Reports from Australia
Promoters wishing to submit results should send them to Cyclingnews
Carnegie Caulfield CC
Glenvale Crescent, Mulgrave, October 5, 2003
By Mal Sawford
Trent Lowe launches the winning break
Photo: © Mal Sawford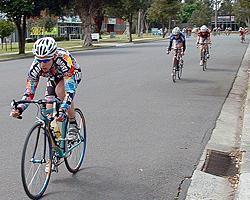 The first of Carnegie Caulfield's 2003/2004 Summer Criteriums brought good fields on a great day for racing. Although numbers had been a little disappointing for the second half of the winter road season, the lure of high-speed local racing woke many after their winter hibernation! An exciting new sponsorship from Team Alex Australia, sees $7000 worth of high-end frames and wheelsets up for grabs in perhaps the richest club series ever seen.
A quality A Grade field saw the pace high from the outset, with the bunch constantly under attack. Nick Kiraly (Fitzroy Cycles), Michael Tolhurst and Chris Bradford (CBD Cycles) weren't showing any ill effects after the torturous ascent of Mt Baw Baw the day before, and were amongst those setting the pace up front. The MG-ZT pair of Joel Pearson and Domenic Gatto were represented in every break, while the squads from O'Mara, Fitzroy and Le Tour were also well represented.
None of the moves stuck, but the attacks still came thick and fast. Big Robert Crowe (BikeNOW) fired up at the half way mark, and as the field began to shrink, Trent Lowe (Mapei), Paul Redenbach (Giramondo) and Ashley Hutchinson (AIS) kept the field under pressure.
An attack from Lowe at three laps to go proved decisive. Initially Kiraly was quick to react, and with two laps to travel Tolhurst and Leigh De Luca had also bridged. At the bell, Simon Walker (Victorian State Home Loans) and Warren Knevitt (O'Mara) made contact, with Crowey hot in pursuit.
The Barcelona Olympian made contact down the back straight, and wound up his sprint a long way from home. In a close finish, Crowe hung on to take the win, ahead of a rapidly closing De Luca, with trackie Knevitt next best.
The middle part of the B Grade race was dominated by a three man break, featuring regular protagonists Russell Newnham, Danny Kah and David Taylor. Despite maintaining a good tempo, the big bunch kept the trio in sight, and reeled the escapees in time to set things up for a bunch sprint. An attack at three to go from Wayne Howard couldn't upset the sprinters, and Peter Ballas emerged form the field to record a convincing win, ahead of Hawaii Ironman-bound Dave 'Crazy' Eadie and Russell Collins.
C Grade saw a strong attack from Dion Warburton upset the sprinter's plans at three to go. Matt Lawless chased in vain, but allowed Matt Jensen (Kathy Watt's Personal Training) to slingshot past to catch the leader. Jensen and Warburton held a narrow lead out of the final corner, and held off the charge, with Jensen recording his first win.
Craig Rothenbuecher (Le Tour Cycles) led the bunch home ahead of Richard Cormick, with the newly married Cheryl Walker returning to competition by taking out the Women's division.
Paul Aquilina escaped the attentive D Grade field just before the signal for the final laps, and buit upa convincing lead. The experience of the older heads prevailed, however, as they increased the pace in the bunch, reeling in the unlucky youngster on bell lap.
Under 15 star Michael Downing (Le Tour Cycles) burst from the pack to take a good win, ahead of a much improved Ferne Walklate, who also took out the Women's section. Veteran Tony Gill left his run too late and had to settle for third, ahead of Scott Deane. Walklate's effort earned her the outright lead in the Team Alex series, which has been designed to reward both consistent effort as well outstanding performances.
Carnegie Caulfield Criteriums continue every Sunday at Glenvale Crescent (Melways map 80B2). All holders of 2003 Cycling Australia licenses are welcome (don't forget to bring your license or receipt!) and non-members can have a go by taking out a day license for $18. 2004 licenses are also now available. For first time competitors and the younger juniors, Tokyo Olympian Mick Hollingworth conducts racing clinics in E Grade. For further details, including information and standings for the Team Alex series, check out www.carnegiecycling.com.au.
Photos
Images by Mal Sawford
Results

A Grade, 1 hour + 3 laps, 42 starters
 
1 Robert Crowe (Carnegie Caulfield)
2 Leigh De Luca (Carnegie Caulfield)
3 Warren Knevitt (Carnegie Caulfield)
4 Trent Lowe (Carnegie Caulfield)
5 Nick Kiraly (Carnegie Caulfield)
6 Ashley Hutchinson (Cairnes)
 
B Grade, 1 hour + 3 laps, 46 starters
 
1 Peter Ballas (Carnegie Caulfield)
2 David Eadie (Carnegie Caulfield)
3 Russell Collins (Hawthorn)
4 David Buntin (Carnegie Caulfield)
5 Thomas Blazevic (Carnegie Caulfield)
 
C Grade, 50 minutes + 3 laps, 26 starters
 
1 Matt Jensen (Carnegie Caulfield)
2 Dion Warburton (Carnegie Caulfield)
3 Craig Rothenbuecher (Carnegie Caulfield)
4 Richard Cormick (Carnegie Caulfield)
 
Women
 
1 Cheryl Walker (Carnegie Caulfield)
 
D Grade, 45 minutes + 3 laps, 28 starters
 
1 Michael Downing (Carnegie Caulfield)
2 Ferne Walklate (Carnegie Caulfield)
3 Tony Gill (Carnegie Caulfield)
4 Scott Deane (St Kilda)
 
Women
 
1 Ferne Walklate (Carnegie Caulfield)
2 Erin Downing (Carnegie Caulfield)
 
E Grade Novice & Junior Clinic, 40 minutes + 3 laps
 
1 Aiden McInerny (Carnegie Caulfield)
2 Alex Bowyer (Carnegie Caulfield)
3 Dale Reith (Blackburn)
4 Jamie Marshall (Carnegie Caulfield)