Results and Reports from Australia
Promoters wishing to submit results should send them to Cyclingnews
H. Westbrook Memorial Launceston to Hobart
Tasmania, October 4, 2003
A day of firsts, a day of lasts
By Matthew Conn
Geards Cycles-Doherty Hotels riders drive along at the head of their bunch
Photo: © Shane Goss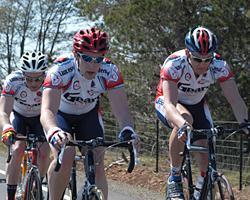 It was a day of "firsts" and "lasts" at the annual H. Westbrook Memorial race on Saturday between Launceston to Hobart.
Ulverstone's Stephen Pearce showed that his year spent racing in Belgium with the Gent based Kingsnorth Wheelers, had not been wasted and used a good tactical ride to move clear in the closing stages of the event to take victory as well as claim the fastest time of the race.
The "first" that the race experienced was the enforced break that the riders had just 20km from the finish. Race commissaries decided that there was too much traffic banked up behind the peloton and the decision was made to stop the race and let the convoy pass.
After a ten minute procession of cars crept by the stationary bunch, the race was restarted with the previously established time gaps in place. The Hobart race may have also had its "last" running in the current format as race director Ray Slater has proposed breaking the 180km event into a three stage handicap tour for next season.
Some even suggested that stopping the race at 20km to go this year was a good trial for next year's proposal!
What looked like a winning scratch bunch on paper had a less than successful day. In the first 70km of the race they only managed to pull back 10 seconds on the group including Pearce, which started eight minutes in front. Junior world champion, Mark Jamieson, pulled out of the race at the 100km mark, and another rider who has spent the year in Europe, Karl Menzies, turned on the power in an attempt to bring back the front of the race.
In the end is was only Chris Wilding that survived from the backmarkers, but after the restart suffered on the undulating roads towards the finish and ended up loosing fastest time to Pearce and Sydes by a mere 10 seconds.
Pearce showed his experience to deliver a measured effort over the course of the race, working well with his co-markers to keep the scratch riders at bay. Through Kempton, Pearce tried his hand at an attack with four other riders, but they were brought back just before Brighton where the race was stopped.
In the end, it was another strong move on the Brooker Highway that sealed the victory for Pearce. Taking Josh Wilson with him, the two held off a chase by Matt Sydes and Brad Clifford with Pearce out sprinting Wilson with enough time to raise both hands in victory as he crossed the line.
Photos
Images by Shane Goss/www.licoricegallery.com
Results

1 Stephen Pearce (Ulverstone) Kingsnorth-Tacx-Giant
2 Josh Wilson (Launceston)
3 Brad Clifford (Launceston)
4 Matt Sydes (Hobart) Ray Appleby Cycles - Avanti
5 Brendan Geale
6 A. Osbrough
7 Laurie Venn (Launceston)
8 Mick Gargonini (Hobart)
9 Ben Price (Ulverstone) Craig Price Cycles
10 Steve Price (Hobart)
11 Paul Wilson (Launceston)
12 Robin Gregory (Launceston)
13 Ryan Johnson (Launceston)
14 C. Brown
15 John Lewarn (Launceston) Geards Cycles
16 Paul Turner (Launceston) Geards Cycles
17 Glenn Myler (Launceston)
18 David Oliver (Launceston) Geards Cycles
19 A. Lee
20 M. Bailey
 
Fastest times
 
1 S. Pearce
2 M. Sydes
3 C. Wilding