Results and Reports from Australia
Promoters wishing to submit results should send them to Cyclingnews
Randwick Botany CC
Heffron Park, Maroubra, July 12, 2003
The Shire pays a visit to Heffron
By Tony Horneman
The Shire mixes it up with the Randy Bots
Photo: © Tony Horneman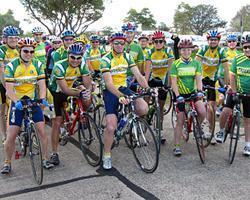 The Randwick Botany Cycling Club welcomed a contingent of Sutherland Shire Cycling Club riders to Heffron Park on Saturday 12 July 2003. Sutherland Shire riders performed well across all grades as they mixed it with the local riders on their home circuit.
It was good to see international mountain bike rider Paul Rowney (Eastern Suburbs) return to Heffron Park to race in A-Grade. Rowney placed third behind fellow Eastern Suburbs rider John Kenny and Simon Price from Hobart Wheelers.
There were plenty of attacks in the 22-rider B-Grade event, with four riders getting away with two laps to go. David Wells (Canberra) won followed by Peter Lynch (Randwick Botany), Keegan Aitchison (Southern Cross), Garry Libro (Sutherland Shire), Paul McKenzie (Sutherland Shire) and John Buckton (Randwick Botany).
Twenty-one riders contested C-Grade that averaged 35.4kmh. The bunch sprint was won by David Matthew. D-Grade was won by Liam Fletcher (Randwick Botany).
Following a successful weekend at the Canberra Tour last weekend, Randwick Botany junior riders returned to Heffron Park this week. Eight riders competed in time trial and scratch races.
Results

Senior Results
 
A Grade, 36km
 
1 John Kenny (Eastern Suburbs)          54.00 (40.4km/h)
2 Simon Price (Hobart Wheelers)
3 Paul Rowney (Eastern Suburbs)
4 Chris Jenkins (Randwick Botany)
5 Iain Russell (Life Cycle Queensland)
6 Aaron Castles (Randwick Botany)
7 Dominic Kennedy (Randwick Botany)
 
B Grade, 32km
 
1 David Wells (Canberra)                49.46 (39.0kmh)
2 Peter Lynch (Randwick Botany)
3 Keegan Aitchison (Southern Cross)
4 Garry Libro (Sutherland Shire)
5 Paul McKenzie (Sutherland Shire)
6 John Buckton (Randwick Botany)
 
C Grade, 28km
 
1 David Matthew (Sutherland Shire)      47.53 (35.4km/h)
2 Andrew Matthew (Randwick Botany)
3 Brad Lane (Randwick Botany)
 
D Grade, 20km
 
1 Liam Fletcher (Randwick Botany)       35.19 (34.3km/h)
2 Peter Foulsham (Waratah Veterans)
3 Chris Booth (Sutherland Shire)
 
E Grade, 14km
 
1 David Birss (Bankstown Sport)         32.14 (26.3km/h)
2 Norman Zadik (Waratah Veterans)
3 Ross Fullerton (Randwick Botany)
 
Junior Results
 
U17 2km Time Trial
 
1 Mark Woodhouse (Randwick Botany)       3.26
2 Thomas Murdoch (Randwick Botany)       0.04
 
U15 2km Time Trial
 
1 Tom Patton (Randwick Botany)           3.41
2 Daniel Dalrymple-Hay (Randwick Botany) 0.09
 
U13 2km Time Trial
 
1 Adriano Maradini (Randwick Botany)     3.51
2 Sam Buckland (Randwick Botany)         0.15
3 Elliott Doughty (Randwick Botany)      0.24
4 Amma Jones (Randwick Botany)           0.49
 
Junior A Grade 12km
 
1 Mark Woodhouse (Randwick Botany)
2 Tom Patton (Randwick Botany)
3 Thomas Murdoch (Randwick Botany)
4 Adriano Maradini (Randwick Botany)
 
Junior B Grade 8km
 
1 Daniel Dalrymple-Hay (Randwick Botany)
2 Elliott Doughty (Randwick Botany)
3 Sam Buckland (Randwick Botany)
4 Emma Jones (Randwick Botany)