Grande Boucle Féminine Internationale - 2.2
France, June 17-22, 2008
Main Page Results Overall standings Previous Stage
Stage 7 - June 22: Guillestre - Sestriere, 83.9km
Soeder and Cervélo-Lifeforce storm to victory
Christiane Soeder won the final stage and secured the overall
Photo ©: WomensCycling.net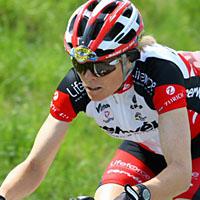 Christiane Soeder stormed away from two time winner Nicole Cooke (Swift Racing) in the final 800 metres to take the stage and the final overall in the Grande Boucle Féminine Internationale. Race leader Karin Thürig, who is a team-mate of Soeder at Cervélo-Lifeforce, ended the day in fourth, 34 seconds back and slipped to second overall. Jolanta Polikeviciute took third place of the stage.
Thürig led Soeder by 32 seconds going into the final stage, with Cooke in third at 2'33. Cooke kept the pressure on all day, but Cervélo-Lifeforce kept its cool and Soeder and Thürig helped each other in the moments of crisis, when Cooke looked to ride away to another victory in the women's Tour de France.
How it unfolded
Karin Thürig had led the race since the time trial
Photo ©: WomensCycling.net

The riders had to cross the 2360m col de l'Izoard. Maribel Moreno Allue was the first to take the initiative, but she could not surprise the favourites. It was Swiss champion Sereina Trachsel who crossed the peak first, ahead of Polikeviciute, Soeder, Thürig, Cooke et Moreno. Verbeke came over the top 55 seconds later, but managed to make up the gap to Soeder and Thürig with a dare-devil descent. The Cervélo-Lifeforce du was on the defensive against Cooke and Polikeviciute, with Moreno losing contact with everybody in the flat section.
Cooke dropped Polikeviciute on an uphill section, leaving Briançon via an intermediate sprint. But Thürig and Soeder were now two against one and caught Cooke at the beginning of the col de Montgenèvre, the penultimate climb of the day. Polikeviciute was hanging on as well.
Cooke immediately counter-attacked, but Soeder had a watchful eye on the British rider and stayed on her wheel. Naturally, Soeder wasn't going to contribute to the break's work, which allowed Thürig and Polikeviciute to get back. The latter crossed the mountain top ahead of Soeder, Cooke and Thürig, securing the polka dot jersey. The Lithuanian was also the first to cross into Italy.
In the descent, it was Polikeviciute and Cooke again, who escaped. This time, the Cervélo-Lifeforce duo was broken up, with Soeder following at 50 metres and Thürig about a hundred metres back.
Cooke was ahead by herself when she tackled the final uphill to the finish in Sestriere. Soeder managed to catch Cooke, while Thürig and Polikeviciute rode together. With six kilometres to go, Cooke and Soeder were 1'02 ahead of the others. But with five to go, Chirio's DS asked Polikeviciute to help Thürig in the chase. This led to a constant drop in the lead, 53 seconds at km 4, 40 seconds at km 3 and 19 seconds with a couple of kilometres to go. At the flamme rouge, the gap was only eight seconds. Then, Soeder decided to attack Cooke and go for the stage win. She managed to do that and also bag the overall victory, by 12 seconds over her team-mate Thürig
Photography
For a thumbnail gallery of these images, click here
Images by WomensCycling.net/WomensCycling.net
Images by Michel Studer
Results
1 Christiane Soeder (Aut) Cervelo Lifeforce Pro Cycling Team             3.08.05 (26.76 km/h)s
2 Nicole Cooke (GBr) Swift Racing                                           0.29
3 Jolanta Polikeviciute (Ltu) USC Chirio Forno d'Asolo                      0.34
4 Karin Thürig (Swi) Cervelo Lifeforce Pro Cycling Team                         
5 Maribel Moreno Allue (Spa) Multijaca                                      2.48
6 Sereina Trachsel (Swi) Swiss National Team                                4.58
7 Diana Ziliute (Ltu) Safi - Pasta Zara Manhattan                               
8 Grace Verbeke (Bel) Lotto-Belisol Ladiesteam                              5.56
9 Rasa Polikeviciute (Ltu) USC Chirio Forno d'Asolo                             
10 Elena Berlato (Ita) Safi - Pasta Zara Manhattan                         13.32
11 Loes Gunnewijk (Ned) Team Flexpoint                                     13.33
12 Dorte Lohse Rasmussen (Den) Swift Racing                                13.35
13 Elisabeth Braam (Ned) Team Flexpoint                                    13.37
14 Priska Doppmann (Swi) Cervelo Lifeforce Pro Cycling Team                13.40
15 Inma Rafael Salas (Spa) Debabarrena - Kirolgi                           18.15
16 Helen Wyman (GBr) Swift Racing                                          21.02
17 Suzanne Van Veen (Ned) Team Flexpoint                                   21.10
18 Yolandi Du Toit (RSA) Lotto-Belisol Ladiesteam                          21.34
19 Karen Steurs (Bel) Topsport Vlaanderen Thompson Ladies Team                  
20 Monika Furrer (Swi) Swiss National Team                                      
21 Laeticia Gil Parra (Spa) Multijaca                                           
22 Eneritz Iturriagaechevarria Mazaga (Spa) Safi - Pasta Zara Manhattan         
23 Rosario Rodriguez Gomez (Spa) Multijaca                                      
24 Evelyn Garcia (ESa) USC Chirio Forno d'Asolo                                 
25 Katrien Van Looy (Bel) Topsport Vlaanderen Thompson Ladies Team              
26 Loes Sels (Bel) Topsport Vlaanderen Thompson Ladies Team                     
27 Saioa Olitc Caluo (Spa) Debabarrena - Kirolgi                           26.15
28 Paola Munoz (Chi) Pratomagno Colombia                                        
29 Jessica Schneeberger (Swi) Swiss National Team                          29.16
30 Emilie Aubry (Swi) Swiss National Team                                       
31 Line Foss (Nor) Bourgogne Selection                                          
32 Emma Silversides (GBr) Lotto-Belisol Ladiesteam                         29.19
33 Debby Van De Berg (Ned) Swift Racing                                         
34 Sylvie Gaillon (Fra) Bourgogne Selection                                30.51
35 Sarah Düster (Ger) Cervelo Lifeforce Pro Cycling Team                   34.03
36 Ana Ramirez (Spa) Multijaca                                                  
37 Loes Markerink (Ned) Team Flexpoint                                          
38 Toni Bradshaw (NZl) Swift Racing                                             
39 Elizabeth Agudelo (Col) Pratomagno Colombia                                  
40 Bettina Kuhn (Swi) Swiss National Team                                  34.21
41 Fabienne Sommer (Swi) Swiss National Team                                    
42 Claire Maugras (Fra) Bourgogne Selection                                44.15
43 Itsaso Leunda Coni (Spa) Debabarrena - Kirolgi                               
44 Kim Schoonbaert (Bel) Lotto-Belisol Ladiesteam                               
45 Alessandra Borchi (Ita) Safi - Pasta Zara Manhattan                          
46 Isabelle Moulis (Fra) Debabarrena - Kirolgi                                  
47 Patricia Perez Gimenez (Spa) Multijaca                                       
48 Ine Beyen (Bel) Swift Racing                                                 
49 Adeline Gourgin (Fra) Bourgogne Selection                                    
50 Odette Bertolin (Ita) Safi - Pasta Zara Manhattan                            
51 Silvia Tirado Marquez (Spa) Multijaca                                        
Ab Katy Bruchon (Fra) Bourgogne Selection                                       
NP Kelly Druyts (Bel) Topsport Vlaanderen Thompson Ladies Team                  
NP Tatiana Stiajkina (Ukr) USC Chirio Forno d'Asolo                             
 
Points
 
1 Christiane Soeder (Aut) Cervelo Lifeforce Pro Cycling Team                  15 pts
2 Nicole Cooke (GBr) Swift Racing                                             12
3 Jolanta Polikeviciute (Ltu) USC Chirio Forno d'Asolo                        10
4 Karin Thürig (Swi) Cervelo Lifeforce Pro Cycling Team                        8
5 Maribel Moreno Allue (Spa) Multijaca                                         6
6 Sereina Trachsel (Swi) Swiss National Team                                   5
7 Diana Ziliute (Ltu) Safi - Pasta Zara Manhattan                              4
8 Grace Verbeke (Bel) Lotto-Belisol Ladiesteam                                 3
9 Rasa Polikeviciute (Ltu) USC Chirio Forno d'Asolo                            2
10 Elena Berlato (Ita) Safi - Pasta Zara Manhattan                             1
 
Sprints
 
Briançon
1 Nicole Cooke (GBr) Swift Racing                                              6 pts
2 Jolanta Polikeviciute (Ltu) USC Chirio Forno d'Asolo                         3
3 Karin Thürig (Swi) Cervelo Lifeforce Pro Cycling Team                        1
 
Cesana
1 Nicole Cooke (GBr) Swift Racing                                              6 pts
2 Jolanta Polikeviciute (Ltu) USC Chirio Forno d'Asolo                         3
3 Christiane Soeder (Aut) Cervelo Lifeforce Pro Cycling Team                   1
 
Mountains
 
Col de l'Izoard
1 Sereina Trachsel (Swi) Swiss National Team                                  20 pts
2 Jolanta Polikeviciute (Ltu) USC Chirio Forno d'Asolo                        16
3 Christiane Soeder (Aut) Cervelo Lifeforce Pro Cycling Team                  13
4 Karin Thürig (Swi) Cervelo Lifeforce Pro Cycling Team                       11
5 Nicole Cooke (GBr) Swift Racing                                              9
6 Maribel Moreno Allue (Spa) Multijaca                                         7
7 Grace Verbeke (Bel) Lotto-Belisol Ladiesteam                                 6
8 Rasa Polikeviciute (Ltu) USC Chirio Forno d'Asolo                            5
9 Diana Ziliute (Ltu) Safi - Pasta Zara Manhattan                              4
10 Elena Berlato (Ita) Safi - Pasta Zara Manhattan                             3
 
Col du Montgenevre
1 Jolanta Polikeviciute (Ltu) USC Chirio Forno d'Asolo                        15 pts
2 Christiane Soeder (Aut) Cervelo Lifeforce Pro Cycling Team                  12
3 Nicole Cooke (GBr) Swift Racing                                             10
4 Karin Thürig (Swi) Cervelo Lifeforce Pro Cycling Team                        8
5 Maribel Moreno Allue (Spa) Multijaca                                         6
6 Grace Verbeke (Bel) Lotto-Belisol Ladiesteam                                 5
7 Diana Ziliute (Ltu) Safi - Pasta Zara Manhattan                              4
8 Sereina Trachsel (Swi) Swiss National Team                                   3
9 Rasa Polikeviciute (Ltu) USC Chirio Forno d'Asolo                            2
10 Dorte Lohse Rasmussen (Den) Swift Racing                                    1
 
Sestrieres
1 Christiane Soeder (Aut) Cervelo Lifeforce Pro Cycling Team                  20 pts
2 Nicole Cooke (GBr) Swift Racing                                             16
3 Jolanta Polikeviciute (Ltu) USC Chirio Forno d'Asolo                        13
4 Karin Thürig (Swi) Cervelo Lifeforce Pro Cycling Team                       11
5 Maribel Moreno Allue (Spa) Multijaca                                         9
6 Sereina Trachsel (Swi) Swiss National Team                                   7
7 Diana Ziliute (Ltu) Safi - Pasta Zara Manhattan                              6
8 Grace Verbeke (Bel) Lotto-Belisol Ladiesteam                                 5
9 Rasa Polikeviciute (Ltu) USC Chirio Forno d'Asolo                            4
10 Elena Berlato (Ita) Safi - Pasta Zara Manhattan                             3
 
Teams
 
1 Equipe Cervelo Lifeforce                                               9.38.29
2 Chirio Forno D'asolo                                                     13.50
3 Swift Racing/Team Halford                                                20.52
4 Safi Pasta Zara / Tinanedi                                               25.50
5 Multi Caja/Sabinanigo                                                    31.42
6 Team Flexpoint                                                           34.06
7 Equipe Nationale Suisse                                                  41.34
8 Lotto Belisol                                                            42.35
9 Topsport Vlaanderen                                                      50.28
10 Debabarrena Kirolgi                                                   1.14.31
11 Bourgogne Cyclisme Feminin                                            1.30.08
 
Final General classification
 
1 Christiane Soeder (Aut) Cervelo Lifeforce Pro Cycling Team            16.21.35
2 Karin Thürig (Swi) Cervelo Lifeforce Pro Cycling Team                     0.12
3 Nicole Cooke (GBr) Swift Racing                                           2.29
4 Jolanta Polikeviciute (Ltu) USC Chirio Forno d'Asolo                      5.42
5 Maribel Moreno Allue (Spa) Multijaca                                      6.35
6 Diana Ziliute (Ltu) Safi - Pasta Zara Manhattan                           7.13
7 Grace Verbeke (Bel) Lotto-Belisol Ladiesteam                              9.39
8 Rasa Polikeviciute (Ltu) USC Chirio Forno d'Asolo                        13.58
9 Loes Gunnewijk (Ned) Team Flexpoint                                      16.01
10 Priska Doppmann (Swi) Cervelo Lifeforce Pro Cycling Team                17.09
11 Sereina Trachsel (Swi) Swiss National Team                              17.42
12 Elisabeth Braam (Ned) Team Flexpoint                                    18.00
13 Dorte Lohse Rasmussen (Den) Swift Racing                                19.53
14 Elena Berlato (Ita) Safi - Pasta Zara Manhattan                         20.47
15 Evelyn Garcia (ESa) USC Chirio Forno d'Asolo                            28.33
16 Eneritz Iturriagaechevarria Mazaga (Spa) Safi - Pasta Zara Manhattan    29.22
17 Karen Steurs (Bel) Topsport Vlaanderen Thompson Ladies Team             35.15
18 Helen Wyman (GBr) Swift Racing                                          37.31
19 Laeticia Gil Parra (Spa) Multijaca                                      37.45
20 Suzanne Van Veen (Ned) Team Flexpoint                                   37.49
21 Rosario Rodriguez Gomez (Spa) Multijaca                                 40.15
22 Loes Sels (Bel) Topsport Vlaanderen Thompson Ladies Team                43.18
23 Monika Furrer (Swi) Swiss National Team                                 47.35
24 Emma Silversides (GBr) Lotto-Belisol Ladiesteam                         48.16
25 Inma Rafael Salas (Spa) Debabarrena - Kirolgi                           49.01
26 Emilie Aubry (Swi) Swiss National Team                                  50.14
27 Ana Ramirez (Spa) Multijaca                                             51.41
28 Sarah Düster (Ger) Cervelo Lifeforce Pro Cycling Team                   51.45
29 Toni Bradshaw (NZl) Swift Racing                                        52.19
30 Loes Markerink (Ned) Team Flexpoint                                     53.26
31 Jessica Schneeberger (Swi) Swiss National Team                          54.13
32 Paola Munoz (Chi) Pratomagno Colombia                                   54.44
33 Katrien Van Looy (Bel) Topsport Vlaanderen Thompson Ladies Team         55.19
34 Bettina Kuhn (Swi) Swiss National Team                                  59.14
35 Fabienne Sommer (Swi) Swiss National Team                               59.30
36 Elizabeth Agudelo (Col) Pratomagno Colombia                           1.00.55
37 Debby Van De Berg (Ned) Swift Racing                                  1.03.18
38 Line Foss (Nor) Bourgogne Selection                                   1.05.46
39 Sylvie Gaillon (Fra) Bourgogne Selection                              1.05.56
40 Alessandra Borchi (Ita) Safi - Pasta Zara Manhattan                   1.07.45
41 Yolandi Du Toit (RSA) Lotto-Belisol Ladiesteam                        1.14.42
42 Saioa Olitc Caluo (Spa) Debabarrena - Kirolgi                         1.15.14
43 Kim Schoonbaert (Bel) Lotto-Belisol Ladiesteam                        1.22.55
44 Odette Bertolin (Ita) Safi - Pasta Zara Manhattan                     1.29.13
45 Ine Beyen (Bel) Swift Racing                                          1.30.18
46 Adeline Gourgin (Fra) Bourgogne Selection                             1.31.05
47 Patricia Perez Gimenez (Spa) Multijaca                                1.41.14
48 Itsaso Leunda Coni (Spa) Debabarrena - Kirolgi                        1.41.29
49 Silvia Tirado Marquez (Spa) Multijaca                                 1.41.45
50 Isabelle Moulis (Fra) Debabarrena - Kirolgi                           1.55.27
51 Claire Maugras (Fra) Bourgogne Selection                              2.22.39
 
Points classification
 
1 Diana Ziliute (Ltu) Safi - Pasta Zara Manhattan                             97 pts
2 Loes Markerink (Ned) Team Flexpoint                                         62
3 Nicole Cooke (GBr) Swift Racing                                             57
4 Jolanta Polikeviciute (Ltu) USC Chirio Forno d'Asolo                        48
5 Christiane Soeder (Aut) Cervelo Lifeforce Pro Cycling Team                  40
6 Bettina Kuhn (Swi) Swiss National Team                                      30
7 Sarah Düster (Ger) Cervelo Lifeforce Pro Cycling Team                       28
8 Grace Verbeke (Bel) Lotto-Belisol Ladiesteam                                28
9 Karin Thürig (Swi) Cervelo Lifeforce Pro Cycling Team                       23
10 Rasa Polikeviciute (Ltu) USC Chirio Forno d'Asolo                          17
11 Maribel Moreno Allue (Spa) Multijaca                                       15
12 Jessica Schneeberger (Swi) Swiss National Team                             12
13 Loes Gunnewijk (Ned) Team Flexpoint                                        11
14 Elisabeth Braam (Ned) Team Flexpoint                                       11
15 Paola Munoz (Chi) Pratomagno Colombia                                       9
16 Sereina Trachsel (Swi) Swiss National Team                                  8
17 Fabienne Sommer (Swi) Swiss National Team                                   7
18 Karen Steurs (Bel) Topsport Vlaanderen Thompson Ladies Team                 7
19 Priska Doppmann (Swi) Cervelo Lifeforce Pro Cycling Team                    6
20 Loes Sels (Bel) Topsport Vlaanderen Thompson Ladies Team                    5
21 Ine Beyen (Bel) Swift Racing                                                4
22 Alessandra Borchi (Ita) Safi - Pasta Zara Manhattan                         4
23 Dorte Lohse Rasmussen (Den) Swift Racing                                    3
24 Elena Berlato (Ita) Safi - Pasta Zara Manhattan                             1
 
Mountains classification
 
1 Jolanta Polikeviciute (Ltu) USC Chirio Forno d'Asolo                        78 pts
2 Christiane Soeder (Aut) Cervelo Lifeforce Pro Cycling Team                  55
3 Nicole Cooke (GBr) Swift Racing                                             41
4 Karin Thürig (Swi) Cervelo Lifeforce Pro Cycling Team                       38
5 Rasa Polikeviciute (Ltu) USC Chirio Forno d'Asolo                           31
6 Sereina Trachsel (Swi) Swiss National Team                                  30
7 Diana Ziliute (Ltu) Safi - Pasta Zara Manhattan                             28
8 Maribel Moreno Allue (Spa) Multijaca                                        23
9 Grace Verbeke (Bel) Lotto-Belisol Ladiesteam                                16
10 Suzanne Van Veen (Ned) Team Flexpoint                                      14
11 Elena Berlato (Ita) Safi - Pasta Zara Manhattan                            11
12 Dorte Lohse Rasmussen (Den) Swift Racing                                    4
13 Priska Doppmann (Swi) Cervelo Lifeforce Pro Cycling Team                    1
14 Laeticia Gil Parra (Spa) Multijaca                                          1
15 Ana Ramirez (Spa) Multijaca                                                 1
 
Sprint classification
 
1 Diana Ziliute (Ltu) Safi - Pasta Zara Manhattan                             19 pts
2 Loes Markerink (Ned) Team Flexpoint                                         18
3 Karin Thürig (Swi) Cervelo Lifeforce Pro Cycling Team                       13
4 Nicole Cooke (GBr) Swift Racing                                             12
5 Rasa Polikeviciute (Ltu) USC Chirio Forno d'Asolo                            9
6 Suzanne Van Veen (Ned) Team Flexpoint                                        9
7 Jolanta Polikeviciute (Ltu) USC Chirio Forno d'Asolo                         6
8 Alessandra Borchi (Ita) Safi - Pasta Zara Manhattan                          3
9 Eneritz Iturriagaechevarria Mazaga (Spa) Safi - Pasta Zara Manhattan         2
10 Christiane Soeder (Aut) Cervelo Lifeforce Pro Cycling Team                  1
11 Grace Verbeke (Bel) Lotto-Belisol Ladiesteam                                1
12 Elena Berlato (Ita) Safi - Pasta Zara Manhattan                             1
13 Elisabeth Braam (Ned) Team Flexpoint                                        1
14 Priska Doppmann (Swi) Cervelo Lifeforce Pro Cycling Team                    1
15 Debby Van De Berg (Ned) Swift Racing                                        1
16 Sarah Düster (Ger) Cervelo Lifeforce Pro Cycling Team                       1
17 Ana Ramirez (Spa) Multijaca                                                 1
 
Young rider classification
 
1 Elena Berlato (Ita) Safi - Pasta Zara Manhattan                       16.42.22
2 Suzanne Van Veen (Ned) Team Flexpoint                                    17.02
3 Emilie Aubry (Swi) Swiss National Team                                   29.27
4 Jessica Schneeberger (Swi) Swiss National Team                           33.26
5 Paola Munoz (Chi) Pratomagno Colombia                                    33.57
6 Katrien Van Looy (Bel) Topsport Vlaanderen Thompson Ladies Team          34.32
7 Fabienne Sommer (Swi) Swiss National Team                                38.43
8 Kim Schoonbaert (Bel) Lotto-Belisol Ladiesteam                         1.02.08
9 Ine Beyen (Bel) Swift Racing                                           1.09.31
10 Adeline Gourgin (Fra) Bourgogne Selection                             1.10.18
11 Patricia Perez Gimenez (Spa) Multijaca                                1.20.27
12 Silvia Tirado Marquez (Spa) Multijaca                                 1.20.58
13 Claire Maugras (Fra) Bourgogne Selection                              2.01.52
 
Teams classification
 
1 Equipe Cervelo Lifeforce                                              49.22.26
2 Chirio Forno D'asolo                                                     30.18
3 Safi Pasta Zara / Tinanedi                                               40.27
4 Swift Racing/Team Halford                                                42.32
5 Team Flexpoint                                                           50.11
6 Multi Caja/Sabinanigo                                                    59.17
7 Equipe Nationale Suisse                                                1.18.34
8 Lotto Belisol                                                          1.28.12
9 Topsport Vlaanderen                                                    1.46.12
10 Bourgogne Cyclisme Feminin                                            3.25.06
11 Debabarrena Kirolgi                                                   3.26.47