Tour de Toona - NE
USA, July 24-30, 2006
Main Page Results Overall standings Previous Stage Next Stage
Stage 2 - July 25: Johnstown circuit race, 117.3 km
Sprinters rule stage 2
Men: Friedick takes stage win and jersey
By Mark Zalewski, North American editor in Johnstown, PA
Mariano Friedick (Toyota-United Pro)
Photo ©: Mark Zalewski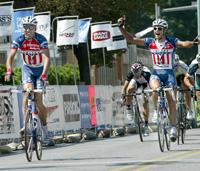 Karl Menzies (Health Net-Maxxis) had a blistering time trial on a short course last night in downtown Altoona that put him eight seconds over most of the contenders in the field. However, the eight seconds were vulnerable to the ten seconds of time bonus on offer for the win today -- and Mariano Friedick (Toyota-United Pro) took advantage of the opportunity. Friedick won the field sprint ahead of his teammate Juan Jose Haedo, with Menzies finishing in sixth, out of the time bonuses.
"It was up to Chris Wherry, J.J. Haedo and myself to try to be near the front for the last three kilometers and go for the win," said Friedick. "It looked like we were setting J.J. up for the win because I was leading him out. I went around a couple of guys and J.J. was on my wheel yelling 'SI, SI, SI, SI!!!' and a all of a sudden he opened up a gap. I figured he wanted me to go for it so I took the last corner first and stayed in front for the win."
Menzies could have played the sprint a little more cautiously than usual with the yellow jersey on his shoulders. "Coming down the last bit of the sprint it was just hectic and the whole bunch thought that they could win the bunch sprint," he explained. "It was crazy, fast, down hill and dangerous."
Preceding the chaos of the last ten kilometers was a textbook defense by Health Net-Maxxis, allowing a break to go up the road but keeping it within reach. "It was really tough and really fast today," said Menzies. "There was an early break that had Toyota-United and Navigators in it. We just wanted to keep it at a safe distance away and then have it come down to a bunch sprint at the end. It was ok with us to let it get away and we just kept tempo at the front and then brought it back with in ten kilometers to go."
The break
Photo ©: Mark Zalewski

Navigators Insurance director Ed Beamon was planning to have a rider in the break from the start. "A one hundred kilometer stage is a short stage and Health Net took some time to get organized. The stage goes by so fast that letting time go is dangerous. The maximum time gap was about two minutes and thirty seconds and they had to work really hard on the last lap. They brought it back with in the last ten kilometers."
But the break did succeed in getting Bernard Van Ulden (Navigators Insurance) the sprint jersey and Stefano Barberi (Toyota-United Pro) the KOM jersey. "I didn't think about it until 200 meters to go on the first KOM," he said. "But I decided to go after [the points] after I won the first one."
Barberi was also very active in the break, attacking alone near the end to extend the break and allowing his teammates to continue sitting on in the peloton. "I saw the field coming and knew it would come back. But I stayed away to force the other teams to continue to chase."
Looking at the top of the overall, the time gaps are still small as the race enters the real climbing tomorrow and Saturday. Friedick is realistic about his chances at keeping the lead as well as his role on the team. "I am not a climber so I have to be realistic and I think my job tomorrow will be to work for Wherry and Bald win. But, you never know fitness can do anything so maybe if I can get over the climbs and defend it that would be great, if not we have three great climbers to take it over."
Women: Powers remains in yellow, Colavita-Cooking Light takes the rest
By Kirsten Robbins in Altoona, PA
Tina Pic (Colavita-Cooking Light)
Photo ©: Mark Zalewski
Colavita-Cooking Light's sprinter Tina Pic convincingly won today's field sprint ahead of TEAm Lipton's Laura Van Gilder and her Colavita-Cooking Light lead-out Gina Grain.
Tradition held strong as the Johnstown stage ended in a field sprint for the women's field. It was a day for the sprinters and each one was dropped off with three hundred meters to go after of a high speed and technical eight-kilometer descent.
"I knew that once we came down that exit ramp into the left turn we had to be at the front there," said Tina Pic. "My team did an amazing job getting me there and made it really easy for me to win today. It was really fast and dicey so I was really happy that they got me up there."
Team Advil-Chapstick's Alison Powers held on to the yellow jersey by staying safe in the field and letting the sprinters race their race. She remains six seconds ahead of TEAm Lipton's Kristin Armstrong and Laura Van Gilder. "We figured today would be a day for the sprinters," said Alison Powers. "We were hoping that the sprinter's teams would take over and chase down any breaks after the QOM's. We did a little bit of work but mainly my teammates kept me safe, out of the wind and in good position."
Teams Webcor-Platinum and Biovail proved to be the most aggressive riders in today's 63-mile race. On the first two of three laps each team member launched attack after attack to try to make a break. However, it was not in the interest of the teams with sprinters to let anything go up the road. The attacks were quickly covered by TEAm Lipton, Victory Brewing, Colavita-Cooking Light and Cheerwine amongst others.
The yellow jersey
Photo ©: Mark Zalewski

"We knew today would be a sprinters' stage," said Biovail's Anne Samplonius. "Most riders were not going to be too aggressive knowing the race was expected to come down to a bunch finish. I wanted my team to be aggressive and to be attacking. I don't like my team to just sit in and be pack fill. We wanted to be aggressive because we have nothing to lose."
Colavita-Cooking Light's Dotsie Bausch captured full points on the two QOM, closely followed by Victory Brewing's Rachel Heal. Bausch is the current leader of the climber's competition while her teammate Tina Pic leads the sprint competition.
"We decided this morning that we are going to go for everything here - we just want to go and clean up," said Dotsie Bausch. "We knew we had the horsepower for that one-kilometer before the QOM and the two hundred meters before the sprint - where everyone else was going to be putting the effort in too and aside from that we wanted to conserve our energy everywhere else. We want to leave this race on top of as many podiums as we can."
The pace came to a halt on the final lap as teams sensed the need to conserve as much energy as possible for tomorrow's stage. "Once we went after the second intermediate sprint the race really slowed down," said Pic. "Teams realized that no one was going to get away and that it was important to save their legs for tomorrow."
Robin Farina (Kenda Tire)
Photo ©: Mark Zalewski

Stage three marks the toughest stage in the tour: ninety-eight miles from Johnstown to Altoona. "Tomorrow is a daunting day," said Van Gilder. "It is a long stage and it is hot. The climbs will decide the general classification tomorrow and then the strategies will take place with in each group after the climbs."
Photography
For a thumbnail gallery of these images, click here
Images by Mark Zalewski/Cyclingnews.com
Results

1 Friedick Mariano (USA) Toyota - United                   2.13.14
2 Juan Haedo (Arg) Toyota - United                                
3 Greg Henderson (NZl) Health Net pb Maxxis                       
4 Brice Jones (USA) Jelly Belly                                   
5 Sergey Lagutin (Uzb) Navigators Insurance                       
6 Karl Menzies (Aus) Health Net pb Maxxis                         
7 Erik Lyman (Can) Calyon / Litespeed                             
8 Shawn Milne (USA) Navigators Insurance                          
9 Emile Abraham (Tri) AEG-Toshiba-JetNetwork                      
10 Jonathan Page (USA) Colavita - Sutter Home                     
11 Robbie King (USA) Priority Health                              
12 Chad Cagle (USA) Mercy Cycling Team                            
13 Maxime Vives (Can) Calyon / Litespeed                          
14 Davide Frattini (Ita) Colavita - Sutter Home                   
15 Frank Pipp (USA) TargetTraining                                
16 Kirk Albers (USA) Jelly Belly                                  
17 Adam Myerson (USA) Nerac/OutdoorLights.com                     
18 Ivan Stevic (SCG) Toyota - United                              
19 David Guttenplan (USA) Subaru                                  
20 Pierre-Olivier Boily (Can) Equipe du Quebec                    
21 Manion Caleb (USA) Jelly Belly                                 
22 Christopher Wherry (USA) Toyota - United                       
23 Ben Raby (USA) Mesa Cycles                                     
24 Tim Henry (USA) Subaru                                         
25 Matty Rice (Aus) Jelly Belly                                   
26 Ciaran Power (Irl) Navigators Insurance                        
27 Johnney Hayes (USA) CRC/Sakonnet Technology                    
28 Zach Bell (Can) Rite Aid                                       
29 Edward King (USA) Priority Health                              
30 Powers Jeremy (USA) Jelly Belly                                
31 Alexander Boyd (USA) VMG Racing                                
32 Rudy Robaina (USA) VMG Racing                                  
33 Elliot Gaunt (USA) Watchung Wheelman                           
34 Christopher Baldwin (USA) Toyota - United                      
35 Roy Mathieu (Can) Equipe du Quebec                             
36 Gustavo Artacho (Arg) Colavita - Sutter Home                   
37 Clayton Barrows (USA) Team Einstein's                          
38 Tyler Wren (USA) Colavita - Sutter Home                        
39 Stan Jurga (USA) Independent Fabrications                      
40 Stefan Rothe (USA) Mercy Cycling Team                          
41 Tommy Nankervis (Aus) Priority Health                          
42 Predrag Prokic (SCG) AEG-Toshiba-JetNetwork                    
43 Andrew Bajadali (USA) Jelly Belly                              
44 Jonathan Garcia (USA) Team Einstein's                          
45 Dwight (Whitey) Debroux (USA) Team Einstein's                  
46 Patrick Walsh (USA) CCB/Volkswagen                             
47 Daniel Holt (USA) Nerac/OutdoorLights.com                      
48 Shane Weaver (USA) Abercrombe & Fitch                          
49 Valeriy Kobzarenko URK Navigators Insurance                    
50 Mark McCormack (USA) Colavita - Sutter Home                    
51 Scott Zwizanski (USA) Kodakgallery.com/Sierra Nevada           
52 Glen Mitchell (NZl) Priority Health                            
53 Daniel Greenfield (USA) TargetTraining                         
54 Nebojsa Jovanovic (SCG) AEG-Toshiba-JetNetwork                 
55 Nicholas Clayville (USA) Broadmark/Hagens                      
56 Jonathan Wirsing (USA) Rite Aid                                
57 Eudaldo Asencio (USA) Caico                                    
58 Jake Rytlewski (USA) Priority Health                           
59 Alberto Tiberio (Swi) Health Net pb Maxxis                     
60 Peter Penzell (USA) Rite Aid                                   
61 Jason Karew (USA) Eclipse Racing                               
62 Scottie Weiss (USA) Abercrombe & Fitch                         
63 Viktor Rapinski (Blr) Colavita - Sutter Home                   
64 Ward Solar (USA) IBC/NERAC                                     
65 Dominique Perras (Can) Equipe du Quebec                        
66 Eneas Freyre (USA) TargetTraining                              
67 Todd Henriksen (USA) VMG Racing                                
68 Hayden Brooks (Aus) Subaru                                     
69 Omer Kem (USA) AxleyUSA.com                                    
70 Andrew Fischer (USA) Broadmark/Hagens                          
71 Caleb Fairly (USA) CRC/Sakonnet Technology                     
72 Peter Morse (Can) Jet Fuel                                     
73 Clovis Auger (Can) Equipe du Quebec                            
74 Bennet Ban der Genugten (USA) Abercrombe & Fitch               
75 Alexander Welch (USA) Mercy Cycling Team                       
76 Joseph Moody (USA) Kenda/Raleigh                               
77 Kyle Wamsley (USA) Colavita - Sutter Home                      
78 Matt Shriver (USA) TargetTraining                              
79 Per Strom (Can) Bicisport Calgary                              
80 Ian Manning (Can) Jet Fuel                                     
81 Joel Dion-Poitras (Can) Calyon / Litespeed                     
82 Todd Herriott (USA) Colavita - Sutter Home                     
83 Adam Branfman (USA) AxleyUSA.com                               
84 Scott Moninger (USA) Health Net pb Maxxis                      
85 David O'Loughlin (Irl) Navigators Insurance                    
86 Nick Friesen (Can) Bicisport Calgary                           
87 Charly Vives (Can) Calyon / Litespeed                          
88 Brian Sheedy (USA) Priority Health                             
89 Tim Swain (USA) Abercrombe & Fitch                             
90 Jamie Sparling (Can) Bicisport Calgary                         
91 Brian Hayes (USA) IBC/NERAC                                    
92 Glen Chadwick (USA) Navigators Insurance                       
93 Agustin Font (USA) Caico                                       
94 Jason Baer (USA) Kenda/Raleigh                                 
95 Ryan DeWald (USA) Rite Aid                                     
96 Daniel Vaillancourt (USA) CCB/Volkswagen                       
97 Robert Sweeting (USA) IBC/NERAC                                
98 Chris Jones (USA) TargetTraining                               
99 Ruben Borrero (USA) Caico                                      
100 Brian Kendall (USA) Team Einstein's                           
101 Werling David (USA) Nerac/OutdoorLights.com                   
102 Robert Ketchell (USA) Nerac/OutdoorLights.com                 
103 James Camut (USA) Watchung Wheelman                           
104 Justin England (USA) Toyota - United                          
105 Stefano Barberi (Cub) Toyota - United                         
106 Trevor Connor (Can) Bicisport Calgary                         
107 Scott Nydam (USA) Team Einstein's                             
108 Joe Guiliano (Can) Jet Fuel                                   
109 Willliam Elliston (USA) TargetTraining                        
110 Ben Brooks (USA) Navigators Insurance                         
111 Shane Peltonen (USA) Eclipse Racing                           
112 Edwin Ramos (USA) Caico                                       
113 Russell Langley (USA) Rite Aid                                
114 Jonathan Bruno (USA) Independent Fabrications                 
115 Brian Dziewa (USA) Mercy Cycling Team                         
116 Jason Harpp (USA) Kenda/Raleigh                               
117 Jafer Beizer (USA) Subaru                                     
118 Abraham McNutt (USA) Abercrombe & Fitch                       
119 Andrew Applegate (USA) Abercrombe & Fitch                     
120 Hugh Moran (USA) AEG-Toshiba-JetNetwork                       
121 Tom Zirbel (USA) Priority Health                              
122 Jonathan Hamblen (USA) Nerac/OutdoorLights.com                
123 Bernard VanUlden (USA) Navigators Insurance                   
124 Trevor Mays (USA) AxleyUSA.com                                
125 Justin Spinelli (USA) Nerac/OutdoorLights.com                 
126 Richard England (Aus) Priority Health                         
127 Fullerton Chase (USA) VMG Racing                              
128 Heath Blackgrove (NZl) Toyota - United                        
129 Jorge Humberto Martinez (USA) Caico                           
130 William Dugan (USA) Watchung Wheelman                         
131 Michael Norton (USA) Nerac/OutdoorLights.com                  
132 Derik Archibald (USA) AxleyUSA.com                            
133 Joseph Whitman (USA) Kodakgallery.com/Sierra Nevada           
134 Dustin MacBurnie (Can) TargetTraining                         
135 Jeff Louder (USA) Health Net pb Maxxis                        
136 Bartolo Torre (USA) VMG Racing                                
137 Bruno Langlois (Can) AEG-Toshiba-JetNetwork                   
138 Chris Kuhl (USA) CRC/Sakonnet Technology                      
139 Keith Jennings (USA) Independent Fabrications                 
140 Timothy Johnson (USA) Health Net pb Maxxis                    
141 Lang Reynolds (USA) AxleyUSA.com                              
142 Michael Lanyon (USA) Mesa Cycles                              
143 Ryan Trebon (USA) AEG-Toshiba-JetNetwork                      
144 Barry Wicks (USA) AEG-Toshiba-JetNetwork                      
145 Chad Nikolz (USA) Broadmark/Hagens                            
146 Kyle Colavito (USA) Eclipse Racing                            
147 Jean-Sebastien Perron (Can) Calyon / Litespeed                
148 Mathew Helming (USA) Kenda/Raleigh                            
149 David Robinson (USA) Kodakgallery.com/Sierra Nevada           
150 John Seehafer (USA) Team Einstein's                           
151 Jarod Gilyard (USA) Eclipse Racing                            
152 Stephan Kincaid (USA) Kodakgallery.com/Sierra Nevada          
153 Joshua Carter (USA) Mesa Cycles                               
154 Jaimie Lamb (Can) Equipe du Quebec                            
155 Nathaniel Buyon (USA) Watchung Wheelman                       
156 John DeLong (USA) Rite Aid                                    
157 Malachi Peacock (USA) Abercrombe & Fitch                      
158 Bradley Viera (USA) Rite Aid                                  
159 Jered Gruber (USA) Abercrombe & Fitch                         
160 Scott Jackson (USA) Watchung Wheelman                         
161 James Driscoll (USA) Watchung Wheelman                        
162 Jacob Fetty (USA) Nerac/OutdoorLights.com                     
163 Solomon Woras (USA) Broadmark/Hagens                          
164 Phillip Gaimon (USA) VMG Racing                               
165 Eric Boily (Can) Equipe du Quebec                             
166 Shawn Forsythe (USA) CCB/Volkswagen                           
167 Ryan Hamity (USA) Team Einstein's                             
168 Sam Johnson (USA) Broadmark/Hagens                        0.38
169 Eric Keim (USA) AEG-Toshiba-JetNetwork                    0.52
170 Nathan O'Neill (USA) Health Net pb Maxxis                     
171 Tom Gosselin (USA) Independent Fabrications               1.07
172 Jason Donald (USA) Team Einstein's                        1.11
173 David Veilleux (Can) Equipe du Quebec                     3.23
174 Michael Necessary (USA) Mesa Cycles                       4.26
175 Brian Wyrick (USA) Mercy Cycling Team                         
176 Phil Cortes (Can) Equipe du Quebec                            
177 Michael Jones (USA) Health Net pb Maxxis                      
178 Aliaksandr Bialiauski (Blr) CCB/Volkswagen                7.54
179 David Sachs (USA) Kenda/Raleigh                           9.18
180 Keith Moore (Can) Jet Fuel                                    
181 Stephen Weller (USA) IBC/NERAC                                
182 Zach Reed (USA) Mesa Cycles                              11.03
183 Jake Hollenbach (USA) CCB/Volkswagen                     18.23
184 John-Christopher Reid (Can) Bicisport Calgary            18.53
185 Luke Krisch (USA) Independent Fabrications               18.54
DNS Brooke Boocock (Can) Calyon / Litespeed                       
DNF David Beeryman (USA) Independent Fabrications                 
DSQ David Wiswell (USA) CRC/Sakonnet Technology                   
 
Pro men general classification after stage 2
 
1 Friedick Mariano (USA) Toyota - United                   2.18.21
2 Karl Menzies (Aus) Health Net pb Maxxis                     0.02
3 Greg Henderson (NZl) Health Net pb Maxxis                   0.03
4 Shawn Milne (USA) Navigators Insurance                      0.06
5 Jeff Louder (USA) Health Net pb Maxxis                          
6 Bernard VanUlden (USA) Navigators Insurance                     
7 Christopher Baldwin (USA) Toyota - United                   0.07
8 Juan Haedo (Arg) Toyota - United                                
9 Mark McCormack (USA) Colavita - Sutter Home                 0.08
10 Davide Frattini (Ita) Colavita - Sutter Home               0.09
11 Christopher Wherry (USA) Toyota - United                   0.12
12 Frank Pipp (USA) TargetTraining                                
13 Edward King (USA) Priority Health                              
14 Glen Chadwick (USA) Navigators Insurance                   0.13
15 Tom Zirbel (USA) Priority Health                               
16 Tyler Wren (USA) Colavita - Sutter Home                        
17 Brian Sheedy (USA) Priority Health                             
18 Joseph Moody (USA) Kenda/Raleigh                               
19 Jonathan Page (USA) Colavita - Sutter Home                 0.14
20 Scottie Weiss (USA) Abercrombe & Fitch                         
21 Justin England (USA) Toyota - United                           
22 David O'Loughlin (Irl) Navigators Insurance                    
23 Scott Moninger (USA) Health Net pb Maxxis                      
24 Ryan Trebon (USA) AEG-Toshiba-JetNetwork                       
25 Ben Brooks (USA) Navigators Insurance                      0.15
26 Sergey Lagutin (Uzb) Navigators Insurance                      
27 Kyle Wamsley (USA) Colavita - Sutter Home                      
28 Scott Zwizanski (USA) Kodakgallery.com/Sierra Nevada           
29 Bruno Langlois (Can) AEG-Toshiba-JetNetwork                0.16
30 Andrew Bajadali (USA) Jelly Belly                              
31 Robbie King (USA) Priority Health                              
32 Timothy Johnson (USA) Health Net pb Maxxis                     
33 Russell Langley (USA) Rite Aid                                 
34 Brian Dziewa (USA) Mercy Cycling Team                          
35 Alberto Tiberio (Swi) Health Net pb Maxxis                     
36 Matty Rice (Aus) Jelly Belly                                   
37 Viktor Rapinski (Blr) Colavita - Sutter Home               0.17
38 Glen Mitchell (NZl) Priority Health                        0.18
39 Gustavo Artacho (Arg) Colavita - Sutter Home                   
40 Barry Wicks (USA) AEG-Toshiba-JetNetwork                       
41 Richard England (Aus) Priority Health                          
42 Nicholas Clayville (USA) Broadmark/Hagens                      
43 Clayton Barrows (USA) Team Einstein's                      0.19
44 Dwight (Whitey) Debroux (USA) Team Einstein's                  
45 Valeriy Kobzarenko URK Navigators Insurance                0.20
46 Patrick Walsh (USA) CCB/Volkswagen                         0.21
47 Johnney Hayes (USA) CRC/Sakonnet Technology                    
48 Ciaran Power (Irl) Navigators Insurance                        
49 Manion Caleb (USA) Jelly Belly                                 
50 Todd Henriksen (USA) VMG Racing                                
51 Stefano Barberi (Cub) Toyota - United                      0.22
52 Roy Mathieu (Can) Equipe du Quebec                             
53 Daniel Greenfield (USA) TargetTraining                         
54 Powers Jeremy (USA) Jelly Belly                                
55 Ryan DeWald (USA) Rite Aid                                     
56 Bradley Viera (USA) Rite Aid                                   
57 Dustin MacBurnie (Can) TargetTraining                          
58 Matt Shriver (USA) TargetTraining                              
59 Zach Bell (Can) Rite Aid                                       
60 Eric Boily (Can) Equipe du Quebec                              
61 Alexander Boyd (USA) VMG Racing                            0.23
62 Andrew Applegate (USA) Abercrombe & Fitch                  0.24
63 Chad Cagle (USA) Mercy Cycling Team                            
64 Chris Jones (USA) TargetTraining                           0.25
65 Michael Norton (USA) Nerac/OutdoorLights.com                   
66 Brice Jones (USA) Jelly Belly                                  
67 Elliot Gaunt (USA) Watchung Wheelman                           
68 Jonathan Wirsing (USA) Rite Aid                            0.26
69 Derik Archibald (USA) AxleyUSA.com                             
70 Scott Nydam (USA) Team Einstein's                          0.27
71 Rudy Robaina (USA) VMG Racing                                  
72 Andrew Fischer (USA) Broadmark/Hagens                          
73 Eneas Freyre (USA) TargetTraining                          0.28
74 Stefan Rothe (USA) Mercy Cycling Team                          
75 Jorge Humberto Martinez (USA) Caico                            
76 Caleb Fairly (USA) CRC/Sakonnet Technology                     
77 Kirk Albers (USA) Jelly Belly                              0.29
78 Jean-Sebastien Perron (Can) Calyon / Litespeed                 
79 Ben Raby (USA) Mesa Cycles                                     
80 Pierre-Olivier Boily (Can) Equipe du Quebec                    
81 Ryan Hamity (USA) Team Einstein's                              
82 Fullerton Chase (USA) VMG Racing                               
83 Todd Herriott (USA) Colavita - Sutter Home                 0.30
84 Daniel Holt (USA) Nerac/OutdoorLights.com                      
85 Ward Solar (USA) IBC/NERAC                                     
86 James Driscoll (USA) Watchung Wheelman                         
87 Clovis Auger (Can) Equipe du Quebec                        0.31
88 Hugh Moran (USA) AEG-Toshiba-JetNetwork                        
89 Jamie Sparling (Can) Bicisport Calgary                         
90 Jaimie Lamb (Can) Equipe du Quebec                             
91 Hayden Brooks (Aus) Subaru                                 0.32
92 Tim Henry (USA) Subaru                                         
93 Alexander Welch (USA) Mercy Cycling Team                       
94 Tommy Nankervis (Aus) Priority Health                          
95 Nebojsa Jovanovic (SCG) AEG-Toshiba-JetNetwork                 
96 Justin Spinelli (USA) Nerac/OutdoorLights.com                  
97 Jonathan Hamblen (USA) Nerac/OutdoorLights.com             0.33
98 Predrag Prokic (SCG) AEG-Toshiba-JetNetwork                    
99 Michael Lanyon (USA) Mesa Cycles                               
100 Agustin Font (USA) Caico                                      
101 Jason Harpp (USA) Kenda/Raleigh                               
102 Adam Myerson (USA) Nerac/OutdoorLights.com                    
103 David Robinson (USA) Kodakgallery.com/Sierra Nevada           
104 James Camut (USA) Watchung Wheelman                       0.34
105 Trevor Mays (USA) AxleyUSA.com                                
106 Bennet Ban der Genugten (USA) Abercrombe & Fitch              
107 John DeLong (USA) Rite Aid                                    
108 Chris Kuhl (USA) CRC/Sakonnet Technology                      
109 Dominique Perras (Can) Equipe du Quebec                       
110 Tim Swain (USA) Abercrombe & Fitch                            
111 Phillip Gaimon (USA) VMG Racing                               
112 Peter Penzell (USA) Rite Aid                              0.35
113 Abraham McNutt (USA) Abercrombe & Fitch                       
114 Charly Vives (Can) Calyon / Litespeed                         
115 Keith Jennings (USA) Independent Fabrications                 
116 Eudaldo Asencio (USA) Caico                                   
117 Shane Peltonen (USA) Eclipse Racing                           
118 Chad Nikolz (USA) Broadmark/Hagens                        0.36
119 Brian Kendall (USA) Team Einstein's                           
120 Erik Lyman (Can) Calyon / Litespeed                           
121 Jacob Fetty (USA) Nerac/OutdoorLights.com                     
122 Robert Sweeting (USA) IBC/NERAC                               
123 Jonathan Garcia (USA) Team Einstein's                     0.37
124 Omer Kem (USA) AxleyUSA.com                                   
125 Per Strom (Can) Bicisport Calgary                             
126 Jered Gruber (USA) Abercrombe & Fitch                         
127 Jason Baer (USA) Kenda/Raleigh                                
128 Jake Rytlewski (USA) Priority Health                      0.38
129 Ian Manning (Can) Jet Fuel                                    
130 Adam Branfman (USA) AxleyUSA.com                              
131 William Dugan (USA) Watchung Wheelman                     0.39
132 Maxime Vives (Can) Calyon / Litespeed                         
133 Stan Jurga (USA) Independent Fabrications                     
134 Joe Guiliano (Can) Jet Fuel                                   
135 David Guttenplan (USA) Subaru                             0.40
136 John Seehafer (USA) Team Einstein's                           
137 Kyle Colavito (USA) Eclipse Racing                            
138 Willliam Elliston (USA) TargetTraining                        
139 Joseph Whitman (USA) Kodakgallery.com/Sierra Nevada           
140 Jason Karew (USA) Eclipse Racing                              
141 Shane Weaver (USA) Abercrombe & Fitch                         
142 Malachi Peacock (USA) Abercrombe & Fitch                  0.41
143 Emile Abraham (Tri) AEG-Toshiba-JetNetwork                    
144 Stephan Kincaid (USA) Kodakgallery.com/Sierra Nevada          
145 Jafer Beizer (USA) Subaru                                     
146 Daniel Vaillancourt (USA) CCB/Volkswagen                  0.42
147 Robert Ketchell (USA) Nerac/OutdoorLights.com                 
148 Joshua Carter (USA) Mesa Cycles                               
149 Peter Morse (Can) Jet Fuel                                0.43
150 Edwin Ramos (USA) Caico                                       
151 Ruben Borrero (USA) Caico                                 0.44
152 Bartolo Torre (USA) VMG Racing                                
153 Werling David (USA) Nerac/OutdoorLights.com                   
154 Scott Jackson (USA) Watchung Wheelman                     0.45
155 Nick Friesen (Can) Bicisport Calgary                      0.46
156 Jonathan Bruno (USA) Independent Fabrications                 
157 Shawn Forsythe (USA) CCB/Volkswagen                           
158 Joel Dion-Poitras (Can) Calyon / Litespeed                    
159 Solomon Woras (USA) Broadmark/Hagens                      0.47
160 Jarod Gilyard (USA) Eclipse Racing                        0.48
161 Nathaniel Buyon (USA) Watchung Wheelman                       
162 Trevor Connor (Can) Bicisport Calgary                         
163 Brian Hayes (USA) IBC/NERAC                               0.51
164 Lang Reynolds (USA) AxleyUSA.com                          0.52
165 Nathan O'Neill (USA) Health Net pb Maxxis                 1.02
166 Eric Keim (USA) AEG-Toshiba-JetNetwork                    1.07
167 Ivan Stevic (SCG) Toyota - United                         1.08
168 Sam Johnson (USA) Broadmark/Hagens                        1.18
169 Jason Donald (USA) Team Einstein's                        1.24
170 Heath Blackgrove (NZl) Toyota - United                    1.40
171 Mathew Helming (USA) Kenda/Raleigh                            
172 Tom Gosselin (USA) Independent Fabrications               1.59
173 David Veilleux (Can) Equipe du Quebec                     3.38
174 Michael Jones (USA) Health Net pb Maxxis                  4.42
175 Phil Cortes (Can) Equipe du Quebec                        4.49
176 Michael Necessary (USA) Mesa Cycles                       5.07
177 Brian Wyrick (USA) Mercy Cycling Team                     5.20
178 Aliaksandr Bialiauski (Blr) CCB/Volkswagen                8.31
179 David Sachs (USA) Kenda/Raleigh                           9.48
180 Keith Moore (Can) Jet Fuel                                9.51
181 Stephen Weller (USA) IBC/NERAC                           10.02
182 Zach Reed (USA) Mesa Cycles                              11.53
183 Jake Hollenbach (USA) CCB/Volkswagen                     19.06
184 Luke Krisch (USA) Independent Fabrications               19.38
185 John-Christopher Reid (Can) Bicisport Calgary            19.58
 
Women
 
1 Tina Mayolo-Pic (USA) Colavita Cooking Light             2.41.22
2 Laura Van Gilder (USA) TEAm Lipton                              
3 Gina Grain (Can) Colavita Cooking Light                         
4 Alex Wrubleski (Can) Team Biovail                               
5 Brooke Miller (USA) PABW Powered by TIBC                        
6 Theresa Cliff-Ryan (USA) Verducci Breakaway                     
7 Lauren Franges (USA) Victory Brewing                            
8 Rachel O'Connell (USA) Cheerwine                                
9 Liza Rachetto (USA) TEAm Lipton                                 
10 Laura Yoisten (Can) Victory Brewing                            
11 Mackenzie Dickey (USA) Aaron's Corp. Furnishing                
12 Amber Rais (USA) Webcor-Platinum                               
13 Arielle Filiberti (USA) TRIA                                   
14 Stacy Marple (USA) PABW Powered by TIBC                        
15 Nichole Wangsgard (USA) Colorado Premier Training              
16 Jennifer Stephenson (USA) Team Biovail                         
17 Alison Powers (USA) Advil-Chapstick                            
18 Shannon Hutchison-Krupat (USA) Aaron's Corp. Furnishing        
19 Kelly Benjamin (USA) Cheerwine                                 
20 Brenda Lyons (USA) Victory Brewing                             
21 Andrea Myers (USA) Team Kenda Tire                             
22 Katherine Sherwin (Can) Victory Brewing                        
23 Marie-Pier Bedard (Can) Equipe du Quebec                       
24 Catherine Powers (USA) Aaron's Corp. Furnishing                
25 Susan Haywood (USA) Aaron's Corp. Furnishing                   
26 Rebecca Larson (USA) Aaron's Corp. Furnishing                  
27 Rachel Heal (GBr) Victory Brewing                              
28 Yukie Nakamura (USA) PABW Powered by TIBC                      
29 Kori Seehafer (USA) TEAm Lipton                                
30 Amanda Shaw (USA) Team Biovail                                 
31 Alison Testroete (Can) Team Biovail                            
32 Shannon Willock (Can) Webcor-Platinum                          
33 Audrey Lemieux (Can) Colavita Cooking Light                    
34 Flacia Oliveira (USA) PABW Powered by TIBC                     
35 Sharon Allpress (USA) TRIA                                     
36 Joell Numanville (Can) Team Biovail                            
37 Heather Labance (USA) Advil-Chapstick                          
38 Megan Guarnier (USA) TRIA                                      
39 Caitlyn McCullough (USA) Advil-Chapstick                       
40 Leigh Hobson (Can) Victory Brewing                             
41 Julia Farell (Can) TRIA                                        
42 Katherine Carroll (USA) Victory Brewing                        
43 Beltina Hold (USA) Webcor-Platinum                             
44 Kristin Sanders (USA) Cheerwine                                
45 Lara Kroepsch (USA) TEAm Lipton                                
46 Anne Guzman (Can) TRIA                                         
47 Charmian Breon (USA) Cheerwine                                 
48 Felicia Gomez (USA) Webcor-Platinum                            
49 Kristin Armstrong (USA) TEAm Lipton                            
50 Emilie Roy (Can) Equipe du Quebec                              
51 Anne Samplonius (Can) Team Biovail                             
52 Stephanie Bourbeau (Can) Team Biovail                          
53 Katheryn Curi (USA) Webcor-Platinum                            
54 Chamblee Abernethy (USA) Team Kenda Tire                       
55 Sarah Tillotson (USA) Colavita Cooking Light                   
56 Abby Cooper (USA) Team Kenda Tire                              
57 Carli Figueroa (USA) Verducci Breakaway                        
58 Robin Farina (USA) Team Kenda Tire                             
59 Katy Ligler (USA) Team Kenda Tire                              
60 Christina Ruiter (USA) Victory Brewing                         
61 Anna Milkowski (USA) Advil-Chapstick                           
62 Gina Kavesh (USA) TRIA                                         
63 Kristen Wentworth (USA) Team Kenda Tire                        
64 Meshy Holt (NZl) Colavita Cooking Light                        
65 Kristen LaSasso (USA) TEAm Lipton                              
66 Julie Marceau (Can) Equipe du Quebec                           
67 Suz Weldon (USA) TRIA                                          
68 Marisa Asplund (USA) Colorado Premier Training                 
69 Dotsie Bausch (USA) Colavita Cooking Light                     
70 Allison Beall (USA) TRIA                                       
71 Cat Malone (USA) Webcor-Platinum                               
72 Grace Fleury (USA) TEAm Lipton                                 
73 Kathleen Billington (USA) Team Kenda Tire                      
74 Mandy Lozano (USA) Cheerwine                                   
75 Beth Leasure (USA) Cheerwine                                   
76 Kristin Keim (USA) Verducci Breakaway                          
77 Iona Wynter (Jam) Colavita Cooking Light                       
78 Meredith Miller (USA) TEAm Lipton                          0.41
79 Joanie Caron (Can) Equipe du Quebec                       17.03
80 Diana Panchyk (USA) Advil-Chapstick                       19.38
DNS Lisa Sweeney (Can) Colorado Premier Training                  
DNS Molly Hummel (USA) Colorado Premier Training                  
DNS Dee Clark (USA) Verducci Breakaway                            
 
Women's general classification after stage 2
 
1 Alison Powers (USA) Advil-Chapstick                      2.47.03
2 Kristin Armstrong (USA) TEAm Lipton                         0.06
3 Laura Van Gilder (USA) TEAm Lipton                              
4 Alex Wrubleski (Can) Team Biovail                           0.10
5 Tina Mayolo-Pic (USA) Colavita Cooking Light                0.11
6 Kori Seehafer (USA) TEAm Lipton                             0.13
7 Lauren Franges (USA) Victory Brewing                        0.14
8 Katherine Sherwin (Can) Victory Brewing                     0.16
9 Kristin Sanders (USA) Cheerwine                             0.17
10 Felicia Gomez (USA) Webcor-Platinum                            
11 Katherine Carroll (USA) Victory Brewing                    0.18
12 Charmian Breon (USA) Cheerwine                             0.19
13 Iona Wynter (Jam) Colavita Cooking Light                       
14 Amber Rais (USA) Webcor-Platinum                           0.20
15 Rachel Heal (GBr) Victory Brewing                              
16 Meshy Holt (NZl) Colavita Cooking Light                        
17 Grace Fleury (USA) TEAm Lipton                                 
18 Heather Labance (USA) Advil-Chapstick                      0.22
19 Jennifer Stephenson (USA) Team Biovail                         
20 Brooke Miller (USA) PABW Powered by TIBC                   0.23
21 Megan Guarnier (USA) TRIA                                  0.24
22 Katheryn Curi (USA) Webcor-Platinum                            
23 Anne Samplonius (Can) Team Biovail                         0.25
24 Beltina Hold (USA) Webcor-Platinum                             
25 Stacy Marple (USA) PABW Powered by TIBC                    0.26
26 Brenda Lyons (USA) Victory Brewing                             
27 Sarah Tillotson (USA) Colavita Cooking Light                   
28 Leigh Hobson (Can) Victory Brewing                         0.27
29 Shannon Willock (Can) Webcor-Platinum                          
30 Lara Kroepsch (USA) TEAm Lipton                            0.28
31 Julie Marceau (Can) Equipe du Quebec                           
32 Christina Ruiter (USA) Victory Brewing                         
33 Theresa Cliff-Ryan (USA) Verducci Breakaway                    
34 Cat Malone (USA) Webcor-Platinum                           0.29
35 Gina Grain (Can) Colavita Cooking Light                        
36 Joell Numanville (Can) Team Biovail                        0.30
37 Shannon Hutchison-Krupat (USA) Aaron's Corp. Furnishing    0.31
38 Nichole Wangsgard (USA) Colorado Premier Training              
39 Sharon Allpress (USA) TRIA                                 0.32
40 Rebecca Larson (USA) Aaron's Corp. Furnishing                  
41 Mackenzie Dickey (USA) Aaron's Corp. Furnishing                
42 Susan Haywood (USA) Aaron's Corp. Furnishing               0.33
43 Emilie Roy (Can) Equipe du Quebec                              
44 Marisa Asplund (USA) Colorado Premier Training             0.34
45 Dotsie Bausch (USA) Colavita Cooking Light                     
46 Suz Weldon (USA) TRIA                                      0.35
47 Amanda Shaw (USA) Team Biovail                             0.36
48 Liza Rachetto (USA) TEAm Lipton                            0.37
49 Alison Testroete (Can) Team Biovail                            
50 Kelly Benjamin (USA) Cheerwine                             0.38
51 Flacia Oliveira (USA) PABW Powered by TIBC                     
52 Allison Beall (USA) TRIA                                       
53 Kristen LaSasso (USA) TEAm Lipton                          0.39
54 Audrey Lemieux (Can) Colavita Cooking Light                    
55 Robin Farina (USA) Team Kenda Tire                             
56 Kathleen Billington (USA) Team Kenda Tire                  0.40
57 Arielle Filiberti (USA) TRIA                                   
58 Laura Yoisten (Can) Victory Brewing                            
59 Anna Milkowski (USA) Advil-Chapstick                       0.41
60 Kristen Wentworth (USA) Team Kenda Tire                        
61 Rachel O'Connell (USA) Cheerwine                               
62 Caitlyn McCullough (USA) Advil-Chapstick                   0.42
63 Andrea Myers (USA) Team Kenda Tire                         0.43
64 Anne Guzman (Can) TRIA                                     0.44
65 Carli Figueroa (USA) Verducci Breakaway                    0.45
66 Stephanie Bourbeau (Can) Team Biovail                      0.50
67 Beth Leasure (USA) Cheerwine                                   
68 Mandy Lozano (USA) Cheerwine                               0.51
69 Gina Kavesh (USA) TRIA                                         
70 Marie-Pier Bedard (Can) Equipe du Quebec                       
71 Julia Farell (Can) TRIA                                    0.54
72 Yukie Nakamura (USA) PABW Powered by TIBC                  0.59
73 Abby Cooper (USA) Team Kenda Tire                              
74 Catherine Powers (USA) Aaron's Corp. Furnishing            1.02
75 Katy Ligler (USA) Team Kenda Tire                          1.05
76 Chamblee Abernethy (USA) Team Kenda Tire                   1.08
77 Meredith Miller (USA) TEAm Lipton                          1.09
78 Kristin Keim (USA) Verducci Breakaway                      1.15
79 Joanie Caron (Can) Equipe du Quebec                       17.37
80 Diana Panchyk (USA) Advil-Chapstick                       20.52