Tattersall's Cup Tour of the Murray River - NE
Australia, August 29-September 3, 2006
Main Page Results Overall standings Previous Stage Next Stage
Stage 2 - August 29: Echuca To Rochester, 103.4 km
McLachlan goes one better
By Rod Morris
Robert McLachlan (L) takes out stage two ahead of David Kemp
Photo ©: Shane Goss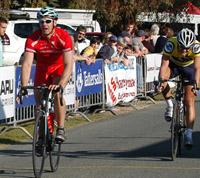 Barcelona Olympian Robert McLachlan continued his morning, in fact he bettered it in the afternoon's 103 km road stage from Echuca to Rochester, the birth town of Australian cycling legend Sir Hubert Opperman.
McLachlan was part of a 12 man breakaway that skipped clear of the peloton about 30 km from the finish line and were never headed.
In a frenetic sprint to the line at Rochester, McLachlan outgunned tour leader David Kemp and improving young Randwick rider Joshua Marden.
Despite missing the stage win, Kemp ended day one of the tour in yellow, holding an eight second lead over Marden, who is considered somewhat of a surprise packet on the leaderboard, while McLachlan is looming dangerously in third place, 11 seconds behind Kemp.
The break seemed to start rather innocuously when the field was gliding through Rochester for the first time before back through Burnewang.
"I'm not sure how the break came into being, I was just rolling along at the front and then we had a group of about a dozen riders and there was a bit of time there," McLachlan said.
"I should pay credit to Adam Murchie too, as he gave me a perfect lead out into the final sprint."
Adam Murchie from Victoria
Photo ©: Shane Goss

"A tour like this you are going to need a bit of luck and I think I had a fair bit today."
McLachlan is the reigning champion in the Tattersall's Cup series, but missed the recent ACPG and enters this week's tour, 84 points behind the leader, Wesley Sulzberger of Tasmania.
Sulzberger won the Tour of Gippsland earlier this month and impressed with a fourth placing overall in the ACPG.
But he didn't feature prominently yesterday and will start Stage 3, 1.58 minutes behind Kemp in 24th place.
No need to panic yet, but Sulzberger will be looking to maintain touch with the laders before making a concerted charge when the tour gets nearer to Mildura for Sunday's finish.
The tour continues on Wednesday with a morning criterium in Kerang and a 75 km road stage from Kerang to Cohuna in the afternoon.
Tour leader David Kemp from Rockhampton in Queensland
Photo ©: Shane Goss

Photography
For a thumbnail gallery of these images, click here
Images by Shane Goss/www.licoricegallery.com
Results
1 Robert McLachlan                     2.20.43 (44.09 Km/Hr)
2 David Kemp                                  
3 Joshua Marden                               
4 Stephen Cunningham                          
5 Casey Munro                                 
6 Brendan Brooks                              
7 Kym Howard                              0.03
8 Sean Finning                                
9 Peter Ladd                                  
10 Matthew Wood                           0.05
11 Brad Edmunds                           0.08
12 Adam Murchie                           0.10
13 Gary Mueller                           1.33
14 Leigh Egan                                 
15 Darren Harry                               
16 Zakkari Dempster                           
17 Fabio Calabria                             
18 Daniel Furmston                            
19 David Hiley                                
20 Jacob Sutherland                           
21 Robert Cater                               
22 Matthew Davis                              
23 Joe McDonnell                              
24 Hamish Mackirdy                            
25 Chris Steffanoni                           
26 Will Wettenhall                            
27 Damon De Angelis                           
28 Brendan Rowbotham                          
29 Luke Pledger                               
30 Peter Smith                                
31 Ricky Peoples                              
32 Tremain Permewan                           
33 Matthew Delahunty                          
34 Samuel Rix                                 
35 Grant Webster                              
36 David Tozer                                
37 Christopher Wilding                        
38 Matthew Sherwin                            
39 Malcolm Hart                               
40 Benjamin Juzwin                            
41 Adrian Hanson                              
42 Cameron Peterson                           
43 Matthew Jensen                             
44 Nicholas Sanderson                         
45 Richie Porte                               
46 Jeremy Bates                               
47 James Fitzgerald                           
48 Wesley Sulzberger                          
49 Jarrod Harman                              
50 Damien Turner                              
51 Glen Peterson                              
52 Gilbert Gutowski                           
53 Brendan Hill                               
54 Craig Mackie                               
55 Chris Jongewaard                           
56 Phillip Stokes                             
57 Marcus Wettenhall                          
58 Nick Culvenor                              
59 Nicholas Walker                            
60 Thomas Baxter                              
61 Cameron Irwin                              
62 Mark O'Brien                               
63 James Robinson                             
64 Brett Aitken                               
65 James Hannam                               
66 Simon Pearson                              
67 Matthew Kennett                            
68 Peter McDonald                             
69 Steven Pilson                              
70 Timothy Decker                             
71 Brett Franklin                             
72 Jamie Kelly                                
73 Peter Barnett                              
74 James Kelly                                
75 Andrew Ward                                
76 Daniel Burtt                               
77 Jack Anderson                              
78 Will Dickeson                              
79 Kyle Marwood                               
80 William Murray                             
81 Joshua Gundry                              
82 Johnnie Walker                             
83 Tim Hucker                                 
84 Bradley Clark                              
85 Jai Crawford                               
86 Jason Hegert                               
87 Michael Ford                               
88 Craig McCartney                            
89 Tom Middleton                              
90 Patrick Shaw                               
91 Daniel Newnham                             
92 Scott Peoples                              
93 Peter Milostic                             
94 Nigel Sullivan                             
95 Stuart Shaw                                
96 David Pell                                 
97 Simon Van Der Aa                      13.17
98 Peter Herzig                          19.38
 
Sprints
 
Mocha 33 - Kotta Memorial Hall
 
1 Samuel Rix                                 3 pts
2 David Pell                                 2
3 David Hiley                                1
 
Mocha 45 - Lockington Hotel
 
1 Joshua Marden                              3 pts
2 Gary Mueller                               2
3 David Kemp                                 1
 
Mocha 60 - Ballendalla Primary School
 
1 Johnnie Walker                             3 pts
2 Joshua Marden                              2
3 Brad Edmunds                               1
 
Mocha 71 - Rochester Primary School
 
1 Scott Peoples                              3 pts
2 Peter Barnett                              2
3 Kyle Marwood                               1
 
Mocha 107 - Aysons Reserve - Burnewang
 
1 Joshua Marden                              3 pts
2 David Kemp                                 2
3 Brad Edmunds                               1
 
Hill Climbs
 
Cat.4 Cross Bonn School Road
 
1 Casey Munro                                3 pts
2 Brad Edmunds                               2
3 Brendan Brooks                             1
 
Cat.4 T-Intersection Right to Bendigo
 
1 Casey Munro                                3 pts
2 Brad Edmunds                               2
3 Matthew Wood                               1
 
General classification after stage 2
 
1 David Kemp                           3.02.04
2 Joshua Marden                           0.08
3 Robert McLachlan                        0.11
4 Casey Munro                             0.16
5 Brad Edmunds                            0.22
6 Stephen Cunningham                      0.25
7 Brendan Brooks                          0.27
8 Peter Ladd                              0.32
9 Kym Howard                                  
10 Sean Finning                               
11 Matthew Wood                           0.33
12 Adam Murchie                           0.39
13 Chris Jongewaard                       1.51
14 Brett Aitken                           1.52
15 Scott Peoples                          1.55
16 Leigh Egan                             1.56
17 Joe McDonnell                              
18 Peter McDonald                         1.57
19 Peter Barnett                          1.58
20 Johnnie Walker                             
21 Craig McCartney                            
22 Patrick Shaw                               
23 Zakkari Dempster                           
24 Wesley Sulzberger                          
25 Samuel Rix                             1.59
26 Gary Mueller                               
27 Jeremy Bates                               
28 David Pell                             2.00
29 David Hiley                            2.01
30 Kyle Marwood                               
31 Nicholas Walker                            
32 Stuart Shaw                                
33 Robert Cater                               
34 Steven Pilson                          2.02
35 Adrian Hanson                              
36 Christopher Wilding                        
37 Marcus Wettenhall                          
38 Grant Webster                              
39 Andrew Ward                                
40 Jason Hegert                               
41 David Tozer                                
42 Nigel Sullivan                             
43 Chris Steffanoni                           
44 Peter Smith                                
45 Matthew Sherwin                            
46 Brendan Rowbotham                          
47 Ricky Peoples                              
48 Daniel Newnham                             
49 Tom Middleton                              
50 Craig Mackie                               
51 Matthew Jensen                             
52 Tim Hucker                                 
53 Brendan Hill                               
54 Jarrod Harman                              
55 Gilbert Gutowski                           
56 Joshua Gundry                              
57 Daniel Furmston                            
58 Matthew Delahunty                          
59 Matthew Davis                              
60 Nick Culvenor                              
61 Bradley Clark                              
62 Daniel Burtt                               
63 Jack Anderson                              
64 Cameron Peterson                           
65 Damien Turner                              
66 Timothy Decker                             
67 James Hannam                               
68 Richie Porte                               
69 Nicholas Sanderson                         
70 Jai Crawford                               
71 Jacob Sutherland                           
72 Fabio Calabria                             
73 Will Dickeson                              
74 Michael Ford                               
75 Mark O'Brien                               
76 Peter Milostic                             
77 Phillip Stokes                         3.12
78 Luke Pledger                               
79 Glen Peterson                              
80 Matthew Kennett                            
81 Jamie Kelly                                
82 Darren Harry                               
83 Brett Franklin                             
84 Thomas Baxter                              
85 Simon Pearson                              
86 Will Wettenhall                        4.22
87 James Robinson                             
88 Tremain Permewan                           
89 Cameron Irwin                              
90 Damon De Angelis                           
91 William Murray                         5.32
92 Hamish Mackirdy                            
93 James Kelly                                
94 Benjamin Juzwin                            
95 Malcolm Hart                               
96 James Fitzgerald                           
97 Peter Herzig                          20.07
98 Simon Van Der Aa                      20.46
 
Aggressive Rider Awards
 
1 Brad Edmunds                               2 pts
2 Peter Barnett                              2
 
Sprint classification
 
1 David Kemp                                17 pts
2 Joshua Marden                             14
3 Brad Edmunds                              11
4 Chris Jongewaard                          11
5 Scott Peoples                              7
6 Joe McDonnell                              6
7 Peter McDonald                             5
8 Casey Munro                                5
9 Johnnie Walker                             4
10 Zakkari Dempster                          4
11 Craig McCartney                           4
12 Patrick Shaw                              4
13 Peter Barnett                             4
14 Jeremy Bates                              3
15 Samuel Rix                                3
16 Gary Mueller                              3
17 Wesley Sulzberger                         2
18 David Pell                                2
19 Stuart Shaw                               1
20 Robert Cater                              1
21 Nicholas Walker                           1
22 Kyle Marwood                              1
23 David Hiley                               1
 
Mountains classification
 
1 Casey Munro                                6 pts
2 Brad Edmunds                               4
3 Matthew Wood                               1
4 Brendan Brooks                             1
 
Criterium classification
 
1 Brett Aitken                              10 pts
2 Robert McLachlan                           9
3 Leigh Egan                                 8
4 David Kemp                                 7
5 Wesley Sulzberger                          6
6 Joshua Marden                              5
7 Robert Cater                               4
8 Jeremy Bates                               3
9 Nicholas Sanderson                         2
10 Brad Edmunds                              1