Tattersall's Cup Tour of the Murray River - NE
Australia, August 29-September 3, 2006
Main Page Results Overall standings Previous Stage Next Stage
Stage 3 - August 30: Kerang criterium, 33 km
McLachlan & Aitken share second day spoils
By Rod Morris
Brett Aitken (L) is about to spread his wings
Photo ©: Shane Goss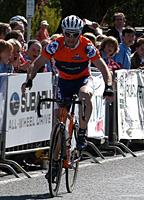 The Subaru Tour of the Murray River has quickly turned into a veteran's affair with Brett Aitken (SA), Robert McLachlan (ACT) and Leigh Egan (Vic) completing three trifectas in the first four stages.
As the six day - 11-stage - tour moved from Echuca to Kerang and Cohuna in Victoria's North-West, Aitken, McLachlan and Egan hogged the limelight, just as they had done on day one, although Toowoomba rider David Kemp maintained his grip on the leader's yellow jersey, despite not yet winning a stage.
Aitken, McLachlan and Egan have a combined age of 109, but so far they have shown the young bucks a flashing pair pedals in every stage.
Aitken, a hero of the Sydney Olympics in 2000 when he teamed with Scott McGrory, won the morning's criterium in Kerang in his usual fast finishing style and despite declaring he wasn't going to be a threat in the road stages, was only just pipped on the line in the afternoon's 74.7 km race from Kerang to Cohuna by McLachlan, who has now been on the podium in all four stages of the tour, which is the third leg of the Tattersall's Cup series.
Kemp's consistency has been rewarded by the yellow jersey, although his lead has been slashed to just three seconds from McLachlan and little known NSW rider Joshua Marden, who is also leading in the sprinter's championship.
The second day was raced in brilliant sunshine in Victoria and on a 1.1 km flat circuit, the Kerang Criterium was always going to come down to who could sprint the quickest.
The field on the back streets of Kerang
Photo ©: Shane Goss

Breakaways were continually reeled and for the leader's in the general classification, their every move was being monitored by their challengers. Marden, Casey Munro, Zakkari Dempster and Sean Finning pinched the early sprint points on offer, while Craig Mackie and Marcus Wettenhall also chipped in when it counted.
Riders hit an average speed of more than 43 kph for the 30 lap race and in a hectic long straight finish, it came down to the sprinters.
Aitken is regarded one of Australia's best in this sort of situation, but he still had to pick the right line and time for his final lunge.
"I got a near perfect lead but I knew I still had to hold off Robbie (McLachlan) and Leigh (Egan)," he said.
"I knew they would be coming after me, so it was a matter of head down and backside up and give it everything I had."
Both McLachlan and Egan accepted defeat graciously, acknowledging Aitken's special talent.
David Kemp in yellow as tour leader
Photo ©: Shane Goss

"He is such a hard to rider to beat in a sprint like, if he get's the right line, then not too many people are going to stop him," McLachlan said.
The race within the race, ie: the sprint championship saw Marden and Kemp draw level on 23 points, but the distinctive green jersey was awarded to the New South Welshman, because of more overall sprint wins.
Kemp was unruffled, declaring his intentions quite openly.
"I want to preserve this yellow leader's jersey," he stated.
Photography
For a thumbnail gallery of these images, click here
Images by Shane Goss/www.licoricegallery.com
Results

Stage 3 43.64 Km/Hr
 
1 Brett Aitken                                       45.22 (43.64 Km/Hr)
2 Leigh Egan                                              
3 Robert McLachlan                                        
4 Gary Mueller                                            
5 Wesley Sulzberger                                       
6 Daniel Furmston                                         
7 David Kemp                                              
8 Brendan Rowbotham                                       
9 Joshua Marden                                           
10 Darren Harry                                           
11 Tim Hucker                                             
12 Joe McDonnell                                          
13 Chris Steffanoni                                       
14 Kyle Marwood                                           
15 Jeremy Bates                                           
16 Brad Edmunds                                           
17 Robert Cater                                           
18 Marcus Wettenhall                                      
19 Daniel Newnham                                         
20 Peter Smith                                            
21 Nicholas Walker                                        
22 Luke Pledger                                           
23 Nicholas Sanderson                                     
24 Cameron Peterson                                       
25 Peter Barnett                                          
26 Peter McDonald                                         
27 Michael Ford                                           
28 Samuel Rix                                             
29 Stuart Shaw                                            
30 David Hiley                                            
31 Jason Hegert                                           
32 Peter Milostic                                         
33 Brendan Hill                                           
34 Craig McCartney                                        
35 Jacob Sutherland                                       
36 Ricky Peoples                                          
37 Gilbert Gutowski                                       
38 Patrick Shaw                                           
39 Richie Porte                                           
40 Stephen Cunningham                                     
41 Zakkari Dempster                                       
42 Brendan Brooks                                         
43 Benjamin Juzwin                                        
44 Matthew Davis                                          
45 Jai Crawford                                           
46 Christopher Wilding                                    
47 Jarrod Harman                                          
48 Fabio Calabria                                         
49 Matthew Delahunty                                      
50 Matthew Wood                                           
51 Matthew Sherwin                                        
52 Phillip Stokes                                         
53 Scott Peoples                                          
54 James Hannam                                           
55 Will Wettenhall                                        
56 Kym Howard                                             
57 Adam Murchie                                           
58 Chris Jongewaard                                       
59 Peter Ladd                                             
60 Johnnie Walker                                         
61 Cameron Irwin                                          
62 Timothy Decker                                         
63 Glen Peterson                                          
64 Matthew Jensen                                         
65 Brett Franklin                                         
66 Thomas Baxter                                          
67 Simon Pearson                                          
68 James Fitzgerald                                       
69 Tom Middleton                                          
70 Jack Anderson                                          
71 Nigel Sullivan                                         
72 Will Dickeson                                          
73 Adrian Hanson                                          
74 William Murray                                         
75 Casey Munro                                            
76 Andrew Ward                                            
77 Nick Culvenor                                          
78 Damon De Angelis                                       
79 Mark O'Brien                                           
80 Joshua Gundry                                          
81 Jamie Kelly                                            
82 Matthew Kennett                                        
83 David Tozer                                            
84 Peter Herzig                                           
85 Tremain Permewan                                       
86 Steven Pilson                                          
87 Sean Finning                                           
88 Simon Van Der Aa                                       
89 Craig Mackie                                       0.16
90 Bradley Clark                                          
91 Grant Webster                                          
92 Daniel Burtt                                           
93 Hamish Mackirdy                                    0.35
94 Damien Turner                                      1.31
95 James Kelly                                        4.33
96 James Robinson                                     6.04
97 Malcolm Hart                                           
 
Sprints
 
End of Lap 6
 
1 Joshua Marden                                          3 pts
2 Gary Mueller                                           2
3 David Kemp                                             1
 
End of Lap 8
 
1 Casey Munro                                            3 pts
2 David Kemp                                             2
3 Joshua Marden                                          1
 
End of Lap 10
 
1 Zakkari Dempster                                       3 pts
2 David Kemp                                             2
3 Joe McDonnell                                          1
 
End of Lap 12
 
1 Sean Finning                                           3 pts
2 Patrick Shaw                                           2
3 Casey Munro                                            1
 
End of Lap 14
 
1 Casey Munro                                            3 pts
2 Patrick Shaw                                           2
3 Nicholas Sanderson                                     1
 
End of Lap 16
 
1 Joshua Marden                                          3 pts
2 Casey Munro                                            2
3 Joshua Gundry                                          1
 
End of Lap 18
 
1 Marcus Wettenhall                                      3 pts
2 Wesley Sulzberger                                      2
3 Peter McDonald                                         1
 
End of Lap 20
 
1 Craig Mackie                                           3 pts
2 Joshua Marden                                          2
3 David Kemp                                             1
 
End of Lap 22
 
1 Sean Finning                                           3 pts
2 Scott Peoples                                          2
3 Chris Steffanoni                                       1
 
End of Lap 24
 
1 Casey Munro                                            3 pts
2 Michael Ford                                           2
3 Patrick Shaw                                           1
 
End of Lap 26
 
1 Zakkari Dempster                                       3 pts
2 Johnnie Walker                                         2
3 Brendan Brooks                                         1
 
General classification after stage 3
 
1 David Kemp                                       3.47.20
2 Joshua Marden                                       0.05
3 Casey Munro                                         0.10
4 Robert McLachlan                                    0.11
5 Brad Edmunds                                        0.28
6 Stephen Cunningham                                  0.31
7 Sean Finning                                        0.32
8 Brendan Brooks                                          
9 Peter Ladd                                          0.38
10 Kym Howard                                             
11 Matthew Wood                                       0.39
12 Adam Murchie                                       0.45
13 Brett Aitken                                       1.48
14 Leigh Egan                                         1.54
15 Chris Jongewaard                                   1.57
16 Zakkari Dempster                                   1.58
17 Gary Mueller                                       1.59
18 Scott Peoples                                          
19 Patrick Shaw                                           
20 Wesley Sulzberger                                  2.00
21 Joe McDonnell                                      2.01
22 Johnnie Walker                                     2.02
23 Peter McDonald                                         
24 Peter Barnett                                      2.04
25 Craig McCartney                                        
26 Marcus Wettenhall                                  2.05
27 Samuel Rix                                             
28 Jeremy Bates                                           
29 Michael Ford                                       2.06
30 David Hiley                                        2.07
31 Kyle Marwood                                           
32 Nicholas Walker                                        
33 Chris Steffanoni                                       
34 Joshua Gundry                                          
35 Daniel Furmston                                        
36 Nicholas Sanderson                                     
37 Stuart Shaw                                            
38 Robert Cater                                           
39 Steven Pilson                                      2.08
40 Adrian Hanson                                          
41 Christopher Wilding                                    
42 Andrew Ward                                            
43 Jason Hegert                                           
44 David Tozer                                            
45 Nigel Sullivan                                         
46 Peter Smith                                            
47 Matthew Sherwin                                        
48 Brendan Rowbotham                                      
49 Ricky Peoples                                          
50 Daniel Newnham                                         
51 Tom Middleton                                          
52 Matthew Jensen                                         
53 Tim Hucker                                             
54 Brendan Hill                                           
55 Jarrod Harman                                          
56 Gilbert Gutowski                                       
57 Matthew Delahunty                                      
58 Matthew Davis                                          
59 Nick Culvenor                                          
60 Jack Anderson                                          
61 Cameron Peterson                                       
62 Timothy Decker                                         
63 James Hannam                                           
64 Richie Porte                                           
65 Jai Crawford                                           
66 Jacob Sutherland                                       
67 Fabio Calabria                                         
68 Will Dickeson                                          
69 Mark O'Brien                                           
70 Peter Milostic                                         
71 Craig Mackie                                       2.21
72 Grant Webster                                      2.24
73 Bradley Clark                                          
74 Daniel Burtt                                           
75 Phillip Stokes                                     3.18
76 Luke Pledger                                           
77 Glen Peterson                                          
78 Matthew Kennett                                        
79 Jamie Kelly                                            
80 Darren Harry                                           
81 Brett Franklin                                         
82 Thomas Baxter                                          
83 Simon Pearson                                          
84 Damien Turner                                      3.39
85 Will Wettenhall                                    4.28
86 Tremain Permewan                                       
87 Cameron Irwin                                          
88 Damon De Angelis                                       
89 William Murray                                     5.38
90 Benjamin Juzwin                                        
91 James Fitzgerald                                       
92 Hamish Mackirdy                                    6.13
93 James Kelly                                       10.11
94 James Robinson                                    10.32
95 Malcolm Hart                                      11.42
96 Peter Herzig                                      20.13
97 Simon Van Der Aa                                  20.52
 
Aggressive Rider Awards
 
1 Brad Edmunds                                          50 pts
2 Peter Barnett                                         50
 
Sprint classification
 
1 Joshua Marden                                         23 pts
2 David Kemp                                            23
3 Casey Munro                                           17
4 Brad Edmunds                                          11
5 Chris Jongewaard                                      11
6 Zakkari Dempster                                      10
7 Scott Peoples                                          9
8 Patrick Shaw                                           9
9 Joe McDonnell                                          7
10 Sean Finning                                          6
11 Peter McDonald                                        6
12 Johnnie Walker                                        6
13 Gary Mueller                                          5
14 Craig McCartney                                       4
15 Peter Barnett                                         4
16 Wesley Sulzberger                                     4
17 Marcus Wettenhall                                     3
18 Jeremy Bates                                          3
19 Samuel Rix                                            3
20 Craig Mackie                                          3
21 Michael Ford                                          2
22 Nicholas Walker                                       1
23 Chris Steffanoni                                      1
24 Joshua Gundry                                         1
25 Nicholas Sanderson                                    1
26 David Hiley                                           1
27 Robert Cater                                          1
28 Stuart Shaw                                           1
29 Kyle Marwood                                          1
30 Brendan Brooks                                        1
 
Mountains classification
 
1 Casey Munro                                            6 pts
2 Brad Edmunds                                           4
3 Matthew Wood                                           1
4 Brendan Brooks                                         1
 
Criterium classification
 
1 Brett Aitken                                          20 pts
2 Leigh Egan                                            17
3 Robert McLachlan                                      17
4 Wesley Sulzberger                                     12
5 David Kemp                                            11
6 Joshua Marden                                          7
7 Gary Mueller                                           7
8 Daniel Furmston                                        5
9 Robert Cater                                           4
10 Brendan Rowbotham                                     3
11 Jeremy Bates                                          3
12 Nicholas Sanderson                                    2
13 Darren Harry                                          1
14 Brad Edmunds                                          1