Tattersall's Cup Tour of the Murray River - NE
Australia, August 29-September 3, 2006
Main Page Results Overall standings Next Stage
Stage 1 - August 29: Echuca criterium, 30.6 km
Aitken's triumphant return
By Rod Morris
Gold medalist from the 2000 Sydney Olympics
Photo ©: Shane Goss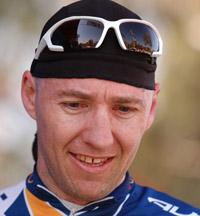 Gold medal hero from the 2000 Sydney Olympics, Brett Aitken completed the first chapter of a successful comeback to competitive racing when he won the opening stage of the Subaru Tour of the Murray RiverTuesday.
Aitken (35) overshadowed a class field of 120 riders in a 30.5 km lightning-fast criterium in Echuca on the banks of the Murray.
Aitken has not ridden seriously for more than two years and is using this week's tour as preparation for the Herald Sun Tour to be raced in October.
Aitken teamed with Scott McGrory to win the Madison title in Sydney six years ago, but still looks fit enough to compete at the highest level.
"I might look that way (fit), but I have done very little training," Aitken said.
"I don't think I'll be much of a threat in the road stages and will really just be concentrating on the criteriums.
The Tour of the Murray River is the third leg of the Tattersall's Cup series, which has so far included the nine stage Tour of Gippsland earlier this month and the inaugural three race Australian Cycling Grand Prix in Ballarat last week.
The trifecta in the Echuca Criterium was a boon for the older brigade of Australian domestic cycling with Aitken, be joined on the podium by fellow 35-year-old Robert McLachlan from Canberra and 39-year-old Shepparton rider Leigh Egan.
Aitken won the Tour of Sunraysia - a forerunner to the Tour of the Murray River - back in 1998 when it was a three day event and both McLachlan and Egan are former winners of the Tattersall's Cup series.
Riders accelerate out of the bottom bend
Photo ©: Shane Goss

"This is the greatest domestic series of racing in Australia and really is the breeding ground for the next generation of riders to compete internationally," McLachlan said.
The field of 120 starters set a cracking pace in the opening stage, finishing the 30.5 km in just 41.50 minutes, averaging just over a minute for each of the 36 laps of the 850 m circuit.
"I remembered this circuit from the 2003 Herald Sun Tour, when I won a bunch sprint, so I was comfortable with what has happening out there," Aitken said.
"I must admit though, it was really was a quick race."
Queensland's David Kemp - recent winner of the ACPG road race - claimed opening honours in the RoadSafe Mildura and Qantaslink Sprint Championship and - more importantly - the overall lead in the tour.
Photography
For a thumbnail gallery of these images, click here
Images by Shane Goss/www.licoricegallery.com
Results

1 Brett Aitken                           41.50 (43.89 Km/Hr)
2 Robert McLachlan                            
3 Leigh Egan                                  
4 David Kemp                                  
5 Wesley Sulzberger                           
6 Joshua Marden                               
7 Robert Cater                                
8 Jeremy Bates                                
9 Nicholas Sanderson                          
10 Brad Edmunds                               
11 Scott Peoples                              
12 Fabio Calabria                             
13 Johnnie Walker                             
14 Chris Jongewaard                           
15 Gary Mueller                               
16 Tom Middleton                              
17 Ricky Peoples                              
18 Chris Steffanoni                           
19 Craig McCartney                            
20 Daniel Newnham                             
21 Richie Porte                               
22 Zakkari Dempster                           
23 Brendan Hill                               
24 Peter Milostic                             
25 Gilbert Gutowski                           
26 Jacob Sutherland                           
27 Damien Turner                              
28 Peter Smith                                
29 Jai Crawford                               
30 Samuel Rix                                 
31 Christopher Wilding                        
32 Kyle Marwood                               
33 Joe McDonnell                              
34 Peter Barnett                              
35 Will Dickeson                              
36 Stephen Cunningham                         
37 David Tozer                                
38 Matthew Wood                               
39 David Pell                                 
40 Brendan Brooks                             
41 Grant Webster                              
42 Casey Munro                                
43 Peter McDonald                             
44 Stuart Shaw                                
45 Mark O'Brien                               
46 Daniel Furmston                            
47 Nicholas Walker                            
48 Marcus Wettenhall                          
49 Cameron Peterson                           
50 Jack Anderson                              
51 Sean Finning                               
52 Michael Ford                               
53 Matthew Jensen                             
54 Matthew Delahunty                          
55 Matthew Davis                              
56 Nick Culvenor                              
57 Craig Mackie                               
58 Adam Murchie                               
59 Daniel Burtt                               
60 Jason Hegert                               
61 Joshua Gundry                              
62 Tim Hucker                                 
63 David Hiley                                
64 Andrew Ward                                
65 Jarrod Harman                              
66 Patrick Shaw                               
67 Peter Ladd                                 
68 James Hannam                               
69 Kym Howard                                 
70 Brendan Rowbotham                          
71 Matthew Sherwin                            
72 Adrian Hanson                              
73 Nigel Sullivan                             
74 Bradley Clark                              
75 Steven Pilson                              
76 Peter Herzig                               
77 Timothy Decker                             
78 Phillip Stokes                         1.10
79 Luke Pledger                               
80 Glen Peterson                              
81 Matthew Kennett                            
82 Jamie Kelly                                
83 Darren Harry                               
84 Brett Franklin                             
85 Thomas Baxter                              
86 Simon Pearson                              
87 James Robinson                         2.20
88 Tremain Permewan                           
89 Cameron Irwin                              
90 Damon De Angelis                           
91 Will Wettenhall                            
92 William Murray                         3.30
93 Hamish Mackirdy                            
94 James Kelly                                
95 Benjamin Juzwin                            
96 Malcolm Hart                               
97 James Fitzgerald                           
98 Paul DiStefano                         4.40
99 Simon Van Der Aa                       7.00
 
Sprints
 
End of Lap 6
 
1 Craig McCartney                            3 pts
2 David Kemp                                 2
3 Robert Cater                               1
 
End of Lap 8
 
1 Joshua Marden                              3 pts
2 Chris Jongewaard                           2
3 Brad Edmunds                               1
 
End of Lap 10
 
1 Joe McDonnell                              3 pts
2 Patrick Shaw                               2
3 Craig McCartney                            1
 
End of Lap 12
 
1 Joe McDonnell                              3 pts
2 Casey Munro                                2
3 Chris Jongewaard                           1
 
End of Lap 14
 
1 David Kemp                                 3 pts
2 Chris Jongewaard                           2
3 Wesley Sulzberger                          1
 
End of Lap 16
 
1 Jeremy Bates                               3 pts
2 Chris Jongewaard                           2
3 Johnnie Walker                             1
 
End of Lap 18
 
1 David Kemp                                 3 pts
2 Chris Jongewaard                           2
3 Scott Peoples                              1
 
End of Lap 20
 
1 Scott Peoples                              3 pts
2 David Kemp                                 2
3 Nicholas Walker                            1
 
End of Lap 22
 
1 David Kemp                                 3 pts
2 Peter McDonald                             2
3 Stuart Shaw                                1
 
End of Lap 24
 
1 Brad Edmunds                               3 pts
2 Joshua Marden                              2
3 David Kemp                                 1
 
End of Lap 26
 
1 Brad Edmunds                               3 pts
2 Chris Jongewaard                           2
3 Joshua Marden                              1
 
End of Lap 28
 
1 Peter McDonald                             3 pts
2 Patrick Shaw                               2
3 Wesley Sulzberger                          1
 
End of Lap 30
 
1 Zakkari Dempster                           3 pts
2 Brad Edmunds                               2
3 Gary Mueller                               1
 
End of Lap 32
 
1 Casey Munro                                3 pts
2 Peter Barnett                              2
3 Zakkari Dempster                           1
 
General classification after stage 1
 
1 David Kemp                             41.32
2 Chris Jongewaard                        0.07
3 Brett Aitken                            0.08
4 Brad Edmunds                            0.09
5 Robert McLachlan                        0.10
6 Joshua Marden                           0.11
7 Leigh Egan                              0.12
8 Joe McDonnell                               
9 Casey Munro                             0.13
10 Craig McCartney                        0.14
11 Patrick Shaw                               
12 Zakkari Dempster                           
13 Scott Peoples                              
14 Wesley Sulzberger                          
15 Jeremy Bates                           0.15
16 Peter Barnett                          0.16
17 Nicholas Walker                        0.17
18 Johnnie Walker                             
19 Gary Mueller                               
20 Stuart Shaw                                
21 Robert Cater                               
22 Steven Pilson                          0.18
23 Adrian Hanson                              
24 Matthew Wood                               
25 Christopher Wilding                        
26 Marcus Wettenhall                          
27 Grant Webster                              
28 Andrew Ward                                
29 Jason Hegert                               
30 David Tozer                                
31 Nigel Sullivan                             
32 Chris Steffanoni                           
33 Peter Smith                                
34 Matthew Sherwin                            
35 Brendan Rowbotham                          
36 Samuel Rix                                 
37 Ricky Peoples                              
38 Daniel Newnham                             
39 Adam Murchie                               
40 Tom Middleton                              
41 Craig Mackie                               
42 Peter Ladd                                 
43 Matthew Jensen                             
44 Tim Hucker                                 
45 Kym Howard                                 
46 Brendan Hill                               
47 Jarrod Harman                              
48 Gilbert Gutowski                           
49 Joshua Gundry                              
50 Daniel Furmston                            
51 Matthew Delahunty                          
52 Matthew Davis                              
53 Nick Culvenor                              
54 Bradley Clark                              
55 Daniel Burtt                               
56 Jack Anderson                              
57 David Pell                                 
58 Cameron Peterson                           
59 Damien Turner                              
60 Timothy Decker                             
61 James Hannam                               
62 David Hiley                                
63 Kyle Marwood                               
64 Richie Porte                               
65 Nicholas Sanderson                         
66 Jai Crawford                               
67 Stephen Cunningham                         
68 Peter Herzig                               
69 Jacob Sutherland                           
70 Sean Finning                               
71 Brendan Brooks                             
72 Fabio Calabria                             
73 Will Dickeson                              
74 Michael Ford                               
75 Mark O'Brien                               
76 Peter Milostic                             
77 Phillip Stokes                         1.28
78 Luke Pledger                               
79 Glen Peterson                              
80 Matthew Kennett                            
81 Jamie Kelly                                
82 Darren Harry                               
83 Brett Franklin                             
84 Thomas Baxter                              
85 Simon Pearson                              
86 Will Wettenhall                        2.38
87 James Robinson                             
88 Tremain Permewan                           
89 Cameron Irwin                              
90 Damon De Angelis                           
91 William Murray                         3.48
92 Hamish Mackirdy                            
93 James Kelly                                
94 Benjamin Juzwin                            
95 Malcolm Hart                               
96 James Fitzgerald                           
97 Paul DiStefano                         4.58
98 Simon Van Der Aa                       7.18
 
Sprint classification
 
1 David Kemp                                14 pts
2 Chris Jongewaard                          11
3 Brad Edmunds                               9
4 Joe McDonnell                              6
5 Joshua Marden                              6
6 Casey Munro                                5
7 Scott Peoples                              4
8 Craig McCartney                            4
9 Zakkari Dempster                           4
10 Patrick Shaw                              4
11 Jeremy Bates                              3
12 Wesley Sulzberger                         2
13 Peter Barnett                             2
14 Robert Cater                              1
15 Nicholas Walker                           1
16 Gary Mueller                              1
17 Johnnie Walker                            1
18 Stuart Shaw                               1
 
Criterium classification
 
1 Brett Aitken                              10 pts
2 Robert McLachlan                           9
3 Leigh Egan                                 8
4 David Kemp                                 7
5 Wesley Sulzberger                          6
6 Joshua Marden                              5
7 Robert Cater                               4
8 Jeremy Bates                               3
9 Nicholas Sanderson                         2
10 Brad Edmunds                              1