Rotterdam Tour - CDM
Netherlands, September 4, 2005
2004 results Results Past winners
Teutenberg takes her first World Cup
Wood increases her series lead again
By Kristy Scrymgeour
And it's Ina-Yoko Teutenberg (German National Team)
Photo ©: CJ Farquharson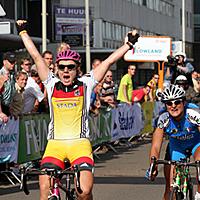 Only a few days after winning Stage 4a of the Holland Ladies Tour, Ina Yoko Teutenberg (German National Team) rode to victory again, this time in the penultimate round of the women's World Cup series in Rotterdam. The victory was Teutenberg's 19th race win for the year, but her first ever World Cup win on the road.
After a week of racing at the Expert Ladies Tour, 119 riders lined up in Rotterdam for the World Cup. Going into the race Australian Oenone Wood (Nürnberger) led the series by 18 points over Susanne Ljungskog (Buitenpoort Flexpoint), who's team was certainly going to be aggressive from the start.
After getting out of the town of Rotterdam, things started hotting up with a plethora of attacks. One particular group for a good gap on the field, but with Ljungskog present, Nürnberger were quick to bring it back. At about 40km into the race the decisive break got away. Ten riders made up the break including Teutenberg, Olivia Gollan (Nürnberger), Alessandra D'ettorre and Silvia Parietti (Italian National Team), Luisa Tamanini (Team Bianchi-Aliverti), Anna Zugno (Safi-Pasta Zara Manhattan), Sharon Van Essen (Vrienden Van Het Platteland), Annette Beutler (S.C. Michela Fanini Record Rox), Audrey Lemieux (Canadian National Team) and Sharon Van Dromme (Vlaanderen-Capri Sonne-T Interim).
The break worked very well together, but the gap stayed small for quite some time due to the chasing efforts of the teams that missed the break. After 20km it eventually it opened up and the ten riders had a gap of 2'20".
The race podium
Photo ©: CJ Farquharson

With about 30km to go in the race", explained Teutenberg to Cyclingnews after the race, "people were getting tired and the group didn't work well together anymore. I waited ten kilometres and attacked."
Taking D'ettorre with her a gap quickly opened and one other rider, Tamanini, bridged to the pair. Soon the trio had 50 seconds on the break and by the finish it became a race between the three of them. Tamanini attacked with 600m to go, but Teutenberg was straight on her wheel and started her sprint with 250m to go to take the win.
A very pleased Teutenberg talked to Cyclingnews after the race. "Its my first ever World Cup win on the road," she said, "So I'm very happy."
The Nürnberger safely delivered Wood to the line to take 14th place. With Ljunsgkog finishing behind her in 28th place, Wood increased her World Cup lead slightly and goes in the final round next weekend in the teams home town, with 25 points up her sleeve.
Photography
For a thumbnail gallery of these images, click here
Images by CJ Farquharson/www.womenscycling.net
Results - 128 km
1 Ina-Yoko Teutenberg (Ger) German National Team                    3.13.03 (39.782 km/h)
2 Alessandra D'ettorre (Ita) Italian National Team                         
3 Luisa Tamanini (Ita) Team Bianchi-Aliverti                               
4 Anna Zugno (Ita) Safi-Pasta Zara Manhattan                           1.26
5 Silvia Parietti (Ita) Italian National Team                              
6 Sharon Van Essen (Ned) Vrienden Van Het Platteland                       
7 Annette Beutler (Swi) S.C. Michela Fanini Record Rox                     
8 Olivia Gollan (Aus) Equipe Nürnberger Versicherung                       
9 Audrey Lemieux (Can) Canadian National Team                              
10 Sharom Van Dromme (Bel) Vlaanderen-Capri Sonne-T Interim                
11 Suzanne De Goede (Ned) Van Bemmelen-AA Drink                        2.26
12 Sarah Duster (Ger) Therme Skin Care                                     
13 Giorgia Bronzini (Ita) Italian National Team                            
14 Oenone Wood (Aus) Equipe Nürnberger Versicherung                        
15 Rochelle Gilmore (Aus) Safi-Pasta Zara Manhattan                        
16 Olga Sliuareva (Rus) Nobili Rubinetterie-Menikini Cogeas                
17 Bettina Kuhn (Swi) Swiss National Team                                  
18 Monica Holler (Swe) Elk Haus-Tirol Noe                                  
19 Marina Jaunatre (Fra) French National Team                              
20 Miho Oki (Jpn) Nobili Rubinetterie-Menikini Cogeas                      
21 Eludie Touffet (Fra) French National Team                               
22 Diana Ziliute (Ltu) Safi-Pasta Zara Manhattan                           
23 Jacolien Wallaard (Ned) Univega Pro Cycling Team                        
24 Sophie Creux (Fra) French National Team                                 
25 Katia Longhin (Ita) S.C. Michela Fanini Record Rox                      
26 Janneke Vos (Ned) Therme Skin Care                                      
27 Mirjam Melchers (Ned) Buitenpoort-Flexpoint Team                        
28 Susanne Ljungskog (Swe) Buitenpoort-Flexpoint Team                      
29 Eleonora Soldo (Ita) Italian National Team                              
30 Ludivine Henrion (Bel) Therme Skin Care                                 
31 Isabella Wieser (Aut) Elk Haus-Tirol Noe                                
32 Liesbeth De Vocht (Bel) Belgian National Team                           
33 Tanja Hennes (Ger) Buitenpoort-Flexpoint Team                           
34 Debby Mansveld (Ned) Vlaanderen-Capri Sonne-T Interim                   
35 Anita Valen (Nor) Vlaanderen-Capri Sonne-T Interim                      
36 Trixi Worrack (Ger) Equipe Nürnberger Versicherung                      
37 Sissy Van Alebeek (Ned) Van Bemmelen-AA Drink                           
38 Erika Viluniate (Ltu) Team Bianchi-Aliverti                         2.36
39 Malgorzata Wysocka (Pol) S.C. Michela Fanini Record Rox                 
40 Claudia Stumpf (Ger) German National Team                           2.39
41 Karen Steurs (Bel) Belgian National Team                                
42 Jennifer Hohl (Swi) Swiss National Team                                 
43 Anna Gusmini (Ita) Nobili Rubinetterie-Menikini Cogeas                  
44 Irene Van De Broek (Ned) Therme Skin Care                               
45 Linda Serup (Ger) Buitenpoort-Flexpoint Team                            
46 Zita Urbonaite (Ltu) Safi-Pasta Zara Manhattan                          
47 Patricia Schwager (Swi) Swiss National Team                             
48 Grace Verbeke (Bel) Belgian National Team                               
49 Emanuela Azzini (Ita) Nobili Rubinetterie-Menikini Cogeas               
50 Kristy Miggels (Ned) Vrienden Van Het Platteland                        
51 Fanny Riberot (Fra) French National Team                                
52 Ellen Heiny (Ger) German National Team                                  
53 Tania Belverderesi (Ita) Top Girls Fassa Bortolo Hausbrandt Caffe'      
54 Andrea Graus (Aut) Elk Haus-Tirol Noe                                   
55 Monia Baccaille (Ita) Italian National Team                             
56 Francis Linthorst (Ned) Therme Skin Care                                
57 Andrea Bosman (Ned) Vrienden Van Het Platteland                         
58 Eva Lutz (Ger) German National Team                                     
59 Katleen Vermeiren (Bel) Belgian National Team                           
60 Sigrid Corneo (Ita) Nobili Rubinetterie-Menikini Cogeas                 
61 Barbara Cazzaniga (Ita) Team Bianchi-Aliverti                           
62 Beatrice Thomas (Fra) French National Team                              
63 Emma Richards (Aus) Univega Pro Cycling Team                            
64 Priska Dopmann (Swi) Univega Pro Cycling Team                           
65 Erinne Willock (Can) Canadian National Team                             
66 Moniek Rotmensen (Ned) Therme Skin Care                                 
67 Ine Wannijn (Bel) Vlaanderen-Capri Sonne-T Interim                      
68 Sandra Rombouts (Ned) Buitenpoort-Flexpoint Team                        
69 Sarah Grab (Swi) Univega Pro Cycling Team                               
70 Meredith Miller (USA) USA National Team                                 
71 Chantal Beltman (Ned) Vrienden Van Het Platteland                       
72 Cindy Pieters (Bel) Vlaanderen-Capri Sonne-T Interim                    
73 Lauren Franges (USA) USA National Team                                  
74 Lisa Christensen (Den) Team Bianchi-Aliverti                            
75 Hagalie Finot Laivier (Fra) French National Team                        
76 Loes Gunnewijk (Ned) Vrienden Van Het Platteland                        
77 Laura Yoisten (Can) Canadian National Team                              
78 Laura Bozzolo (Ita) Italian National Team                               
79 Christine Muller (Ger) Elk Haus-Tirol Noe                           2.45
80 Zulfia Zabirova (Rus) Team Bigla                                        
81 Madeleine Sandig (Ger) German National Team                             
82 Marien Jöhrend (Ger) German National Team                               
83 Daniela Fusar Poli (Ita) Nobili Rubinetterie-Menikini Cogeas            
84 Nicole Cooke (GBr) Safi-Pasta Zara Manhattan                            
85 Judith Arndt (Ger) Equipe Nürnberger Versicherung                       
86 Kirsten Armstrong (USA) USA National Team                               
87 Iris Slappendel (Ned) Vrienden Van Het Platteland                       
88 Noemi Cantele (Ita) Team Bigla                                          
89 Alessandra Borchi (Ita) S.C. Michela Fanini Record Rox                  
90 Miyoko Karami (Jpn) Safi-Pasta Zara Manhattan                           
91 Christina Ruiter (USA) USA National Team                                
92 Nathalie Bates (Aus) Van Bemmelen-AA Drink                              
93 Emma Davies (GBr) Vlaanderen-Capri Sonne-T Interim                      
94 Tatiana Guderzo (Ita) Top Girls Fassa Bortolo Hausbrandt Caffe'         
95 Bernadette Schober (Aut) Austrian National Team                         
96 Lidia Argangeli (Ita) Team Bigla                                        
97 An Van Rie (Bel) Belgian National Team                                  
98 Karin Thurig (Swi) Univega Pro Cycling Team                             
99 Andrea Knecht (Swi) Swiss National Team                                 
100 Monica Futter (Swi) Swiss National Team                                
101 Letizia Giardinelli (Ita) S.C. Michela Fanini Record Rox           3.00
102 Adrie Visser (Ned) Van Bemmelen-AA Drink                               
103 Kirsten Robbins (Can) Canadian National Team                       3.12
104 Anke Wichmann (Ger) Equipe Nürnberger Versicherung                 3.43
105 Regina Schleicher (Ger) Equipe Nürnberger Versicherung                 
106 Sabrina Benardi (Ita) Top Girls Fassa Bortolo Hausbrandt Caffe'    5.47
 
Starters: 119
Classified: 106

World Cup standings after round 10

1 Oenone Wood (Aus) Equipe Nürnberger Versicherung                     308 pts
2 Susanne Ljungskog (Swe) Buitenpoort-Flexpoint Team                   283
3 Mirjam Melchers (Ned) Buitenpoort-Flexpoint Team                     235
4 Judith Arndt (Ger) Equipe Nürnberger Versicherung                    184

Past winners
2004 Petra Rossner (Ger) Equipe Nürnberger Versicherung
2003 Chantal Beltman (Ned) Acca Due O Pasta Zara Lorena Camicie
2002 Petra Rossner (Ger)
2001 Judith Ardnt 
2000 Chantal Beltman 
1999 Petra Rossner 
1998 Diana Ziliute