Le Tour du Grand Montréal - 2.1
Canada, May 30-June 2, 2005
Main Page Results Overall standings Previous Stage Next Stage
Stage 1b - May 30: Petite Italie criterium, 50km
Wood captures win, Thorburn remains in yellow
By Leigh Hargrove
The top three:
Photo ©: Mitch Friedman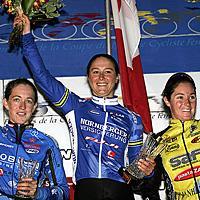 Although thunderstorms plagued the city of Montreal for the better part of today, the first two stages of the Grand Tour du Montreal, both the morning and evening events, took place on dry streets.
Stage two's fifty-lap criterium was quick from the start, when organisers began throwing in cash primes from the third lap in. Although nothing significant got away, the speed was high after multiple attacks were launched by the German-based team Neunberger Versicherung, and the Italian-based team Nobili-Rubinetterie-Menikini Cogeas. Time bonuses and points were to be handed out at the 25th lap sprint and the finishing sprint. The pace was high throughout however, since cash primes were up for grabs every fourth lap or so.
With nineteen laps to go, Canadian Lyne Bessette (Ellicycle Sport expert Louis Garneau) launched an attack that saw her open up fifty metres on the main group within her first lap away. Bessette launched her attack after the pack had just wheeled in another rider. "They caught another rider and then they went really slow and I just got out of the corner kinda fast and I went and got a gap. I went 'oh, 15 laps to go, whatever, I'm going! I'm going!'"
With help from her teammates, Bessette remained out in front for eight laps. Ultimately, the Webcor Builders Women's Cycling Team turned up the heat.
Webcor's Betina Hold went to the front of the pack in order to wheel the Canadian in. "It's our job to defend the jersey, at some point we have to get up there and pull it back. Usually if you don't get up there fast enough, our director (Carmen D'Aluisio) will give us a little incentive!"
Christine Thorburn (Webcor)
Photo ©: Mitch Friedman
When Hold pulled off the front, teammate Erinne Willock took over and chased Bessette down. "It was definitely a fast race. Lyne Bessette took that attack and was out. We were looking to see if anybody else would do the work to bring her back but no one would. Betina (Hold) helped out a lot - she was really strong and did what she could and then I just did the final lap and brought it back. Probably the scariest break that was out there. And then, Nurnberger was launching all day."
With the yellow jersey to protect, Webcor was in a defensive role, allowing Nobili-Rubinetterie to concentrate on the sprints for cash, time and points up for grabs throughout the race.
Nobili-Rubinetterie's fast Kiwi, Joanne Kiesanowski, was right up there, winning a few sprints of her own. "We were really teeing off other's teams to check their guard. It really wasn't up to us because we don't have anyone near the jersey. I knew the Webcor team and Rona had to chase it down because it was their jersey. I didn't worry too much for Lyne to come back."
Equipe Nurnberger was also content to sit back while Webcor chased, although they were quite active throughout the rest of the race. "We let it go for a little while and other teams were working to chase it back. I think we have a really strong team here and sometimes you can take chances at times, knowing that you have such a strong team."
Bessette was pulled in with 12 laps remaining in the race and right away Nurnberger Versicherung moved to the front, setting up their rider, Oenone Wood, for the win. Their efforts paid off, despite some last lap confusion, and Wood took the win. With just over one lap remaining Wood thought she was sprinting for the win, but was actually going for the last cash prime (worth $375), which she won. She quickly recovered after throwing her hands up into the air, looking around her, and realising everyone was still racing.
Anke Wichmann and Judith Arndt,
Photo ©: Mitch Friedman

Third place finisher, Rochelle Gilmore (Team S.A.T.S) noted the strength of Wood's team. "Nurnburger was pulling a really tough train for the last five laps. I felt like I was in a good position and all set up until the second last lap when Oenone thought she had won. Then it got all confusing, and everyone set up again, I set up a bit, and I found myself with half a lap to go too far back. I didn't know if we were still racing or if we weren't racing. It was confusing. It's a bit disappointing that I was too far back in the last corner and didn't quite get there."
Wood was bashful about her mistake, but ultimately pleased with her win. "They were doing an awesome lead-out, the only problem was I was the only one who didn't know when the sprint actually was and I went one too early..." she said post-race.
Wood managed to out sprint Kiesanowski for the win, putting the Nobili rider into second place. "I was on a Quark rider's leader and she started leading it out after Oenone had realised she had gone a lap too early. She got to the front and I got on her wheel. Was there mentally but didn't have it physically! I came around her where I wanted to and I thought I had it, but Oenone was too strong!
Christine Thorburn finished 20th but still managed to maintain her position in the yellow jersey. Canadian Geneviéve Jeanson (RCDA-RONA) remains in second. Wood's performance in the criterium moved her from twelfth place into third place overall. Tomorrow promises some tough racing and should provide the decisive selection after 120km.
Photography
For a thumbnail gallery of these images, click here
Images by Mitch Friedman/www.mitchophoto.com
Results

1 Oenone Wood (Aus) Équipe Nurnberger Versicherung                 1.12.06
2 Joanne Kiesanowski (NZl) Nobili Rubinetterie-Menikini Cogeas            
3 Rochelle Gilmore (Aus) Safi-Pasta Zara Manhatta                         
4 Geneviève Jeanson (Can) ACDA-Rona                                       
5 Annette Beutler (Swi) Quark                                             
6 Sigrid Corneo (Ita) Nobili Rubinetterie-Menikini Cogeas                 
7 Melissa Holt (NZl) Team S.A.T.S                                         
8 Daniella Fusar Poli (Ita) Nobili Rubinetterie-Menikini Cogeas           
9 Julie Bélanger (Can) Diet Cheerwine                                     
10 Dorte Lohse Rasmussen (Den) Team S.A.T.S                               
11 Magan Long (USA) ACDA-Rona                                             
12 Judith Arndt (Ger) Équipe Nurnberger Versicherung                      
13 Audrey Lemieux (Can) Quark                                             
14 Erinne Willock (Can) Webcor Builders Women's Cycling Team              
15 Melissa Sanborn (USA) Subway                                           
16 Jenny Trew (Can) Canadian National Team                                
17 Lyne Bessette (Can) Ellicyle Sport expert Louis Garneau                
18 Melodie Metzger (USA) Velo Bella                                       
19 Lisa Sweeney (Can) Ellicyle Sport expert Louis Garneau                 
20 Christine Thorburn (USA) Webcor Builders Women's Cycling Team          
21 Maria Luisa Calle Williams (Col) Colombian National Team               
22 Nicole Wangsgard (USA) Subway                                          
23 Jacqueline Mourao (Bra) Ellicyle Sport expert Louis Garneau            
24 Monica Lorena Mendes Ortiz (Col) Colombian National Team               
25 Trine Hansen (Den) Team S.A.T.S                                        
26 Marielle Aunave (Fra) Mixed team espoirs Laval                         
27 Grace Fleury (USA) Quark                                               
28 Betina Hold (Can) Webcor Builders Women's Cycling Team                 
29 Alessandra Grassi (Ita) Safi-Pasta Zara Manhatta                       
30 Tara Ross (Can) Diet Cheerwine                                         
31 Julie Hutsebault (Can) Équipe du Québec                                
32 Susan Palmer-Komar (Can) Colavita/Cooking Light                        
33 Miyoko Karami (Jpn) Safi-Pasta Zara Manhatta                           
34 Kathy St-Laurent (Can) Équipe du Québec                                
35 Cathrine Walberg (USA) ACDA-Rona                                       
36 Kim Anderson (USA) Colavita/Cooking Light                              
37 Regina Schleicher (Ger) Équipe Nurnberger Versicherung                 
38 Naomi Cermack (Can) Colavita/Cooking Light                             
39 Patricia Schwager (Swi) Quark                                          
40 Anke Wichmann (Ger) Équipe Nurnberger Versicherung                     
41 Geneviève Gagnon (Can) Ellicyle Sport expert Louis Garneau             
42 Edita Pucinskaite (Ltu) Nobili Rubinetterie-Menikini Cogeas            
43 Kirsten Robbin (Can) Canadian National Team                            
44 Jennifer Chapman (USA) Velo Bella                                      
45 Helen Kelly (Aus) Quark                                                
46 Gessica Turato (Ita) Safi-Pasta Zara Manhatta                          
47 Marie-Pierre Bédard (Can) Canadian National Team                       
48 Jennifer Stephenson (Can) Biovail                                      
49 Madeleine Lindberg (Swe) Équipe Nurnberger Versicherung                
50 Rachel Heal (GBr) Team S.A.T.S                                         
51 Gabriella Gonzalez-Ferrat (Mex) Velo Bella                             
52 Joanie Caron (Can) Ellicyle Sport expert Louis Garneau                 
53 Suzanne Macht (Can) Canadian National Team                             
54 Heather Lamson (Can) Diet Cheerwine                                    
55 Olivia Gollan (Aus) Équipe Nurnberger Versicherung                     
56 Millerlandy Escobar (Col) Colombian National Team                      
57 Stéphanie Bourbeau (Can) Équipe du Québec                              
58 Ana Paola Madrinan Villegas (Col) Colombian National Team              
59 Lynn Gaggioli (USA) Biovail                                            
60 Élisa Gagnon (Can) Équipe du Québec                                    
61 Joelle Numainville (Can) Mixed team espoirs Laval                      
62 Sima Trapp (USA) Subway                                                
63 Susan Weldon (USA) Subway                                              
64 Julia Farell (Can) Diet Cheerwine                                      
65 Olga Slyusareva (Rus) Nobili Rubinetterie-Menikini Cogeas              
66 Rosanne Kent (USA) Quark                                           0.22
67 Stefanie Graeter (USA) Webcor Builders Women's Cycling Team            
68 Hiroko Shimada (Jpn) Velo Bella                                        
69 Caroline Montminy (Can) Équipe du Québec                           0.40
70 Kelly Benjamin (USA) ACDA-Rona                                     1.24
71 Barbara Howe (USA) Velo Bella                                      2.15
72 Anna Tratnyek (Can) Canadian National Team                         2.38
73 Kylie case (Can) Canadian National Team                            9.41
DQ Dulce Pliego Moreno (Mex) Biovail                                      
DQ Caroline Théberge (Can) Équipe du Québec                               
DQ Ashley Robinson (Ber) Mixed team espoirs Laval                         
DNF Helena Coney (Can) Mixed team espoirs Laval                           
DNS Michelle Beltran (USA) Colavita/Cooking Light                         
DNS Amanda Shaw (Can) Biovail                                             
 
Teams
 
1 Webcor Builders Women's Cycling Team                             3.48.30
2 Quark                                                               0.03
3 Équipe Nurnberger Versicherung                                      0.24
4 Ellicyle Sport expert Louis Garneau                                 0.26
5 Team S.A.T.S                                                        0.27
6 Subway                                                              0.28
7 Federacion Colombiana de Ciclismo                                   0.40
8 Équipe du Québec                                                    0.45
9 Nobili Rubinetterie - Menikini Cogeas                               0.47
10 Diet Cheerwine                                                     0.54
11 ACDA -Rona                                                         0.55
12 Safi-Pasta Zara Manhattan                                          0.59
13 Colavita/Cooking Light                                             1.12
14 Velo Bella                                                         1.13
15 Équipe Nationale du Canada                                         1.16
 
General classification after stage 1b
 
1 Christine Thorburn (USA) Webcor Builders Women's Cycling Team    1.16.01
2 Geneviève Jeanson (Can) ACDA-Rona                                   0.01
3 Oenone Wood (Aus) Équipe Nurnberger Versicherung                    0.05
4 Grace Fleury (USA) Quark                                            0.07
5 Annette Beutler (Swi) Quark                                         0.09
6 Erinne Willock (Can) Webcor Builders Women's Cycling Team           0.10
7 Judith Arndt (Ger) Équipe Nurnberger Versicherung                   0.13
8 Lyne Bessette (Can) Ellicyle Sport expert Louis Garneau                 
9 Helen Kelly (Aus) Quark                                                 
10 Melissa Holt (NZl) Team S.A.T.S                                        
11 Sima Trapp (USA) Subway                                            0.14
12 Susan Palmer-Komar (Can) Colavita/Cooking Light                        
13 Geneviève Gagnon (Can) Ellicyle Sport expert Louis Garneau         0.15
14 Susan Weldon (USA) Subway                                          0.16
15 Audrey Lemieux (Can) Quark                                             
16 Lynn Gaggioli (USA) Biovail                                            
17 Kathy St-Laurent (Can) Équipe du Québec                            0.17
18 Betina Hold (Can) Webcor Builders Women's Cycling Team                 
19 Maria Luisa Calle Williams (Col) Colombian National Team           0.18
20 Dorte Lohse Rasmussen (Den) Team S.A.T.S                               
21 Ana Paola Madrinan Villegas (Col) Colombian National Team          0.21
22 Daniella Fusar Poli (Ita) Nobili Rubinetterie-Menikini Cogeas      0.22
23 Joanne Kiesanowski (NZl) Nobili Rubinetterie-Menikini Cogeas           
24 Rachel Heal (GBr) Team S.A.T.S                                     0.23
25 Jennifer Stephenson (Can) Biovail                                      
26 Olivia Gollan (Aus) Équipe Nurnberger Versicherung                 0.24
27 Edita Pucinskaite (Ltu) Nobili Rubinetterie-Menikini Cogeas            
28 Lisa Sweeney (Can) Ellicyle Sport expert Louis Garneau             0.25
29 Madeleine Lindberg (Swe) Équipe Nurnberger Versicherung                
30 Melissa Sanborn (USA) Subway                                           
31 Élisa Gagnon (Can) Équipe du Québec                                0.26
32 Tara Ross (Can) Diet Cheerwine                                         
33 Anke Wichmann (Ger) Équipe Nurnberger Versicherung                     
34 Rochelle Gilmore (Aus) Safi-Pasta Zara Manhatta                    0.27
35 Julie Bélanger (Can) Diet Cheerwine                                    
36 Jenny Trew (Can) Canadian National Team                            0.28
37 Gessica Turato (Ita) Safi-Pasta Zara Manhatta                          
38 Trine Hansen (Den) Team S.A.T.S                                        
39 Joelle Numainville (Can) Mixed team espoirs Laval                      
40 Heather Lamson (Can) Diet Cheerwine                                    
41 Millerlandy Escobar (Col) Colombian National Team                      
42 Julie Hutsebault (Can) Équipe du Québec                            0.29
43 Joanie Caron (Can) Ellicyle Sport expert Louis Garneau                 
44 Miyoko Karami (Jpn) Safi-Pasta Zara Manhatta                           
45 Nicole Wangsgard (USA) Subway                                          
46 Magan Long (USA) ACDA-Rona                                             
47 Sigrid Corneo (Ita) Nobili Rubinetterie-Menikini Cogeas            0.30
48 Patricia Schwager (Swi) Quark                                      0.31
49 Monica Lorena Mendes Ortiz (Col) Colombian National Team               
50 Jennifer Chapman (USA) Velo Bella                                  0.32
51 Gabriella Gonzalez-Ferrat (Mex) Velo Bella                         0.34
52 Melodie Metzger (USA) Velo Bella                                       
53 Marie-Pierre Bédard (Can) Canadian National Team                   0.35
54 Alessandra Grassi (Ita) Safi-Pasta Zara Manhatta                       
55 Olga Slyusareva (Rus) Nobili Rubinetterie-Menikini Cogeas          0.36
56 Stéphanie Bourbeau (Can) Équipe du Québec                              
57 Jacqueline Mourao (Bra) Ellicyle Sport expert Louis Garneau        0.37
58 Julia Farell (Can) Diet Cheerwine                                      
59 Regina Schleicher (Ger) Équipe Nurnberger Versicherung                 
60 Kirsten Robbin (Can) Canadian National Team                        0.40
61 Kim Anderson (USA) Colavita/Cooking Light                          0.42
62 Naomi Cermack (Can) Colavita/Cooking Light                         0.43
63 Suzanne Macht (Can) Canadian National Team                         0.45
64 Marielle Aunave (Fra) Mixed team espoirs Laval                     0.47
65 Cathrine Walberg (USA) ACDA-Rona                                   0.52
66 Stefanie Graeter (USA) Webcor Builders Women's Cycling Team        0.55
67 Hiroko Shimada (Jpn) Velo Bella                                    0.59
68 Rosanne Kent (USA) Quark                                           1.02
69 Caroline Montminy (Can) Équipe du Québec                           1.30
70 Kelly Benjamin (USA) ACDA-Rona                                     1.55
71 Barbara Howe (USA) Velo Bella                                      2.38
72 Anna Tratnyek (Can) Canadian National Team                         2.58
73 Kylie case (Can) Canadian National Team                           10.25
 
Points classification
 
1 Christine Thorburn (USA) Webcor Builders Women's Cycling Team         10 pts
2 Oenone Wood (Aus) Équipe Nurnberger Versicherung                      10
3 Geneviève Jeanson (Can) ACDA-Rona                                     10
4 Joanne Kiesanowski (NZl) Nobili Rubinetterie-Menikini Cogeas           7
5 Grace Fleury (USA) Quark                                               5
6 Rochelle Gilmore (Aus) Safi-Pasta Zara Manhatta                        5
7 Annette Beutler (Swi) Quark                                            4
8 Erinne Willock (Can) Webcor Builders Women's Cycling Team              1
 
Sprint classification
 
1 Oenone Wood (Aus) Équipe Nurnberger Versicherung                      15 pts
2 Christine Thorburn (USA) Webcor Builders Women's Cycling Team         10
3 Geneviève Jeanson (Can) ACDA-Rona                                     10
4 Joanne Kiesanowski (NZl) Nobili Rubinetterie-Menikini Cogeas          10
5 Grace Fleury (USA) Quark                                               6
6 Rochelle Gilmore (Aus) Safi-Pasta Zara Manhatta                        5
7 Annette Beutler (Swi) Quark                                            4
8 Erinne Willock (Can) Webcor Builders Women's Cycling Team              1
 
Team classification
 
1 Webcor Builders Women's Cycling Team                             3.48.32
2 Quark                                                               0.02
3 Équipe Nurnberger Versicherung                                      0.24
4 Ellicyle Sport expert Louis Garneau                                 0.25
5 Team S.A.T.S                                                        0.27
6 Subway                                                              0.28
7 Federacion Colombiana de Ciclismo                                   0.39
8 Équipe du Québec                                                    0.45
9 Nobili Rubinetterie - Menikini Cogeas                               0.47
10 Diet Cheerwine                                                     0.54
11 ACDA -Rona                                                         0.55
12 Safi-Pasta Zara Manhattan                                          0.58
13 Colavita/Cooking Light                                             1.11
14 Velo Bella                                                         1.13
15 Équipe Nationale du Canada                                         1.16