Le Tour du Grand Montréal - 2.1
Canada, May 30-June 2, 2005
Main Page Results Overall standings Previous Stage Next Stage
Stage 2 - May 31: Rigaud road race, 120.2km
Wood wins again
Jeanson in break for 70km
By Leigh Hargrove
A happy Wood is a good Wood
Photo ©: Mitch Friedman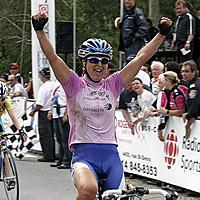 Oenone Wood (Nurnberger) took out the 12-woman sprint finish to today's third stage of the Tour du Grand Montreal after a dramatic day's racing that started with a crash involving Wood herself and saw Genevieve Jeanson look for a while like executing one of her trademark solo escapes to victory.
Wood was followed home by Dorte Rasmussen (SATS) was second, with Jeanson third, a results that was enough to land her the leader jersey.
How it unfolded
Everybody wants to be in the yellow jersey, and today's stage was no different.
The day's first sprint for points was 3.5km into the stage. A kilometer before the sprint the pack went around a soft corner (due to construction) where Oenone Wood (Nurnberger Versicherung) reportedly slid out and crashed. Canadian Lyne Bessette (Ellicycle Sport expert Louis Garneau) and Quark's Helen Kelly plus nine or ten other riders went down in the crash. Most were lucky to get away with a few scrapes and bruises but Canadian National Champ, Bessette remained on the ground.
Webcor Builder's rider Erinne Willock reacted to the crash as quickly as she could. "I have no idea what happened!" said Willock. "I just saw four or five people right in front of me going upside down, and Lyne (Bessette) was down. I was behind it, slammed on my brakes, came to a complete stop right behind it. I didn't go down."
Wood recovered and teammate Olivia Gollan had to ultimately switch her bike after the crash. The women continued to contest the first sprint, despite the shock of the crash. Nurnberger's Judith Arndt took the sprint, with Safi-Pasta Zara Manhattan rider Rochelle Gilmore taking third. Joanne Kiesanowski (Nobili Rubinetterie-Menkini Cogeas) took third.
Audrey Lemieux (Quark)
Photo ©: Mitch Friedman

After the sprint, the pack seemed to be waiting for Bessette to return to the group after the crash that happened so early on. Once it was realized that Bessette wasn't coming back however, the field returned back to business.
The women's first Queen of the Mountain points were up for grabs at the top of a 3km climb, 25 km into the race. At the time Webcor was at the front alongside Geneviéve Jeanson (ACDA-RONA) and Nobili-Rubinetteri riders.
"It was not supposed to be," Jeanson recalled the point when the women broke away. "I was just going for the QOM. Then Lynn Gaggioli (Biovail) was pushing the pace, I just followed her and we had a good gap... At some point she told me she was not feeling that great. I said, you know, keep going, I need you and stuff. The second time up Bourget, I just kept my pace."
Christine saw the riders pull away but didn't react right away. "I thought she (Jeanson) was going for the QOM early, I thought it was pretty hard up the first climb. She caught me a little off-guard going so hard over the top of it. Lynn dug really deep and stayed with her. They both are a little bit better on the steep power climbs and I am a little bit more of a steady climber. That was my mistake for the day, and after that, my team rode great. We have a really small team here but they did everything they could."
The first QOM split the women's field into two front groups of about fifteen riders plus the two-rider break. The duo built up a forty-five second gap and were opening it up to about a minute after being away for twenty kilometers.
Going into the second QOM Grace Fleury (Quark) attacked over the crest of the hill but was wheeled in. At this point, Jeanson and Gaggioli were over a minute and a half up the road. Jeanson ended up dropping Gaggioli at the top of the second climb, and soon was fifteen seconds up on the rider.
Judith Arndt (Nurnberger)
Photo ©: Mitch Friedman

The chase group yo-yoed from ten riders to twenty riders after the descent following the second QOM. Webcor, anxious to protect the yellow jersey, was active at the front in order to chase Jeanson down. Occasionally Quark would pull through but it appeared that the pack was content to make Webcor work for the jersey in today's race.
Quark's Annette Beutler was reflective about the day's events. "Webcor has the jersey, and it's always the leader's job to chase somebody. We are not a team that is passive, normally we are active, so we helped. On the climbs we let them work and on the flats we helped it motor."
With sixty-five kilometers down and fifty-five remaining, Biovail's Gaggioli was now in no man's land, sitting fifty-two seconds in front of the chase group and over a minute down on Jeanson.
Seventy-seven kilometers into the race Jeanson had opened up the gap to two minutes and twenty seconds with about forty kilometers remaining in the race. Equipe Neunberger Versicherung put all their riders up front and with less than twenty-five kilometers to go, they were closing in, narrowing the split to less than a minute.
It was at this point that Willock saw her chance and she attacked the chase group and bridged up to Jeanson. Unfortunately the effort was short-lived and the pack, headed by Nurnberger's Judith Arndt, wheeled the duo in a short two kilometers later. Jeanson had been away for just over seventy kilometers.
With twenty kilometers remaining the main field (which had whittled down to about twenty riders) was now thinking ahead to the final sprint. Working their way to the final climb several attacks came from S.A.T.S riders and Nobili Rubinetterie.
With three kilometers remaining Thorburn attacked at the base of the climb. Jeanson and Wood wheeled her in. Willock tried again but Jeanson was right on her wheel. The remaining 12 riders contested the sprint and Wood took her second victory here in Montreal by winning the stage. S.A.T.S. rider Dorte Rasmussen was second, and the everlasting Jeanson finished third.
Afterwards, reports from Bessette's manager revealed that she is doing okay. She suffered a concussion and doctor's orders were to take a few days off the bike.
Jeanson's efforts moved her right into the leaders' jersey after three stages.
Tomorrow's stage is an 80km circuit race at Terrebonne that should see a bunch finish - unless Jeanson again has other ideas!
Photography
For a thumbnail gallery of these images, click here
Images by Mitch Friedman/www.mitchophoto.com
Results

1 Oenone Wood (Aus) Équipe Nurnberger Versicherung                3.25.40
2 Dorte Lohse Rasmussen (Den) Team S.A.T.S                               
3 Geneviève Jeanson (Can) ACDA-Rona                                      
4 Annette Beutler (Swi) Quark                                            
5 Judith Arndt (Ger) Équipe Nurnberger Versicherung                      
6 Erinne Willock (Can) Webcor Builders Women's Cycling Team              
7 Edita Pucinskaite (Ltu) Nobili Rubinetterie-Menikini Cogeas            
8 Christine Thorburn (USA) Webcor Builders Women's Cycling Team          
9 Lynn Gaggioli (USA) Biovail                                            
10 Susan Palmer-Komar (Can) Colavita/Cooking Light                       
11 Ana Paola Madrinan Villegas (Col) Colombian National Team             
12 Grace Fleury (USA) Quark                                              
13 Patricia Schwager (Swi) Quark                                     0.36
14 Sigrid Corneo (Ita) Nobili Rubinetterie-Menikini Cogeas           0.38
15 Rachel Heal (GBr) Team S.A.T.S                                    1.01
16 Miyoko Karami (Jpn) Safi-Pasta Zara Manhatta                          
17 Kirsten Robbin (Can) Canadian National Team                           
18 Kim Anderson (USA) Colavita/Cooking Light                             
19 Helen Kelly (Aus) Quark                                           3.00
20 Audrey Lemieux (Can) Quark                                        4.02
21 Maria Luisa Calle Williams (Col) Colombian National Team         10.29
22 Melodie Metzger (USA) Velo Bella                                 12.05
23 Susan Weldon (USA) Subway                                        13.12
24 Suzanne Macht (Can) Canadian National Team                       13.57
25 Jacqueline Mourao (Bra) Ellicyle Sport expert Louis Garneau      15.12
26 Stefanie Graeter (USA) Webcor Builders Women's Cycling Team      21.02
27 Melissa Holt (NZl) Team S.A.T.S                                       
28 Olivia Gollan (Aus) Équipe Nurnberger Versicherung                    
29 Rochelle Gilmore (Aus) Safi-Pasta Zara Manhatta                       
30 Cathrine Walberg (USA) ACDA-Rona                                      
31 Sima Trapp (USA) Subway                                               
32 Melissa Sanborn (USA) Subway                                          
33 Madeleine Lindberg (Swe) Équipe Nurnberger Versicherung               
34 Monica Lorena Mendes Ortiz (Col) Colombian National Team              
35 Geneviève Gagnon (Can) Ellicyle Sport expert Louis Garneau            
36 Kelly Benjamin (USA) ACDA-Rona                                        
37 Stéphanie Bourbeau (Can) Équipe du Québec                             
38 Kathy St-Laurent (Can) Équipe du Québec                               
39 Alessandra Grassi (Ita) Safi-Pasta Zara Manhatta                      
40 Barbara Howe (USA) Velo Bella                                         
41 Betina Hold (Can) Webcor Builders Women's Cycling Team                
42 Regina Schleicher (Ger) Équipe Nurnberger Versicherung                
43 Gabriella Gonzalez-Ferrat (Mex) Velo Bella                            
44 Anke Wichmann (Ger) Équipe Nurnberger Versicherung                    
45 Joanie Caron (Can) Ellicyle Sport expert Louis Garneau                
46 Nicole Wangsgard (USA) Subway                                         
47 Trine Hansen (Den) Team S.A.T.S                                       
48 Rosanne Kent (USA) Quark                                              
49 Anna Tratnyek (Can) Canadian National Team                            
50 Julie Hutsebault (Can) Équipe du Québec                               
51 Olga Slyusareva (Rus) Nobili Rubinetterie-Menikini Cogeas             
52 Gessica Turato (Ita) Safi-Pasta Zara Manhatta                         
53 Millerlandy Escobar (Col) Colombian National Team                     
54 Daniella Fusar Poli (Ita) Nobili Rubinetterie-Menikini Cogeas         
55 Jennifer Stephenson (Can) Biovail                                     
56 Lisa Sweeney (Can) Ellicyle Sport expert Louis Garneau                
57 Hiroko Shimada (Jpn) Velo Bella                                       
58 Marie-Pierre Bédard (Can) Canadian National Team                      
59 Naomi Cermack (Can) Colavita/Cooking Light                            
60 Caroline Montminy (Can) Équipe du Québec                              
61 Jennifer Chapman (USA) Velo Bella                                     
62 Joelle Numainville (Can) Mixed team espoirs Laval                     
63 Heather Lamson (Can) Diet Cheerwine                                   
64 Tara Ross (Can) Diet Cheerwine                                        
65 Élisa Gagnon (Can) Équipe du Québec                                   
66 Marielle Aunave (Fra) Mixed team espoirs Laval                   27.18
67 Magan Long (USA) ACDA-Rona                                            
68 Julia Farell (Can) Diet Cheerwine                                     
69 Kylie case (Can) Canadian National Team                          31.18
70 Jenny Trew (Can) Canadian National Team                               
71 Julie Bélanger (Can) Diet Cheerwine                                   
DNF Joanne Kiesanowski (NZl) Nobili Rubinetterie-Menikini Cogeas         
DNF Lyne Bessette (Can) Ellicyle Sport expert Louis Garneau              
 
General Classification after Stage 2
 
1 Geneviève Jeanson (Can) ACDA-Rona                               4.41.32
2 Oenone Wood (Aus) Équipe Nurnberger Versicherung                   0.04
3 Christine Thorburn (USA) Webcor Builders Women's Cycling Team      0.07
4 Grace Fleury (USA) Quark                                           0.16
5 Annette Beutler (Swi) Quark                                        0.18
6 Judith Arndt (Ger) Équipe Nurnberger Versicherung                  0.19
7 Erinne Willock (Can) Webcor Builders Women's Cycling Team              
8 Dorte Lohse Rasmussen (Den) Team S.A.T.S                           0.21
9 Lynn Gaggioli (USA) Biovail                                        0.21
10 Susan Palmer-Komar (Can) Colavita/Cooking Light                   0.23
11 Ana Paola Madrinan Villegas (Col) Colombian National Team         0.30
12 Edita Pucinskaite (Ltu) Nobili Rubinetterie-Menikini Cogeas       0.33
13 Patricia Schwager (Swi) Quark                                     1.16
14 Sigrid Corneo (Ita) Nobili Rubinetterie-Menikini Cogeas           1.17
15 Rachel Heal (GBr) Team S.A.T.S                                    1.33
16 Miyoko Karami (Jpn) Safi-Pasta Zara Manhatta                      1.39
17 Kirsten Robbin (Can) Canadian National Team                       1.50
18 Kim Anderson (USA) Colavita/Cooking Light                         1.52
19 Helen Kelly (Aus) Quark                                           3.22
20 Audrey Lemieux (Can) Quark                                        4.27
21 Maria Luisa Calle Williams (Col) Colombian National Team         10.56
22 Melodie Metzger (USA) Velo Bella                                 12.48
23 Susan Weldon (USA) Subway                                        13.37
24 Suzanne Macht (Can) Canadian National Team                       14.51
25 Jacqueline Mourao (Bra) Ellicyle Sport expert Louis Garneau      15.58
26 Melissa Holt (NZl) Team S.A.T.S                                  21.24
27 Sima Trapp (USA) Subway                                          21.25
28 Geneviève Gagnon (Can) Ellicyle Sport expert Louis Garneau       21.26
29 Kathy St-Laurent (Can) Équipe du Québec                          21.28
30 Betina Hold (Can) Webcor Builders Women's Cycling Team                
31 Daniella Fusar Poli (Ita) Nobili Rubinetterie-Menikini Cogeas    21.33
32 Jennifer Stephenson (Can) Biovail                                21.34
33 Olivia Gollan (Aus) Équipe Nurnberger Versicherung               21.35
34 Rochelle Gilmore (Aus) Safi-Pasta Zara Manhatta                  21.36
35 Lisa Sweeney (Can) Ellicyle Sport expert Louis Garneau                
36 Madeleine Lindberg (Swe) Équipe Nurnberger Versicherung               
37 Melissa Sanborn (USA) Subway                                          
38 Élisa Gagnon (Can) Équipe du Québec                              21.37
39 Tara Ross (Can) Diet Cheerwine                                        
40 Anke Wichmann (Ger) Équipe Nurnberger Versicherung                    
41 Gessica Turato (Ita) Safi-Pasta Zara Manhatta                    21.39
42 Trine Hansen (Den) Team S.A.T.S                                       
43 Joelle Numainville (Can) Mixed team espoirs Laval                     
44 Heather Lamson (Can) Diet Cheerwine                                   
45 Millerlandy Escobar (Col) Colombian National Team                     
46 Julie Hutsebault (Can) Équipe du Québec                          21.40
47 Joanie Caron (Can) Ellicyle Sport expert Louis Garneau                
48 Nicole Wangsgard (USA) Subway                                         
49 Monica Lorena Mendes Ortiz (Col) Colombian National Team         21.42
50 Jennifer Chapman (USA) Velo Bella                                21.43
51 Gabriella Gonzalez-Ferrat (Mex) Velo Bella                       21.45
52 Marie-Pierre Bédard (Can) Canadian National Team                 21.46
53 Alessandra Grassi (Ita) Safi-Pasta Zara Manhatta                      
54 Olga Slyusareva (Rus) Nobili Rubinetterie-Menikini Cogeas        21.47
55 Stéphanie Bourbeau (Can) Équipe du Québec                             
56 Regina Schleicher (Ger) Équipe Nurnberger Versicherung           21.48
57 Naomi Cermack (Can) Colavita/Cooking Light                       21.54
58 Cathrine Walberg (USA) ACDA-Rona                                 22.03
59 Stefanie Graeter (USA) Webcor Builders Women's Cycling Team      22.06
60 Hiroko Shimada (Jpn) Velo Bella                                  22.10
61 Rosanne Kent (USA) Quark                                         22.13
62 Caroline Montminy (Can) Équipe du Québec                         22.41
63 Kelly Benjamin (USA) ACDA-Rona                                   23.06
64 Barbara Howe (USA) Velo Bella                                    23.49
65 Anna Tratnyek (Can) Canadian National Team                       24.09
66 Magan Long (USA) ACDA-Rona                                       27.56
67 Julia Farell (Can) Diet Cheerwine                                28.04
68 Marielle Aunave (Fra) Mixed team espoirs Laval                   28.14
69 Julie Bélanger (Can) Diet Cheerwine                              31.54
70 Jenny Trew (Can) Canadian National Team                          31.55
71 Kylie case (Can) Canadian National Team                          41.52
 
Points Classification after stage 2
 
1 Oenone Wood (Aus) Équipe Nurnberger Versicherung                     25 pts
2 Geneviève Jeanson (Can) ACDA-Rona                                    21
3 Christine Thorburn (USA) Webcor Builders Women's Cycling Team        13
4 Annette Beutler (Swi) Quark                                          13
5 Dorte Lohse Rasmussen (Den) Team S.A.T.S                             13
6 Judith Arndt (Ger) Équipe Nurnberger Versicherung                     7
7 Joanne Kiesanowski (NZl) Nobili Rubinetterie-Menikini Cogeas          7
8 Erinne Willock (Can) Webcor Builders Women's Cycling Team             6
9 Grace Fleury (USA) Quark                                              5
10 Rochelle Gilmore (Aus) Safi-Pasta Zara Manhatta                      5
11 Edita Pucinskaite (Ltu) Nobili Rubinetterie-Menikini Cogeas          4
12 Lynn Gaggioli (USA) Biovail                                          2
13 Susan Palmer-Komar (Can) Colavita/Cooking Light                      1
 
Mountains Classification after stage 2
 
1 Geneviève Jeanson (Can) ACDA-Rona                                    30 pts
2 Lynn Gaggioli (USA) Biovail                                          12
3 Christine Thorburn (USA) Webcor Builders Women's Cycling Team         8
4 Sigrid Corneo (Ita) Nobili Rubinetterie-Menikini Cogeas               7
5 Erinne Willock (Can) Webcor Builders Women's Cycling Team             7
6 Annette Beutler (Swi) Quark                                           6
7 Joanne Kiesanowski (NZl) Nobili Rubinetterie-Menikini Cogeas          3
8 Oenone Wood (Aus) Équipe Nurnberger Versicherung                      3
9 Susan Palmer-Komar (Can) Colavita/Cooking Light                       1
10 Judith Arndt (Ger) Équipe Nurnberger Versicherung                    1
 
Sprint Classification after stage 2
 
1 Oenone Wood (Aus) Équipe Nurnberger Versicherung                     25 pts
2 Geneviève Jeanson (Can) ACDA-Rona                                    25
3 Christine Thorburn (USA) Webcor Builders Women's Cycling Team        14
4 Joanne Kiesanowski (NZl) Nobili Rubinetterie-Menikini Cogeas         12
5 Rochelle Gilmore (Aus) Safi-Pasta Zara Manhatta                       8
6 Annette Beutler (Swi) Quark                                           7
7 Dorte Lohse Rasmussen (Den) Team S.A.T.S                              7
8 Judith Arndt (Ger) Équipe Nurnberger Versicherung                     6
9 Grace Fleury (USA) Quark                                              6
10 Lynn Gaggioli (USA) Biovail                                          6
11 Erinne Willock (Can) Webcor Builders Women's Cycling Team            1
 
Teams Classification stage 2
 
1 QUARK (QRK)                                                            
2 Webcor Builders Women's Cycling Team (WEB)                             
3 Équipe Nurnberger Versicherung (NUR)                                   
4 Nobili Rubinetterie - Menikini Cogeas (NMC)                            
5 Team S.A.T.S (TSA)                                                     
6 Colavita/Cooking Light (CCL)                                           
7 Federacion Colombiana de Ciclismo (FFC)                                
8 Équipe Nationale du Canada (ENC)                                       
9 Safi-Pasta Zara Manhattan(SAF)                                         
10 ACDA -Rona (ACD)                                                      
11 Velo Bella (VBL)                                                      
12 Subway (SUB)                                                          
13 Ellicyle Sport expert Louis Garneau (ELI)                             
14 Équipe du Québec (QUE)                                                
15 Diet Cheerwine (DCH)