Le Tour du Grand Montréal - 2.1
Canada, May 30-June 2, 2005
Main Page Results Overall standings Next Stage
Stage 1a - May 30: Lachine ITT, 2.8 km
National ITT Champ Thorburn moves into yellow jersey
By Leigh Hargrove in Lachine
Thorburn salutes
Photo ©: Mitch Friedman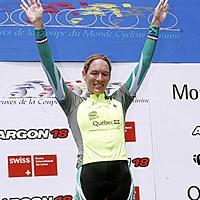 Christine Thorburn (Webcor Builders Women's Cycling Team), fresh off a silver medal performance at the Pan American Games ITT, won the first stage of this year's Grand Tour du Montreal, beating local favourite and recent World Cup winner, Canadian Geneviève Jeanson (ACDA-Rona).
68th on the start list, Thorburn was aware of Jeanson's final time going into her own race and headed out with a time in mind: 3:55. The US National ITT Champ met her goal, but just barely, when she crossed the line with a time of 3:55.97, beating the second placed Canadian, Jeanson, by less than two tenths of a second.
The American National ITT Champ didn't have too many difficulties on today's course. After an 8th place finish in the World Cup on Saturday, Thorburn's quick recovery was evident. "My legs felt a little heavy in the warm-up but I just didn't think about it...The hardest part for me were the turns. I didn't do terribly in them, but I didn't do great in them either. So I just tried to make up as much (time) as I could in the final straightaway."
18th in this particular stage last year, the US National ITT Champ has moved right into the leader's jersey. Already a good time trialist, Thorburn hasn't always excelled at the shorter sprint distances similar to today's race. "The difference is that this year I have, with the US National Team, done some pursuit training, which is a 3km effort on the track."
Her competitor, Jeanson, had no complaints, crisp off her World Cup win two days earlier, also in Montreal. "It was quite good, I went all out and tried to do the best I could. I didn't leave anything, my legs, nothing."
Quark Cycling's Grace Fleury, seven seconds down, took third place away from teammate Annette Beutler. The Quark rider was pleased with her result. "I've been training on a time trial bike more this year...I had a full time trial bike, with disk wheel, tri-spoke, helmet...We had all the equipment, my job was to go as fast as I could!"
Genevieve Jeanson rode strongly
Photo ©: Mitch Friedman

World Cup leader Oenone Wood (Nürnberger Versicherung) was one of the first riders to go out and was 12th overall in today's stage. "It's just a matter of going out and giving it a go." The Nürnberger-Versicherung team also has World Champion Judith Arndt with them this week to challenge the Webcor Builders Women's team for the yellow jersey.
Course conditions for the women weren't too challenging on the out and back 2.82km course that took racers down a bike path alongside a local waterway. Thorburn noted the conditions, "it wasn't so bad today, a little bit of wind on the way out, a tailwind on the way back. You had to go hard on the way out, because you couldn't necessarily go hard on the way back..."
Later today the women will compete in the second stage of the Grand Tour du Montreal, a 50km criterium which is set to start at 6:30pm EST. Mid-afternoon thunderstorms still going strong at 4:30 in the afternoon that could ultimately make for a slick course through the streets of Little Italy in Montreal.
The Grand Tour du Montreal is a five-day stage race for women held in the heart of Montreal, Quebec, Canada. Last year's Tour was won by current World Champion, Judith Arndt (Nürnberger Versicherung) by a mere five seconds in general classification.
Thorburn's Canadian teammate, Erinne Willock, 5th in the time trial, is aware of how important each second will be for the remainder of the event. Her comments regarding the upcoming criterium stage revealed her focus was clear. "We have the yellow jersey now and we will be defending the yellow jersey. There are time bonuses involved, and we have to pay attention to those, try to keep that yellow jersey."
Photography
For a thumbnail gallery of these images, click here
Images by Mitch Friedman/www.mitchophoto.com
Results
1 Christine Thorburn (USA) Webcor Builders Women's Cycling Team     3.55.97
2 Geneviève Jeanson (Can) ACDA-Rona                                 0.00.14
3 Grace Fleury (USA) Quark                                          0.07.07
4 Annette Beutler (Swi) Quark                                       0.08.73
5 Erinne Willock (Can) Webcor Builders Women's Cycling Team         0.09.40
6 Judith Arndt (Ger) Équipe Nurnberger Versicherung                 0.12.17
7 Lyne Bessette (Can) Ellicyle Sport expert Louis Garneau           0.12.33
8 Helen Kelly (Aus) Quark                                           0.12.50
9 Melissa Holt (NZl) Team S.A.T.S                                   0.12.98
10 Sima Trapp (USA) Subway                                          0.13.71
11 Susan Palmer-Komar (Can) Colavita/Cooking Light                  0.13.77
12 Oenone Wood (Aus) Équipe Nurnberger Versicherung                 0.13.86
13 Geneviève Gagnon (Can) Ellicyle Sport expert Louis Garneau       0.14.38
14 Susan Weldon (USA) Subway                                        0.15.16
15 Audrey Lemieux (Can) Quark                                       0.16.01
16 Lynn Gaggioli (USA) Biovail                                      0.16.02
17 Kathy St-Laurent (Can) Équipe du Québec                          0.16.23
18 Betina Hold (Can) Webcor Builders Women's Cycling Team           0.16.44
19 Maria Luisa Calle Williams (Col) Colombian National Team         0.17.08
20 Dorte Lohse Rasmussen (Den) Team S.A.T.S                         0.17.57
21 Anna Tratnyek (Can) Canadian National Team                       0.19.98
22 Ana Paola Madrinan Villegas (Col) Colombian National Team        0.20.24
23 Daniella Fusar Poli (Ita) Nobili Rubinetterie-Menikini Cogeas    0.21.40
24 Rachel Heal (GBr) Team S.A.T.S                                   0.22.03
25 Jennifer Stephenson (Can) Biovail                                0.22.81
26 Barbara Howe (USA) Velo Bella                                    0.22.95
27 Olivia Gollan (Aus) Équipe Nurnberger Versicherung               0.23.93
28 Edita Pucinskaite (Ltu) Nobili Rubinetterie-Menikini Cogeas      0.23.97
29 Lisa Sweeney (Can) Ellicyle Sport expert Louis Garneau           0.24.17
30 Madeleine Lindberg (Swe) Équipe Nurnberger Versicherung          0.24.79
31 Melissa Sanborn (USA) Subway                                     0.25.01
32 Élisa Gagnon (Can) Équipe du Québec                              0.25.71
33 Tara Ross (Can) Diet Cheerwine                                   0.25.78
34 Anke Wichmann (Ger) Équipe Nurnberger Versicherung               0.25.96
35 Julie Bélanger (Can) Diet Cheerwine                              0.26.35
36 Amanda Shaw (Can) Biovail                                        0.26.94
37 Jenny Trew (Can) Canadian National Team                          0.27.41
38 Gessica Turato (Ita) Safi-Pasta Zara Manhatta                    0.27.59
39 Trine Hansen (Den) Team S.A.T.S                                  0.27.69
40 Joanne Kiesanowski (NZl) Nobili Rubinetterie-Menikini Cogeas     0.27.75
41 Joelle Numainville (Can) Mixed team espoirs Laval                0.27.78
42 Heather Lamson (Can) Diet Cheerwine                              0.27.97
43 Millerlandy Escobar (Col) Colombian National Team                       
44 Rochelle Gilmore (Aus) Safi-Pasta Zara Manhatta                  0.28.09
45 Julie Hutsebault (Can) Équipe du Québec                          0.28.49
46 Joanie Caron (Can) Ellicyle Sport expert Louis Garneau           0.28.53
47 Miyoko Karami (Jpn) Safi-Pasta Zara Manhatta                            
48 Nicole Wangsgard (USA) Subway                                    0.28.95
49 Magan Long (USA) ACDA-Rona                                       0.28.97
50 Sigrid Corneo (Ita) Nobili Rubinetterie-Menikini Cogeas          0.29.48
51 Kelly Benjamin (USA) ACDA-Rona                                   0.30.56
52 Patricia Schwager (Swi) Quark                                    0.30.65
53 Monica Lorena Mendes Ortiz (Col) Colombian National Team         0.30.74
54 Michelle Beltran (USA) Colavita/Cooking Light                    0.31.01
55 Jennifer Chapman (USA) Velo Bella                                0.31.99
56 Stefanie Graeter (USA) Webcor Builders Women's Cycling Team      0.32.86
57 Gabriella Gonzalez-Ferrat (Mex) Velo Bella                       0.33.33
58 Melodie Metzger (USA) Velo Bella                                 0.33.45
59 Marie-Pierre Bédard (Can) Canadian National Team                 0.34.17
60 Alessandra Grassi (Ita) Safi-Pasta Zara Manhatta                 0.34.43
61 Olga Slyusareva (Rus) Nobili Rubinetterie-Menikini Cogeas        0.35.15
62 Stéphanie Bourbeau (Can) Équipe du Québec                        0.35.35
63 Hiroko Shimada (Jpn) Velo Bella                                  0.36.32
64 Jacqueline Mourao (Bra) Ellicyle Sport expert Louis Garneau      0.36.38
65 Julia Farell (Can) Diet Cheerwine                                0.36.56
66 Regina Schleicher (Ger) Équipe Nurnberger Versicherung           0.36.65
67 Rosanne Kent (USA) Quark                                         0.39.67
68 Helena Coney (Can) Mixed team espoirs Laval                      0.39.68
69 Kirsten Robbin (Can) Canadian National Team                      0.39.90
70 Kim Anderson (USA) Colavita/Cooking Light                        0.41.06
71 Naomi Cermack (Can) Colavita/Cooking Light                       0.42.20
72 Caroline Théberge (Can) Équipe du Québec                         0.43.44
73 Kylie case (Can) Canadian National Team                          0.43.99
74 Suzanne Macht (Can) Canadian National Team                       0.44.64
75 Marielle Aunave (Fra) Mixed team espoirs Laval                   0.46.90
76 Caroline Montminy (Can) Équipe du Québec                         0.49.82
77 Dulce Pliego Moreno (Mex) Biovail                                0.50.77
78 Cathrine Walberg (USA) ACDA-Rona                                 0.51.59
79 Ashley Robinson (Ber) Mixed team espoirs Laval                   0.54.93
 
Points
 
1 Christine Thorburn (USA) Webcor Builders Women's Cycling Team          10 pts
2 Geneviève Jeanson (Can) ACDA-Rona                                       7
3 Grace Fleury (USA) Quark                                                5
4 Annette Beutler (Swi) Quark                                             3
5 Erinne Willock (Can) Webcor Builders Women's Cycling Team               1