Tour de Gastown - NE
Vancouver, B.C, Canada, July 20, 2005
2004 Results Results
Gord still has it and Grain makes it a double for the Canadians
By Gordon Ross
Gord Fraser (Health Net)
Photo ©: Greg Descantes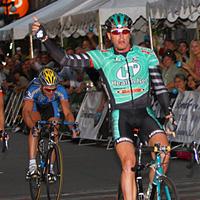 HealthNet's Gord Fraser and Victory Brewing's Gina Grain won the 2005 edition of the Tour de Gastown in front of 30,000 fans.
On a perfect summer evening in downtown Vancouver, both riders won close sprint finishes after catching dangerous breakaway moves that characterized the men's and women's races. Gina Grain duelled with Quark's Sarah Uhl in a two-woman sprint, while Gord Fraser came from the pack on the last lap to take his second Gastown victory.
"No other race compares," said an emotional and out of breath Fraser holding his son Angus in his arms. "It's such a special event with so much history and it inspires all the riders who come here."
The men's race was dominated by breakaways with HealthNet, Navigators, and Symmetrics active in all moves. An early group of Svein Tuft (Symmetrics), Hilton Clarke (Navigators), Gord Fraser (HealthNet), and Derek McMaster (Team Coastal) looked dangerous and put 10 seconds on the pack by the 7th of 50 laps of the 1.2km cobbled circuit. The group dangled out front, working together taking primes in front of a strung-out pack of over 120 riders.
McMaster and Fraser would drift back to the pack, leaving Clarke and Tuft who were then joined by the HealthNet pair of Doug Ollerenshaw and Tyler Farrar, Navigator Siro Camponogara and Symmetrics Jake Erker. The six rider break had plenty of horsepower and opened up a gap of 16 seconds by the mid way point of the race. Back in the peloton, Subway and Jittery Joes chased, having been left out of the major move of the evening.
Gina Grain
Photo ©: Greg Descantes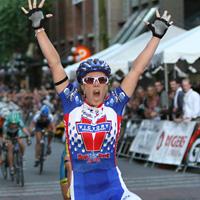 With 16 laps to go, North Vancouver resident Kirk O'Bee (Navigators) launched a massive attack at the start/finish, taking advantage of the slight incline up to the hairpin turn at Water and Cordova in an attempt to bridge up to the lead group. Ryan Mackenzie (Subway) tried to go with O'Bee, but would not be able to hold his wheel. In a space of three laps O'Bee bridged up, stacking the odds in favour of the Navigators now with three riders in the lead group of seven.
Subway riders Cameron Hughes and Todd Cornelius took over the chase and worked hard to lessen the gap to the lead seven. With 10 laps to go, the lead had shrunk to 10 seconds. A big prime with 9 laps to go taken by Tim Johnson (Jittery Joes) brought the gap down another 5 seconds and over the next lap, the breakaway looked like it had all but given up.
In a never-say-die gesture Clarke, Tuft, and Ollerenshaw countered as their group was being absorbed and proceeded to put 12 seconds on the pack in the next two laps, as Jittery Joes Even Elken, Ital Pasta's Nat Faulkner and Brandon Crichton worked hard to shut it down. Then with 3 laps to go, Seattle resident Kenny Williams (FirstRate Mortgage) emerged from the pack at the start/finish, in a last minute attempt to steal the pro's glory. With two laps to go, Williams had bridged to the lead group to make it a four-man sprint. A $2000 crowd prime with two laps to go was won by Ollerenshaw, leaving Clarke, Williams, and Tuft to jockey for position on the last lap with the pack bearing down only 4 seconds behind.
It was at that point, just after the hairpin turn on Cordova that Tyler Farrar started his one-lap lead out for Gord Fraser, ramping up the pace to 60kmh, stringing out the pack and blowing by the lead group as they came onto the final straightaway down Water St.
A tribute to Amy.
Photo ©: Greg Descantes

From there, Fraser took over, unleashing a trademark sprint that has won him more bike races than any other Canadian cyclist, beating the hard-charging Australian Jeff Hopkins (Jittery Joes) and Navigator Vasili Davidenko
Describing the last two laps, Fraser said "We had Doug up the road and he's really not a sprinter. I wasn't sure if I was going to be able to catch the group, but Tyler and I found each other at the right moment. It's so loud here, I was screaming at Tyler at the top of my lungs to start it up a little earlier so we could catch the break on the back stretch. Somehow he heard me and just did an incredible lead-out. He hit it so fast, I could barely hold his wheel."
Fraser, who won the race in 2003, said about his future plans "As long as there's a Gastown and as long as I'm still racing, I'll be here."
The women's race started with an emotional tribute to the fallen Australian rider Amy Gillett who was killed in Germany during a training ride accident. Australian Helen Kelly and the rest of the women's riders sported black armbands in honour of the rider and her teammates.
The women's race saw the largest turnout of riders since the race returned to Gastown in 2001, with over 50 competitors. The 30 lap race started fast with Lyne Bessette (Sports Experts - Louis Garneau), Erinne Willock (Webcor), and Helen Kelly (Quark) all setting the pace early.
Canadian Time Trial Champion Svein Tuft
Photo ©: Greg Descantes

Gina Grain (Victory Brewing) took a prime at the 12 lap mark of the race and continued her acceleration up Water St, causing a chase from Helen Kelly and Alison Testerote (Team Alberta). The two riders caught Grain and the three worked together over the next 5 laps to put a lead onto the group of 10 seconds. Marni Hambleton and Mandy Poitras (Symmetrics) lead the chase until Sarah Uhl (Quark) attacked from the peloton in an attempt to bridge to her teammate Kelly in the lead group. Uhl closed the gap, making a lead group of four riders.
"If they stayed away I didn't know how it would go down with Helen and Gina, so I decided I'd try to get across," said Uhl. "I got across and was pretty excited as I haven't had too much of a history of bridging to breaks!"
With Uhl, winner of the Tour de Delta the weekend previous, up the road and her teammate Kelly working for her, Grain attacked the break to force a split. At the same time, Bessette and Testroete worked the front of the main field. The break was caught on the next lap and it was all together with 10 laps to go. Prime sprints taken by Grain and Poitras punctuated a few tentative laps with the pack all together until the crowd prime at 2 laps to go was announced. With $1000 on the line, Lyne Bessette tried her luck and attacked to take the cash and put a few seconds on the pack. "I thought I might be able to stay away," said Bessette. "When I was on the other side [Cordova] I had a good little gap, but Quark really wanted it and chased me down."
"Lyne had a really good gap on us when she went for that prime and it's actually the best thing that could have happened for us as it kept the pace high on the last lap," said Grain. "I like it fast, so the faster the better."
Webcor's Erinne Willock
Photo ©: Greg Descantes

Kelly chased hard down the back straight on Cordova catching Bessette and setting up the sprint for teammate Uhl. Onto the final straightaway, Uhl lead out the sprint with Grain on her wheel. Grain came around with 50 meters to go, taking a close sprint from Uhl. "On the last corner, I was in third position, wound it up and pounded it into the finish," said Grain, the 31 year old from Victoria.
Two bike lengths behind, Canadian Junior National Team member Joelle Numainville took third place. Fresh off her wins as the Junior Road and Time Trial Champion at the National Cycling Championships in Kamloops, the 17 year old Numainville considered her third place to be a significant accomplishment.
"The manager of the team said he wanted one girl on the team on the podium and I was like... ha, you are crazy!" said an excited Numainville at the end of the race. "But I felt good all race and jumped onto Gina's wheel on the last lap, but they [Uhl & Grain] are so fast! I finished great and I'm very happy."
Bessette was equally complementary of the upstart from Quebec. "Joelle had a really great race! She was in a perfect spot when she had to be on that last lap and I'm really happy for her."
Quark's Kelly, an Australian, dedicated her race to her friend Amy Gillett who was tragically killed in an accident when a car went out of control hitting her and her teammates during a training ride in Germany on Tuesday. "Today's a tribute for Amy," said Kelly. "We tried to do a good race for her."
Photography
For a thumbnail gallery of these images, click here
Images by Greg Descantes
Results

1 Gord Fraser (Health Net)                                  
2 Jeff Hopkins (Jittery Joe's-Kalahari)                     
3 Vassili Davidenko (Navigators Insurance Cycling Team)     
4 Hilton Clarke (Navigators Insurance Cycling Team)         
5 Kirk OBee (Navigators Insurance Cycling Team)             
6 Tyler Farrar (Health Net)                                 
7 Siro Camponogara (Navigators Insurance Cycling Team)      
8 Tommy Nankervis (Wentings Cycle)                          
9 Svein Tuft (Symmetrics Cycling)                           
10 Luis Garcia (Costa Rica)                                 
11 Adam Curry (Broadmark Capital)                           
12 David Richter (Subway)                                   
13 Kenny Williams (First Rate Mortgage)                     
14 Peter Sanowar (ItalPasta)                                
15 Richard Bowker (ItalPasta)                               
16 Ryan McKenzie (Subway)                                   
17 Nicholas Rowe (SG/Espoirs de Laval - TTN)                
18 Pleasure Jackson (Broadmark Capital)                     
19 Troy Heithecker (Benaroya Research Institute)            
20 Dustin MacBurnie (Broadmark Capital)                     
21 David Goosen (Rocky Mountain Bicycles/Adobe)             
22 Derek McMaster (Team Coastal)                            
23 Eric Wohlberg (Symmetrics Cycling)                       
24 Christian Meier (Symmetrics Cycling)                     
25 Tom Peterson (Broadmark Capital)                         
26 Nick Friesen (The Bike Shop)                             
27 Pablo Araya (Costa Rica)                                 
28 Jeff Hansen (ItalPasta)                                  
29 Craig De gier (Cyclesmith CC)                            
30 Philippe Abbott (Team Alberta)                           
31 Cameron Hughes (Subway)                                  
32 Troy Critchlow (Broadmark Capital)                       
33 Doug Ollerenshaw (Health Net presented by Maxxis)        
34 Jeff Sherstobitoff (Symmetrics Cycling)                  
35 Keith Stark (Rocky Mountain - Business Objects)          
36 Will Routley (Symmetrics Cycling)                        
37 Zack Garland (N/A)                                       
38 Cameron McKnight (Edmonton Road & Track Club)            
39 Maurice Worsfold (Bayside Cycling Club)                  
40 Andrew Fischer (Broadmark Capital)                       
41 Marsh Cooper (Symmetrics Cycling)                        
42 Justin Davis (Wentings Cycle)                            
43 Chris Issac (ItalPasta)                                  
44 Nieves Carasco (Costa Rica)                              
45 Nicholas Jendzjowsky (Pedalhead Roadworks/Sleemans)      
46 Andrew Pinfold (Symmetrics Cycling)                      
47 Murray Carter (Ride With Rendall)                        
48 Min Van Velzen (Symmetrics Cycling)                      
49 Jesse James Collins (BiciSport)                          
50 Bradley Fairall (Symmetrics Cycling)                     
51 Josh James (TREK - Red Truck Ale)                        
52 Chris Worsfold (Bayside Cycling Club)                    
53 Scott Slater (Rocky Mountain Bicycles/Adobe)             
54 Damien Waugh (Rocky Mountain Bicycles/Adobe)             
55 Kevin Noiles (Escape Velocity/DEVO)                      
56 Chad Nikolz (Benaroya Research Institiute)               
57 Taylor Little (Taylor Little)                            
58 Mark Howard (Wentings Cycle)                             
59 Basse Clement (Rocky Mountain Bicycles/Adobe)            
60 Brad Slater (Rocky Mountain Bicycles/Adobe)              
61 Aaron Tuckerman (Team Rubicon)                           
62 Chris Brennan (Team Rio Grande)                          
63 Phil Zajicek (Navigators Insurance Cycling Team)         
64 Ed Makarchuk (KHS Bicycles Canada)                       
65 Jesse Lawler (Jittery Joe's-Kalahari)                    
66 Brandon Crichton (ItalPasta)                             
67 Nat Faulkner (ItalPasta)                                 
68 Robert Campbell (The Valley Athletic Club)               
69 Omer Kem (Subway)                                        
70 Richard Minichiello (TREK - Red Truck Ale)               
71 Cory Lange (Symmetrics Cycling)                          
72 Jonny Sundt (Jittery Joe's-Kalahari)                     
73 Evan Elken (Jittery Joe's-Kalahari)                      
74 Brett Boniface (OrganicAthlete Victoria)                 
dnf Todd Cornelius (Subway)                                 
dnf Jacob Erker (Symmetrics Cycling)                        
dnf Roy Pickavance (CenturyTel)                             
dnf Paul Blanchette (Rocky Mountain Bicycles/Adobe)         
dnf Andy Edwards (GS Ciao)                                  
dnf Craig Wilcox (Jittery Joe's-Kalahari)                   
dnf Tim Johnson (Jittery Joe's-Kalahari)                    
dnf Bruno Langlois (Jittery Joe's-Kalahari)                 
dnf Scott Brown (Wentings Cycle)                            
dnf Zak Grabowski (TIAA-CREF )                              
dnf Zachary Taylor (TIAA-CREF )                             
dnf Owen Gue (Broadmark Capital)                            
dnf Scott Laliberte (Schwalbe/Genisoy Cycling)              
dnf Joshua Smith (CenturyTel/VRAD)                          
dnf Chris Squire (N/A)                                      
dnf Tim Abercrombie (Escape Velocity/DEVO)                  
dnf Mark Grimmett (Wenting's Cycles)                        
dnf Matthew Hall (CenturyTel/VRAD)                          
dnf Brad Bingham (CenturyTel/VRAD)                          
dnf Jamie Sparling (Bicisport Calgary)                      
dnf Trevor Connor (Chris Cookies/Swan Cycles)               
dnf Rob Britton (Team Coastal)                              
dnf Harley Borlee (Velocity)                                
dnf Ian Manning (BikeSports - Pfaff Racing Team)            
dnf Matthew Walker (Team Sask)                              
dnf Shayn Sawatzky (DiZzy Cycles/N.Shore Masage Therapy)    
dnf Chris Reid (Team Coastal)                               
dnf Jeff Sparling (Team Alberta)                            
dnf Ezra Nichols (Organic Ahtlete Victoria)                 
dnf Duncan Steele (Escape Velocity/DEVO)                    
dnf Jim Tsilemos (Team Coastal)                             
dnf Shawn Bunnin (Team Saskatchewan/Spoke n Sport)          
dnf Noah Young (Broadmark Capital)                          
dnf Eric Kameka (Escape Velocity/DEVO)                      
dnf Felix Haspel (Synergy Racing)                           
dnf James Shaw (Team Coastal)                               
dnf Sean Van Horn (Broadmark Capital)                       
dnf Ian Tubbs (Broadmark Capital)                           
dnf Mike Hone (Broadmark Capital Cycling Team)              
dnf Kevin Calhoun (Rocky Mountain Bicycles)                 
 
Women
 
1 Gina Grain (Victory Brewing)                              
2 Sarah Uhl (Quark Cycling Team)                            
3 Joelle Numainville (Canadian National Junior Women)       
4 Erinne Willock (Webcor Builders Cycling Team)             
5 Lisa Sweeney (Team Coastal)                               
6 Mandy Poitras (Symmetrics Cycling)                        
7 Amara Boursaw (Gregg's/Trek VW)                           
8 Marni Hambleton (Symmetrics Cycling)                      
9 Alison Testroete (Team Alberta)                           
10 Helen Kelly (Quark Cycling Team)                         
11 Wendy Simms (Frontrunners-Brodie)                        
12 Julia Farell (Wheels of Bloor)                           
13 Amy Mosen (BikeNZ)                                       
14 Alena Radomsky (Team Coastal)                            
15 Brei Gudsell (BikeNZ)                                    
16 Naomi Cooper (Canadian National Junior Women)            
17 Stacey Spencer (Gericks Cycle)                           
18 Leah Guloien (Sugoi/Giant)                               
19 Karol-Ann Canuel (Canadian National Junior Women)        
20 Mathilde Hupin Debeurme (Sportif Bromont)                
21 Jean Ann McKirdy (Rocky Mountain Business Objects)       
22 Lee Darling (Team Coastal)                               
23 Lisa Tasa (Chapman Land Surveying Racing)                
24 Lyne Bessette (Sports Experts - Louis Garneau)           
25 Julie Hutsebaut (Terry Precision)                        
26 Traci Carroll (Team Rubicon)                             
27 Jenny Trew (Team Coastal)                                
 
1 lap down
 
dnf Heather Lamson (Wentings Cycle)                            
dnf Christina Briante (Symmetrics Cycling)                  
dnf Anna Tratnyek (Terry Precision)                         
dnf Dianna Kennedy (Team Alberta)                           
dnf Lauren Koedyk (BikeNZ)                                  
dnf Jo Ryder (BikeNZ)                                       
dnf Pepper Harlton (Team Alberta)                           
dnf Barb Zimich (Team Coastal)                              
dnf Anne Guzman (Terry Precision)                           
dnf Helena Coney (N/A)                                      
dnf Kylie Case (Team Manitoba)                              
dnf Moriah MacGregor (Dizzy Chicks)                         
dnf Claire Cameron (Blak Dog Racing)                        
dnf Miranda Duff (Team Rubicon)                             
dnf Kristin Campbell (Pedalhead Roadwork's/Sleemans)        
dnf Leslie Vice (Dizzy Chicks)                              
dnf Kristine Brynjolfson (Team Coastal)                     
dnf Sandra Walter (AdventureBound.ca)