Cascade Classic - NE
Bend, Oregon, USA, July 9-13, 2003
Main Page Results Previous Stage Next Stage
Stage 2 - July 10: Deschutes Brewery Road Race, 70 miles
Danielson moves into yellow and Bessette dominates
By Kristy Scrymgeour
Steve Larsen goes on the attack
Photo: © Beth Seliga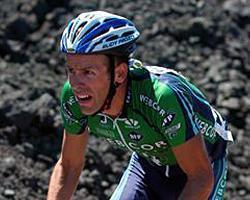 Saturn doubled up to win both the men's and the women's event in today's stage of the Cascade Cycling Classic. In the men's race it was Tom Danielson who won the final battle of the four riders remaining at the end of the stage whilst in the women's race it was Lyne Bessette who showed her strength early in the stage and held her lead until the end.
The Stage was the famous 70mile epic that begins by heading straight into the mountains to tackle the 22 mile Mt McKenzie after which it never really gets easier. After descending and winding through narrow roads to the town of Sisters it reaches it's finale with a steep 7 mile climb to the finish. In total riders face over 6000 feet of climbing throughout the stage.
How it unfolded.
The men's race began fairly conservatively with the peloton staying relatively in tact most of the way up Mt McKenzie. Towards the top of the mountain it was Steve Larsen (Webcor) who made his move breaking away and taking the $100 prime at the summit. As the road descended Larsen was caught by a group of 14 riders who had split from the main bunch. Out of this group would emerge the decisive break of four riders as the race reached Three Creeks Road. Danielson, Chris Wherry (Navigators), Jonathan Vaughters (Prime Alliance) and Andy Bajadali (Ofoto-Lombardi Sports) powered away and battled the final seven mile climb to the finish. In the end it was Danielson who proved the strongest climber on the day to take the win by 21 seconds over Wherry and Bajadali, earning himself the yellow jersey going into tomorrow's double stage day.
In the women's race, newly crowned Canadian National Time Trial Champion Lyne Bessette put the pressure on early on the climb up Mt McKenzie. From there she demonstrated her time trial skills soloing to the finish winning the event by a minute from Heather Albert (Team Basis). Albert came in second backing up her strong performance at the recent Fitchburg -Longsjo Classic by finishing over seven minutes ahead of third place getter Kristin Johnson (T-Mobile) and the rest of the peloton finished in ones and two's after a very demanding first stage.
Tomorrow riders will contest two stages in the day with the new seven mile time trial stage in the small town of Tumalo near Bend, Oregon in the morning and a twilight criterium in the evening. Joining in the action tomorrow will be the Cat 3 and Masters riders with their first stage being the time trial in the morning.
Photography
Images by Beth Seliga/www.3catsphoto.com
Results

Men
 
1 Tom Danielson (Saturn)                         2.53.51
2 Jonathan Vaughters (Prime Alliance)                   
3 Andy Bajadale (ofoto.com/Lombardi)                0.21
4 Chris Wherry (Navigators)                             
5 Phil Zajicek (Saturn)                             1.12
6 Antonio Cruz (US Postal)                              
7 Doug Ollerenshaw (Broadmark Capital)              1.58
8 Benjamin Jacques-Maynes (Sierra Nevada/Cliff Bar)     
9 Drew Miller (Trek/VW All Stars)                   2.11
10 Greg Drake (Webcor Cycling Team)                 2.28
11 Micheal Sayers (Healthnet)                       2.35
12 Troy E. White (Sierra Nevada/Cliff Bar)          2.55
13 John Osguthorpe (Healthy Choice-Guru's)              
14 Danny Pate (Prime Alliance)                          
15 Daniel Bowman (Suburban Homes/WSC)                   
16 Jon Stierwalt (Team Rio Grande)                      
17 Blake Caldwell (Prime Alliance)                      
18 Timothy Duggan (Duane Duggan ReMax)                  
19 Andy Jacques-Maynes (Sierra Nevada/Cliff Bar)    3.38
20 Tim Larkin (ofoto.com/Lombardi)                      
21 John Hunt (Healthnet)                                
22 Kelly Williamson (iomega-Orbea)                  3.49
23 Mark Southard (Trek/VW All Stars)                3.56
24 Jacob Erker (Schroeder Iron Pro Cy)              3.59
25 Todd Herriott (Healthnet)                            
26 Josh Horowitz (Minute Maid-Dasani)               4.23
27 Scott F. Blanchard (Eclipse Racing)              4.32
28 Eric Murphy (Healthy Choice-Guru's)                  
29 David Wyandt (Webcor Cycling Team)                   
30 Adham Sbeih (Sierra Nevada/Cliff Bar)                
31 Steve Larson (Webcor Cycling Team)                   
32 Cameron Brenneman (KB Home Cycling Team)             
33 Burke Swindlehurst (Navigators)                  4.49
34 Chris Baldwin (Navigators)                           
35 Zachary Walker (Olympic Club)                    4.56
36 Geoff Rapoport (Minute Maid-Dasani)              5.15
37 Benjamin Haldeman (Santa Cruz Spokesman)             
38 Chris Walker (Team Compass Commercial)               
39 Solomon Woras (Team Rubicon)                     5.25
40 Walker Ferguson (Trek/VW All Stars)              5.55
41 Michael J. Anker (KB Home Cycling Team)          5.58
42 Justin Spinelli (Navigators)                     6.01
43 Jason Tullous (Grand Canyon Cycling)                 
44 David Clinger (Prime Alliance)                   6.32
45 Marc Harsncocher (Webcor Cycling Team)           7.21
46 Cameron Evans (Broadmark Capital)                    
47 Mitch Moreman (Team Dean)                            
48 Eddy Gragus (Trek/VW All Stars)                      
49 Ryan Guay (Navigators)                           7.29
50 Gustavo Gomez (Central Valley cycling)           8.10
51 Nate Dille (Bike Gallery/Trek/VW)                8.26
52 Nathin Oneil (Saturn)                                
53 Saro Campono (Navigators)                        9.20
54 Adam Livingston (Schroeder Iron Pro Cy)              
55 Nat Faulkner (Trek/VW All Stars)                     
56 Andrew Touchstone (GS Lombardi/Foundry)          9.36
57 Hugo Pradoneto (Cody Racing/Brazil)              9.52
58 Rusty Beall (Healthnet)                         10.59
59 Gord Fraser (Healthnet)                              
60 Jackson Stewart (ofoto.com/Lombardi)                 
61 Bryson Perry (Healthy Choice-Guru's)                 
62 Glen Mitchell (Navigators)                           
63 Tim Johnson (Saturn)                                 
64 Chris Mcgovern (Healthnet)                           
65 Will Frischkorn (Saturn)                        12.55
66 Chris Horner (Saturn)                                
67 Paul S. Thomas (Eclipse Racing)                 14.00
68 Stuart Gillespie (Harvard Univ. Cycling)        14.08
69 Jason Jablonski (Wenatcher Vally Velo)               
70 Eric Ranson (iomega-Orbea)                           
71 Gianluigi Piacentini (Broadmark Capital)        14.26
72 Todd Littlehales (Sierra Nevada/Cliff Bar)      14.36
73 Neil Shirley (KB Home Cycling Team)                  
74 Jason Klikna (Sierra Nevada/Cliff Bar)               
75 Calvin Allan (Broadmark Capital)                     
76 John Leonard (Trek/VW All Stars)                     
77 Jesse Westergard (Healthy Choice-Guru's)             
78 Michael King (Hutch's of Bend)                       
79 Russell Hamby (ofoto.com/Lombardi)              15.41
80 Evan Elken (Broadmark Capital)                  16.01
81 Ted Huank (Webcor Cycling Team)                 16.13
82 Lance Doherty (3BRT-Cyfac)                           
83 Allan Butler (Healthy Choice-Guru's)                 
84 Lucas Euser (Napa Valley Velo)                  16.28
85 Matt Dubberly (Sierra Nevada/Cliff Bar)              
86 Joseph Smith (Healthy Choice-Guru's)            17.07
87 Tim Carolan (Trek/VW All Stars)                 17.18
88 Craig Wilcox (Broadmark Capital)                17.32
89 Eddy Hilger (Subaru/Athlete's Foot)                  
90 Adam Curry (Team Rubicon)                            
91 Jason Lokkesmoe (Healthnet)                     17.49
92 John Peters (Prime Alliance)                         
93 Alex Kozlov (Healthnet)                         18.05
94 Colin Rooney (E-caps/Hammer Gel)                     
95 Jeff Angerman (Webcor Cycling Team)                  
96 Roman Killin                                    18.35
97 Zach Vestal (Trek/VW All Stars)                 19.24
98 Jacob Rubelt (Trek/VW All Stars)                19.56
99 Sandy Perrins (Healthy Choice-Guru's)           20.03
100 Kyle Gritters (Team Monex)                     20.21
101 Jeff Hoppert (Eclipse Racing)                       
102 Neil Flock (Duane Duggan ReMax)                20.25
103 Douglas Donovan (Team Compass Commercial)      22.50
104 Patrick Caro (Trek-VW)                              
105 Randy Rocchi (Healthnet)                            
106 Luke Pennington (Bike Gallery/Trek/VW)         23.02
107 Jason Karew (Eclipse Racing)                   23.44
108 Peter Knudsen (Schroeder Iron Pro Cy)          24.42
109 Benjamin Stafford (Webcor Cycling Team)             
110 James Mattis (Webcor Cycling Team)                  
111 Dane Jankowiak (Schroeder Iron Pro Cy)              
112 Aaron Norman (Redding Velo)                    25.13
113 Aaron Olson (Schroeder Iron Pro Cy)            25.55
114 Daniel Adams (Healthy Choice-Guru's)                
115 Michael D. Fors (RMS Cycling)                       
116 Patrick Dunaway (Healthnet)                         
117 John Hygelund (Sierra Nevada/Cliff Bar)             
118 Asraham Taylor (Sierra Nevada/Cliff Bar)            
119 Tom Crawford (Broadmark Capital)                    
120 Ayestan  (Saturn)                              26.18
121 Trevor Mays (Saturn for Seattle)               26.37
122 Thomas E. Nelson (Nike Cycling)                27.01
123 Chuck Coyle (Vitamin Cottage)                       
124 Nieko Biskner (Sierra Nevada/Cliff Bar)        27.31
125 Ian J. Mensher (Saturn for Seattle)            28.49
126 Ryan Miller (Prime Alliance)                   28.56
127 Todd Coglon (Broadmark Capital)                29.14
128 Alex Candelario (Prime Alliance)               29.34
129 Daivd Robinson                                 29.47
130 Gordon Mccauley (Schroeder Iron Pro Cy)        30.21
131 Cody Peterson (Intermountain Orthopedi)        30.29
132 Sam Richardson (Bike Gallery/Trek/VW)          31.02
133 Akira Wong (McGuire)                           33.18
134 Robert Cambell (Broadmark Capital)             39.31
135 Matt Mahoney (Bike Gallery/Trek/VW)            41.12
136 Robbie Rubinette (Team Diabetic / Mapei)       53.47
137 Dan Distefana (Eclipse Racing)                 56.30
138 David Godfrey (Team Rubicon)                   58.50
139 Ian Macgregor (Duane Duggan ReMax)           1.00.53
 
General classification after stage 2
 
1 Tom Danielson (Saturn)                         6.40.15
2 Chris Wherry (Navigators)                         0.21
3 Andy Bajadale (ofoto.com/Lombardi)                    
4 Jonathan Vaughters (Prime Alliance)               0.26
5 Phil Zajicek (Saturn)                             1.38
6 Antonio Cruz (US Postal)                              
7 Drew Miller (Trek/VW All Stars)                   2.11
8 Doug Ollerenshaw (Broadmark Capital)              2.24
9 Benjamin Jacques-Maynes (Sierra Nevada/Cliff Bar)     
10 Greg Drake (Webcor Cycling Team)                 2.28
11 Micheal Sayers (Healthnet)                       2.35
12 Blake Caldwell (Prime Alliance)                  3.21
13 Daniel Bowman (Suburban Homes/WSC)                   
14 John Osguthorpe (Healthy Choice-Guru's)              
15 Troy E. White (Sierra Nevada/Cliff Bar)              
16 Timothy Duggan (Duane Duggan ReMax)                  
17 Jon Stierwalt (Team Rio Grande)                      
18 Danny Pate (Prime Alliance)                          
19 Tim Larkin (ofoto.com/Lombardi)                  4.04
20 Andy Jacques-Maynes (Sierra Nevada/Cliff Bar)        
21 John Hunt (Healthnet)                                
22 Kelly Williamson (iomega-Orbea)                  4.15
23 Mark Southard (Trek/VW All Stars)                4.22
24 Todd Herriott (Healthnet)                        4.25
25 Josh Horowitz (Minute Maid-Dasani)               4.49
26 Jacob Erker (Schroeder Iron Pro Cy)              4.55
27 Eric Murphy (Healthy Choice-Guru's)              4.58
28 Scott F. Blanchard (Eclipse Racing)                  
29 Steve Larson (Webcor Cycling Team)                   
30 Adham Sbeih (Sierra Nevada/Cliff Bar)                
31 Cameron Brenneman (KB Home Cycling Team)             
32 Chris Baldwin (Navigators)                       5.15
33 Zachary Walker (Olympic Club)                    5.22
34 Geoff Rapoport (Minute Maid-Dasani)              5.41
35 Benjamin Haldeman (Santa Cruz Spokesman)             
36 Chris Walker (Team Compass Commercial)               
37 Solomon Woras (Team Rubicon)                     5.51
38 Walker Ferguson (Trek/VW All Stars)              6.21
39 Michael J. Anker (KB Home Cycling Team)          6.24
40 Justin Spinelli (Navigators)                     6.27
41 David Clinger (Prime Alliance)                   6.32
42 David Wyandt (Webcor Cycling Team)               7.18
43 Cameron Evans (Broadmark Capital)                7.47
44 Marc Harsncocher (Webcor Cycling Team)               
45 Mitch Moreman (Team Dean)                            
46 Gustavo Gomez (Central Valley cycling)           8.36
47 Nate Dille (Bike Gallery/Trek/VW)                8.52
48 Nathin Oneil (Saturn)                                
49 Adam Livingston (Schroeder Iron Pro Cy)          9.46
50 Andrew Touchstone (GS Lombardi/Foundry)         10.02
51 Ryan Guay (Navigators)                          10.36
52 Jackson Stewart (ofoto.com/Lombardi)            11.25
53 Gord Fraser (Healthnet)                              
54 Glen Mitchell (Navigators)                           
55 Jason Tullous (Grand Canyon Cycling)            11.52
56 Nat Faulkner (Trek/VW All Stars)                12.27
57 Saro Campono (Navigators)                            
58 Eddy Gragus (Trek/VW All Stars)                 13.12
59 Chris Horner (Saturn)                           13.21
60 Will Frischkorn (Saturn)                             
61 Bryson Perry (Healthy Choice-Guru's)            13.45
62 Paul S. Thomas (Eclipse Racing)                 14.26
63 Stuart Gillespie (Harvard Univ. Cycling)        14.34
64 Tim Johnson (Saturn)                            14.36
65 Burke Swindlehurst (Navigators)                 15.01
66 Todd Littlehales (Sierra Nevada/Cliff Bar)      15.02
67 Calvin Allan (Broadmark Capital)                     
68 Hugo Pradoneto (Cody Racing/Brazil)             15.43
69 Evan Elken (Broadmark Capital)                  16.27
70 Rusty Beall (Healthnet)                         16.50
71 Chris Mcgovern (Healthnet)                           
72 Jason Jablonski (Wenatcher Vally Velo)          17.15
73 Jesse Westergard (Healthy Choice-Guru's)        17.22
74 Neil Shirley (KB Home Cycling Team)             17.43
75 Michael King (Hutch's of Bend)                       
76 Tim Carolan (Trek/VW All Stars)                 17.44
77 Matt Dubberly (Sierra Nevada/Cliff Bar)         17.54
78 Alex Kozlov (Healthnet)                         18.31
79 Russell Hamby (ofoto.com/Lombardi)              18.48
80 Ted Huank (Webcor Cycling Team)                 19.20
81 Zach Vestal (Trek/VW All Stars)                 19.50
82 Eric Ranson (iomega-Orbea)                      19.59
83 Craig Wilcox (Broadmark Capital)                20.18
84 Colin Rooney (E-caps/Hammer Gel)                20.31
85 Adam Curry (Team Rubicon)                       20.39
86 Eddy Hilger (Subaru/Athlete's Foot)                  
87 Gianluigi Piacentini (Broadmark Capital)        21.02
88 Sandy Perrins (Healthy Choice-Guru's)           22.49
89 Jason Lokkesmoe (Healthnet)                     23.40
90 John Peters (Prime Alliance)                         
91 Joseph Smith (Healthy Choice-Guru's)            23.43
92 Jeff Angerman (Webcor Cycling Team)             23.56
93 Roman Killin                                    24.26
94 Lance Doherty (3BRT-Cyfac)                      24.37
95 Allan Butler (Healthy Choice-Guru's)                 
96 Luke Pennington (Bike Gallery/Trek/VW)          26.09
97 Neil Flock (Duane Duggan ReMax)                 26.16
98 Lucas Euser (Napa Valley Velo)                  26.40
99 Nieko Biskner (Sierra Nevada/Cliff Bar)         27.57
100 Peter Knudsen (Schroeder Iron Pro Cy)          28.19
101 Jacob Rubelt (Trek/VW All Stars)               28.20
102 Aaron Olson (Schroeder Iron Pro Cy)            29.32
103 Gordon Mccauley (Schroeder Iron Pro Cy)        30.47
104 Cody Peterson (Intermountain Orthopedic)       30.55
105 Dane Jankowiak (Schroeder Iron Pro Cy)         31.03
106 Patrick Dunaway (Healthnet)                    31.46
107 Randy Rocchi (Healthnet)                       33.02
108 James Mattis (Webcor Cycling Team)             34.54
109 Daivd Robinson                                 35.38
110 Daniel Adams (Healthy Choice-Guru's)           36.07
111 Kyle Gritters (Team Monex)                     36.09
112 Ayestan  (Saturn)                              36.30
113 Ian J. Mensher (Saturn for Seattle)            37.13
114 Alex Candelario (Prime Alliance)               37.58
115 Patrick Caro (Trek-VW)                         38.38
116 Ryan Miller (Prime Alliance)                   41.21
117 Todd Coglon (Broadmark Capital)                42.14
118 Jason Klikna (Sierra Nevada/Cliff Bar)         47.08
119 John Leonard (Trek/VW All Stars)                    
120 Sam Richardson (Bike Gallery/Trek/VW)          48.23
121 Douglas Donovan (Team Compass Commercial)      49.26
122 Aaron Norman (Redding Velo)                    57.45
123 Thomas E. Nelson (Nike Cycling)                58.24
124 Asraham Taylor (Sierra Nevada/Cliff Bar)       58.27
125 Tom Crawford (Broadmark Capital)                    
126 Jeff Hoppert (Eclipse Racing)                  58.32
127 Trevor Mays (Saturn for Seattle)               59.09
128 Benjamin Stafford (Webcor Cycling Team)      1.02.53
129 Ian Macgregor (Duane Duggan ReMax)           1.04.00
130 John Hygelund (Sierra Nevada/Cliff Bar)      1.04.06
131 Chuck Coyle (Vitamin Cottage)                1.05.12
132 Jason Karew (Eclipse Racing)                 1.07.26
133 Akira Wong (McGuire)                         1.10.09
134 Robert Cambell (Broadmark Capital)           1.12.03
135 Matt Mahoney (Bike Gallery/Trek/VW)          1.19.23
136 Michael D. Fors (RMS Cycling)                1.21.27
137 David Godfrey (Team Rubicon)                 1.31.22
138 Robbie Rubinette (Team Diabetic / Mapei)     1.47.21
139 Dan Distefana (Eclipse Racing)               1.52.05
 
Mountains
 
1 Tom Danielson (Saturn)                              17 pts
2 Andy Bajadale (ofoto.com/Lombardi)                  12
3 Chris Baldwin (Navigators)                          10
4 Antonio Cruz (US Postal)                             8
5 Jonathan Vaughters (Prime Alliance)                  8
6 Nathan O'neill (Saturn)                              8
7 Steve Larson (Webcor Cycling Team)                   7
8 Chris Wherry (Navigators)                            6
9 Eddy Gragus (Trek/VW All Stars)                      5
10 Will Frischkorn (Saturn)                            4
11 Gordon Mccauley (Schroeder Iron Pro C)              3
12 Phil Zajicek (Saturn)                               1
13 Danny Pate (Prime Alliance)                         1
 
Teams
 
1 Prime Alliance                                20.07.27
2 Sierra Nevada / Cliff Bar                         3.07
3 Saturn                                            3.48
4 Navigators                                        4.09
5 Healthnet                                         4.22
6 Webcor Cycling Team                               5.42
7 Trek / VW All Stars                               6.12
8 Ofoto.Com / Lombardi                              9.08
9 Healthy Choice-Guru's                            15.22
10 Broadmark Capital                               18.21
11 Kb Homes Cycling Team                           22.23
12 Schroeder Iron Pro Cycling                      33.07
13 Bike Gallery / Trek VW                        1.16.42
14 Eclipse Racing                                1.16.45
15 Duane Duggan Remax                            1.26.55
16 Team Rubicon                                  1.50.01
 
Women
 
1 Lynn Bessette (Saturn)                         3.31.10
2 Heather Albert (Team Basis)                       1.07
3 Kristin Johnsin (Tomosir)                         8.11
4 John Buick (Worddiff.com)                         9.28
5 Yukie Nakamura (AltoVelo/Webcor)                 10.25
6 Stephanie Graeter (Minute Maid/Dasani/LaGran)    11.28
7 Becky Broeder (ICO)                                   
8 Cindy Carroll (Excel Sports)                          
9 Lisa Matlock                                     12.07
10 Lisa Rachetto (ICO)                             12.40
11 Lisa Magness (ICO)                              13.35
12 Jessica Phillips (Saturn)                       15.42
13 Kate Maher (Team Basis)                         16.19
14 Nicole Freedman (Team Basis)                    17.15
15 Joy Shaffer (Los Gatos Bicycle Racing)          17.28
16 Kori Kunz (SorellaTort/Titan)                        
17 Allison Beall (worlddiff.com)                   17.36
18 Magen Long (OB12U/The Bicycle Store)                 
19 Nicole Brandt (Minute Maid/Dasani/LaGran)       18.37
20 Erin Alders (Santa Cruz Spokesman)              19.58
21 Gabriela Gonzalez De Ferat (Velo Bella)         20.00
22 Julia Whiteside (Minute Maid/Dasani/LaGran)     20.06
23 Janice Sheufelt (Chinook Yakima)                20.37
24 Mandy Lozano (BikeGallery/TrekVW)               22.36
25 Jody Koch (Ford Outfitters)                     22.50
26 Emma Rickards                                   23.24
27 Jenny Ruiter                                    24.47
28 Christine White (TDS Women's Cycling)           26.36
29 Brooke Ourada (Goldy's)                              
30 Starr Falk (LGBRC)                              26.54
31 Carolyn Eller (Recycled Cycles)                 29.59
32 Jana Repulski (Goldy's)                         30.40
33 Lisa Hunt (The Olympic Club)                    31.27
34 Emily Bestbrook (Goldy's)                       31.43
35 Leslie Mittendorf (Ashmead/King 5)                   
36 Alice Penington (BikeGallery/TrekVW)            34.28
37 Kathleen Jones (ICO)                            35.08
38 Desira Utzig (Minute Maid/Dasani/LaGran)        37.02
39 Heidi Stamm (ICO)                               38.32
40 Melissa Sanborn (ICO)                           39.09
41 Laura Downey (Minute Maid/Dasani/LaGran)        41.09
42 Alex Rubinette (Team Diadetic/Mapei)            41.27
43 Naomi Gollogly (BikeGallery/TrekVW)             45.01
44 Elizabeth Nettles (Recycled Cycles)             45.33
45 Troy Watson (Cycle Couriers SF)                 46.18
46 Corinn Clark-Danielle (South Bay wheelmen)      46.31
47 Calren Dorsch (Goldy's)                         48.00
48 Cat Malone (AltoVelo/Webcor)                    50.25
DNF Emily Babcock (BikeGallery/TrekVW)                  
DNF Jeanne Mcfall (Goldy's)                             
DNF Colleen Mcclanahan                                  
 
General classification after stage 1
 
1 Lynn Bessette (Saturn)                         3.31.10
2 Heather Albert (Team Basis)                       1.07
3 Kristin Johnsin (Tomosir)                         8.11
4 John Buick (Worddiff.com)                         9.28
5 Yukie Nakamura (AltoVelo/Webcor)                 10.25
6 Stephanie Graeter (Minute Maid/Dasani/LaGran)    11.28
7 Becky Broeder (ICO)                                   
8 Cindy Carroll (Excel Sports)                          
9 Lisa Matlock                                     12.07
10 Lisa Rachetto (ICO)                             12.40
11 Lisa Magness (ICO)                              13.35
12 Jessica Phillips (Saturn)                       15.42
13 Kate Maher (Team Basis)                         16.19
14 Nicole Freedman (Team Basis)                    17.15
15 Joy Shaffer (Los Gatos Bicycle Racing)          17.28
16 Kori Kunz (SorellaTort/Titan)                        
17 Allison Beall (worlddiff.com)                   17.36
18 Magen Long (OB12U/The Bicycle Store)                 
19 Nicole Brandt (Minute Maid/Dasani/LaGran)       18.37
20 Erin Alders (Santa Cruz Spokesman)              19.58
21 Gabriela Velo Bella Gonzalez de Ferat           20.00
22 Julia Whiteside (Minute Maid/Dasani/LaGran)     20.06
23 Janice Sheufelt (Chinook Yakima)                20.37
24 Mandy Lozano (BikeGallery/TrekVW)               22.36
25 Jody Koch (Ford Outfitters)                     22.50
26 Emma Rickards                                   23.24
27 Jenny Ruiter                                    24.47
28 Christine White (TDS Women's Cycling)           26.36
29 Brooke Ourada (Goldy's)                              
30 Starr Falk (LGBRC)                              26.54
31 Carolyn Eller (Recycled Cycles)                 29.59
32 Jana Repulski (Goldy's)                         30.40
33 Lisa Hunt (The Olympic Club)                    31.27
34 Emily Bestbrook (Goldy's)                       31.43
35 Leslie Mittendorf (Ashmead/King 5)                   
36 Alice Penington (BikeGallery/TrekVW)            34.28
37 Kathleen Jones (ICO)                            35.08
38 Desira Utzig (Minute Maid/Dasani/LaGran)        37.02
39 Heidi Stamm (ICO)                               38.32
40 Melissa Sanborn (ICO)                           39.09
41 Laura Downey (Minute Maid/Dasani/LaGran)        41.09
42 Alex Rubinette (Team Diadetic/Mapei)            41.27
43 Naomi Gollogly (BikeGallery/TrekVW)             45.01
44 Elizabeth Nettles (Recycled Cycles)             45.33
45 Troy Watson (Cycle Couriers SF)                 46.18
46 Corinn Clark-Danielle (South Bay wheelmen)      46.31
47 Calren Dorsch (Goldy's)                         48.00
48 Cat Malone (AltoVelo/Webcor)                    50.25
 
Mountains
 
1 Lynn Bessette (Saturn)                              14 pts
2 Heather Albert (Team Basis)                         10
3 Johanna Buick (Worddiff.com)                         5
4 Kristin Johnsin (Tomosir)                            4
5 Cindy Carroll (Excel Sports)                         2
6 Yukie Nakamura (AltoVelo/Webcor)                     1