Nat Ross
Photo ©: John Laptad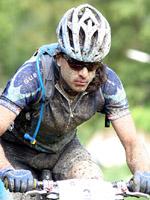 Going the distance: The Nat Ross diary 2008
Racing for eight years as pro mountain biker, 37-year-old Nat Ross' name is synonomous with endurance racing of all sorts, and he is a master at 24-hour solo races.
The super-chill Ross hails from Colorado and knows how to go the distance, day or night.
A winner 24 Hours of Moab in 2004 and 2006, he has been a member of the Subaru Gary Fisher team longer than any other racer. Follow his adventures as he travels and races his way all over the US.
Latest entry: May 20: Singlespeed USA
2008 diary entries
2007 diary entries
2006 diary entries
Interview and profile: Going the distance (March 2006)