Nat Ross basking in the glow of glory
Photo ©: Nat Ross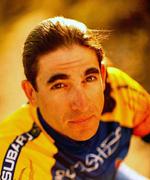 Going the distance: The Nat Ross diary 2006
As a six-year professional mountain biker who's competed in twenty-eight solo 24-hour races, you'd think that ultra-endurance racing has consumed every waking hour of 35 year-old Nat Ross' adult life. But this lean, long-haired and laid-back Coloradoan has a more complete resume than even the most upwardly-mobile corporate go-getter - although that won't stop him going the distance when it matters.
April 26, 2006
Marathon madness
Very early this season, the first NORBA Marathon took place just outside Phoenix Arizona . Yes, that's right, the first Marathon is already over and it was quite a race. Pure madness I say, but that's what we like, isn't it?
The sun offered
Photo ©: Nat Ross

McDowell State Park , home of the NOVA Desert Classic remains a favourite early season venue for racers of all abilities. Most racers, like me, were stoked to get in some early season singletrack riding in the desert. I travelled from Colorado with my training partners Jay Henry and Mike Janelle. Both Jay and Mike represented the US last summer at the Marathon World Championships in Norway. Unfortunately, Mike was the unlucky recipient of the flu or a bad cold so Jay and I drove while Mike rested in 'Sick Bay '; the back seat of the van. The drive from the snowy Colorado Mountains took no time at all as we jammed out to satellite radio. We arrived the day before and pre-rode a lap of the course in just a little over an hour. We were expecting a competitive field and were treated to just that. There were rumours that Ned Overend was going to race and we had pre-race sightings of Travis Brown, Charlie Storm, and Kris Sneddon. It was going to be quite the showdown. Friday morning, there were 38 pros lined up ready to get their "Marathon On".
On the start line we got the pre-race instructions and listened to our national anthem as we witnessed the largest pro field ever for any NORBA marathon to date. However, as we all know, it's the rest of the field that makes the race. There were waves of racers of all categories staged behind us ready to test their early season fitness. I was surprised by the number of non-Arizonans racing.
And there it was - the start gun. Jay and I must have been more than a bit rusty, because we experienced a momentary lapse of movement initially. Mike made an excellent road racing start maneuver I call the 'zag', that forced those of us to his left into the barriers. His road racing strategy worked great and he 'zagged' back to the right - Travis Brown and Mike rode off in the lead of a fast charging desert storm. Unfortunately, Janelle's maneuver caught the Canadian Troy Misseghers off guard and forced him straight to the ground.
The pace was furious as everyone jockeyed for position in the twisty cactus-lined singletrack. As it turns out, the pace ended up being way faster than the cross country's two days later. I made some pretty stupid passes as I was impatient to get to the front. By the time I had picked my way to the front of the fast charging train, I was already feeling the effects. The boys in red (Trek) were setting an amazing pace as they tried to spread out the field. Ross Schnell and Nick Martin were pumping out some serious watts as they towed us to the first climb.
The results list
Photo ©: Nat Ross

The first lap we climbed in our big chain rings and flew down the backside. Mike was feeling horrible from the flu as he let up after he'd thrown up chunks of oatmeal all over the bars. Jay and I were beginning to dangle off the back a few feet as we headed out on our second lap. From that point on, I had a hard time getting my head into the race...I had to remind myself that this is supposed to be fun. Jay closed the gap and began picking off everybody in front of him except Kris Sneddon, who is in amazing shape. I came to find out after the race, while eating killer post-race Mexican food at a local joint, he had been training in California with Levi Leipheimer for the past two months. Things all made sense after hearing how hard Kris had been training lately.
From what I heard, the pace started to back off and things split up some more two hours into the race. I never got to live it as my race ended abruptly with an hour and a half remaining. It sort of went like this; I was making up some lost time in a rocky section on the "Long Loop" and was not subtle enough over the rocks. I exploded my rear tyre and put some grand dents into my rim. Oh yeah, I ended up crashing just a slight roll over as I was standing up pedaling out of the saddle when I heard the loud explosion and lost control.
I wasn't the only one to go down during the race however - Ross Schnell was right in front of me as he somehow let go of the bars with both hands and crashed himself. Did I mention that he landed on his bad knee? I bet Ross was pretty sore racing the first world cup in Curacao! The worst crash went to Yuri Hauswald (SoulCraft). Did I mention that he crashed on his bad elbow that was protecting his pins by a huge elbow skateboard pad? The photo should tell you all you need to know. Clint Mulfeld, a fast cat from Montana, also went down hard. Right before my incident, I rounded a corner and saw Clint with his feet unclipped flying over the handlebars. I witnessed a lot of crash victims rolling through the finish line that afternoon. Another form of pain came in the form of sunburns. Check out the photo of one of the guys from Sports Garage.
Yuri Hauswald's arm
Photo ©: Nat Ross

All and all the desert pretty much kicked everyone's butt, and a lot of racers were really glad that the race was shortened by a lap. The marathon was crazy and madness ensued throughout the entire weekend. A stage race ( NOVA Desert Classic) started the next day. We hammered out an 11 mile time trial and finished the day with a Super D that evening. I nicknamed the Super D "Stupid D". That is the last one of those that I will ever do. I'll stick to the long races that I enjoy. The cross country was great because it was the last race of the weekend. I ended up with a 12th place result in the XC, solidifying a top ten finish in the stage race.
Arizona was a killer retreat, but it also told me how much more work I have to do to get where I want to be. For the NORBA NCS races, I would rank this venue in the top five marathon courses because of all the rolling singletrack. I think Jenny Smith (Trek), the women's winner, is hooked on the marathon format. It was her first NORBA marathon - what a great way to start the season with a win.
Congrats to Jenny and everyone else who finished the marathon. Hope to see you on course next year,
Nat Ross