An interview with Alessandro Petacchi, January 17, 2005
Staying at the zenith
Ale-Jet does it for the ninth time in the 2004 Giro
Photo ©: Olympia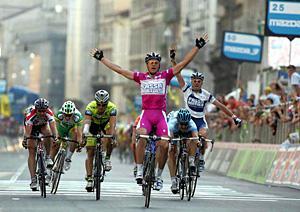 After another amazing year, Alessandro Petacchi has confirmed that he is the man to beat in the sprints. With 15 stage wins in Grand Tours in 2004, Petacchi is always conscious that it is harder to repeat such a successful year, but remains positive, modest and confident in his form. Cyclingnews' Hernan Alvarez caught up with him to see how things are going for him this off-season.
A common sporting catchphrase is "It's harder to stay at the top than to reach it". Italy's Alessandro Petacchi (Fassa Bortolo) seems to have overcome the difficulty of staying at the zenith of the best sprinters in the world. He had a tremendous 2003, amazingly winning 15 stages in Grand Tours (six in the Giro d'Italia, four in the Tour de France and five in the Vuelta a España). He had already said to the press that his 2004 season would be tougher for him, as the previous year was brilliant.
Nonetheless, last year was as good as 2003. Petacchi won 13 stages in Grand Tours (nine in the Giro and four in the Vuelta). And by winning nine stages in the Giro, he broke a record that nobody else had since World War II. Alessandro didn't succeed in the Grand Boucle, but he prevailed in four stages in the Spanish competition, showing that the flat stages in the big races are his.
Petacchi to skip Tour
According to newspaper L'Equipe, Alessandro Petacchi will not ride the Tour de France this year. The Italian star sprinter from Fassa Bortolo will skip the French stage race in order to participate in the Vuelta a España, which will be a better preparation for his season's goal, the World Championships in Madrid. This year's course in the Spanish capital is likely to finish in a bunch sprint. (Source: January 21 News)
Petacchi faces 2005 trying to remain as effective and unbeatable as he was over the last two seasons. Apart from the three big competitions of the calendar, he will aim for the World Championships in a country he really enjoys: Spain.
Although he is very famous and successful, he remains as meek as an unknown rider. Maybe that's his secret, not to think he is invincible. Cyclingnews spoke to him on the phone before Fassa Bortolo's recent training camp. The Italian was in Marina di Massa, a small town by the Tirreno Sea near La Spezia, the city where he was born 31 years ago.
Cyclingnews: How is your pre season going?
Alessandro Petacchi: Good, I'm fine. I am currently training well at home. The weather allows good training, it's not so cold. I'm training well. I like how I'm training this winter. I find myself a little bit better than last year.
CN: In which part of Italy do you live?
AP: In Marina di Massa, approximately 60 kilometres from Pisa. It's a very nice place to live with 10, 12 grades [centigrade] in the day. It's very unusual to have two and three grades; one can train well. If one goes to the inner part of the region, one is able to see as many climbs as he wants. One can train well here.
CN: Your 2004 season was better or worse than your 2003 season?
Alessandro Petacchi
Photo: © Sirotti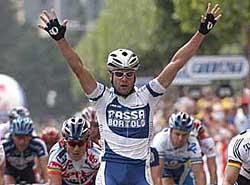 AP: I think it was more or less the same. I think that, like in life, to repeat big achievements with many victories from former years is very difficult. In everything the next year is more difficult than the first one. Because people expect things, the team expect that you have a good season, as the former year you had a great season and everybody thinks it is so normal that you get many triumphs. So, that makes you a little nervous during the winter training. All the people talk, everybody, the media, the TV; they are all waiting for big results. However, this year I take things easily because after very good seasons I train well and I am calm. Everything goes fine, I will do a season similar to the last one. That's what I hope. But, of course, I don't have the crystal ball.
CN: You did very well in the Vuelta a España. It seems Spain suits you well.
AP: Yes, it's a country I like a lot. I like the people, I like to ride there. I like Spanish riders, I like the language. What I see inside and outside the race is that it is a country I like almost as I like Italy. I enjoy Vuelta's routes. There are tough stages, normal stages, stages of medium difficulty. It's possible that I start racing in Andalusia and Valencia, but I'm not sure because my team doesn't know whether it moves to Andalusia as that would be a problem for the Pro Tour. Though I'm sure I'll go to the [Vuelta] Valenciana.
CN: Whom do you see as your big rivals this year?
AP: I see [Robbie] McEwen among the sprinters in the Giro for sure. Then in the Vuelta there are always Erik Zabel and Oscar Freire. These are two riders I worry about because they are two big champions. I saw Oscar was going to prepare for the World's [in the last edition of the Vuelta] and that he wanted to win one or two Vuelta stages. I saw him as a very strong rider. So, in the sprints I was worried about him. There are other riders. There is Tom Boonen who went to the Tour, Cipollini…but the riders I faced more last season were McEwen, Zabel and Freire.
Alessandro Petacchi (Fassa Bortolo)
Photo ©: Lavuelta.com

CN: What are your first races for 2005?
AP: The first one will be the GP Costa Etruschi, here in Italy. We begin our training camp next January 22 that ends on February 6, the day of the race.
CN: What happened in the last Tour de France where you couldn't win a single stage?
AP: I felt better than in 2003 for sure. I didn't do the sprints the way I wanted. I had strong team-mates. I reached the last kilometre [on the flat stages] very easily because my team worked very much before and I thought about the Giro, where my team supported me until the last 200 metres. I thought that after the race. That was my fault for sure because if I had made a different kind of sprint in the Tour, I would have had better results.
"... I think the World's is certainly for Freire, for Zabel, for fast riders. I think it's a course for Oscar. I hope it is for me too."
- Alessandro Petacchi on the 2005 World Championships in Madrid
CN: In the last Giro it was the opposite. You beat the record for the number of stages won in a single year with nine victories…
AP: Yes, no-one has done that since World War II. [Alfredo] Binda and another cyclist had won 12 stages before the war. But after the war, Cipollini had won six stages and I was able to win nine.
CN: And why did you have such a great performance?
Fassa super-sprinter Ale-Jet Petacchi
Photo ©: CN

AP: Certainly it was because I had good preparation and I had trained well in the winter. I performed well in the first races of the season. Then, I took a rest after San Remo. I raced just the Vuelta a Aragon and the Giro di Romandia just three stages because I wanted to come back home before the Giro to rest in order to reach the Giro a bit stronger. It was certainly that and also that I had a so very strong team. Frigo didn't race the Giro because he was sick. [DS Giancarlo] Ferretti said "Well, we don't have Frigo among us, so we are going to do the Giro just for you, with all the men for you". Then the mountain riders all worked for me. The whole team supported me in the first days, then in the mountain stages, if they feel good, they work just in the sprint, five or six kilometres to the finish line. So, I had eight riders for me and that's a lot. The team did a great job and I had good sprints.
CN: How do you see yourself for the next World Championships in Madrid?
AP: Well. I saw the route last December 2. I was in Madrid to see it and I liked it. I saw it like quite a fast route, it is not completely flat but I think it is a bit fast. There's only one hard uphill that is not very long. There are other parts that are uphills and downhills but not many. So, I think the World's is certainly for Freire, for Zabel, for fast riders. I think it's a course for Oscar. I hope it is for me too. I hope I feel good, I have a good World's and I hope I sprint well. I plan to have a good Vuelta to prepare myself well.
CN: Are you planning to ride some spring classic races?
AP: Yes. I will ride the Milan-San Remo because it is a classic I have liked for a long time. Last year I didn't have the perfect condition to do a race like the San Remo. In the end I couldn't do the sprint I wanted. I will try again this year.
CN: How were your holidays? Did you have a good time?
AP: I stayed home this year. I was tired and I knew I had to go to Madrid and also to a cycling showcase in Japan with Pinarello [Fassa Bortolo's bike sponsor]. I was in Las Vegas in 2003 and the company wanted me to go to Japan this time. I spoke with my wife and we decided to come back home. We were easy here, resting.
CN: Does anything change in your schedule and in cycling with the brand new Pro Tour?
Alessandro Petacchi
Photo ©: Sirotti

AP: I don't know. I think we must wait one year and see what happened with our sport. If it is better, if it is worse, if nothing changes. But I think it is important, it is like in soccer with a first and a second division. Now there are 20 teams that will ride always together. There will be a better quality cycling in all the races of the Pro Tour.
CN: Aitor Gonzalez's departure is bad for your team, right?
AP: I think he is a very strong rider. In the last two seasons he couldn't do what he is capable of. He had to ride the Giro and the Tour and he tried to do it well. He always felt bad during the Vuelta, in the end he was sick. But he had a good Tour [2004], he won one stage. But the team expects something else of riders like him who have won a Grand Tour [2002 Vuelta]. I don't know why he didn't do well in these seasons. I think he is a strong rider, strong in time trials, in a team or alone. Of course we lack a rider like him in Fassa Bortolo because he is very good.
CN: How do you see your team for the coming season?
AP: It's clear that we don't have a big champion for the general classification, either for big or small races. But we have Frigo who is a specialist on one-week races, he can do a good Giro d'Italia. We have very good riders like [Fabian] Cancellara and [Kim] Kirchen who I think can perform well. Another rider is [Juan Antonio] Flecha. He is a great person, he is mentally very strong. He is always on the breakaways, he always trains a lot. He is a cheerful and fun person.
CN: What would you prefer: to wear the green maglia at the end of the Tour in Paris or the rainbow jersey in Madrid?
AP: I prefer to become world champion in Madrid, no doubt about it. It's clear that the green jersey is very important in the Tour, but I think that when the Tour is over the only thing that remains is that you won that maglia. But when you win a World's, you will wear the world champion jersey the whole year.