Recently on Cyclingnews.com
An interview with Alessandro Petacchi
Not Your Usual Sprinter
By Tim Maloney, European Editor
Alessandro Petacchi
Born: La Spezzia, Italy, January 3, 1974
Turned pro: 1996
Languages: Italian, Spanish
Favourite actors: Robert de Niro, Demi Moore
Favourite movie: Balla coi lupi
Fan website: alessandropetacchi.tripod.com

Teams
1996: Scrigno Blue Storm
1997-8: Scrigno Gaerne
1999: Navigare Gaerne
2000-3: Fassa Bortolo
Victories
2000
2 stages, Tour de Luxembourg
2 stages, Route Du Sud
Stage, Regio Tour International
2 stages, Vuelta a Espana
Stage & Overall, Giro Della Provincia Di Lucca
2001
Stage, Settimana Ciclistica Internazionale
Stage, Settimana Ciclistica Lombarda
2 stages, Euskal Bizikleta
Stage, Tour De Pologne
2002
Stage, Tour Mediterraneen
3 stages, Volta A La Comunitat Valenciana
2 stages, Paris-Nice
3 stages, Settimana Ciclistica Internazionale Coppi E Bartali
Stage, Regio Tour
Stage, Ronde Van Nederland
Stage, Vuelta A Espana
Emerging Italian sprinter Alessandro Petacchi was a big winner in 2002; the Fassa Bortolo rider notched 12 victory bouquets last season but the "big" win eluded the 29 year old from La Spezzia, a small port city along the Tuscany coast. The handsome Spezzino doesn't look like a typical musclebound sprinter, and in this interview, Petacchi shows he's not a brash boaster but a quiet, modest man with the power and ambition to take his cycling talent to the next level in 2003.
Cyclingnews: What are your main objectives for the 2003 season?
Alessandro Petacchi: I'm going to start off my season with a little less fitness than I had last year, so I hope I'll come into top shape for San Remo, the Belgian classics and in the Giro d'Italia. I want to do well in the Giro; I've already won stages in big tours like the Vuelta, but a Giro stage win is some thing special for an Italian rider.
CN: Speaking of Milano-San Remo, last year you were one of the favorites going in. What happened to you?
AP: (Disappointedly) You know, I had raced a lot before San Remo last season; I had won a lot of races to that point, I was feeling good and I thought 'everything seemed easy, I'll have a good San Remo'. However, I probably was more tired than I realized and probably did too much work the week before. Plus there was a lot of pressure; everyone was saying 'San Remo, San Remo, San Remo' and I just had a bad day. After the first 100km when we hit the (first climb) Bric Berton, I knew I didn't have the 'right' feeling, I was tired and at that point I started to think that my San Remo wasn't going to be what it could have been.
CN: Giancarlo Ferretti told me that you and he have taken a close look at the mistakes you might have made in the sprints last year.
AP: I'm afraid to ride the sprints because I'm really not a pure sprinter, I'm not. I'm a 'passista veloce', I like to go in a break and to attack.
Winning
Photo: © AFP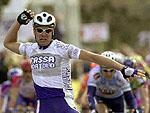 So when the race ends in a bunch sprint, I've been by myself, without a team-mate to help bring me up into the right position to begin my sprint. Ferretti and I saw that I was starting my sprint from too far behind. In the last Vuelta, I was second on the second stage, half a wheel behind Cipollini. I started in fifth position, so I had to make up five bike lengths. I was sprinting really well, but being so far behind I was unable to win more. That was happening a lot--the wrong position or I was too nervous risk my career with some crazy move. I broke a collarbone in a sprint and I've always had some fear since.
Above all, with Guido Trenti coming to Fassa Bortolo, this will help me a lot in the sprints. Guido is a rider who knows how to do his job (lead-out man) really well. He's coming from Cipo's train so I couldn't do any better. I hope this support makes things simpler to get me in the right position. I'm sure I can do some good sprints then!
CN: Which sprinters do you consider most dangerous in 2003?
In the bunch with Jalabert at Paris-Nice
Photo: © AFP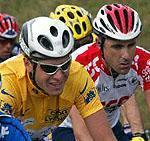 AP: For sure, there will be the usual sprinters this season. If you are talking about a rider who is a 'velocista puro', 100 percent, I think (Ivan) Quaranta will be good. He is a rider who's really fast in the last 100 meters and can make that winning move, but he's had problems with crashes and his form so it is seldom he ever is in good form for the big races. He has a totally different kind of sprint than mine or Mario's or Zabel's; Quaranta's sprint is a pure sprinter's finish. Mario or Zabel need the last 200 meters to wind their sprint speed up. And then there is McEwen and Friere who also have that rush over the last 50 meters. Those guys can accelerate fast, while my style is for a long sprint, because I don't have that change of speed. I like it when there's no one sprinting in front of me and I can just see the finish line. That's when I really come in to my own as a sprinter. When I have to stay on the wheels and have to come around, I usually don't have a great sprint.
CN: Since you are from Tuscany, I understand you train often with (Fassa Bortolo team leader) Michele Bartoli.
AP: Michele and I are good friends, we're on the same team but we were friends before he came to Fassa. We've gone on vacation together in the Maldive so we've developed a really good rapport. He lives about 50km from me (near Pisa), so often when we have to do al long training ride, we get together. Bartoli is a person who has inspired me to train better and be a better rider; to do that extra climb. We have the same coach (Cecchini) and we try to help each other out. 'Relax', he tells me in the races.
Bartoli is injured now [training crash hip fracture in Spain January 7 & expects to resume training mid-February] but he is a rider of enormous class and he'll be back soon.
CN: When will you start racing this season?
AP: I'll start in Spain at the Trofeo Puig, then the Valenciana, Paris-Nice, the Belgian classics and the Giro d'Italia. I want to start well and Last year at Valenciana, I won the first three stages. I like to race in Spain so that is always an extra pleasure for me.
Cyclingnews wrapped up our visit with Alessandro Petacchi as he moved on to another interview at the Fassa Bortolo 2003 team presentation. The gracious Petacchi is a young man on the move; look for him to win a sprint near you sometime this season and add to his total of 27 pro wins with perhaps some of the most prestigious victories of his career.