An interview with Alessandro Petacchi
The unexpected champion
Italian sprinter Alessandro Petacchi was the revelation of this year's Giro d'Italia, winning six stages before being excluded for missing the time cut-off on stage 18. As he clocked up those wins, the 29-year-old from Northern Italy routinely beat top speedster Mario Cipollini and came close to preventing Cipo from beating Alfredo Binda's record tally of Giro stage wins.
"The man to beat for all of us will be Robbie McEwen."
Petacchi will be Fassa Bortolo's main man for the sprints in this year's Tour and is a favourite for the green points jersey. When Cyclingnews reporter Gabriella Ekstrom caught up with this modest, likable rider, he was at home in Marina di Massa, Tuscany, deep in his final preparation for the Tour.
Accepting the Bonacossa award
Photo: © Sirotti

Alessandro Petacchi started the Giro d'Italia with only one thought in his head, to add a stage win to his palmares. Before he had to leave the race in Chinale, Petacchi would find himself with more than he had hoped for. As well as six stage wins, he spent six days in the Giro's pink leader jersey, the maglia rosa and wore the purple sprinters' jersey all the way until his exclusion on stage 18.
Victory #1
Photo: © Sirotti

By the time he had returned home to be a party celebrating his victories that saw more than 3,000 people turn out to congratulate him, Petacchi's advisors and managed had already turned their minds to the Tour de France.
"After the wonderful Giro I did, a lot of people, including my team manager Ferretti and the sponsors, advised me to do the Tour de France," says Petacchi. "With the strength I had at the Giro, I had a chance of riding a good Tour, and they didn't rule out the possibility of me winning a stage there. At first I wasn't convinced, because I was still suffering from the wounds I sustained at the crash in Bolzano, and my original schedule said that I should focus on the Giro and later the Vuelta a Espana as a preparation for the World Championships in Hamilton."
Making it look easy in pink
Photo: © Sirotti

More importantly, despite all his achievements in the Giro, it was not a happy sprinter who came home to Marino di Massa.
"My elimination was a big blow to me, and I became disillusioned and at first I could not look back on my victories and my days in the maglia rosa with a peaceful mind. Then when I came back to Milano to receive the Bonacossa prize I had been awarded, I saw all the people. The fans who had come to see me! I then realized that the Giro truly was a sign that I had achieved something. Now I can look back at my achievements with tranquility."
Grabbing stage 6
Photo: © Sirotti

Finally content with his Giro d'Italia, Alessandro Petacchi will indeed join Fassa Bortolo at the team presentation in Paris. He will start the Centenary Tour with the same goal as he set for the Giro.
"I want to win a stage. Everything that happens to me after that is a bonus. I haven't started to think about the green jersey yet," he says, though his tone suggests the thought might have struck him just once or twice.
Sprinters can count
Photo: © Sirotti

Asked if he was looking forward to any stage in particular where he might fulfill his dream, he answers that he is not focusing on a special stage. Any medium-hard stage will do, and he includes all the flat stages into that category, because of the nervous battles those stages always present.
"My toughest rivals will be Robbie McEwen, Eric Zabel, Jaan Kirsipuu, Stuart O'Grady, Baden Cooke and maybe Ivan Quaranta. At the end of the day, I think the man to beat for all of us will be Robbie McEwen. He is always ready for the big appointments, and knows very well how to motivate himself. I'd say that Stuart O'Grady is also a great candidate for the green jersey."
Winning despite the pain
Photo: © Sirotti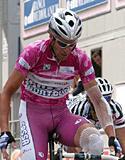 Petacchi has little to add to the discussion about the non-selection about his countryman Mario Cipollini. "I am sorry for him, but he is not on my team, and the decision has already been made. I don't expect the Tour to be easier without him though. At the Giro it was very hard, even without Cipollini."
With the final Fassa Bortolo tour team not yet announced, Petacchi still has an idea. "I think the Fassa Bortolo team for the Tour will be designed in a similar manner as the team for the Giro. Aitor Gonzales and Ivan Basso for the classification and myself for the stages. I hope there will be some team mates to help me out in the sprints. Marco Velo will surely be there, and I hope we will find someone to substitute Serguei Ivanov, who crashed on the fourth stage of Tour de Suisse. I lost a precious team-mate for the Tour that day. He is a very important guy for me in the team."
One more
Photo: © Sirotti

Despite - maybe even because of - the sudden change of plans, Petacchi is positive he has had a pretty good build up for the Tour.
"I have improved throughout the year, and my Giro certainly demonstrated that. Indeed, the Tour start came as a consequence of my Giro. I certainly hope my body will react well in the Tour. After the Tour I also intend to do some circuit races to increase my popularity!" he muses.
After that?
"Then," he says, "then I will rest."
January 2003 Interview with Alessandro Petacchi