An interview with Oenone Wood, March 18, 2004
Focused on gold
Wood leads Australia into the World Cup but eyes Olympic gold
After notching up 12 stunning wins on Australian soil in the first two months of the 2004 season, sprinter Oenone Wood is flying high - and to the delight of her supporters and compatriots on the Australian team, just doesn't show any signs of crashing down to earth. Australia's newest cycling powerhouse spoke to Karen Forman.
Oenone Wood celebrates her World Cup leader's jersey
Photo: © Joel Roberts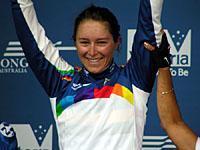 After winning the Australian national road and time trial championships, the Skilled Bay Classic criterium series and the UCI Women's World Cup opener (just to name some of the dozen) at Geelong last month, she has already added another win to her cache - the Trofeo Citta di Rosignano in Italy on March 14. And this weekend, she'll front up as a hot favourite for the second round, the Primavera Rosa, the women's Milan - San Remo.
Naturally, Wood is pretty excited about carrying the leader's jersey into the World Cup, particularly as she won the first round on home soil. But while she would love the take the second stage as well, it's not the World Cup that the diminutive Canberran is pinning her hopes on this year. Rather, as she told Cyclingnews just prior to her departure from Australia, it's the Olympics she has one her mind.
Oenone wants to win Olympic gold. And if she can retain the astonishing form she has found so early in the season, then she will be up there with the best of them in Athens in five months' time.
But first, she cautions this overzealous reporter, she has to be selected. "Selection for the road race goes up until the end of April," she said. "Then the team will be named in June. So we still have a while to go. I still have to keep performing. Winning the Australian title isn't a guarantee of a ride in the Olympics."
After her 12 wins she is ranked as Australia's number one and she's delighted with that. "I couldn't have had a better start to the season," she said. "It's great. Obviously it will be really careful planning from here till the Olympics and World's. I will have to spend a lot of time talking to my coach about it and being careful about what I do."
So given those early results, is she concerned that perhaps she may have peaked too soon?
That World Cup win
Photo: © John Veage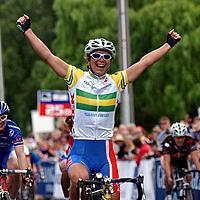 "I think I'd be more worried if I wasn't performing well. It's such an important year. I am feeling really confident and positive. The group of girls I will be racing with in the Australian Institute of Sport team, everyone is really focused and there is a lot of talent in the group."
As to whom she tips to do well, "I think it will vary race to race because we have such a strong team this year," she says. "Obviously I will be wearing the leader's jersey in the World Cup, which will take the focus off some others. That could mean the other riders let them go..."
After this weekend's World Cup, she moves on to Spain for the Vuelta a Castilla - Leon stage race and the next round of the World Cup, the GP Castilla y Leon. Then it's on to then on Belgium for another World Cup round, the women's Tour of Flanders, back to Italy to defend her title at the GP Cavrie, and then Belgium again for yet another World Cup, the Flèche Wallonne.
"They all come, one after the other," she said. During this busy Olympic lead up, she will be based in Italy, a country she loves.
"I enjoy living there. The training is fantastic. You can go out on small windy mountain rides, it's really great training. A lot of the older Italian men are out training... they talk to us and tell us to slow down!"
Her Italian, she admits, is "pretty bad", but "we're enrolling in a class this year." Life on the road can be lonely and tough, but Wood's partner of seven years, Joel Roberts, will go over for a month, hopefully in June.
Oenone loves having him on her side. "He's a sports scientist, so sometimes there is a bit of an ongoing argument because he comes at it from a scientific point of view, but mostly it's a case of me being the cyclist, while he knows the science, I know how it feels, so it's a good partnership."
She says the long separations are difficult, "but at the same time it's really good support knowing you have someone at home to call. It would be harder if you didn't."
Winning in the Geelong Tour
Photo: © John Veage

As she said, the Olympics are her main goal for the year, but beyond that, the world championships are another big focus for the year. "Then there are little goals along the way…at this stage although I have the leaders jersey for the World Cup series, I have to think seriously about whether I try to chase it, because there's a limit to how much I can do in one season. If you want to win a medal at the Olympics, you have to be really focused. I think at the moment we are in such good shape, so competitive, we are definitely in with a chance. If we can time everything well and have everyone ready, we will do well."
She's not too sure who will turn out to be her main rivals, but says there are a lot of cyclists she has a lot of respect for. "Miriam Melchers, Nicole Cooke, Petra Rossner, Judith Arndt; you just respect them because you know the kind of work they have put in. When you see people like Nicole out on the road, they have so much determination, you can only be inspired."
And goals beyond the Olympics? For Oenone Wood, it doesn't stop there. "Definitely next year I will be looking to go to a professional team, then hopefully that will give me the opportunity to do something like the World Cup series. Then there are always the world championships. That would be an absolutely dream to medal there."
It's been a short road for the 23 year old born in Newcastle, raised in Mullumbimby and Taree and the Netherlands, where she spent Year 10.
On the way to a TT championship
Photo: © Mark Gunter

"I have got a lot of family there, I lived with my uncle and aunt for seven months. It was just a fantastic opportunity. I got to learn another language, experience another culture. You have to be more independent, to be away from your family. I think it did me a lot of good. Made me stronger."
She did her final year of high school in Newcastle, then joined the Australian Defence Force in Canberra and was there five years before deciding to concentrate on her cycling as a profession.
Wood did triathlon for about four years before she concentrated on cycling when she was 20. "I saw the sport on TV and wanted to have a go," she said. "I had done all sorts of sports as a kid - touch football, basketball, swimming training. I pretty much put myself into anything I could get into. I never really thought I would become an elite athlete, though. It was something that sort of happened. I always pictured myself going down an academic line rather than sport."
She is actually still studying engineering by correspondence. Her move to cycling came courtesy of a PTR at the Defence Force academy; he was cyclist, a professional rider in the past: Mark Stevens, brother of former pro Neil.
"I went and did a few club races and from there I started being coached by Kim Palmer and after the first year got into the ACT Academy of Sport. In 2002 I got a three-month stint in Europe as a development rider with the AIS team and then at the start of 2003 I got a fulltime scholarship with the AIS program - all in the space of three years.
"I was going to be an electrical engineer with the RAAF, but that changed. I left the defence forces but continued studies through Deakin University."
Wood was obviously a talent from the word go. "The first time I went overseas, I had a couple of, I guess you'd say, reasonable results for someone on their first time. Last year I really got results. I won a few Italian national series races, and then my cycling really started to progress. I was sixth in the Primavera Rosa World Cup and then third in the next round.
Winning the Australian road champ's
Photo: © Mark Gunter

"I won the GP Cavrie in Italy, a stage of Trophee d'Or in France, won another Italian national series race, the Natra Rossa."
"It was a big learning curve but at the same time I was over there with a really good team. Especially riding with Olivia Gollan, I think she was able to push me along. We rode really well together."
Now back in Italy and warming up with this weekend's race, she is keeping her head down. "When we go overseas I am going there for a reason. We're not there for a holiday. We are there to race bikes and develop as cyclists and we pretty much keep that focus the whole year. I don't think we could keep going without keeping that focus."
She's a staunch supporter of cycling for women and would like to see more women doing it. "I think women's cycling is going really well, evidenced by the amount of talent at the moment. Obviously there are ways it can be improved. The sponsorship at the moment, if that can be increased and they can start having more women's World Cups running alongside men's races, well that would be a great way to promote women's cycling. Obviously you would get huge crowds and exposure at events like that."
So marriage and kids are on the backburner? "Yeah, for now. For now the bike comes first," she says. "It's got to be that way. You have to be tough to be an elite cyclist."
All those years of RAAF training had their advantages!
More photos
Images by Joel Roberts