Recently on Cyclingnews.com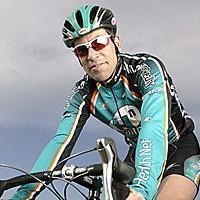 John Lieswyn
Photo: © Jeff Tse
The John Lieswyn Diary
A pro racer who now mostly concentrates on the US domestic scene, John Lieswyn is one of Cyclingnews' most popular and sometimes controversial diarists. He has been racing since 1985 and a Cyclingnews diarist since 1999. John likes both criteriums and longer road races, and seems to particularly like it when the going is hard. He has raced in the Regio Tour, Peace Race, Tour of Poland, Vuelta a Guatemala, Tooheys GP and Commonwealth Bank Classic with success, as well as winning stages in the Sun Tour, Killington and Superweek. In 2004, he moves from 7Up/Maxxis to Team Health Net presented by Maxxis.
Day Zero
Pomona Valley Stage Race, San Dimas, California, March 18-21, 2004
I awoke this morning from the first 10 hour slumber I've had in a long while. Maybe it was the fluffy mattress attired in the finest sheets, or the dark stillness of the Robertson's mansion. Drawing the heavy curtains open, I stepped onto the tiled balcony and admired the view. Directly below the balcony began a vast terrazzo surrounding a pool, spa, and covered outdoor kitchen-fireplace. Farther out, a small yard gives way to a white fenced green pasture, three horses and their stables. The crisp morning air is so clear that the mountains all around Sunset Drive stand out starkly. By the afternoon, LA's inland empire is usually inundated by a thick haze, which will totally obscure even the nearest mountains.
After coffee and toast, Hayden and I sit down to try and work out why my laptop won't connect to the Robertson's wireless network. (thanks Hayden!) He's due to leave for Columbus, Ohio in a few hours. The rest of the team suits up for a ride, but I've decided to go alone later on.
Once that's done, I suit up and plug in the IPOD for a short spin around part of the Sunset and part of the Panorama Point loops, finishing with San Timoteo Canyon and Alessandro Drive. I'm only ten minutes out and climbing Sunset absolutely effortlessly. Hmm, what's up here? Thirty minutes later I'm smiling broadly and getting chills. This is GREAT. It's as if a switch has been thrown; nothing hurts and the bike is a perfectly comfortable extension of my body. 24 races, four months of training, and today it all clicks.
It happens every year, sometimes noticeably and other years imperceptibly. Every day up until now has been negative. Between feet, knees, and back something was always amiss. I'd really begun to wonder if I'm just getting old or over the hill. After today, "DAY ZERO", it will all be positive. I'm not saying that all of a sudden I'm going to be the only one racing on planet Horner. But I'm no longer depressed about that either...
A few days ago we were anxiously beginning our first U.S. stage race as team Health Net presented by Maxxis. Without our number one and two sprinters, and facing tough climbing courses, we hoped to still pull off a win.
Stage 1 - March 18: San Dimas Hospital Circuit Race, 90/115 mins
3.5 mi hilly circuit; a combination of bike paths, parking lots, and park roads. It's a hard man's course, one I could do well on given a big helping of luck. We're the last category to race today. The other categories finished it, with the standard crashes that occasion any bike race. We all knew that it was going to be sketchy and the level of nervousness at staging was very palpable. It felt like the lineup for Athens Twilight.
After the start, I stayed right on the front with a teammate as we descended the twisting bike path, under a railway overpass, and towards a 180 degree switchback turn. 150 guys were pressuring from behind, trying to move up on the soft, wet grass abutting the path. It's not that it's a dangerous course by itself, but everyone knew that if you weren't at the front when the attacks came on the hill, your race was over because the break would be long gone within a lap or two due to the narrow roads.
Guys were taking big chances, and despite my cautious nature, so was I. After the first gentle climb that passed through a very narrow toll booth, we descended at 50mph toward a parking lot with twin 90 degree right turns marked off by fencing. The first 10 guys made it through the turns fairly clean, although while I was top 10, I did get an STI brake lever rammed into my behind. Coming out of these turns half a dozen riders from various teams approached me and asked me to take the lead in halting the race.
I only said: "Does anyone want to race this course?" and "we should at least continue riding the distance if we don't race!" On team instructions, I then retreated to the back of the bunch. After one of my teammates took a lot of heat from fellow racers and the media for his leadership during Sea Otter 2003 debacle, we were not going to get this one pinned on us. It's amazing how many guys were on the fence on this one, and some guys literally jumped the fence and played both sides like the best politicians. Will I be leading the stillborn US Pro Rider's Association? No. I just work here. If I'm not comfortable with an event's safety, I'll either attack or drop out. But I am going to make a huge effort this year to just keep my mouth shut when I'm riding. (And a little bit less controversy in the diaries, too!)
So we had a training ride. The race organizer was understandably upset and the announcer took the piss out of us with some great sarcasm. Many people cannot fathom why we're such wimps. Personally, everything changed after I saw Nicole being loaded into the ambulance. Our racing is fast, hard, often violent, and dangerous enough.
Stage 2 - March 19: Glendora Chevrolet Mountain Time Trial, 8.5 miles
Horner dominated the time trial. The result wasn't unexpected, but the time difference was. I figure we're still "preseason", so I can't be too worried about it, considering my personal goals are in June.
Stage 3 - March 20: Incycle Puddingstone Road Race, 72/96miles
Driving the Early Breakô
Photo ©: Rob Karman

Our radios are on the blink for the road race so I didn't know who we had in the first real breakaway. Hitting the big hill for the third time I decided I was going to be in it too, and made a strong attack to get across. Later I would find out that some of the riders in the pack made bets I wouldn't make it across, so when they saw a Health Net jersey coming back they must have been smiling. Too bad for these naysayers that the HN jersey was worn by one of our club riders in a different category race! Once making it into the break I gave it full gas for a while, saving my teammate Mike Jones, since he'd had the better time trial result yesterday. The start finish stage had a lap counter but there were so many races going on at once that we couldn't make head or tails of it. We asked the motorbikes how many laps to go so that we could figure out when to sprint for the time bonuses. Race radios would have been nice in this situation, since we ended up sprinting on the wrong lap. So for those who thought that Jones was posting his arms in victory six laps too early, I hate to tell ya, but that was a single armed protest at the officials who were now belatedly telling us how many laps to go (and the time bonus sprint wasn't NOW).
Horner's guys, who were proving themselves much stronger than we'd hoped, led the peloton. Additional help (as if it were really needed) was coming from the second-placed GC rider Cesar G.'s Jittery Joe's teammates and a couple friends of the leader. Needless to say, our small breakaway didn't have the guns to really put pressure on so after a few laps I pulled the plug and we went back to the peloton to "reshuffle" the deck. The next break had our Sayers and Pate up there, perfect GC pressure. With three laps to go they, had 1'40 lead. Going up the steep climb at two to go, the officials had to neutralize the pack so we wouldn't overtake the Cat.2 field, which was lining up for their sprint. Much ado was made by some- now that something benefited Health Net we weren't complaining. Whatever... the break only gained 15 seconds from the delay. With half a lap remaining, the "Horner Professional Cycling Team presented by Webcor" took over. Single handedly he shattered the field, brought back 1'10 to catch the leaders, then led himself out to take the stage win. Impressive. Nobody else is racing in his league; it's something like the Genevieve dominance of women's racing.
Stage 4 - March 21: Cannondale Old Town San Dimas Criterium, 55/90 mins
I woke up with razor blades in my throat on the morning of Stage 4, the criterium. Telling Jeff that I thought I should bail out, he didn't say much. He knows me well, since five minutes later I came back to say, "Well, maybe I'll just start and see how it goes."
Now the sore throat may just be breathing smoggy LA air at time trial pace, and I've heard many times that my frequent colds are really just allergies, so this week I've started taking allergy medications and while they have their own side effects, I do seem to feel better. Staying optimistic despite the drubbing we're getting from Horner is important. I resolved to keep an open mind about finishing this race and not use a sore throat as an excuse to drop out.
Right off the line there was a crash. Funniest crash I've seen in a long time, as one guy cruised to a gentle stop with a rider-less bike attached by the bars to his seatpost. Soon enough, I was nearly another statistic as I tried to attack on the right side on the hill. A deep and wide groove in the pavement swallowed my wheels, which nearly always results in a irrecoverable situation. Somehow I bunny hopped out of it but now I was headed straight for a right angle curb, still at near attack speed, without the balance to bunny hop again. In a split second and with total luck on my side, I found a ramp onto the sidewalk and bombed through someone's front yard. Dodging trees, shrubs, and sprinkler heads, clods of dirt spraying my legs, I finally got it slowed down enough to turn back towards the course. Adrenaline helped power me from back of the bunch straight to the front in one lap. I gotta put in a plug for Reynolds carbon wheels here: the violent impact with the deep concrete groove took a fair chunk out of the rim but it's still fully usable and straight as an arrow.
I felt great the rest of the stage and ended up working for Sayers in the sprint. We had a dual purpose here: with Cesar G. (Jittery Joes) missing the lead group and our Chris Wherry winning an intermediate time bonus sprint over Klasna (Sierra Nevada), we now had the prospect of at least salvaging a podium G.C. finish. So I had to balance "driving" the lead group for Wherry with saving enough energy to leadout Sayers. Of course I panicked a bit and took off a few hundred meters too early. It'll be easier when we've got our full leadout squad; I'm finding myself somewhat unsuited to being the final guy before the sprinter.
That brings me to today. The ride I described at the beginning of this entry was just 45 minutes (I ended up doing the loop again with Greg when he got in from the airport) but it was really fun. When the inevitable angry motorists flipped me off, this time my ride wasn't spoiled in the least. I gave a (surely infuriating) friendly wave in their rearview mirror, and continued smiling broadly.
With the worldwide economy stumbling along and a pullback in sports sponsorship, I've thought recently about my own buying patterns. How many cycling sponsor products do you have in your home? Most cyclists are major coffee aficionados. Do you have a Jittery Joes fresh roasted coffee subscription (through Acme Liquid Supply)? Or a Saeco espresso machine on your counter? On my last tile project I got the Mapei adhesive and grout, while at the grocery store I sought out the Bolla wines and Colavita Olive Oil. Individually it's a really small thing, but there are thousands of us and we can make these sponsorships work. Professional cycling can continue to grow in America as well as abroad.
Email John at jlieswyn@cyclingnews.com