Pomona Valley Stage Race - 2.4
San Dimas, California, March 18-21, 2004
Main Page Results Previous Stage Next Stage
Stage 2 - March 19: Glendora Chevrolet Mountain Time Trial, 4.8miles
Chris Horner (Webcor)
Photo ©: Rob Karman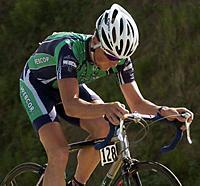 The time trial course was shortened today from 8.5 miles to only 4.8 miles due to the half washed out road on the upper section of the climb. The organization wanted to keep the original course but the park officials refused permission as they thought it was too dangerous for riders descending on the flooded side after they had finished.
Winning the women's race was T-Mobile rider Kristin Armstrong, demonstrating her natural climbing ability, with Chris Horner (Webcor) taking the men's event by a convincing minute over the next best rider.
Horner was disappointed, when Cyclingnews caught up with him a few days ago, that the course had been shortened, but judging by his win today, things worked out quite well for him. Due to yesterday's cancelled race, Horner now leads the tour by one minute with today's placings also doubling as the general classification.
Coming in a minute down on Horner was Cesar Grajalas (Jittery Joe's), who is backing up his great form late last year with a strong early season. Scott Moninger (Health Net presented by Maxxis) came in to take the final podium position, two seconds behind Grajalas.
In the women's event Armstrong made it to the end of the uphill course 19 seconds faster that Quark's Lyne Bessette, with Erin Mirabella (Red 5 Racing) coming off a successful World Cup track meet in Mexico last weekend to take third place. Bessette is now the leader of the race, after her second place in yesterday's circuit race with Armstrong in second and Palmer-Komar in third overall.
Kristin Armstrong (Team T-Mobile)
Photo ©: Rob Karman
Cyclingnews caught up with Armstrong after the race who was very happy with her win. "I felt really good out there," she said, "although I would have preferred the course to be longer. But I obviously like to climb so I'm happy."
Originally Armstrong was supposed to head to Italy for the Primavera Rosa World Cup which takes place on Sunday, but plans were changed and she stayed home to compete in Pomona and Redlands. "It's fun being here," she explained. "With only a day between when Pomona finishes and Redlands starts, these few weeks are a good chance for me to get some good racing miles and climbs into my legs."
Armstrong will certainly be going after the time bonus points in tomorrow's road race in an attempt to take the overall lead from Bessette. "With the help of my team, I'll definitely try." Tomorrow riders face the Incyle Puddingstone Road Race, which is 74 miles for the women and 96 miles for the men. The race consists of many time bonus sprints giving riders the chance to move up on their rival's mid-race.
Photography
Images by Rob Karman/www.roadbikephotos.com
Results
Elite Men
 
1 Chris Horner (Webcor)                                15.12
2 Cesar Grajales (Jittery Joe's)                        1.00
3 Scott Moninger (Health Net - Maxxis)                  1.02
4 Eric Wohlberg (Sierra Nevada)                         1.22
5 Jason McCartney (Health Net - Maxxis)                 1.24
6 Glen Mitchell (Sierra Nevada)                         1.30
7 Mike Jones (Health Net - Maxxis)                      1.32
8 Jacob Erker (Team Seasilver/Incycle)                  1.33
9 Danny Pate (Health Net - Maxxis)                      1.39
10 Todd Herriott (Colavita)                             1.40
11 Justin England (Webcor)                              1.43
12 Tim Larkin (Ofoto)                                   1.44
13 Trent Klasna (Sierra Nevada)                             
14 Adam Bergman (Jelly Belly - Aramark)                 1.47
15 Chris Wherry (Health Net - Maxxis)                   1.55
16 Tomoya Kano (Shimano Racing)                         1.57
17 John Lieswyn (Health Net - Maxxis)                       
18 Chris McDonald (Sdbc)                                2.04
19 William Frischkorn (Colavita)                            
20 Ben Brooks (Jelly Belly - Aramark)                   2.05
21 Andy Bajadali (Ofoto)                                2.07
22 Kevin Bouchard-Hall (Louis Garneau Racing)           2.10
23 Brian Sheedy (Taylor Bikes)                          2.12
24 Jackson Stewart (Ofoto)                              2.13
25 Ben Jacques-Maynes (Sierra Nevada)                       
26 John Kelly (Webcor)                                  2.15
27 Ivan Dominguez (Colavita)                            2.18
28 Tyler Wren (Colavita)                                2.19
29 Dan Bowman (TIAA-CREF/5280)                          2.20
30 Hugh Moran (Atlas Mining)                                
31 Mariano Friedick (Jelly Belly - Aramark)             2.23
32 Chris Pic (Jittery Joe's)                                
33 Mark McCormack (Colavita)                            2.24
34 Thad Dulin (Colavita)                                2.29
35 Peter Knudsen (Team Seasilver/Incycle)                   
36 Blake Caldwell (TIAA-CREF/5280)                      2.30
37 Scott Blanchard (Eclipse Racing)                         
38 Gustavo Artacho (Colavita)                           2.34
39 Bernard Van Ulden (Webcor)                           2.35
40 Mike Creed (US Postal - Berry Floor)                     
41 Aaron Olson (Colavita)                               2.36
42 Charles Dionne (Webcor)                                  
43 Ernie Lechuga (Jelly Belly - Aramark)                2.37
44 Jacob Rosenbarger (Jittery Joe's)                        
45 Shinri Suzuki (Shimano Racing)                       2.38
46 Mike Sayers (Health Net - Maxxis)                        
47 Jason Bausch (Ofoto)                                 2.40
48 Ian Macgregor (TIAA-CREF/5280)                       2.41
49 Timmy Duggan (TIAA-CREF/5280)                            
50 Ted Huang (Webcor)                                       
51 Alex Ivanov (The Red Edge)                               
52 Rego Meza (Dare)                                         
53 Craig Lewis (TIAA-CREF/5280)                         2.44
54 Davide Frattini (Team Monex)                             
55 Adam Livingston (Team Seasilver/Incycle)             2.45
56 Rusty Beall (Rms Elite)                              2.46
57 Caleb Manion (Jelly Belly - Aramark)                 2.47
58 Bryan Smith (Endeavour)                                  
59 Hisafumi Imanishi (Shimano Racing)                   2.48
60 Daniel Ramsey (Team Seasilver/Incycle)               2.50
61 Imanol Ayestaran (Webcor)                                
62 Roddi Lega (Canadian National Center)                2.54
63 Yoshiyuki Abe (Shimano Racing)                           
64 Patrick McCarty (US Postal - Berry Floor)                
65 Nieko Biskner (Ofoto)                                3.02
66 Russell Hamby (Sierra Nevada)                            
67 Alex Candelario (Jelly Belly - Aramark)              3.05
68 Jed Schneider (Jittery Joe's)                            
69 Jason Lokkesmoe (Health Net - Maxxis)                    
70 Doug Ollerenshaw (Jelly Belly - Aramark)             3.08
71 Andrew Manart (TIAA-CREF/5280)                       3.11
72 John Hygelund (Sierra Nevada)                            
73 Nick Reistad (Endeavour)                                 
74 Hidenori Nodera (Shimano Racing)                     3.14
75 Eric Murphy (Aerospace Engineering)                      
76 Kaoru Oouchi (Shimano Racing)                        3.15
77 William Innes (Gs Lombardi Sport/650 Racing)             
78 Michael Hernandez (Reno Wheelman)                    3.16
79 Scott Zwizanski (Ofoto)                              3.18
80 Jonny Sundt (Jittery Joe's)                          3.20
81 Ben Haldeman (Webcor)                                    
82 Jesse Lawler (Jittery Joe's)                         3.22
83 Walker Ferguson (Health Net - Maxxis)                    
84 Frank Pipp (Endeavour)                               3.27
85 Josh Horowitz (Velo Club Lagrange)                   3.28
86 John Semmelhack (ABD)                                3.30
87 Masamichi Yamamoto (Shimano Racing)                      
88 Neil Shirley (Team Seasilver/Incycle)                    
89 Matt Sadauckas (Team Seasilver/Incycle)                  
90 Chris Gruber                                         3.33
91 Hayden Godfrey (Health Net - Maxxis)                     
92 Josh Gewirtz (Fiordifrutta)                          3.37
93 Juan Jose Haedo (Colavita)                           3.42
94 Angetti Sheldrake (TIAA-CREF/5280)                   3.43
95 Andrew Touchstone (Gs Lombardi Sports)               3.47
96 Pete Lopinto (Ofoto)                                 3.49
97 Ben Stafford (Webcor)                                3.52
98 Jason Klikna (Sierra Nevada)                         3.53
99 Paul Ellis (Jelly Belly - Aramark)                   3.55
100 Simon Kessler (Aerospace Engineering)               3.58
101 Peter Penzell (U.S. Armed Forces)                   4.02
102 Patrick Caro (Team Monex)                               
103 Lionel Syne (White Jersey Sports/The Red Edge)          
104 Kevin Klein (Excel Sports Boulder)                  4.05
105 Sebastian Alexandre (Colavita)                          
106 Erik Saunders (Ofoto)                               4.07
107 Steven Mlujeak (U.S. Armed Forces)                      
108 Carlos Vargas (Endeavour)                           4.10
109 Jon Erdelyi (Ofoto)                                 4.14
110 Shane Peltonen (Eclipse Racing)                     4.15
111 David Bly (Velo Club La Grange)                     4.17
112 Victor Ayala (Velo Club La Grange)                      
113 Mike Zagorski (Velo Club Lagrange Westwood)         4.18
114 Sheldon Deeny (TIAA-CREF/5280)                          
115 Cory Steinbrecher (Jelly Belly - Aramark)           4.20
116 Erik Van Den Akker (Reno Wheelman)                  4.21
117 Yukihiro Doi (Shimano Racing)                       4.22
118 Yosvany Falcon (Aerospace Engineering)              4.24
119 Craig Wilcox (Rms Elite)                            4.26
120 Chad Hartley (Jittery Joe's)                        4.31
121 Greg Bourque (Team Seasilver/Incycle)                   
122 Matt Dubberley (Sierra Nevada)                      4.32
123 Jose Quintero (Ranchos-Venezuela)                   4.40
124 Miguel Meza (Dare)                                      
125 Yoshimasa Hirose (Shimano Racing)                   4.53
126 Drew Deters (Team Seasilver/Incycle)                4.59
127 Emile Abraham (Aerospace Engineering)               5.02
128 Matt Bromen (Lagrange Velo)                         5.08
129 Jeff Hopkins (Jittery Joe's)                        5.14
130 Bryce Mead (Endeavour)                                  
131 Earendel Fingerson (Endeavour)                      5.20
132 Joel Kath (Dangerboy Racing)                        5.23
133 Gordon Mc Cauley (Team Monex)                       5.51
134 Jonas Boli (Webcor)                                 6.00
135 Steve Gonzalez (Los Angeles Wings)                  6.03
136 Carl Hoefer (Rms Elite)                             6.04
137 Nick Onate (Sdbc)                                   6.18
138 Craig Turner (Team Redlands)                        6.22
139 Aaron Lebauer (Team Mcguire)                        7.56
140 Jonas Carney (Jelly Belly - Aramark)                8.20
141 Robert Gaggoli (Team Monex)                         8.48
142 Jacques Benoit (Team Dare)                          9.26
 
Mountains
 
1 Chris Horner (Webcor)                                   25 pts
2 Cesar Grajales (Jittery Joe's)                          20
3 Scott Moninger (Health Net - Maxxis)                    15
4 Eric Wohlberg (Sierra Nevada)                           10
5 Jason McCartney (Health Net - Maxxis)                    5
 
Elite Women
 
1 Kristin Armstrong (Team T-Mobile)                    19.25
2 Lyne Bessette (Quark)                                 0.19
3 Erin Mirabella (Red 5 Racing)                         0.37
4 Johanna Buick (Victory Brewing)                       0.38
5 Susan Palmer-Komar (Genesis Scuba/FFCC)               0.39
6 Brooke Ourada (Victory Brewing)                       0.56
7 Jessica Phillips (Quark)                              1.06
8 Sandy Espeseth (Victory Brewing)                      1.24
9 Helene Drumm (Morgan Stanley/Specialized/24Hrfit)     1.26
10 Tina Pic (Genesis Scuba/FFCC)                        1.29
11 Amy Moore (Quark)                                    1.31
12 Kristin Johnson (Team Basis)                             
13 Andrea Ratkovic (TDS-Schwalbe High Speed Team)       1.35
14 Julia Whiteside (Paramount Racing)                   1.36
15 Jennifer Stevens (Red 5 Racing)                      1.38
16 Karen Bockel (TDS-Schwalbe High Speed Team)              
17 Kim Anderson (Team T-Mobile)                             
18 Andrea Hannos (Team Rona)                            1.40
19 Mari Holden (Team T-Mobile)                          1.41
20 Anna Milkowski (Team Rona)                           1.42
21 Kate Sherwin (Team Kenda Tire)                       1.44
22 Kathryn Curi (Team Rona)                                 
23 Kori Seehafer (Genesis Scuba/FFCC)                   1.45
24 Hiroko Shimada (Velo Bella)                              
25 Erinne Willock (Team Rona)                           1.46
26 Jennifer Todd (Red 5 Racing)                         1.48
27 Lisa Magness (Wellsfargo/Ragatz)                     1.51
28 Magali Le Floch (Quark)                              1.55
29 Grace Fleury (Genesis Scuba/FFCC)                    2.05
30 Cindy Carroll (Dewars)                               2.08
31 Becky Broeder                                            
32 Magen Long (OBRU/The Bicycle Store)                  2.10
33 Sue Haywood (Team T-Mobile)                          2.14
34 Jill McLaughlin (Palo Alto Bicycles Women's)         2.19
35 Joan Davies (TDS-Schwalbe High Speed Team)           2.29
36 Chrissy Ruiter (Team Basis)                          2.31
37 Kirsten Robbins (Victory Brewing)                        
38 Heather Woodhouse (Team Kenda Tire)                  2.38
39 Lara Kroepsch (Team T-Mobile)                        2.40
40 Lauren Franges (Victory Brewing)                     2.41
41 Rook Campbell (Genesis Scuba/FFCC)                   2.44
42 Carla Hukee (Team Kenda Tire)                        2.45
43 Laura Van Gilder (Genesis Scuba/FFCC)                2.52
44 Catherine Powers (Velo Club La Grange)               2.54
45 Susan Cooper (Bicycle Johns Serious Cycling)         2.56
46 Kerry Soraci (Mesa Cycles Racing)                    2.58
47 Candice Blickem (Genesis Scuba/FFCC)                 2.59
48 Betsy Bloom (Velo Club La Grange)                    3.00
49 Helen Kelley (Team Rona)                             3.02
50 Lisa Hunt (The Olympic Club)                             
51 Carli Figueroa (Paramount)                           3.05
52 Jennifer Franklin (Amgen)                            3.06
53 Jenny Eyerman (Red 5 Racing)                         3.07
54 Anne Samplonius (TDS-Schwalbe High Speed Team)       3.08
55 Megan Monroe (TDS-Schwalbe High Speed Team)              
56 Sandra Kolb (Bicycle Johns Serious Cycling)          3.09
57 Bridget Evans (Ffast)                                3.10
58 Heidi Stamm (Wells Fargo/Ragatz)                         
59 Maggie Shirley (Genesis Scuba/FFCC)                  3.11
60 Nicole Demars (Victory Brewing)                      3.19
61 Alisha Little (ABD)                                  3.35
62 Rebecca Stengel                                      3.41
63 Sarah Tillotson (ABD)                                3.49
64 Shawn Heidgen (TDS Schwalbe High Speed Team)         3.50
65 Emma Rickards (Victory Brewing)                      3.52
66 Eszter Horanyi                                       3.54
67 Maggie Luciano-Williams (Landis/Trek/Vw)             3.55
68 April Henderson Anderson (Red 5 Racing)              3.59
69 Melissa Sanborn (Wells Fargo/Ragatz)                 4.00
70 Ashlee Zimmer (Windsor Bikes)                        4.12
71 Kristin Drumm (Morgan Stanley/Specialized)           4.16
72 Sarah Uhl (Quark)                                    4.17
73 Lynn Gaggioli (Team T-Mobile)                        4.21
74 Stephanie Hannos (Team Basis)                        4.24
75 Carla Koehler (Velo Club La Grange)                      
76 Amanda Lawrence                                      4.26
77 Elizabeth Morse (OBRU/The Bicycle Store)             4.29
78 Chloe Black (Terry Precision)                            
79 Lauren Gaffney (Team Basis)                          4.32
80 Julie Hutsebaut (Terry Precision)                        
81 Brenda Lyons (ABD)                                   4.34
82 Laura Downey (Velo Club La Grange)                   4.35
83 Nicole Brandt (Velo Club La Grange)                  4.51
84 Kelly Benjamin (ABD)                                 4.57
85 Elizabeth Begosh (Velo Bella)                        5.00
86 Laura Schmidt (Terry Precision)                      5.31
87 Desira Utzig                                         5.34
88 Sophie St-Jacques (Victory Brewing)                  5.45
89 Erin Carter (TDS-Schwalbe High Speed Team)           5.47
90 Crystal Yap (9th & 9th - SLC)                        5.50
91 Rosie Garlapow (Terry Precision)                     5.53
92 Emily Gloeckner (TDS-Schwalbe High Speed Team)       6.37
93 Megan Elliott (Quark)                                7.25
94 Gina Grain (Victory Brewing)                         8.52
 
Women's general classification after stage 2
 
1 Lyne Bessette (Quark)                              1.35.30
2 Kristin Armstrong (Team T-Mobile)                     0.11
3 Susan Palmer-Komar (Genesis Scuba/FFCC)               0.25
4 Erin Mirabella (Red 5 Racing)                         0.48
5 Brooke Ourada (Victory Brewing)                       1.07
6 Tina Pic (Genesis Scuba/FFCC)                         1.15
7 Amy Moore (Quark)                                     1.17
8 Jessica Phillips (Quark)                                  
9 Kim Anderson (Team T-Mobile)                          1.24
10 Mari Holden (Team T-Mobile)                          1.25
11 Andrea Hannos (Team Rona)                            1.26
12 Karen Bockel (TDS-Schwalbe High Speed Team)          1.32
13 Sandy Espeseth (Victory Brewing)                     1.35
14 Helene Drumm (Morgan Stanley/Specialized/24Hrfit)    1.37
15 Magali Le Floch (Quark)                              1.41
16 Kristin Johnson (Team Basis)                         1.42
17 Andrea Ratkovic (TDS-Schwalbe High Speed Team)       1.46
18 Jennifer Stevens (Red 5 Racing)                      1.49
19 Magen Long (OBRU/The Bicycle Store)                  1.51
20 Anna Milkowski (Team Rona)                           1.53
21 Kathryn Curi (Team Rona)                             1.55
22 Kate Sherwin (Team Kenda Tire)                           
23 Kori Seehafer (Genesis Scuba/FFCC)                   1.56
24 Hiroko Shimada (Velo Bella)                              
25 Erinne Willock (Team Rona)                           1.57
26 Sue Haywood (Team T-Mobile)                          1.58
27 Jennifer Todd (Red 5 Racing)                         1.59
28 Lisa Magness (Wellsfargo/Ragatz)                     2.02
29 Cindy Carroll (Dewars)                               2.04
30 Johanna Buick (Victory Brewing)                      2.05
31 Grace Fleury (Genesis Scuba/FFCC)                    2.16
32 Lara Kroepsch (Team T-Mobile)                        2.26
33 Laura Van Gilder (Genesis Scuba/FFCC)                2.33
34 Catherine Powers (Velo Club La Grange)               2.40
35 Joan Davies (TDS-Schwalbe High Speed Team)               
36 Chrissy Ruiter (Team Basis)                          2.42
37 Helen Kelley (Team Rona)                             2.48
38 Rook Campbell (Genesis Scuba/FFCC)                   2.55
39 Bridget Evans (Ffast)                                2.56
40 Carla Hukee (Team Kenda Tire)                            
41 Kerry Soraci (Mesa Cycles Racing)                    3.09
42 Candice Blickem (Genesis Scuba/FFCC)                 3.10
43 Betsy Bloom (Velo Club La Grange)                    3.11
44 Lisa Hunt (The Olympic Club)                         3.13
45 Jenny Eyerman (Red 5 Racing)                         3.18
46 Sandra Kolb (Bicycle Johns Serious Cycling)          3.20
47 Julia Whiteside (Paramount Racing)                   3.26
48 Nicole Demars (Victory Brewing)                      3.30
49 Lynn Gaggioli (Team T-Mobile)                        4.07
50 Melissa Sanborn (Wells Fargo/Ragatz)                 4.11
51 Kristin Drumm (Morgan Stanley/Specialized)           4.27
52 Sarah Uhl (Quark)                                    4.28
53 Julie Hutsebaut (Terry Precision)                    4.31
54 Brenda Lyons (ABD)                                   4.45
55 Laura Downey (Velo Club La Grange)                   4.46
56 Nicole Brandt (Velo Club La Grange)                  5.02
57 Kelly Benjamin (ABD)                                 5.08
58 Shawn Heidgen (TDS Schwalbe High Speed Team)         5.52
59 Carla Koehler (Velo Club La Grange)                  6.09
60 Ashlee Zimmer (Windsor Bikes)                        6.11
61 Elizabeth Begosh (Velo Bella)                        6.27
62 Becky Broeder                                        6.48
63 Jill McLaughlin (Palo Alto Bicycles Women's)         6.59
64 Kirsten Robbins (Victory Brewing)                    7.11
65 Lauren Franges (Victory Brewing)                     7.21
66 Eszter Horanyi                                       7.22
67 Heather Woodhouse (Team Kenda Tire)                  7.25
68 Alisha Little (ABD)                                  7.33
69 Susan Cooper (Bicycle Johns Serious Cycling)         7.36
70 Erin Carter (TDS-Schwalbe High Speed Team)           7.40
71 Maggie Shirley (Genesis Scuba/FFCC)                  7.51
72 Megan Monroe (TDS-Schwalbe High Speed Team)          7.55
73 Anne Samplonius (TDS-Schwalbe High Speed Team)           
74 Heidi Stamm (Wells Fargo/Ragatz)                     8.12
75 Megan Elliott (Quark)                                8.17
76 Sarah Tillotson (ABD)                                8.24
77 Rebecca Stengel                                      8.28
78 Emma Rickards (Victory Brewing)                      8.30
79 Maggie Luciano-Williams (Landis/Trek/Vw)             8.42
80 April Henderson Anderson (Red 5 Racing)              8.57
81 Stephanie Hannos (Team Basis)                        9.04
82 Elizabeth Morse (OBRU/The Bicycle Store)             9.09
83 Lauren Gaffney (Team Basis)                          9.12
84 Chloe Black (Terry Precision)                        9.16
85 Amanda Lawrence                                      9.28
86 Laura Schmidt (Terry Precision)                     10.11
87 Desira Utzig                                        10.21
88 Sophie St-Jacques (Victory Brewing)                 10.32
89 Carli Figueroa (Paramount)                          11.12
90 Emily Gloeckner (TDS-Schwalbe High Speed Team)      11.24
91 Jennifer Franklin (Amgen)                           11.28
92 Gina Grain (Victory Brewing)                        13.39
93 Crystal Yap (9th & 9th - SLC)                       14.10
94 Rosie Garlapow (Terry Precision)                    14.15
 
Mountains classification
 
1 Lyne Bessette (Quark)                                   50 pts
2 Kori Seehafer (Genesis Scuba/FFCC)                      30
3 Kristin Armstrong (Team T-Mobile)                       30
4 Nicole Demars (Victory Brewing)                         30
5 Sarah Uhl (Quark)                                       25
6 Erin Mirabella (Red 5 Racing)                           15
7 Johanna Buick (Victory Brewing)                         10