Pomona Valley Stage Race - 2.4
San Dimas, California, March 18-21, 2004
Main Page Results Previous Stage
Stage 4 - March 21: Cannondale Old Town San Dimas Criterium, 55/90 mins
Quark wins first stage race, Friedick takes crit, Horner dominates
By Kristy Scrymgeour and Rob Karman
Mariano Friedick takes the final stage in San Dimas
Photo ©: Rob Karman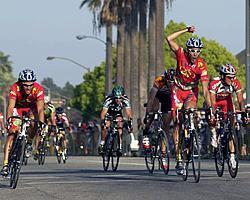 Lyne Bessette and the newly formed Quark team successfully defended the yellow jersey today to win their first big event. Not only did they win the overall today, but they also took the win in the 55-minute criterium. With their two stage wins and the overall tour, the new team are certainly showing that they are a force to be reckoned with for the season ahead.
The criterium was fast from the gun with Rona taking the early initiative in an attempt to get a break up the road, but it was not to be. Genesis Scuba were doing a good job at keeping the group together for the sprints to move Tina Pic up in the general classification. They succeeded in doing this with Pic winning the first sprint, moving into fourth place overall in front of Erin Mirabella (Red 5 Racing).
Meanwhile the Quark team was doing their job to make sure time bonus sprints weren't affecting Bessette's lead. Victory Brewing were also active in early break away attempts, however the race finally came down to a bunch sprint. Genesis Scuba got their usual lead out train going for Pic, but it was Uhl who managed to take the sprint from Pic and Victory Brewing's Gina Grain.
Uhl keeps her cool
Photo ©: Rob Karman

Cyclingnews caught up with Director Sportif of the Quark team, Brett Meinke, who was very pleased with his teams' performance.
"Sarah rode well today, to help defend the GC and then she won the stage," he said. "She was happy because road racing isn't her specialty but she was able to do a lot. It's a good momentum for us going into Redlands," he added. "The girls are starting to click together and I think we have a strong team. Lyne is in great form and the girls are all really looking forward to racing again at Redlands."
The men's race was also aggressive with a convincing group going off the front about a third of the way into the 90-minute race. Race leader, Horner, looked happy to let the break get some ground, as it was no danger to his lead.
Soon thereafter however, he was attacking to bridge up to the group with about ten guys following him. With more riders bridging to the break in the next lap, eventually the group numbered about 30 and was gaining time fast. Sierra Nevada was driving hard at the front of the break as they had third placed rider Eric Wohlberg and fourth placed rider Trent Klasna in the group, with second place on GC, Cesar Grajales (Jittery Joe's) missing the break.
Next stop for Chris Horner: Redlands
Photo ©: Rob Karman

As Sierra Nevada continued to drive the break, Grajales was forced to chase himself with only one other teammate left to help him out, knowing that Wohlberg only needed 19" to pass him on GC and Klasna 49". His efforts were in vain however as the break stayed away taking away his second place in GC. Moving into third place was Chris Wherry (Health Net/Maxxis) who made up time on Klasna in time bonus seconds during the race.
Horner led out the sprint at the end, but it was Jelly Belly rider Mariano Friedick who took the win over teammate Alex Candelario (Jelly Belly) and Juan Jose Haedo (Colavita).
With the top five changed dramatically in the final race, Horner expressed on the stage after the race that "first place certainly didn't."
When asked about his form this year he replied that his form is "just as good as this time last year, if not a touch better."
He and his team are looking forward to Redlands in a few days. "My legs are definitely good enough to win there, it just depends how tactics go," he said. "We have a really fantastic team coming together."
Photography
Images by Rob Karman/www.roadbikephotos.com
Images by James Doh
Results
Men
 
1 Mariano Friedick (Jelly Belly - Aramark)        1.30.03
2 Alex Candelario (Jelly Belly - Aramark)                
3 Juan Jose Haedo (Colavita)                             
4 Charles Dionne (Webcor)                                
5 Nieko Biskner (Ofoto)                                  
6 Mike Sayers (Health Net - Maxxis)                      
7 Chris Horner (Webcor)                              0.02
8 Chris Wherry (Health Net - Maxxis)                     
9 Trent Klasna (Sierra Nevada)                           
10 Jason Bausch (Ofoto)                                  
11 Shinri Suzuki (Shimano Racing)                        
12 Jacob Erker (Team Seasilver/Incycle)                  
13 William Frischkorn (Colavita)                         
14 Brian Sheedy (Taylor Bikes)                           
15 Eric Wohlberg (Sierra Nevada)                         
16 Neil Shirley (Team Seasilver/Incycle)                 
17 Ben Jacques-Maynes (Sierra Nevada)                    
18 John Lieswyn (Health Net - Maxxis)                0.05
19 Ernie Lechuga (Jelly Belly - Aramark)             0.06
20 Aaron Olson (Colavita)                            0.09
21 Jason Lokkesmoe (Health Net - Maxxis)             0.12
22 Adam Bergman (Jelly Belly - Aramark)              0.13
23 Bryce Mead (Endeavour)                            0.26
24 Masamichi Yamamoto (Shimano Racing)               1.06
25 Todd Herriott (Colavita)                              
26 Hisafumi Imanishi (Shimano Racing)                    
27 Jason McCartney (Health Net - Maxxis)                 
28 Paul Ellis (Jelly Belly - Aramark)                    
29 Nick Reistad (Endeavour)                              
30 Chris McDonald (SDBC)                                 
31 Yukihiro Doi (Shimano Racing)                         
32 Scott Blanchard (Eclipse Racing)                      
33 Ben Brooks (Jelly Belly - Aramark)                    
34 Sheldon Deeny (TIAA-CREF/5280)                        
35 Eric Murphy (Aerospace Engineering)                   
36 Matt Dubberley (Sierra Nevada)                        
37 Cesar Grajales (Jittery Joe's)                        
38 Danny Pate (Health Net - Maxxis)                      
39 Josh Gewirtz (Fiordifrutta)                           
40 Tyler Wren (Colavita)                                 
41 Roddi Lega (Canadian National Center)                 
42 Jackson Stewart (Ofoto)                               
43 Thad Dulin (Colavita)                                 
44 Russell Hamby (Sierra Nevada)                         
45 Miguel Meza (Dare)                                    
46 Caleb Manion (Jelly Belly - Aramark)                  
47 William Innes (Gs Lombardi Sport/650 Racing)          
48 Michael Hernandez (Reno Wheelman)                     
49 Mark McCormack (Colavita)                             
50 Davide Frattini (Team Monex)                          
51 Justin England (Webcor)                               
52 Gustavo Artacho (Colavita)                            
53 Hidenori Nodera (Shimano Racing)                      
54 Steven Mlujeak (U.S. Armed Forces)                    
55 Tomoya Kano (Shimano Racing)                          
56 Kaoru Oouchi (Shimano Racing)                         
57 Yoshiyuki Abe (Shimano Racing)                        
58 Carlos Vargas (Endeavour)                             
59 Ben Haldeman (Webcor)                                 
60 Bryan Smith (Endeavour)                               
61 John Kelly (Webcor)                                   
62 Ted Huang (Webcor)                                    
63 Tim Larkin (Ofoto)                                    
64 Craig Lewis (TIAA-CREF/5280)                          
65 Doug Ollerenshaw (Jelly Belly - Aramark)              
66 Peter Knudsen (Team Seasilver/Incycle)                
67 Peter Penzell (U.S. Armed Forces)                     
68 Mike Jones (Health Net - Maxxis)                      
69 Dan Bowman (TIAA-CREF/5280)                           
70 Kevin Bouchard-Hall (Louis Garneau Racing)            
71 Victor Ayala (Velo Club La Grange)                    
72 Alex Ivanov (The Red Edge)                            
73 Emile Abraham (Aerospace Engineering)                 
74 Timmy Duggan (TIAA-CREF/5280)                         
75 Andrew Touchstone (Gs Lombardi Sports)                
76 Yoshimasa Hirose (Shimano Racing)                     
77 Rusty Beall (Rms Elite)                               
78 Chris Pic (Jittery Joe's)                         1.16
79 Glen Mitchell (Sierra Nevada)                     1.42
80 Jason Klikna (Sierra Nevada)                      1.44
81 Daniel Ramsey (Team Seasilver/Incycle)                
82 John Hygelund (Sierra Nevada)                     3.05
 
Women
 
1 Sarah Uhl (Quark)                                 52.04
2 Tina Pic (Genesis Scuba/FFCC)                          
3 Gina Grain (Victory Brewing)                           
4 Laura Van Gilder (Genesis Scuba/FFCC)                  
5 Andrea Hannos (Team Rona)                              
6 Magen Long (OBRU/The Bicycle Store)                    
7 Kristin Armstrong (Team T-Mobile)                      
8 Jenny Eyerman (Red 5 Racing)                           
9 Lyne Bessette (Quark)                                  
10 Kelly Benjamin (ABD)                                  
11 Kristin Drumm (Morgan Stanley/Specialized)            
12 Bridget Evans (Ffast)                                 
13 Kathryn Curi (Team Rona)                              
14 Helen Kelley (Team Rona)                              
15 Mari Holden (Team T-Mobile)                           
16 Lara Kroepsch (Team T-Mobile)                         
17 Magali Le Floch (Quark)                               
18 Amy Moore (Quark)                                     
19 Sue Haywood (Team T-Mobile)                           
20 Lynn Gaggioli (Team T-Mobile)                         
21 Laura Downey (Velo Club La Grange)                    
22 Brenda Lyons (ABD)                                    
23 Betsy Bloom (Velo Club La Grange)                     
24 Kim Anderson (Team T-Mobile)                          
25 Susan Palmer-Komar (Genesis Scuba/FFCC)               
26 Joan Davies (TDS-Schwalbe High Speed Team)        0.09
27 Anna Milkowski (Team Rona)                            
28 Carla Hukee (Team Kenda Tire)                         
29 Erinne Willock (Team Rona)                            
30 Catherine Powers (Velo Club La Grange)                
31 Candice Blickem (Genesis Scuba/FFCC)                  
32 Karen Bockel (TDS-Schwalbe High Speed Team)           
33 Julia Whiteside (Paramount Racing)                    
34 Sandra Kolb (Bicycle Johns Serious Cycling)           
35 Lauren Franges (Victory Brewing)                      
36 Melissa Sanborn (Wells Fargo/Ragatz)                  
37 Cindy Carroll (Dewars)                                
38 Brooke Ourada (Victory Brewing)                       
39 Chrissy Ruiter (Team Basis)                           
40 Megan Elliott (Quark)                                 
41 Julie Hutsebaut (Terry Precision)                     
42 Erin Mirabella (Red 5 Racing)                         
43 Helene Drumm (Morgan Stanley/Specialized/24Hrfit)     
44 Kate Sherwin (Team Kenda Tire)                        
45 Emma Rickards (Victory Brewing)                       
46 Sandy Espeseth (Victory Brewing)                      
47 Alisha Little (ABD)                                   
48 Jessica Phillips (Quark)                              
49 Grace Fleury (Genesis Scuba/FFCC)                     
50 Hiroko Shimada (Velo Bella)                           
51 Megan Monroe (TDS-Schwalbe High Speed Team)           
52 Rook Campbell (Genesis Scuba/FFCC)                    
53 Lisa Hunt (The Olympic Club)                          
54 Becky Broeder                                     0.12
55 Carli Figueroa (Paramount)                        0.21
56 Stephanie Hannos (Team Basis)                         
57 Kristin Johnson (Team Basis)                      0.25
58 Kerry Soraci (Mesa Cycles Racing)                     
59 Nicole Demars (Victory Brewing)                   0.30
60 Maggie Shirley (Genesis Scuba/FFCC)               0.35
61 Nicole Brandt (Velo Club La Grange)               0.40
62 Desira Utzig                                          
63 Shawn Heidgen (TDS Schwalbe High Speed Team)      0.52
64 Andrea Ratkovic (TDS-Schwalbe High Speed Team)        
65 Erin Carter (TDS-Schwalbe High Speed Team)            
66 Laura Schmidt (Terry Precision)                   2.13
67 Susan Cooper (Bicycle Johns Serious Cycling)      6.31
68 Sophie St-Jacques (Victory Brewing)               7.26
69 Kirsten Robbins (Victory Brewing)                     
70 Eszter Horanyi                                   10.25
 
Men's final general classification
 
1 Chris Horner (Webcor)                           5.36.37
2 Eric Wohlberg (Sierra Nevada)                      1.37
3 Chris Wherry (Health Net - Maxxis)                 2.09
4 Trent Klasna (Sierra Nevada)                       2.10
5 William Frischkorn (Colavita)                      2.24
6 Cesar Grajales (Jittery Joe's)                         
7 Adam Bergman (Jelly Belly - Aramark)               2.30
8 Jacob Erker (Team Seasilver/Incycle)               2.39
9 Danny Pate (Health Net - Maxxis)                   2.53
10 Mike Sayers (Health Net - Maxxis)                 2.59
11 Nieko Biskner (Ofoto)                             3.10
12 John Lieswyn (Health Net - Maxxis)                3.12
13 Ernie Lechuga (Jelly Belly - Aramark)             3.16
14 Ben Jacques-Maynes (Sierra Nevada)                3.29
15 Ben Brooks (Jelly Belly - Aramark)                3.30
16 Brian Sheedy (Taylor Bikes)                       3.31
17 Mike Jones (Health Net - Maxxis)                  3.46
18 Jason McCartney (Health Net - Maxxis)             3.50
19 Jason Bausch (Ofoto)                              4.02
20 Mariano Friedick (Jelly Belly - Aramark)          4.04
21 Jason Lokkesmoe (Health Net - Maxxis)             4.08
22 Davide Frattini (Team Monex)                          
23 Justin England (Webcor)                           4.09
24 Caleb Manion (Jelly Belly - Aramark)              4.11
25 Glen Mitchell (Sierra Nevada)                     4.12
26 Shinri Suzuki (Shimano Racing)                    4.18
27 Todd Herriott (Colavita)                          4.24
28 Aaron Olson (Colavita)                            4.25
29 Chris McDonald (SDBC)                             4.30
30 Kevin Bouchard-Hall (Louis Garneau Racing)        4.36
31 Jackson Stewart (Ofoto)                           4.39
32 Tomoya Kano (Shimano Racing)                      4.41
33 Tyler Wren (Colavita)                             4.42
34 Dan Bowman (TIAA-CREF/5280)                       4.46
35 Neil Shirley (Team Seasilver/Incycle)             4.52
36 Scott Blanchard (Eclipse Racing)                  4.56
37 Charles Dionne (Webcor)                           4.57
38 Juan Jose Haedo (Colavita)                            
39 Gustavo Artacho (Colavita)                        5.00
40 Tim Larkin (Ofoto)                                5.06
41 Alex Candelario (Jelly Belly - Aramark)           5.11
42 Bryan Smith (Endeavour)                           5.13
43 Hisafumi Imanishi (Shimano Racing)                5.14
44 Yoshiyuki Abe (Shimano Racing)                    5.20
45 Craig Lewis (TIAA-CREF/5280)                      5.28
46 Mark McCormack (Colavita)                         5.31
47 Hidenori Nodera (Shimano Racing)                  5.40
48 William Innes (Gs Lombardi Sport/650 Racing)      5.41
49 John Kelly (Webcor)                               5.42
50 Ted Huang (Webcor)                                5.48
51 Chris Pic (Jittery Joe's)                         5.55
52 Masamichi Yamamoto (Shimano Racing)               5.56
53 Thad Dulin (Colavita)                                 
54 Peter Knudsen (Team Seasilver/Incycle)                
55 Kaoru Oouchi (Shimano Racing)                     5.59
56 Alex Ivanov (The Red Edge)                        6.03
57 Timmy Duggan (TIAA-CREF/5280)                     6.08
58 Russell Hamby (Sierra Nevada)                     6.09
59 Rusty Beall (Rms Elite)                           6.13
60 Doug Ollerenshaw (Jelly Belly - Aramark)          6.15
61 Paul Ellis (Jelly Belly - Aramark)                6.21
62 Eric Murphy (Aerospace Engineering)                   
63 Nick Reistad (Endeavour)                          6.38
64 Yukihiro Doi (Shimano Racing)                     7.06
65 Andrew Touchstone (Gs Lombardi Sports)            7.09
66 Steven Mlujeak (U.S. Armed Forces)                7.14
67 Peter Penzell (U.S. Armed Forces)                 7.29
68 Sheldon Deeny (TIAA-CREF/5280)                    7.40
69 Jason Klikna (Sierra Nevada)                      7.58
70 Carlos Vargas (Endeavour)                         8.05
71 Emile Abraham (Aerospace Engineering)             8.15
72 John Hygelund (Sierra Nevada)                     8.17
73 Yoshimasa Hirose (Shimano Racing)                 8.20
74 Michael Hernandez (Reno Wheelman)                 8.29
75 Daniel Ramsey (Team Seasilver/Incycle)                
76 Victor Ayala (Velo Club La Grange)                9.10
77 Bryce Mead (Endeavour)                            9.27
78 Roddi Lega (Canadian National Center)            10.30
79 Ben Haldeman (Webcor)                            10.56
80 Josh Gewirtz (Fiordifrutta)                      11.13
81 Matt Dubberley (Sierra Nevada)                   12.08
82 Miguel Meza (Dare)                               15.01
 
Women's final general classification
 
1 Lyne Bessette (Quark)                           5.56.04
2 Susan Palmer-Komar (Genesis Scuba/FFCC)            0.14
3 Kristin Armstrong (Team T-Mobile)                  0.15
4 Tina Pic (Genesis Scuba/FFCC)                      0.36
5 Erin Mirabella (Red 5 Racing)                      1.04
6 Magali Le Floch (Quark)                            1.15
7 Brooke Ourada (Victory Brewing)                    1.23
8 Amy Moore (Quark)                                  1.24
9 Mari Holden (Team T-Mobile)                        1.26
10 Kim Anderson (Team T-Mobile)                      1.31
11 Andrea Hannos (Team Rona)                         1.33
12 Jessica Phillips (Quark)                              
13 Karen Bockel (TDS-Schwalbe High Speed Team)       1.48
14 Sandy Espeseth (Victory Brewing)                  1.51
15 Magen Long (OBRU/The Bicycle Store)               1.53
16 Kathryn Curi (Team Rona)                          2.02
17 Sue Haywood (Team T-Mobile)                       2.05
18 Helene Drumm (Morgan Stanley/Specialized/24Hrfit)     
19 Anna Milkowski (Team Rona)                        2.24
20 Hiroko Shimada (Velo Bella)                           
21 Lara Kroepsch (Team T-Mobile)                     2.33
22 Laura Van Gilder (Genesis Scuba/FFCC)             2.34
23 Kristin Johnson (Team Basis)                      2.36
24 Erinne Willock (Team Rona)                        2.39
25 Kate Sherwin (Team Kenda Tire)                    2.42
26 Cindy Carroll (Dewars)                            2.51
27 Helen Kelley (Team Rona)                          2.55
28 Chrissy Ruiter (Team Basis)                       2.58
29 Bridget Evans (Ffast)                             3.03
30 Rook Campbell (Genesis Scuba/FFCC)                3.11
31 Carla Hukee (Team Kenda Tire)                     3.12
32 Andrea Ratkovic (TDS-Schwalbe High Speed Team)    3.16
33 Betsy Bloom (Velo Club La Grange)                 3.18
34 Catherine Powers (Velo Club La Grange)            3.27
35 Grace Fleury (Genesis Scuba/FFCC)                 3.34
36 Candice Blickem (Genesis Scuba/FFCC)              3.37
37 Jenny Eyerman (Red 5 Racing)                      3.55
38 Lisa Hunt (The Olympic Club)                      4.00
39 Joan Davies (TDS-Schwalbe High Speed Team)        4.06
40 Julia Whiteside (Paramount Racing)                4.12
41 Sandra Kolb (Bicycle Johns Serious Cycling)       4.33
42 Kerry Soraci (Mesa Cycles Racing)                 4.43
43 Kristin Drumm (Morgan Stanley/Specialized)        5.05
44 Lynn Gaggioli (Team T-Mobile)                     5.16
45 Nicole Demars (Victory Brewing)                   5.17
46 Brenda Lyons (ABD)                                5.54
47 Julie Hutsebaut (Terry Precision)                 5.57
48 Kelly Benjamin (ABD)                              6.17
49 Becky Broeder                                     7.07
50 Melissa Sanborn (Wells Fargo/Ragatz)              7.19
51 Sarah Uhl (Quark)                                 7.30
52 Alisha Little (ABD)                               7.49
53 Lauren Franges (Victory Brewing)                  8.47
54 Maggie Shirley (Genesis Scuba/FFCC)               9.43
55 Megan Elliott (Quark)                            11.44
56 Emma Rickards (Victory Brewing)                  12.12
57 Gina Grain (Victory Brewing)                     13.41
58 Carli Figueroa (Paramount)                       13.49
59 Nicole Brandt (Velo Club La Grange)              15.21
60 Laura Downey (Velo Club La Grange)               17.45
61 Megan Monroe (TDS-Schwalbe High Speed Team)      20.22
62 Shawn Heidgen (TDS Schwalbe High Speed Team)     20.31
63 Kirsten Robbins (Victory Brewing)                21.12
64 Stephanie Hannos (Team Basis)                    21.49
65 Erin Carter (TDS-Schwalbe High Speed Team)       22.19
66 Eszter Horanyi                                   24.03
67 Desira Utzig                                     24.37
68 Laura Schmidt (Terry Precision)                  26.11
69 Susan Cooper (Bicycle Johns Serious Cycling)     27.54
70 Sophie St-Jacques (Victory Brewing)              31.34