Recently on Cyclingnews.com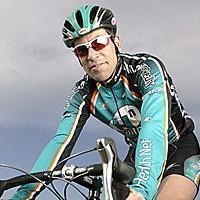 John Lieswyn
Photo: © Jeff Tse
The John Lieswyn Diary
A pro racer who now mostly concentrates on the US domestic scene, John Lieswyn is one of Cyclingnews' most popular and sometimes controversial diarists. He has been racing since 1985 and a Cyclingnews diarist since 1999. John likes both criteriums and longer road races, and seems to particularly like it when the going is hard. He has raced in the Regio Tour, Peace Race, Tour of Poland, Vuelta a Guatemala, Tooheys GP and Commonwealth Bank Classic with success, as well as winning stages in the Sun Tour, Killington and Superweek. In 2004, he moves from 7Up/Maxxis to Team Health Net presented by Maxxis.
Joe Martin Stage Race, Fayetteville, Arkansas, USA, May 14-16, 2004
All taken care for in Arkansas: Part I
Recent TdGA star Jason McCartney and I met in Des Moines for the eight hour drive south to Brice Jones' "the Natural State" of Arkansas. We're going back down to defend Jason's overall win in the Joe Martin Stage Race, heretofore the "JMSR". Originally called the Natural State Stage Race, it was renamed after the late Joe Martin who had been its longest running organizer.
NW Arkansas is known for the U of A in Fayetteville and the explosive growth of the Wal-Mart headquarters town of Bentonville. It's kind of ironic that part of Wal-Mart's business plan is to locate their mega stores on cheap rural greenfields just off highways, when exactly that kind of land is becoming more and more valuable. The previously expensive urban locations are now becoming relatively cheap (excepting vibrant cities like Boston and San Francisco). Anyway, thanks to Wal-Mart and all the ancillary companies who are building headquarters in the area, the state and federal governments have built a huge new Interstate 540. We would see this road seven times at nearly one hour each way over the coming weekend, and I never tired of the beautiful mountain views.
Brice's family homestead looks completely unassuming from the front, like a two bedroom 1920s bungalow just opposite a middle school. A large addition makes use of the very deep lot, including hot tub on a back patio, parking for a dozen vehicles or more, a huge five-car garage with an altitude chamber that looks like a mini submarine. Further back is a fenced pool area with a cabana and kitchen/bar, equipped with a frozen margarita machine! The aforementioned garage is straight out of MTV cribs or something; someone shouldda done a story on this one. Bay one is the bike workshop and a restroom. Bay two has the altitude chamber and storage for dozens of bikes. Brice has nine complete former team bikes hanging from the ceiling. Framed jerseys including his one of his national champion stars and stripes and a Greg LeMond signed world champion jersey. Bay three is motorcycles: a Ducati 999, a Harley Davidson, and a motorpacing 100cc Vespa. Bay four is Johnny Jones' one owner 1958 white over red leather Corvette convertible. Bay five is Brice's great grandfather's first new car, a 1950 Pontiac sedan. It's gotta be one of the biggest cars I've ever seen. It doesn't run, but looks like a great project.
Stage 1 - May 14: Road Race, 113 miles
Oof. It rained two days ago and I lazily skipped riding, followed by a long driving day yesterday, so the legs weren't there today. Scott Moninger couldn't make it in due to closure of Dallas-Ft. Worth Airport, so it's just Brice, Jason and I. We're up against:
Jelly Belly with seven guys including Australian Ben Brooks and sensational climber Adam Bergman (third at Redlands).
Endeavor, a Wisconsin team fielded by former Saturn boss Tom Schuler and featuring sprinter Frank Pipp, young Colombian climber Carlos Vargas, and many other good young guys.
Furniture retailer Matthis Brothers; the team has a new co-sponsor in the Sharper Image catalog and mall store chain, and they're here with a big team as well.
Recent Heritage Tour stage winner Emile Abraham is here leading his Aerospace Engineering squad.
Team Monex led by Italian Davide Frattini and Kiwi Gordon McCauley.
For the first couple hours we rolled (mostly downhill) through springtime in Arkansas. Dense foliage, birds chirpin', burbling brooks. Chatted with guys I've traveled with and know well. At one point some guy was asking me about politics or something, and I nearly answered him until I realized he was taking the piss out of me. When I heard him later ask me why I was following him around I had a ready answer in equal sarcasm to his own: "Yeah, I'm following you around because YOU'RE SO GOOD!" Heh heh.
Coaching tip of the day: A young guy I've been working with asked me, "How do you break into the single file line near the front when it's all teams up there?" If you have a team, you put your most deflection resistant, tenacious sprinter type on the last wheel of the team you want to follow, and then two additional teammates perform a gentle pincer maneuver to slot in behind him. Once two guys of the same team are in line, then the third guy has only to drop in between his mates and you're set. Usually those teams doing the work on the front are the ones who "get" to sit closest to the front. All of this doesn't mean much at all when it is rolling along "tempo" while a team chases a six-minute breakaway. In the absence of any serious crosswinds, it is actually easier to not fight for position in that single-file line; the preferred place is in the middle of the arrowhead behind that line. For example, Domina may be setting tempo on the front with four men, the GC leader's team sits next, and then tucked into the best draft in the middle of the V shaped bunch behind is where Cipo himself would ideally hang out. Yeah, it's more dangerous, but when the winds are light and the roads are good, it's definitely easier further back.
Late in the race Bergman attacked us all on the main hill of the day. It was a straight headwind and the finish was fully 30km from the summit, so we "let" him go. That's not completely accurate because I did try to get across, but I was pretty flat and useless. I got 90 percent there and blew up. So we had to chase later on. The candy team demolished everyone in the finish, Brooks and Candybro (Candelario) going 1-2. Sure would have been nice to have had Moninger here...
Stage 2 - May 15: Road Race, 92miles
Saturday morning. The weather is much better today. We made a major error in not trying to make this one hard. Jelly Belly controlled it well, bringing back the lone escapee with 11km to go. They never had to chase full out, so for a while bets were flying in the pack as to whether the break would stick, whether Jelly Belly was cracking (at 40km/h, I don't think so) and whether they were underestimating this tough young guy seven minutes ahead. With no stage prizes on offer and only time bonuses to the top three placings, it wasn't in the cards again. Had pizza on the Fayettville old town square and crashed for a few hours in a downtown hotel room, six riders napping all over the floor.
All taken care for in Arkansas: Part II
Email John at jlieswyn@cyclingnews.com