Recently on Cyclingnews.com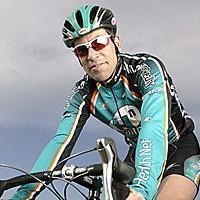 John Lieswyn
Photo: © Jeff Tse
The John Lieswyn Diary
A pro racer who now mostly concentrates on the US domestic scene, John Lieswyn is one of Cyclingnews' most popular and sometimes controversial diarists. He has been racing since 1985 and a Cyclingnews diarist since 1999. John likes both criteriums and longer road races, and seems to particularly like it when the going is hard. He has raced in the Regio Tour, Peace Race, Tour of Poland, Vuelta a Guatemala, Tooheys GP and Commonwealth Bank Classic with success, as well as winning stages in the Sun Tour, Killington and Superweek. In 2004, he moves from 7Up/Maxxis to Team Health Net presented by Maxxis.
Joe Martin Stage Race, Fayetteville, Arkansas, USA, May 14-16, 2004
All taken care for in Arkansas: Part II
Stage 3 - May 15: Uphill Time Trial, 2.5 miles
Saturday afternoon. The drive in to Devil's Den showcased twisting, steep mountain roads that would have made a fantastic road course, sufficient to blow any ability-level peloton to smithereens. Warmed up on the Cycle Ops-provided trainers with about 20 other riders in the gravel parking lot overlooking the start house. Jason got done and was all bummed that he hadn't pre-ridden the course for a refresher; he said it flew by quickly and he used the big ring (a high gear) the whole way. Once I was underway it was kind of demoralizing to reply his comment in my mind, since I wasn't anywhere near able to mash that kind of gear. I felt good for the first time in a month, though!
The officials looked pretty cooked from standing outside since 7am, and it wasn't surprising that with a number of no starts the results ended up screwy. They stayed up till 1am trying to find the glitch but it ended up taking until just an hour before the final stage to sort out. Preliminary results had Jason 12th and me 16th, which was nearly unbelievable considering how we'd been riding two weeks ago. Thankfully the corrected results had us third and fifth in the TT, which equated to fifth and sixth on GC. This meant that we had nothing at all to lose in the criterium and everything to gain, so we were looking forward to no-holds-barred racing Sunday...
Stage 4 - May 16: Fayetteville Criterium, 90mins
Sunday. Beautiful weather greeted us today, and it's finally feeling like mid-May. The course has 12 turns in about 2km. Last year, 60 riders were on the course and there were more than a couple crashes. With 120 guys lined up, we decided to race full-out from the gun in order to keep it single file as long as possible. Hopefully enough riders would be dropped that we could then have a manageable size field to negotiate the technical turns. All three of us would save nothing for the finish and chalk the day up to training for Philly. Our overall position was nothing worth defending anyway, with Jason fifth, me sixth and Brice 19th.
Lap one: I attacked and within seconds I heard a crash behind me. Great, I hope Jason didn't get hurt just two weeks before USPro week... He was put back in next lap and briefly joined me in my breakaway foray, but I ordered him to do the non-controversial thing and go back to the field. It wasn't likely that even both of us at full throttle could hold off seven Jelly Belly guys. Breaking Jelly Belly wasn't even my primary purpose today. After I was caught we continued taking turns in short-lived breakaway attempts; every time my heart rate came down to "comfortable" I would remind myself of Manayunk Wall (Philadelphia) and attack again.
We got some help from Emile Abraham, Davide Frattini and Gordon McCauley, but Alex Candelario had his Jelly Belly guys doing a great job on tempo at the front and we weren't going anywhere. By the finish there were just 35 guys left in the race, an over 70 percent rate of attrition. I was stoked to be able to deliver Brice and Jason to first and third (the latter result after Gaggioli was relegated for cutting the course through a parking lot with two turns to go) respectively. A win in front of the hometown crowd is always cool.
Tried to hit the "Taste of Thai" restaurant on the square but it was closed. Mexican again; found most of the race staff (looking more tired than any of us riders!) and several other teams eating there too. One of the officials is from Colombia and we talked through most of the dinner, since Dee Dee and I are friends with a couple from Colombia and I have raced there before...
We're training in Ft. Smith this week until the Tri Peaks Stage Race. I'm stoked to be able to race seven races and get in five training days, all without major travel. The prizemoney rocks, the people hospitable, the organization enthusiastic and making huge advances towards "big time racing". Plus Brice has this whole week totally dialed for us. Today's ride highlight: I saw a road turning off the country highway 282 that we were on for much of the route. This road had a huge, dense square cut tunnel of TREES extending for at least 500m solid. It looked so perfect, so dense, that probably you'd stay dry in that Tree Tunnel even in a rain shower! Many of the roads are just like those around Dahlonega, GA.
OK, it's late and this turned out really long. Tri Peaks is another three stage in two days cram-fest of racing, so I probably won't get an entry out for that one - so until USPRO week then!
Thanks for reading!
Email John at jlieswyn@cyclingnews.com